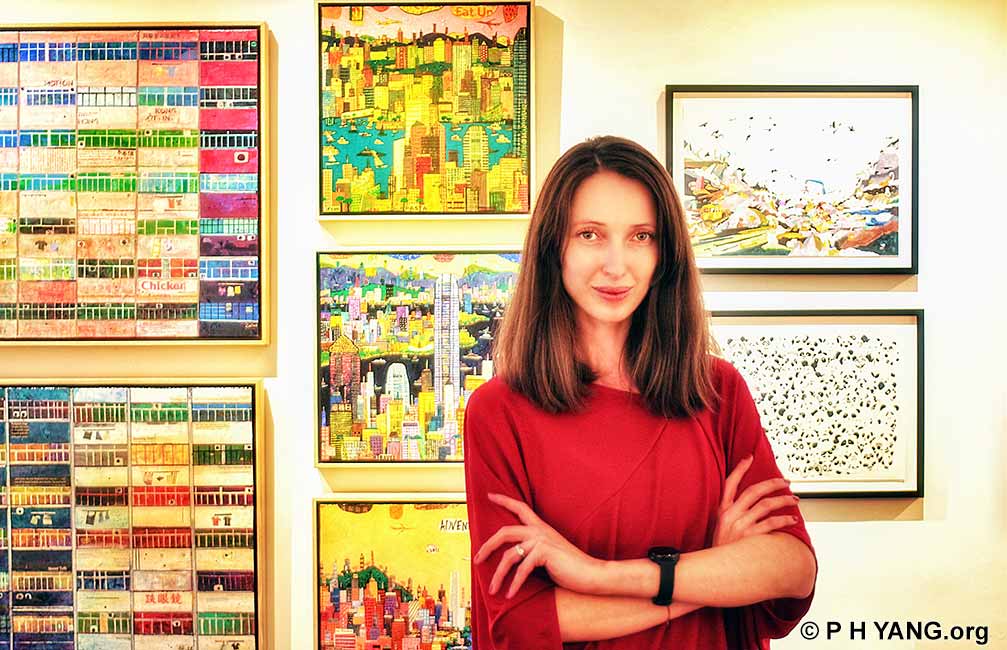 Natalia Mota Curates STOPGAP2020 - Creativity under Global Pandemic

STOPGAP2020, curated by Natalia Mota of Arta & Klip Art, is their first group exhibition
featuring 11 established and emerging artists from Central Europe and Hong Kong.

The exhibition is a concurrent event of deTour, an annual art design festival organized by
PMQ Hong Kong and sponsored by Create Hong Kong of the Government of the HKSAR.

STOPGAP2020 showcases creative work by artists from different parts of the world having
used their time in lockdown or isolation, in response to their individual pandemic
experience and the 'new normal' of 2020. The exhibition presents pieces that
relate to issues of the modern world, having a global and human dimension.

Multi-talented Natalia Mota, from Wroclaw, Poland, is a seasoned communications
professional with a lifelong passion for art. She is the founder and host of Arta
- Stories Behind Art. Arta is a platform to connect art enthusiasts and collectors
with creative gurus in the art world.

Dates: 27 Nov to 16 Dec 2020
Hours: 12:00 pm - 8:00 pm
Venue: PMQ, 2F, S209, Block A, 35 Aberdeen Street, Central

Central . Hong Kong | 2020
5 Dec 2020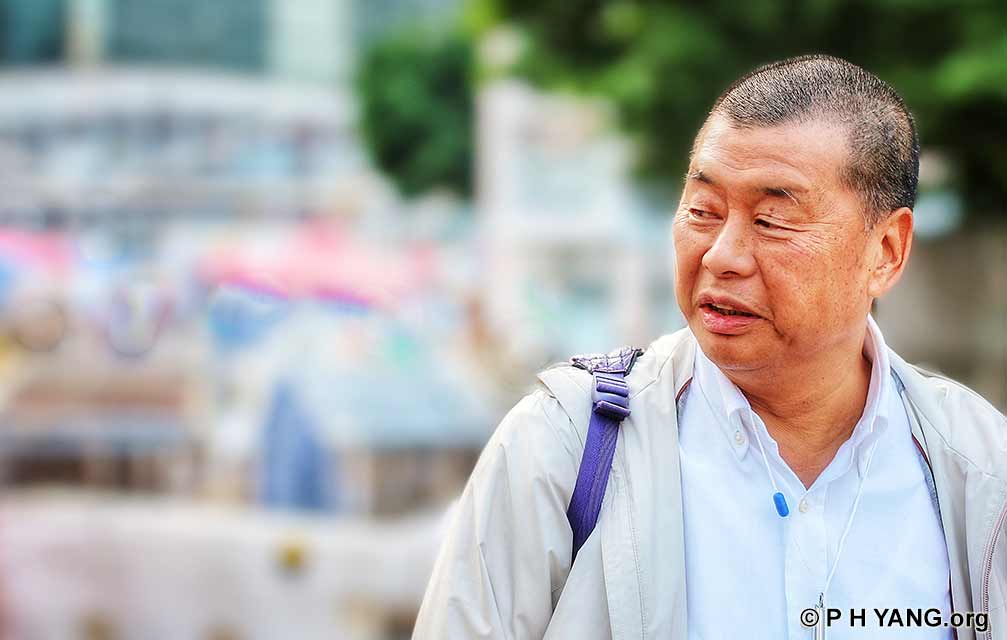 World Appalled with Jimmy Lai Jailed before Trial on Tenancy Disputes

Hong Kong media tycoon Jimmy Lai has been denied bail following his arrest on December 2 for alleged
fraud. He will remain behind bars until the next court date in April 16, 2021.Lai and 2 senior executives
of Next Digital were formally charged for using their headquarters in Tseung Kwan O for purposes
not allowed in the building lease.

The case was heard by national security law-designated judge Victor So, who refused bail and adjourned
to April 16 next year, while the other 2 executives were granted bail.

US Secretary of State Pompeo tweeted, 'The United States is appalled by the Hong Kong government's
political persecution of Jimmy Lai, Joshua Wong, Agnes Chow, and Ivan Lam. Their struggle to resist the
CCP's denial of their fundamental rights will stand throughout history as testaments to the human spirit.'

The Wall Street Journal published an editorial on the arrest titled 'Jimmy Lai, China's Lie', stating that
'In today's Hong Kong, promoting democracy makes you a criminal,' criticizing the authority for
criminalizing rental disputes as fraud charges for political opponents.

The British Broadcasting Corporation (BBC) reported that the case 'raised fears of a renewed
crackdown on the city's activists and media figures, spurred by a controversial new security law',
which critics say has silenced dissent.

Former Legislator Claudia Mo, who has served in the media for many years, said that the judge
appointed by the National Security Law rejected Jimmy Lai's bail, reflecting that the Hong Kong
government's actions against Lai were 'clearly revealed', 'as he is a media boss, and for of his
prominent role in the Hong Kong democracy movement.'

A barrister pointed out that Hong Kong adheres to the principle of presumption of innocence. If a citizen
is charged, generally he will be granted bail. The factors that the court considers whether or not to
approve bail based on "absconding risk." He was shocked that Lai was accused of alleged fraud and
denied bail as he is not a repeat offender. Lai has been arrested against the National Security Law
and his passport was confiscated, and is unable to leave Hong Kong through normal channels. If
all defendants in cases alleged by the prosecution involving the National Security Law are denied
bail, it will inevitably make people question that the court is only a rubber stamp.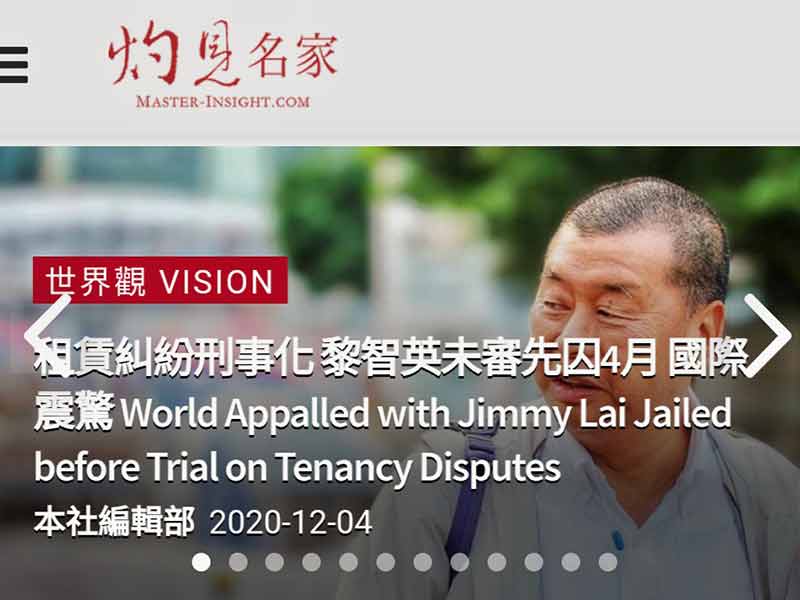 My photo is the top story on the front page of Master-Insight.

Admiralty . Hong Kong | 2020
4 Dec 2020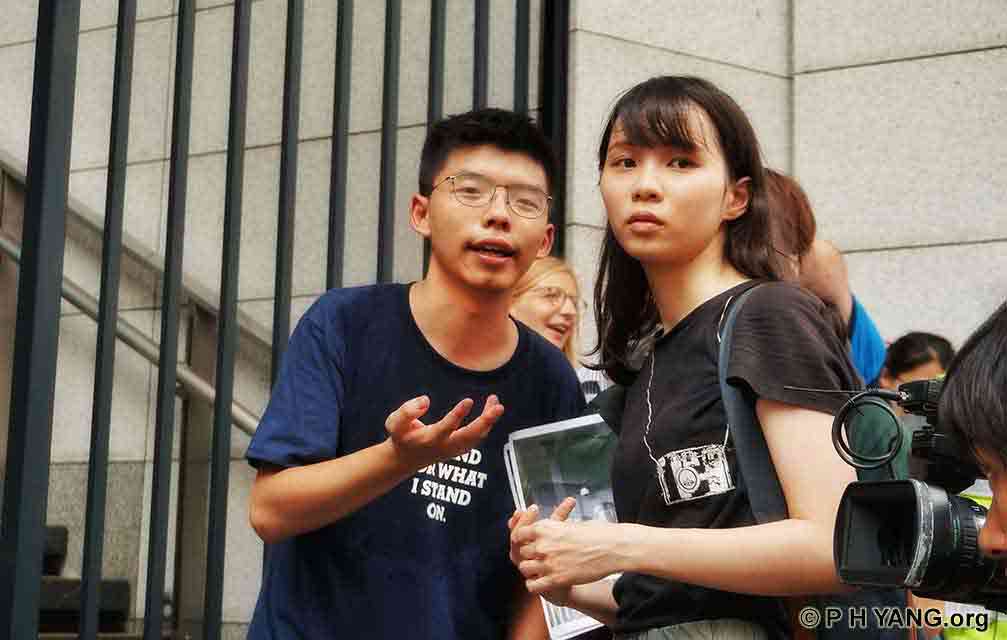 Hong Kong Activists Joshua Wong, Agnes Chow & Ivan Lam Jailed - World Shocked by Unfair Trial

On June 21 last year, a large number of demonstrators surrounded the police headquarters. Joshua
Wong, former secretary general of the disbanded Hong Kong Demosisto, member Agnes Chow
and chairman Ivan Lam were charged with inciting, organising and participating in unauthorised
assembly. The trio pleaded guilty earlier and were immediately remanded for 9 days.

Magistrate Lily Wong said the trio had been "premediated" in inciting others to take part in, or continue
to take part in, the assembly. She said their inciting acts posed a threat to personal safety to people at
the scene and caused serious disruption to traffic: 'They committed the offence in a joint enterprise
of which they were active participants.' The slogans used by the protesters were undoubtedly aimed
at attacking and challenging the authority of the police. Wong was sentenced to 13.5 months in prison
whilst Chow received 10 months, and Lam was handed seven months behind bars and no suspended
sentence was allowed. Agnes Chow cried upon hearing the conviction. Chow pleaded guilty and was
sentenced to prison for the first time, yet her application for bail pending appeal was rejected.

Eric Cheung, principal lecturer of the Faculty of Law of the University of Hong Kong, believes that the
charges and punishments do not commensurate with the case. The inability of the prosecution to link
many violent acts to the trio involved an unauthorised assembly, which was conducted peacefully,
violated legal principles. Regarding Chow's appeal, Cheung pointed out that if a judge of the High
Court finds that there is a problem in principle of law, he will approve bail pending appeal.

Chris Patten, ex-governor of Hong Kong, stated that the imprisonment today of Joshua Wong, Ivan
Lam and Agnes Chow, all of them campaigners for the rule of law and democracy in Hong Kong, is
another grim example of 'China's determination to put Hong Kong in handcuffs.' He called on
the international community to stand with the people of Hong Kong.

British Foreign Minister Dominic Raab responded after the trial: 'I urge the Hong Kong and Beijing
authorities to bring an end to their campaign to stifle opposition. Prosecution decisions must be
fair and impartial, and the rights and freedoms of people in Hong Kong must be upheld.'

Nabila Massrali, Spokesperson for Foreign Affairs & Security Policy of the European Union said,
'Sentencing today of Joshua Wong... is another sign of shrinking space for pro-democracy voices
in Hong Kong. Exercise of fundamental freedoms, including peaceful assembly, must be ensured.'

Nancy Pelosi, Speaker of the US House of Representatives, described the sentencing as 'appalling'.
'This injustice is clear proof that Beijing will stop at nothing to stamp out dissent and to destroy
the freedoms and real autonomy guaranteed to the people of Hong Kong."

Wanchai . Hong Kong | 2019
3 Dec 2020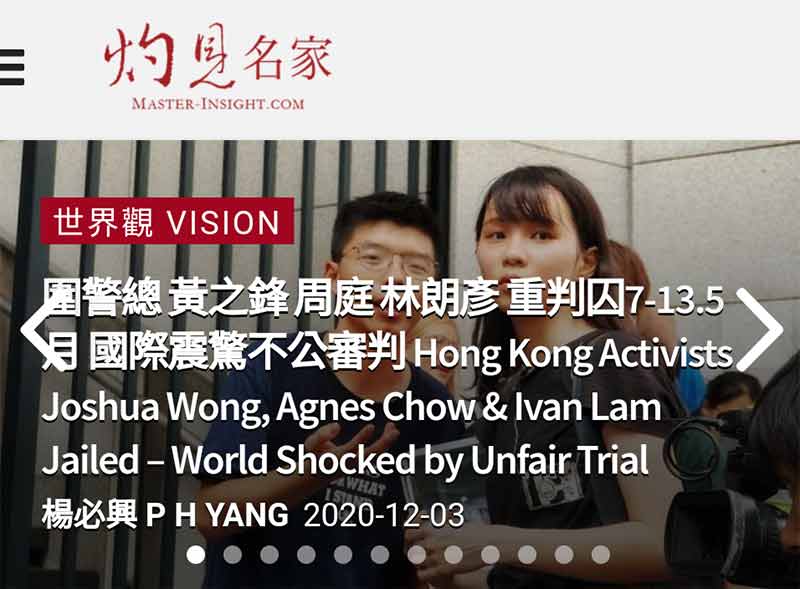 My photo is the top story on the front page of Master-Insight.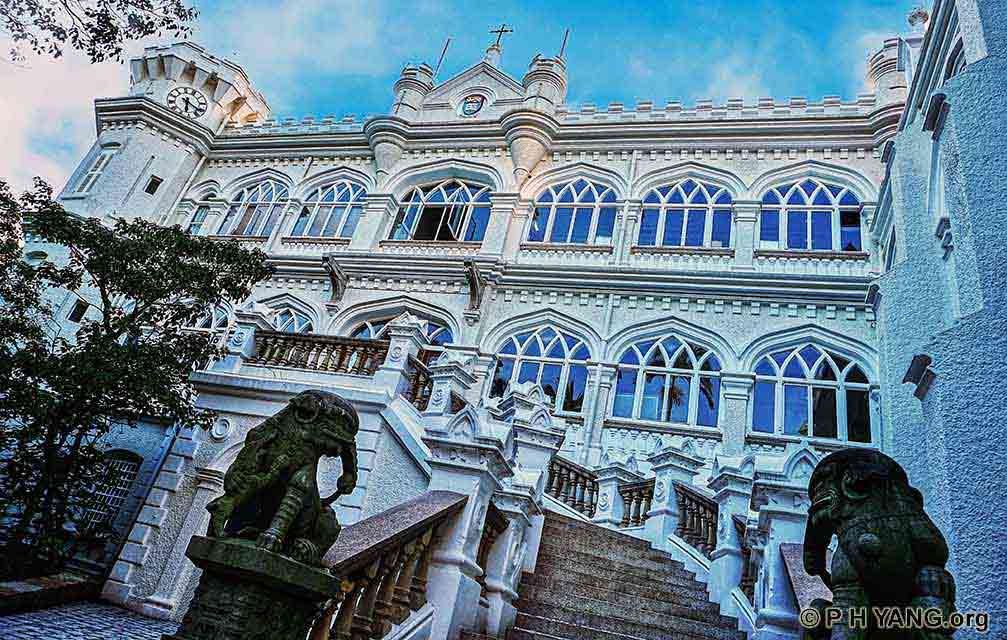 Hong Kong's Victorian Castle - University Hall of HKU

Situated on top of a hill in Pokfulam, University Hall is a charming castle-like edifice that blends Tudor,
Gothic and Renaissance Revival architectural styles.

It was built around 1861 by a Scottish businessman, Douglas Lapraik, as his headquarters and residence
and named after him as 'Douglas Castle'. The French Society of Foreign Missions bought the building in
1894 and renamed it 'Nazareth'. In 1954, The University of Hong Kong acquired it for use as a hostel for
undergraduates. Now known as University Hall, it served as a hall of residence for men since 1956.

The significant architectural features that characterised Nazareth remain: colonnaded verandahs with
Tudor arches delineate the first and second floors of the building, with a pair of David's Deer
guarding the entrance; while the embattled parapets and pinnacles on the roof as well as the
corner towers are the most distinctive features of this castle-like building.

The exterior of University Hall was declared a monument in 1995.

Pokfulam . Hong Kong | 2020
2 Dec 2020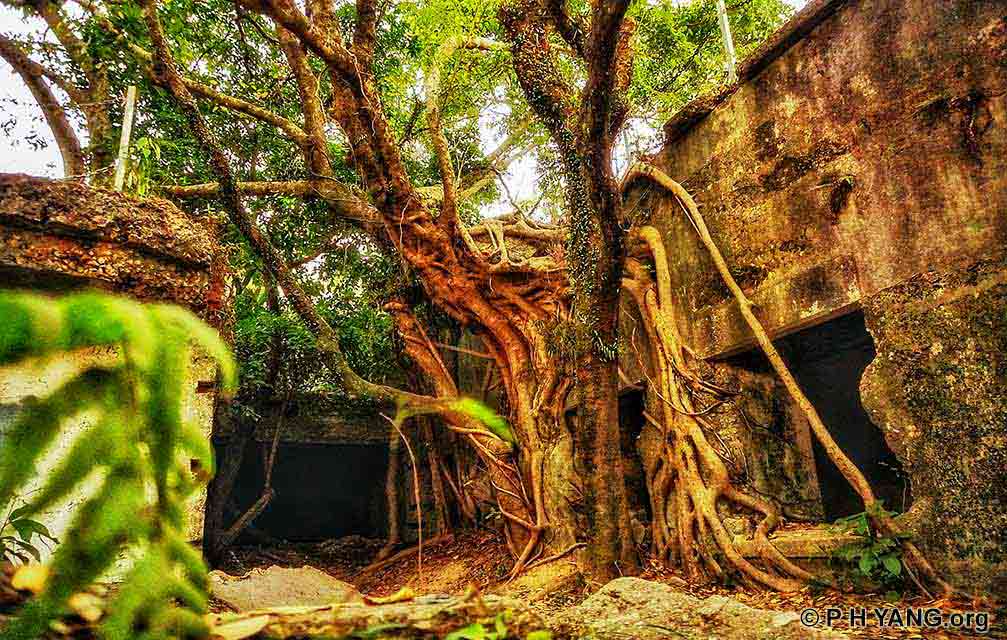 Hong Kong's 'Little Angkor': Abandoned Devil's Peak Battery

Gough Battery on Devil's Peak is a military fortification from World War II era. There are stone
walls with shooting windows, trenches, batteries and amunition depots. Some buildings are
integrated with nature, tangling with tree roots. With imagination, it can be called Hong
Kong's 'Little Angkor'. There is also an Indiana Jones jungle explorer feel.

Located between Yau Tong and Tiu Keng Leng, Devil's Peak, aka Battery Mountain, is an important
military fortification base during World War II. Its strategic location overlooking Victoria harbour and
Junk Bay, which is important to repel Japanese invasion at that time. Previously, the mountain has
been occupied by pirates, so the residents called it Devil's Peak, with abandoned ruins remaining now.

Yau Tong . Hong Kong | 2020
1 Dec 2020

Archive:
Nov Oct Sep Aug Jul Jun May Apr Mar Feb Jan 2020
Dec Nov Oct Sep Aug Jul Jun May Apr Mar Feb Jan 2019
Dec Nov Oct Sep Aug Jul Jun May Apr Mar Feb Jan 2018
Dec Nov Oct Sep Aug Jul Jun May Apr Mar Feb Jan 2017
Dec Nov Oct Sep Aug Jul Jun May Apr Mar Feb Jan 2016
Dec Nov Oct Sep Aug Jul Jun May Apr Mar Feb Jan 2015
Dec Nov Oct Sep Aug Jul Jun May Apr Mar Feb 2014


(C) p h yang 2020 - all rights reserved