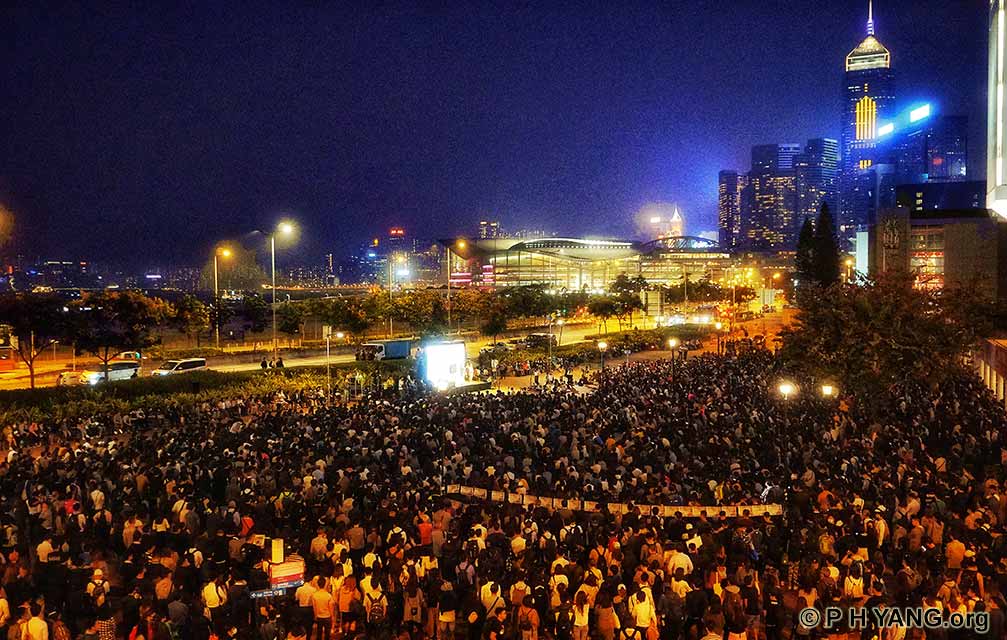 Over 1000 Rally to Support Fire & Rescue Services in Central

At the protest sites, firefighters and firstaiders played an essential relief effort. However
, the Hong Kong Police Force is hostile to them. They have repeatedly slandered and
mistreated firefighters with force. Last night (November 14), a "Rally to Support Fire and
Rescue Services" at Edinburgh Place in Central was organised. It has received a notice of
no objection from the police. Over 1,000 were present to express their support to these
rescue heroes.

On-site participants first applauded the frontline firefighters and firstaiders, and then
Reverand Lau Chi-hung led prayers for Alex Chow, a college student who passed away last
week, and the citizens who were found to have fallen from the building the night before.

105 statements were received from firefighters and firstaiders. An anonymous frontline
firefighter pointed out that saving people has always been a priority. However, they had
been repeatedly required to perform additional non-emergency work, such as clearing
road blocks. Frontline pointed out that have been treated unfairly by the police at the
scene of protests, saying that they were exposed to strong light and obstructed from
rescues. "We are not supposed to follow police order."

He said that the management of the Fire Services Department did not truthfully reflect
the frontline difficulties and offered protection. At the same time, there were internal
pressures on the front line to be cautious. There are also many complaints that the
current firefighter unions have violated their objectives and it is imperative to set up new
trade unions. Firstaiders said rescue is based on conscience, not on political views.

Central . Hong Kong | 2019
15 Nov 2019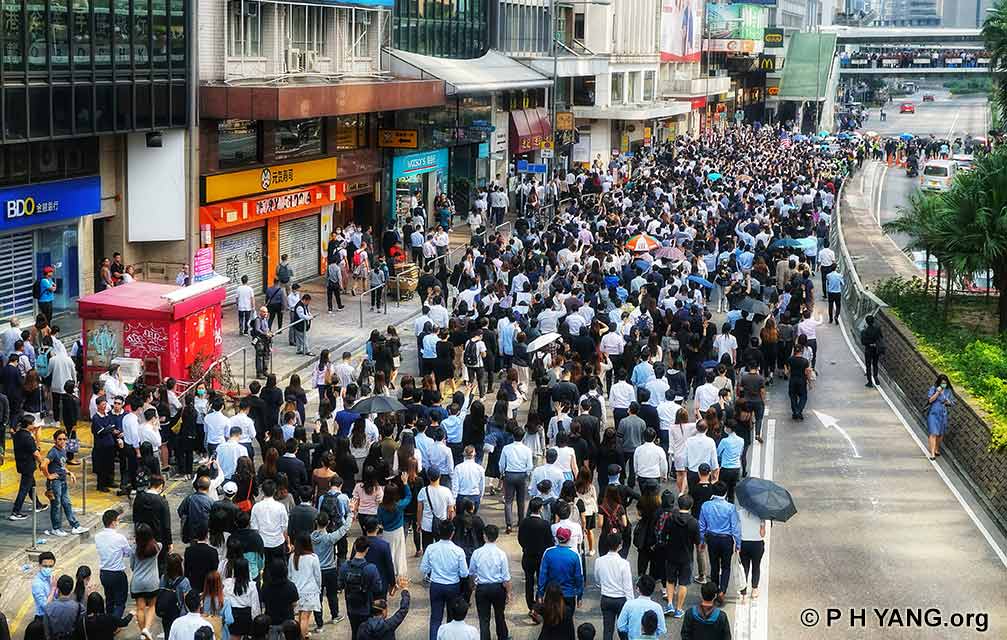 Over 1000 in Flashmob Occupying Connaught Road Central

On the fourth day of general strike in Hong Kong, a "Lunch with Us" flashmob started again
in several districts such as Central , calling on people to rally at lunch time to show their
support for the movement. Starting at 12 noon, over 1,000 people and office workers
gathered in Pedder Street in Central and chanted "Hong Kong people, Resist" and
"Support Chinese University".

Some people block the roads with bricks, plastic barricades, traffic cones, garbage bins,
etc. At 12:45 pm, people started marching towards Worldwide House and occupied
Connaught Road Central. Some removed garbage from the bins and spread them to block
the roads. They then marched towards Sheung Wan, chanting "5 demands, not one less."

Central . Hong Kong | 2019
14 Nov 2019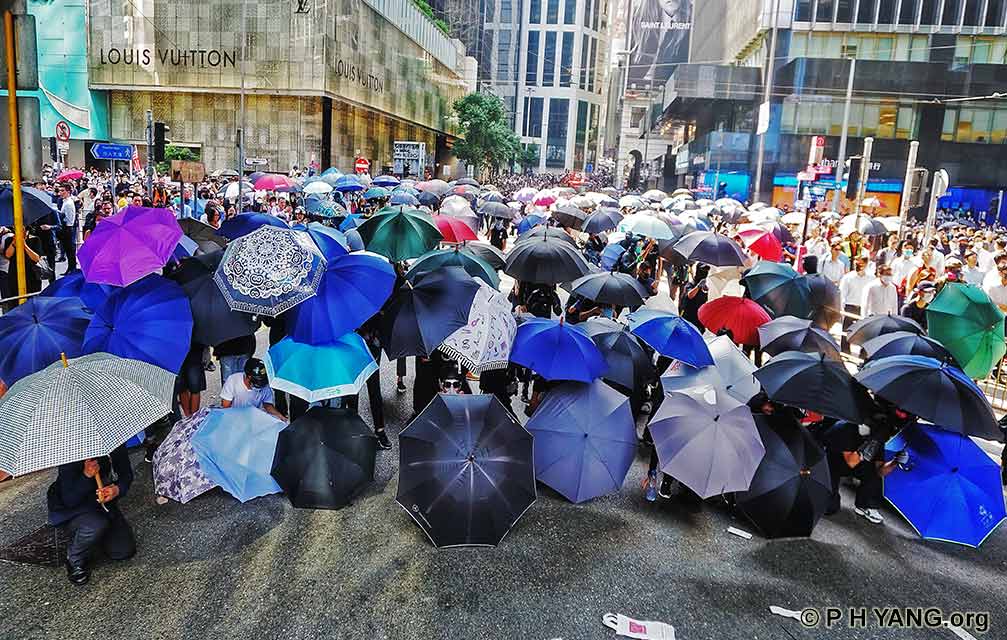 Thousands in Central Flashmob Blocking Roads - Dispersed by Riot Police

For the third consecutive day, netizens conducted a flashmob in Central, blocking roads.
Thousands of office workers walked out to Des Voeux Road Central and Pedder
Street and blocked all traffic lanes.

At 12 noon, a group of masked men in black set up roadblocks in Des Voeux Road Central,
and placed bamboo poles, bricks and traffic cones on the roads. The protesters
chanted "Free Hong Kong, Revolution of the Times" along the way, and held up their
stretched hands for "5 Demands, Not One Less". The nearby Landmark Mall closed
some entrances and exits.

Some protesters in black people smashed the glass wall of Bank of Communications
Pedder Street branch and its closed-circuit TV camera.

A large number of riot police arrived and held a blue warning flag. The protesters formed
an umbrella formation and the two sides confronted each other. After that, over 100 riot
police reinforcement was deployed to disperse the protesters.

Central . Hong Kong | 2019
13 Nov 2019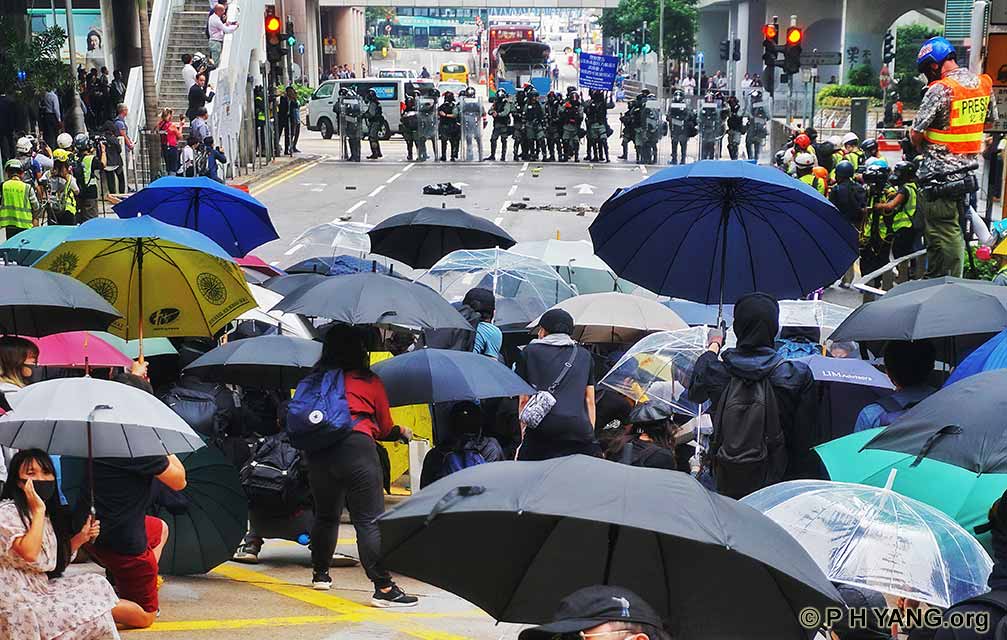 Protesters Confront Riot Police in Central on Day 2 of General Strike

On the second day of general strike in Hong Kong, a "Lunch with Us" flashmob is planned
in several districts such as Central, , calling on people to rally at lunch time to show
their support for the movement. Starting at 12 noon, over 1,000 people and office
workers gathered in Pedder Street in Central and chanted "Hong Kong people, revenge".

In Connaught Road Central outside Worldwide House, a large number of riot police in full
gear was deployed to confront the demonstrators. They raised the black warning flag
(for tear gas) and the orange warning flag (for shooting) simultaneously. The protesters
were undaunted and the police finally retreated and left in their vans.

Central . Hong Kong | 2019
12 Nov 2019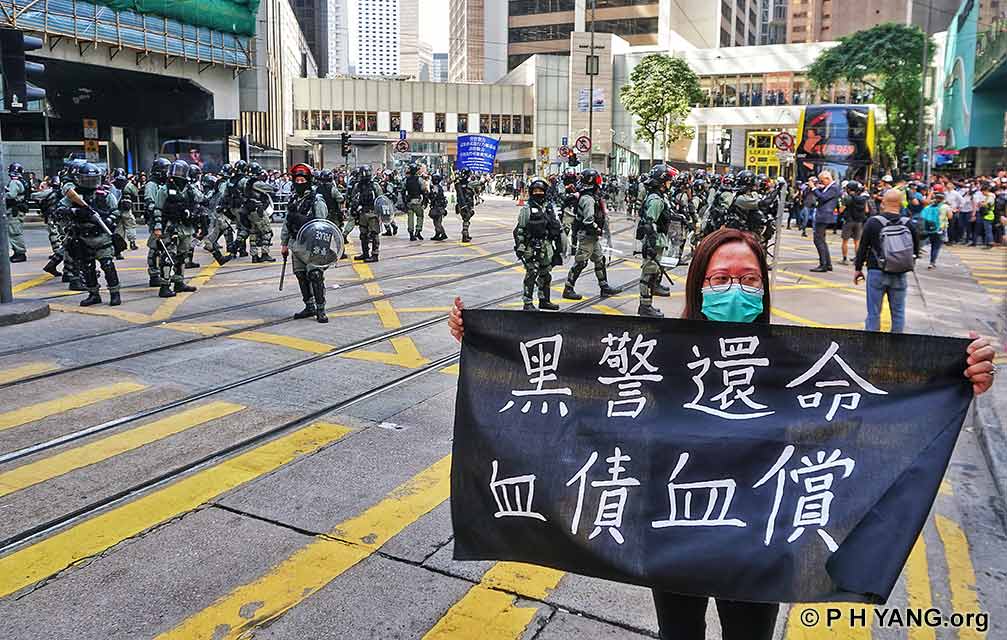 Central Office Workers Bombarded with Tear Gas by Riot Police

Netizens launched the "Dawn Action" on Remembrance Day today (Nov 11). They called
on general strike and blocked traffic in various districts. When the police cleared the
scene, they not only fired tear gas and pepper sprays, but also use live amunition. Angry
citizens organised a flashmob in Central at noon to protest against police bruitalty and
their attempt to kill frontline protesters. In addition, after 5 months of protests, the
government not only failed to calm the public anger, but the police force has
become more violent.

The riot police dispersed the crowd in Pedder Street in Central. A man was arrested and
his black jacket was ripped by the police officers. Many citizens at the scene were
emotional and argued with the police to release the arrested. A large crowd surrounded
the police and occupied the entire road. The police fired tear gas rounds immediately
after the police raised the black flag. A large number of office workers without any
gear suffered, hurriedly fled to the nearby Landmark mall and other buildings. Many
people burst into tears, shouting "police are crazy"!
At the junction of Pedder Street and Des Voeux Road Central, many walked out of the
road and confronted the police. The crowd continued to chant "Disband the police
without delay", and many office workers in suits joined in. Many gathered at the
Chater Road pedestrian walkway to watch.

Central . Hong Kong | 2019
11 Nov 2019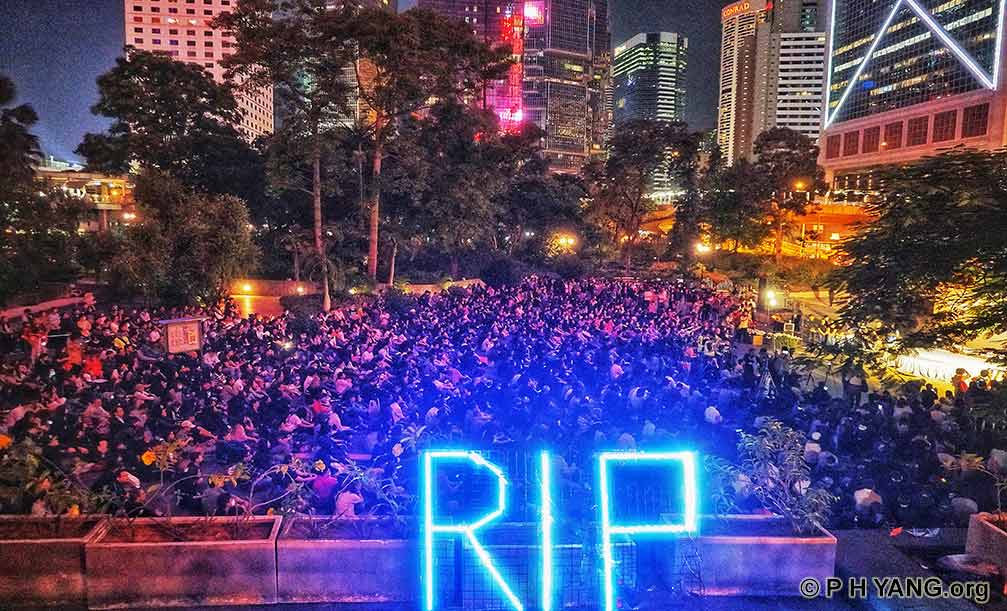 Alex Chow Memorial Rally Floods Chater Garden

On Monday, the 22-year-old Hong Kong University of Science and Technology student
Alex Chow Tsz-lok who fell in a parking lot under suspicious circumstances in Tseung
Kwan O, and died yesterday. Tens of thousands of Hong Kong people turned up in
Tamar Park on Saturday to mourn him. Tonight, a memorial meeting was organised
at Chater Garden.

At 7 pm, thousands of participants have already filled up Chater Garden. Reverand Chu
Yiu-ming chaired the main rite, Bishop Joseph Ha Chi-shing shared his views and
blessing. A giant black banner "Evil Police Rampant, Kill Indiscriminately" was
hung with a "RIP" (Rest in Peace) light panel.

At 7 pm, thousands of participants have already filled up Chater Garden. Reverand Chu Yiu-ming chaired the main rite, Bishop Joseph Ha Chi-shing shared his views and blessing. A giant black banner "Evil Police Rampant, Kill Indiscriminately" was hung with a "RIP" (Rest in Peace) light panel.

Central . Hong Kong | 2019
9 Nov 2019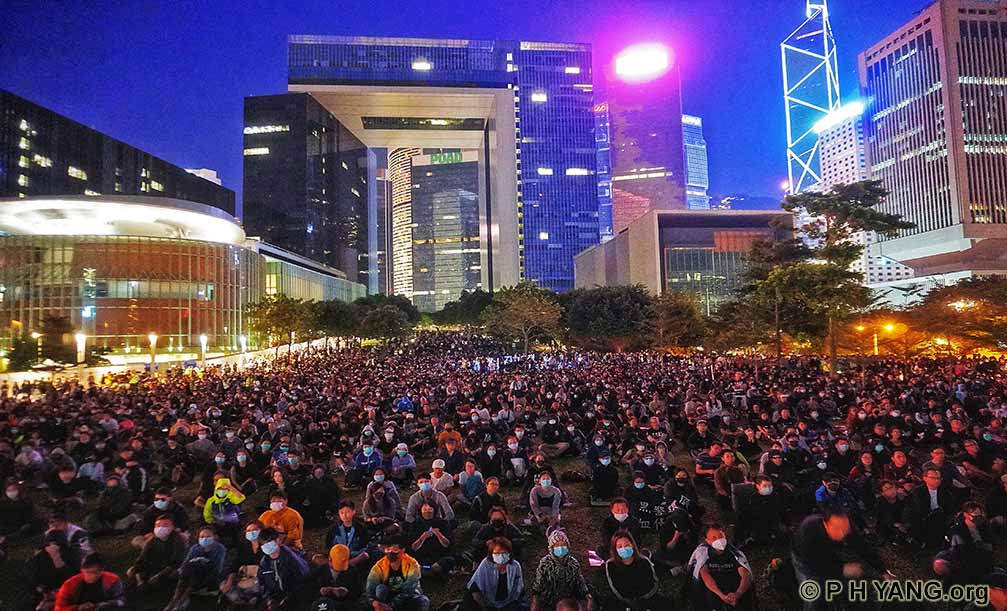 Prayer Meeting for Alex Chow Floods Tamar Park

On Monday, the 22-year-old Hong Kong University of Science and Technology student
Alex Chow Tsz-lok who fell in a parking lot under suspicious circumstances in Tseung
Kwan O, and died yesterday. Hong Kong people turned up in various district to mourn
him. The late-night multi-district mourning activities evolved into a serious conflict
with the police. Many people were arrested and live shots were fired in Yaumatei.

Netizens planned a prayer meeting and memorial service at Tamar Park tonight to mourn
Alex Chow and others who died or got wounded during the anti-extradition movement.
The rally was given a notice of no objection by the Police today.

At 6 pm, crowd gathered outside the government headquarters in Admiralty. The lawn
on the Tamar Park was flooded with people, estimated at over 15,000.

Admiralty . Hong Kong | 2019
9 Nov 2019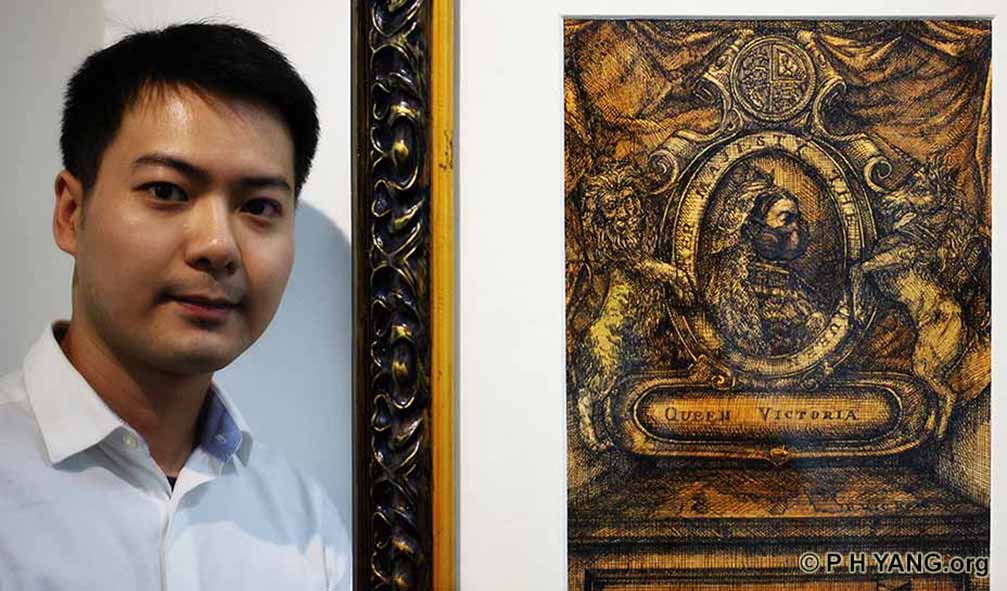 Masked Queen Victoria Poignantly Echoes Current Hong Kong

Eric Fok, a Macau-based artist, kicks off 'Notes On the Future', his solo exhibition
at Karen Weber Gallery.

A striking art piece titled '2047.40' shows a masked Queen Victoria, a poignant
reflection of the current situation in Hong Kong. On 2 November, dozens of riot
police rushed into Victoria Park, where a statue of Queen Victoria sits, firing
rounds of tear gas to disrupt peaceful district council election campaign
meetings for no apparent reason. 3 candidates were arrested.

Fok says he made the mask an add-on piece as he hope that it can be removed
in the future when peace returns to Hong Kong.

The greatest surprise in experiencing Eric Fok's paintings lies in the way various
historical eras amalgamate into a single work. In Fok's second solo exhibition
with the gallery, the artist attempts to envisage the future of Hong Kong and Macau,
whilst retaining his strong engagement with previous favourite themes such
as the Age of Exploration, colonization and globalisation.

Exhibition period: 8 November to 7 December 2019.

Causeway Bay . Hong Kong | 2019
8 Nov 2019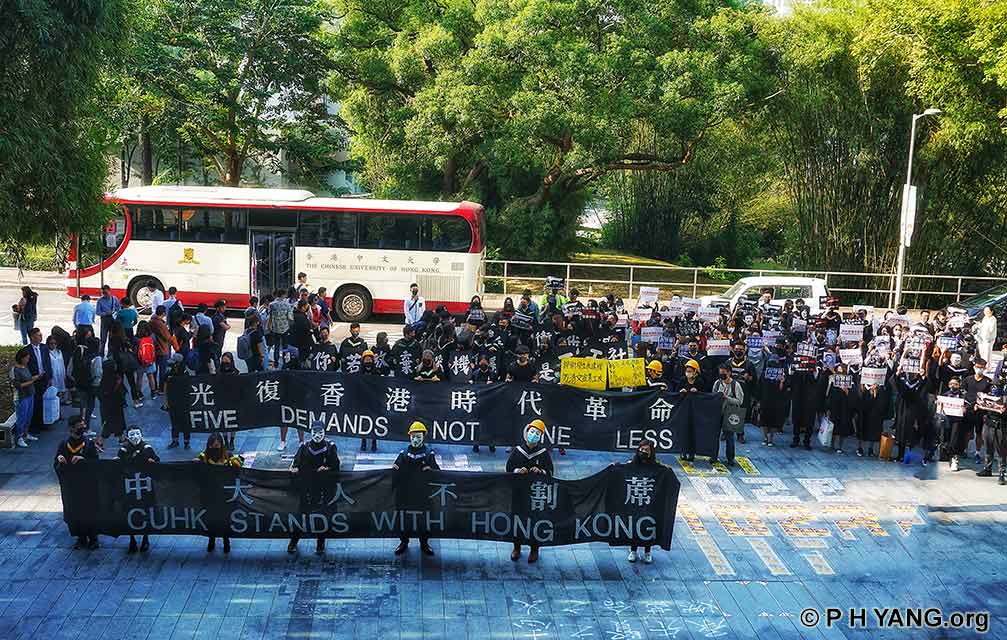 Chinese Univ Graduates Protest in Black as Mainland Student Wields Knife

The Chinese University of Hong Kong (CUHK) have a graduation ceremony today in the
midst of anti-extradition protests. Chief Executive Carrie Lam, who is also Chancellor
of CUHK, will be absent. A protest march is organised today at the CUHK graduation
ceremony, starting at the University MTR station at 9 am, marching to the Main Quad, and
mourning for a minute of silence for those who sacrificed for the movement. During the
graduation ceremony, students turned their back when the national anthem was played.

The organisers reminded that as much as possible not to hinder the process of the graduation
ceremony, and respect the school, the different opinions of the students and parents.
The protest is to provide support at least 57 students arrested during the protests
, including three medical students.

A group of students went to the main quad at midnight, and went through 'decoration' of
the ceremony area. They posted a number of posters for general strike, police brutality
and anti-authoritarianism, and sprayed "V for Vendetta" mask and slogans on the stairs
and walls. The student agreed not to post or paint in the main stage of the ceremony.

The students who participated in the operation pointed out that the graduation ceremony
was a ceremony attended by many high-ranking officials. Many of the posters on the main
quad had been torn down. They wanted to use the graduation ceremony to restore the
posters and take the opportunity to raise awareness of the current social situation.

At 8:30 in the morning, a large number of graduates from Chinese University gathered outside
  the University Station near the statue of Goddess of Democracy, dressed in black and wearing
masks and hard hat. At 9 o'clock, the march began through the University Road to the main
quad, chanting 'Free Hong Kong, Revolution of the Time' and '5 Demands, Not One Less'.

Upon arrival at the main quad, they sang 'Glory to Hong Kong' and chanted 'HongKongers,
Resist" and "Dissolving Police Force Immediately". After that, they mourned for a minute
in silence for the sacrificed.

Suddenly, a man speaking Mandarin, apparently a student from Mainland China, wielded
a sharp knife towards the students and sang the Chinese national anthem. When the
reporter went forward and asked him why he was holding a knife, he dropped the knife.
The university security guard took him and the knife away. The graduates continued
their protest rally and ignored the man.

Graduation ceremony was cut short while the peaceful protest did not appear to impede.

Ma Liu Shui . Hong Kong | 2019
6 Nov 2019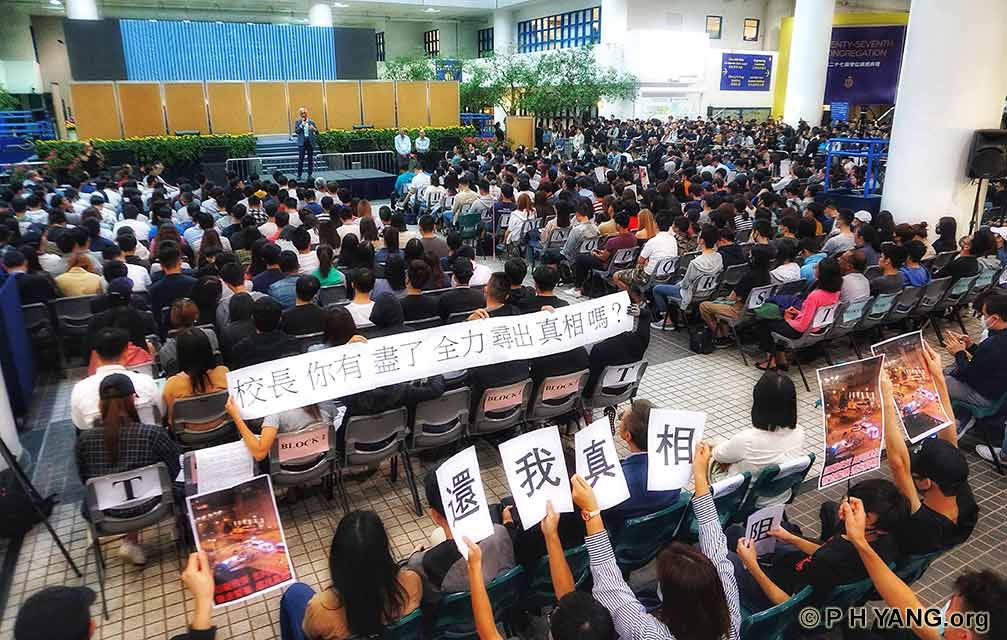 HKUST Student-President Dialogue to Protest Police Brutality

On 4 November, during the clashes in Tseung Kwan O in the early morning, the riot police
fired tear gas in Sheung Tak Estate. During the period, a 22-year-old HKUST Chow was
fell from the parking lot on the third floor to the second floor platform. The police was
accused of having blocked the ambulance and delayed the rescue and more evidence
is needed to clear public doubts.

A university student reporter said that after the police fired tear gas on that night, and 3
ambulances were seen. 'A bunch of policemen were blocking access.'

Some suggested that Chow jumped to avoid tear gas. Some netizens questioned that the
external wall of the third floor was about 1.18 meters high and Chow did not accidentally
fall, and to avoid tear gas, he could choose other ways, and even questioned whether he
was coerced or thrown down. The police last night denied that they have blocked the
ambulance or pushed the victim.

Senior ambulanceman Wat Ki-on said on a radio program this morning that he believed that
the fire department control room had a complete communications record and the
situation would be clear after investigation.

In addition, the police last night pointed out that the victim fell between 0:45 am and 1 am.
At least 5 tear gas rounds were fired at the parking lot, but according to NOW TV News
and Cable News, the police also advanced at 0:58 am and tear gas rounds were fired on
the 2nd or 3rd floor of the parking lot. Legislator of Civic Party Tam Man-ho, believes that
the police absolutely need to explain the truth to the public under serious contradictions.

At 5 pm today, more than 2,000 students and faculty members held a rally on the campus
of Hong Kong University of Science and Technology for a dialogue session with the
university president to protest against the police brutality while a student was seriously
injured. They asked the president to condemn the police and fully support the arrested
students. The principal responded by condemning all violence. Some students raised the
"Give Us the Truth" and " President: Have you tried your best to find out the truth?"

Sai Kung . Hong Kong | 2019
6 Nov 2019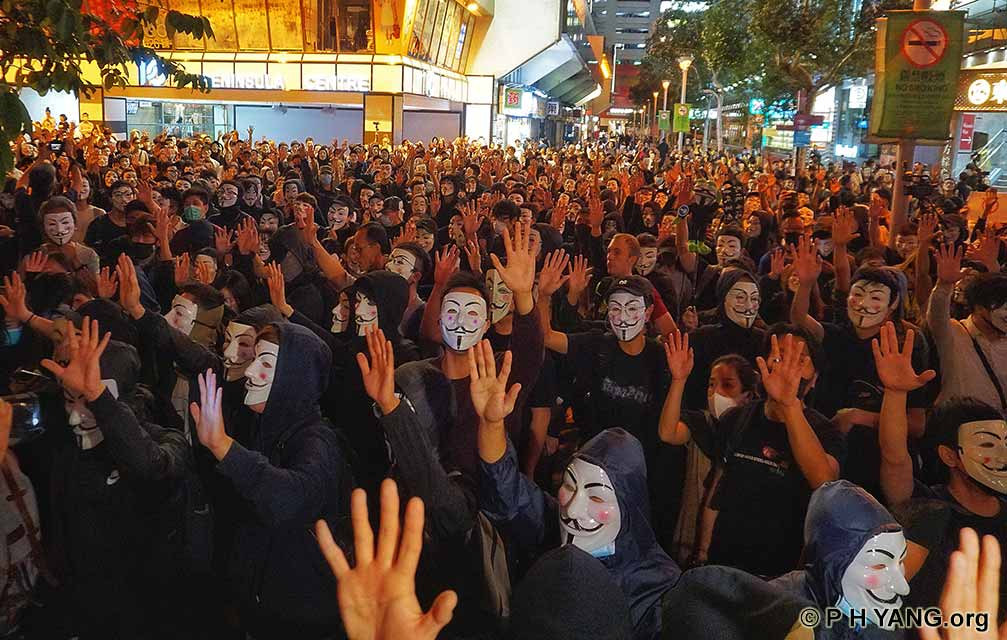 Over 1000 Wear V-Mask at Tsimshatsui to Protest Mask Ban

Guy Fawkes Night, also known as Guy Fawkes Day, Bonfire Night and Firework Night, is
an annual commemoration observed on 5 November, primarily in the United Kingdom.
Its history begins with the events of 5 November 1605 O.S., when Guy Fawkes, a member
of the Gunpowder Plot, was arrested while guarding explosives the plotters had placed
beneath the House of Lords. Celebrating the fact that King James I had survived the
attempt on his life, people lit bonfires around London; and months later, the introduction
of the Observance of 5th November Act enforced an annual public day of thanksgiving
for the plot's failure.

Popularised by the 2006 movie "V for Vendetta", an allegory of oppression by government,
the Guy Fawkes mask has now become a common brand and a convenient symbol to use
in protest against tyranny.

Netizens planned a V-mask Day today targeting Tsimshatsui. Over 1,000 gathered with
V-mask at Urban Council Centenary Garden at 8 pm and chanted '5 Demands, Not One Less'
and 'HongKongers Resist'. They read their declaration, sang 'Glory to Hong Kong' and
dispersed quickly at 8:30 pm.

Tsimshatsui . Hong Kong | 2019
5 Nov 2019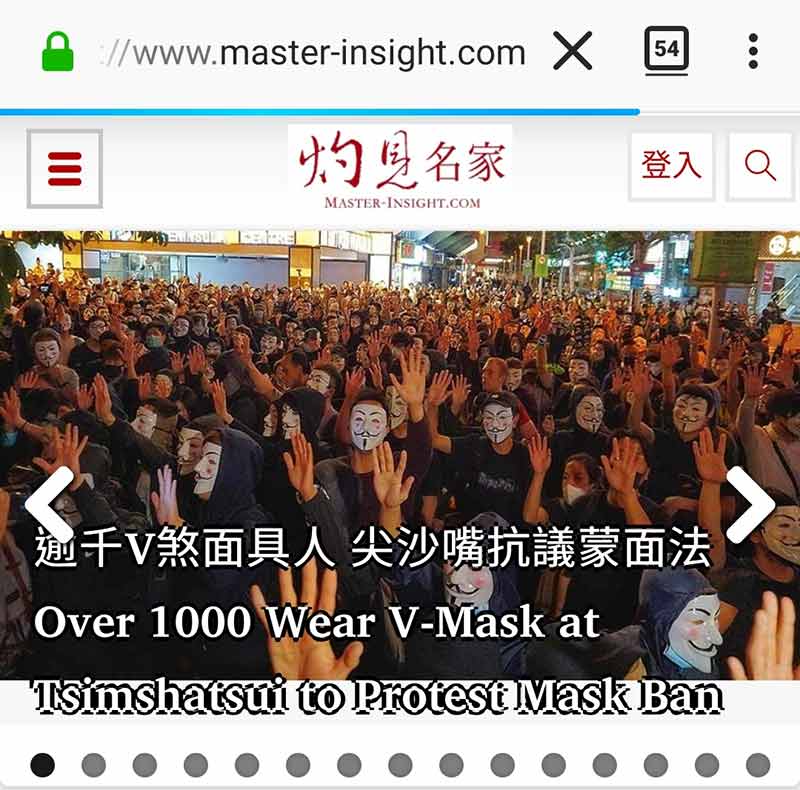 My photo is the top story on the front page of Master-Insight.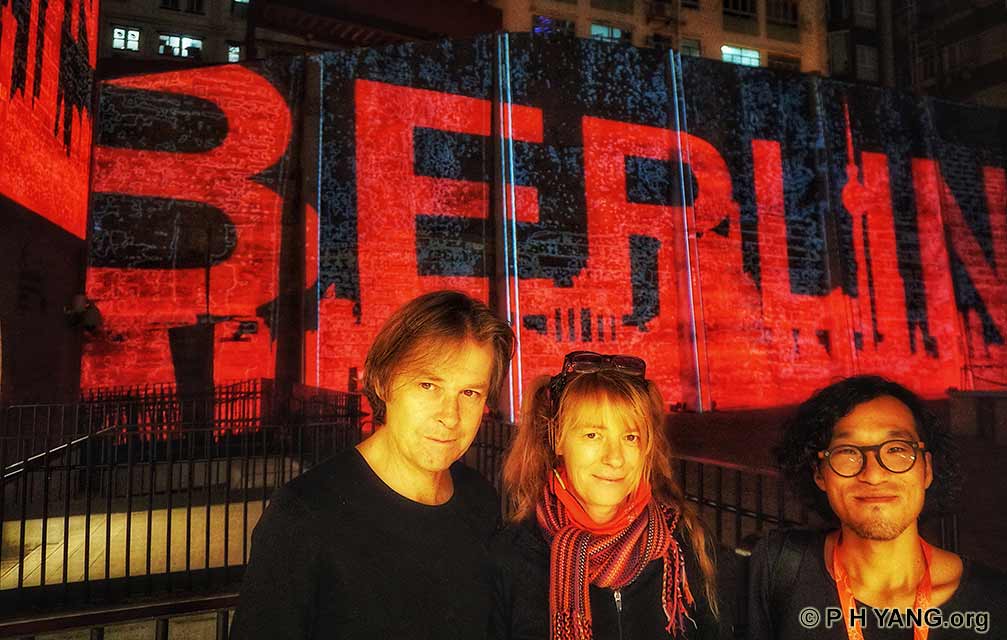 "Prison Break" for Projekt Berlin Lit-up Tai Kwun

From 6 pm throughout Projekt Berlin, commemorating the 30th anniversary of the Fall of
Berlin Wall, all facades around Tai Kwun's Prison Yard is transformed into a dazzling
re-imagination of the thrilling metropolis of Berlin. Through an immersive and engrossing
installation of light and projection mapping, and accompanied by a specially composed
soundscape, the Berlin-based LiCHTPiRATEN creates a fanciful world in which past
eras collide and bounce off each other, making the sweep and drama of this modern
day capital come alive.

The key artists of the creative team of LiCHTPiRATEN, captured in front of the fabulous
1-hour light show at the Prison Yard of Tai Kwun.

This is the story of the struggle for unification of the German people - the division and
finally the reunion; breaking down the Berlin Wall; triumph of democracy; and hope for
the future. Uber inspiring, especially for the current situation in Hong Kong. Don't miss it.

4 - 8 / 11 - 15 / 17 Nov 6 pm; 9 - 10 Nov 8 pm; 16 Nov 9 pm; (Designated dates) 7:30pm
at Prison Yard, Tai Kwun.

SOHO . Hong Kong | 2019
4 Nov 2019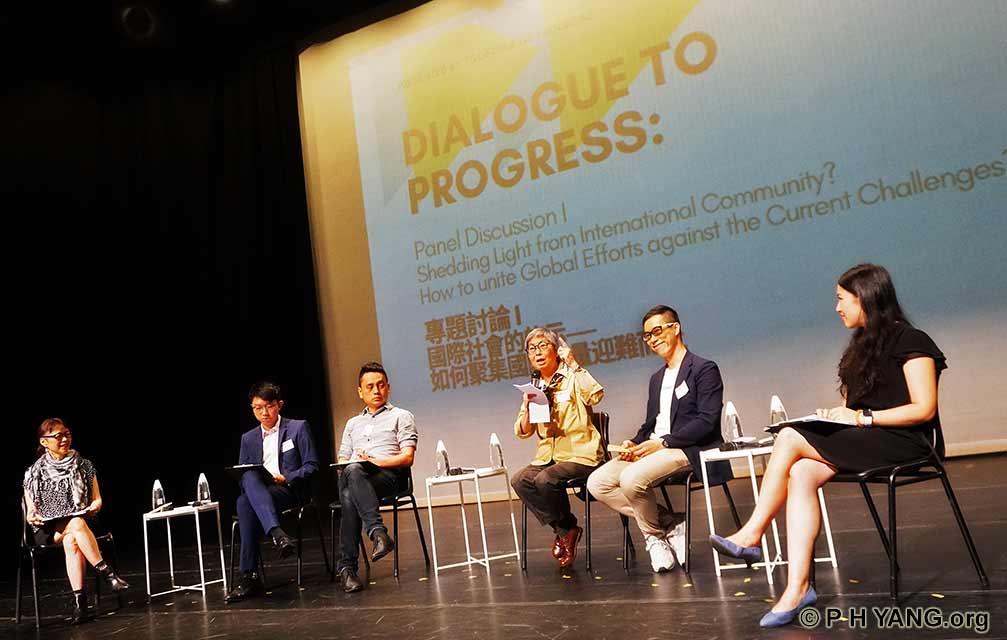 Exploring "Dialogue to Progress: A Silver Lining in the midst of HK Pro-democracy Movement"

A group of passionate youth from different backgrounds and professions, including education,
human rights law, business, youth works, etc. Triggered by the intensifying actions and
atmosphere since early October, they have brainstormed on what they can do in the
current chaotic situation apart from assembly and "keyboard warriors" and finally came
up with the idea of creating a real platform to gather different stakeholders to work
towards the same ultimate objective – democratic development in Hong Kong, at the
time that has insufficient trust and compromise. We believe that a platform for
communication and understanding the thoughts of other fellows can create a common
ground to push forward the pro-democracy movement. Thus, they immediately formed
an ad-hoc task force called "Together We Progress" for organising the symposium.

Event Rundown:
Session 1 - Panel Discussion (Approximately 2.5 hours)
A. Shedding Light from International Community? How to unite Global Efforts against the
Current Challenges?
Moderated by Prof. Sharon Hom (Visiting Professor, Faculty of Law, HKU), guests include
but not limited to Prof. Simon Shen (Adjunct Associate Professor, Faculty of Social Sciences,
HKU), Dr Margaret NG (Former Member of Hong Kong Legislative Council), Mr Johnson
YEUNG (Board Member, Amnesty International (Hong Kong)), Ms Claudia YIP (Spokesperon,
Hong Kong Human Rights Monitor) and Mr Sunny CHEUNG (Spokesperson, Hong Kong
Higher Institutions International Affairs Delagation)

B. Beyond the Deadlock: Future Collective Actions by Hongkongers
Moderated by Mr Bruce Lui (Senior Lecturer, Dept of Journalism, HKBU), guests include
Mr Eric Cheung (Principal Lecturer, Faculty of Law, HKU), Mr Johnny Lau (Current Affairs
Commentator), Mr Figo Chan (Vice-convenor, Civil Human Rights Front), Ms Carol NG
(Chairperson, Hong Kong Confederation of Trade Unions) and Dr Arisina MA (Specialist
in Geriatric Medicine)

Session 2 - Small Group Discussion (Approximately 1.5 hours)
Leveraging the inspiration from Session 1, participants get to suggest feasible yet
diverse plans to introduce democracy to Hong Kong under the guidance of figures with
relevant knowledge and experience, mobilising community efforts and wisdom to map
the way out.

About 300 secondary school students, tertiary students and the general public participated
at HKICC Lee Shau Kee School of Creativity in Kowloon.

Kowloon City . Hong Kong | 2019
3 Nov 2019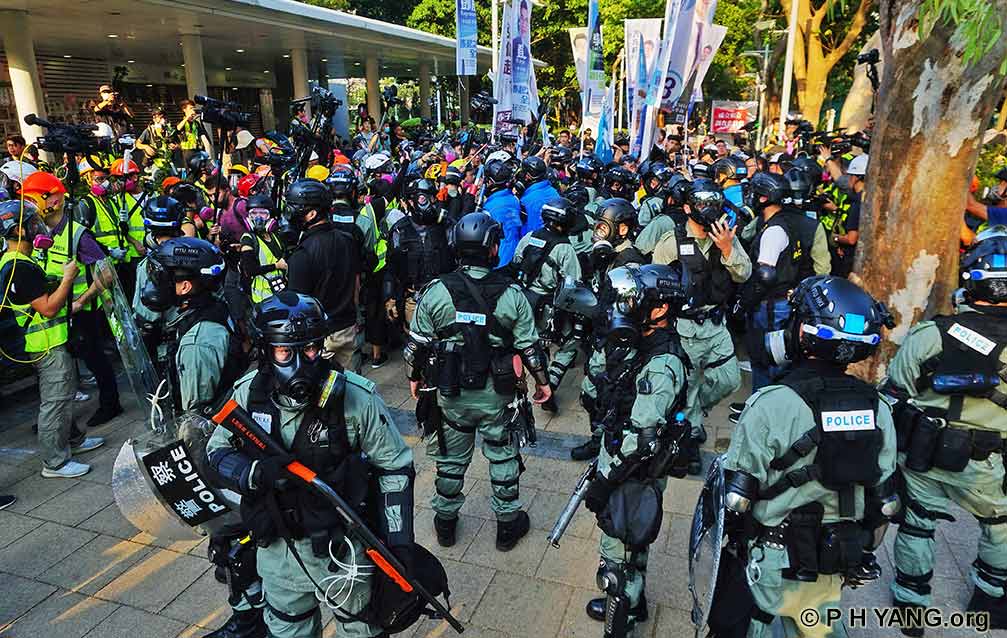 Election Rallies to Skirt Ban Disrupted by Riot Police with Tear Gas

128 pro-democracy district council candidates said on Friday that they will hold
separate election campaigns in Victoria Park from 3 pm on Saturday, in an apparent
bid to skirt the need for police permission to hold a mass rally.

The candidates said they don't need police approval for their campaign meetings, if
each of them meets fewer than 50 people at a time.

This comes as the police banned a rally today at Victoria Park to call for international
support for Hong Kong's autonomy. 48 cities in 17 countries worldwide will rally in
support on the same day.

2 rallies – in Edinburgh Place, for support on US Hong Kong Human Rights and
Democracy Act, and Chater Garden, for peace paper cranes folding, in Central
– have been given police permission and are scheduled at 5-10 pm.

One of the organisers, Ventus Lau, said they would try to keep things peaceful.

On the other side of the Victoria Harbour, the "Human Rights Democracy, Sing with You"
event at the junction of Nathan Road and Granville Road near the junction of Nathan
Road and Granville Road was also issued with a notice of no objection. The purpose
of the event is to support global resistance.

At 2:30 pm, thousands gathered at Victoria Park. After attending the election campaign
meetings, the voters tried to walk to Edinburgh Square and Chater Garden to participate
in the rallies in Central. Over 100 riot police rushed into the Victoria Park and fired tear
gas rounds. They ignored the protest by the candidates and the public against the
interuption of legal election campaign meetings and dispersed the crowd by force.

Causeway Bay . Hong Kong | 2019
2 Nov 2019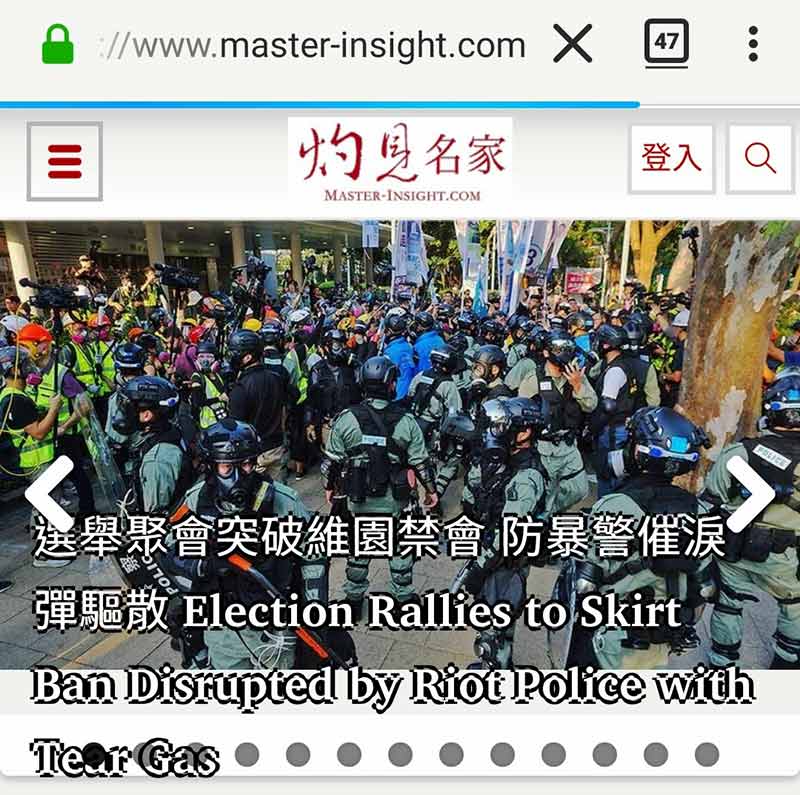 My photo is the top story on the front page of Master-Insight.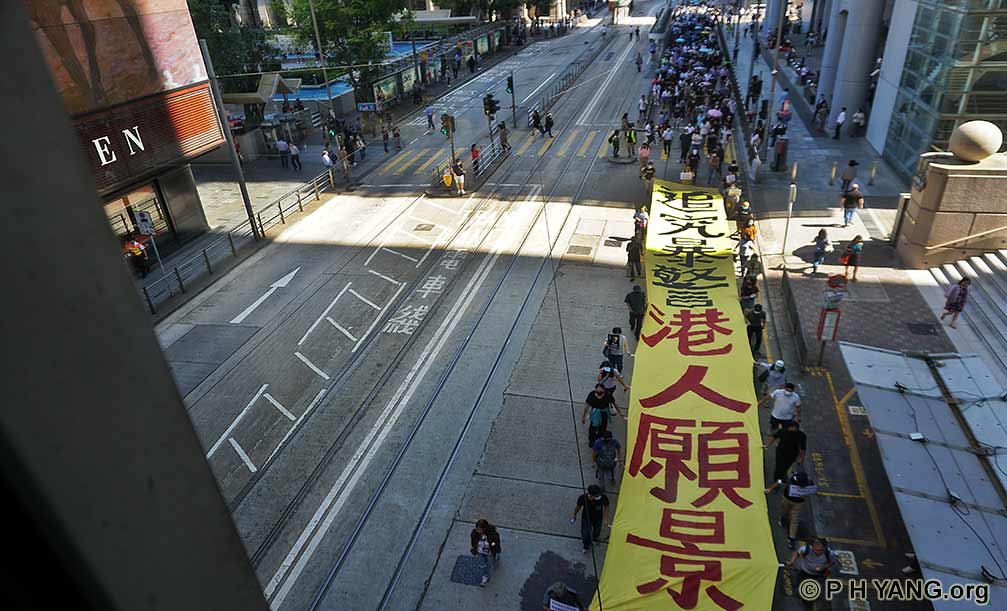 Central Flashmob Protest Against Police Live Shots & DQ Joshua Wong

Some netizens felt that the police had been been arresting indiscriminately with brutality,
and fired live ammunition at protesters on 1 Octorer. The Carrie Lam government disqualified
(DQ) Joshua Wong from running in the district election. The situation is worrying. The 2-district
flashmob protest marches were launched today, including Hong Kong Island and Kwun Tong.

For Hong Kong Island, protesters gathered at Chater Garden in Central at 12:30 pm. Over 1000
people came and a huge banner reading "Investigate Police Brutality, Hongkongers' Vision".
Police raised the yellow flag to warn of illegal assembly, but the public was undaunted.

Most people wear masks, defying the mask ban. At 1 pm, the crowd march on the road headed
for Pedder Street in Central. They occupied the westbound lane and chanted "HongKongers, Resist."

Central . Hong Kong | 2019
1 Nov 2019


Archive:
Oct Sep Aug Jul Jun May Apr Mar Feb Jan 2019
Dec Nov Oct Sep Aug Jul Jun May Apr Mar Feb Jan 2018
Dec Nov Oct Sep Aug Jul Jun May Apr Mar Feb Jan 2017
Dec Nov Oct Sep Aug Jul Jun May Apr Mar Feb Jan 2016
Dec Nov Oct Sep Aug Jul Jun May Apr Mar Feb Jan 2015
Dec Nov Oct Sep Aug Jul Jun May Apr Mar Feb 2014


(C) p h yang 2018 - all rights reserved