0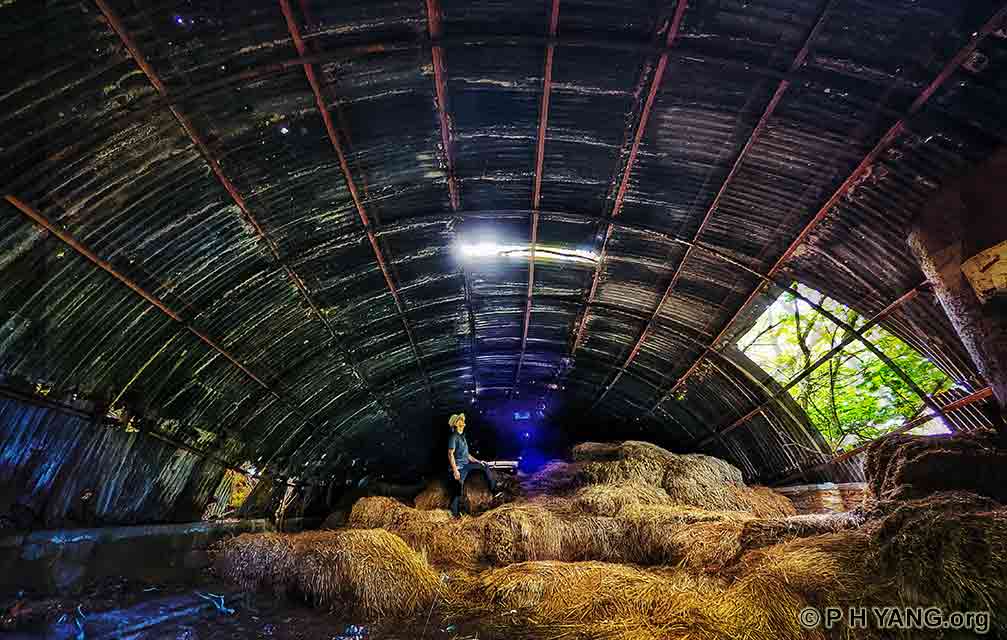 Exploring Deserted Dairy Farm

An avid urban explorer ventures into a deserted dairy farm.

There is a Nissen hut, made from a half-cylindrical skin of corrugated iron, used as a
warehouse for a large amount of hay from 30 to 40 years ago, originally used as fodder
for the cows during winter, and numerous milk bottles and bats are inside.

The farm started producing milk in 1958, and stopped production when it sold off the brand
in the early 1980s. The grassland on the hill was turned into a golf course. Reflecting the ups
and downs of Hong Kong's animal husbandry, they originally imported American dairy
cows and produced milk locally. This was replaced by low-quality milk from the
Mainland after the brand was sold.

Urban exploration is based on the principles of take nothing except picture,
leave no trace and not revealing the location.

Hong Kong | 2022
30 Jun 2022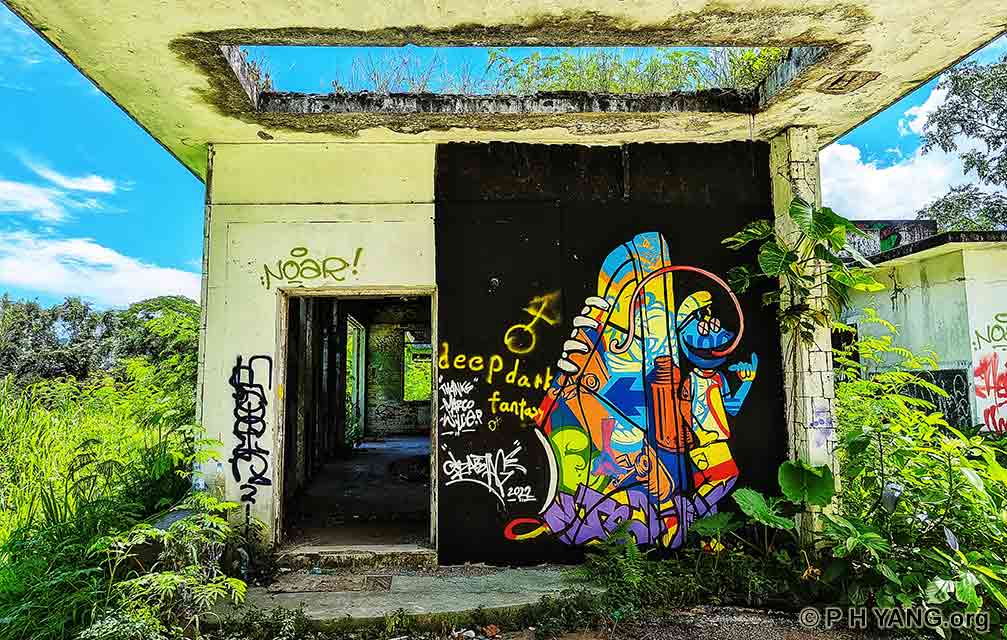 Exploring Deserted Western-style Mansion

An avid urban explorer ventures into a deserted western-style mansion.

The 2-storey Western-style mansion was completed in 1966 with a swimming pool in the garden
at the back, occupying 40,000 sq ft. The mansion has been abandoned for many years. The interior
is dilapidated with trees and vines growing outside the house. Furniture and personal items have
been cleared. It became a playground for graffiti artists, notably @Szabotage, and wargamers.

Urban exploration is based on the principles of take nothing except picture,
leave no trace and not revealing the location.

Hong Kong | 2022
29 Jun 2022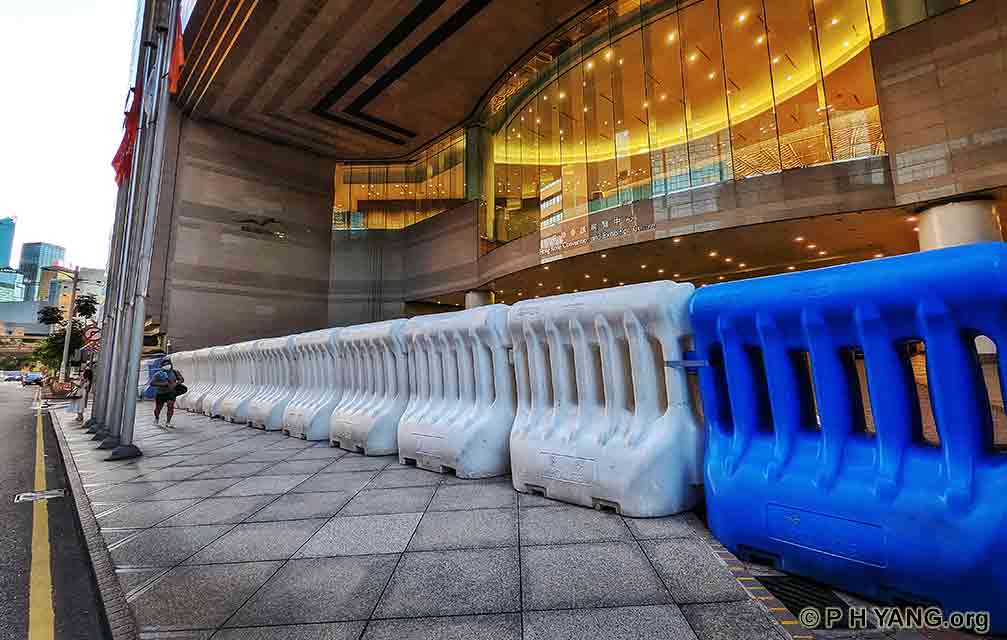 Lockdown Ahead of 25th Anniversary of Hong Kong's Return to China

This Friday (July 1) marks the 25th anniversary of Hong Kong's return to China. Chairman
Xi Jinping plans to attend the celebration of the return and the inauguration ceremony of the
city's sixth government, whether virtual or real has not been announced.

Massive 2-metre-high white and blue barricades are placed at the entrance and exit of Harbour
Road, the Hong Kong Convention and Exhibition Centre (where the celebration will be held),
the Harbour Fire Station and the periphery of the Wanchai Government Building. There is
also massive barricade array deployed adjacent to the Golden Bauhinia Square, plus road
closures in the area, which will be locked down ahead of the July 1 celebration.

The police dispatched additional officers in Wanchai to strengthen the security. Meanwhile,
authorities have further tightened media coverage of the anniversary events. At least 10 outlets
– including Hong Kong Free Press, InMedia, as well as foreign organisations Getty Images,
Japan's Nikkei and Taiwan's CTV – have been denied access.

The Hong Kong Journalists Association said it is "deeply concerned" by the move, adding that it
urged authorities to be 'more inclusive' so that media outlets could 'fulfil their duty in keeping
the public informed by reporting on Hong Kong's historic moments.'

Steven Butler of the Committee to Protect Journalists has said Hong Kong's decision to bar
certain media from the July 1 leadership inauguration "severely undercuts the credibility" of
incoming leader John Lee, who repeatedly gave press freedom assurances. NGO Reporters
Without Borders, tweeted that they were "appalled" by the move and "increasing censorship."

Wanchai . Hong Kong | 2019
28 Jun 2022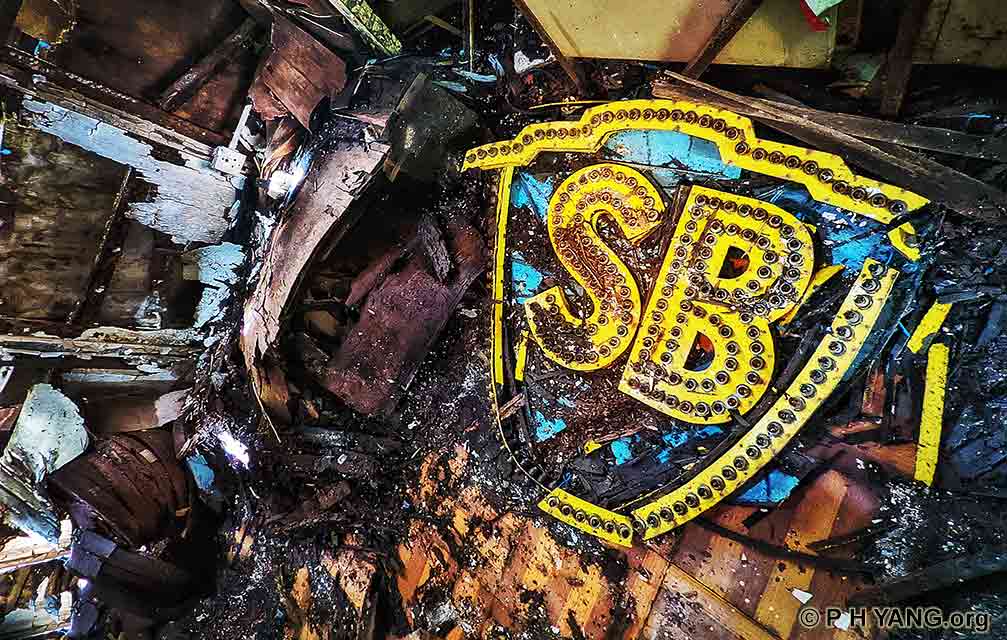 Deserted Iconic Movie Empire Emblem

An avid urban explorer ventures into deserted movie studio complex.

This iconic emblem at one time represented the largest movie empire in the Far East. The
studio complex was formally completed in 1965, with 15 studios, 2 exterior movie sets,
editing rooms, printing rooms, state-of-the-art film-making equipment and facilities,
canteens, staff dormitories and other facilities. It was the largest privately owned
Hollywood-style movie studios in the world with 1,300 employees.

Over the years the film company produced around 1,000 films, some becoming the most
popular and significant Chinese-language films of the period. In 2015, it was rated
as a Grade I historic building. It is a pity that most of the complex has been
demolished and many expensive equipment and historical films are deserted.

Urban exploration is based on the principles of take nothing except picture,
leave no trace and not revealing the location.

Hong Kong | 2022
27 Jun 2022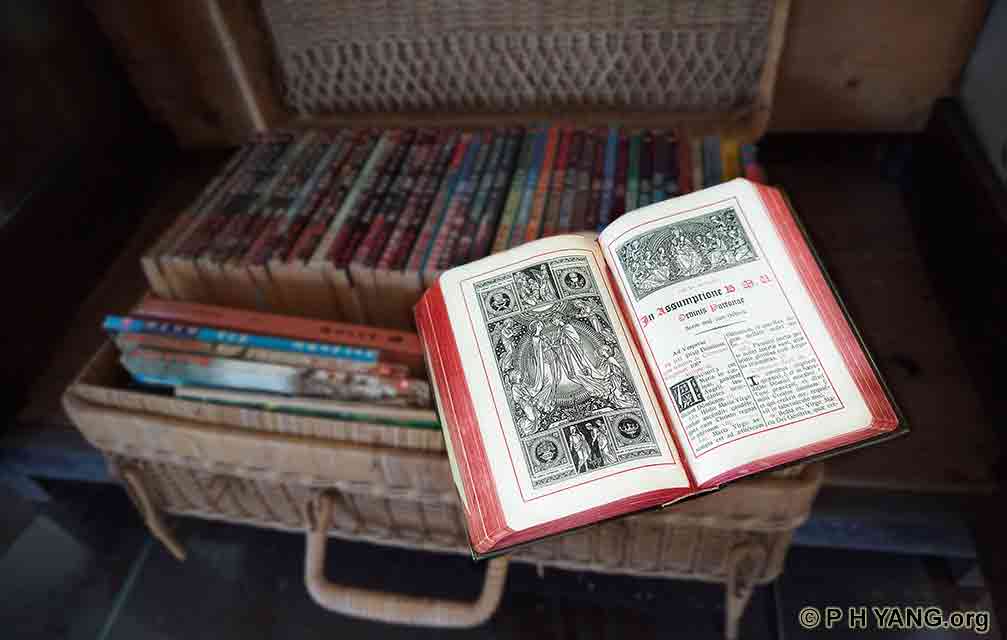 Latin Bible at Deserted Monastery Quarters from 1950s

An avid urban explorer ventures into deserted quarters of a monastery.

Built in 1955, the 2-storey building served as staff quarters for a monastery nearby.
There are 4 beds to each room. Several old bibles in Latin, elaborately illustrated
are found in a rattan bag with many 'Contemporary Art & Literary' magazines from
1960s neatly packed. A vintage open-reel Sony TC-102A tape player/recorder from
1970s is also present.

Urban exploration is based on the principles of take nothing except picture,
leave no trace and not revealing the location.

Hong Kong | 2022
26 Jun 2022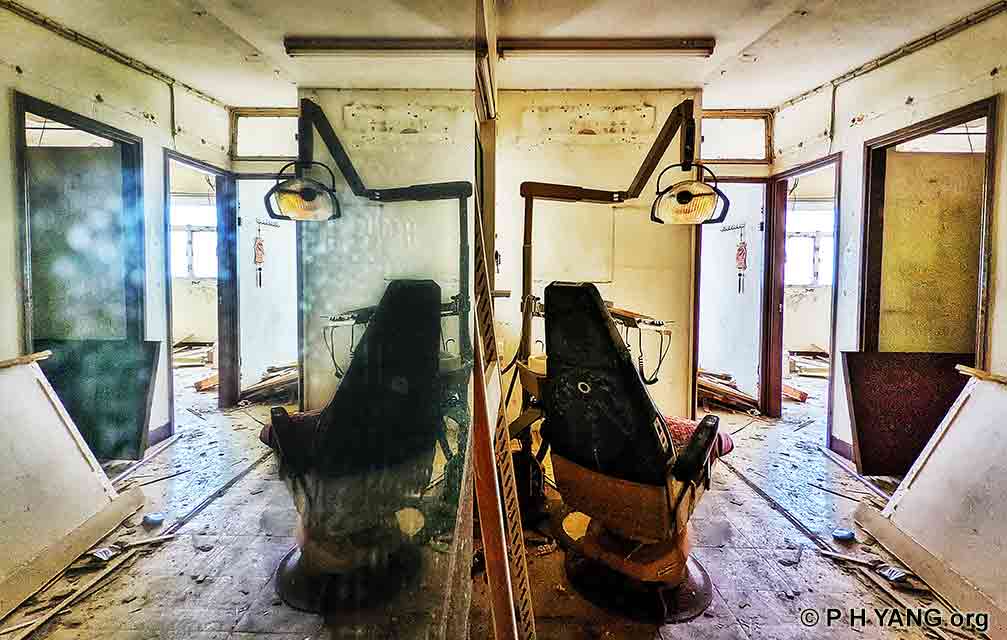 Exploring Deserted Illegal Dentist Clinic

An avid urban explorer ventures into a deserted illegal dentist clinic.

Built in 1961, the 7-storey residential building has an illegal dentist clinic in one of the
apartments. An old dental service chair is still intact. It appears to have been deserted
since 2017 after the dentist was arrested for operating an unlicensed clinic in a
residential building. Furniture and items are scattered throughout.

Urban exploration is based on the principles of take nothing except picture,
leave no trace and not revealing the location.

Hong Kong | 2022
25 Jun 2022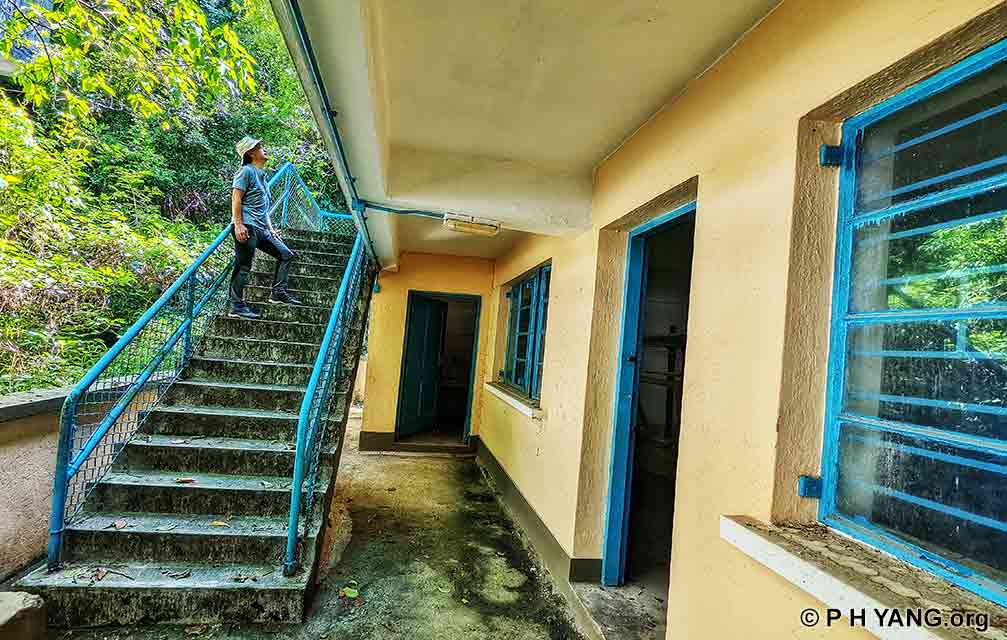 Exploring Deserted Quarters from 1930s

An avid urban explorer ventures into deserted quarters.

Built around 1938-1939, the 2-storey building served as staff quarters for the fresh water
service reservoir nearby. Access to the first floor is via 2 exterior stairs. It is located
in an upscale district in Hong Kong. It appears to have been deserted since 1999.
Furniture and items are scattered throughout. Some units are used for file storage.

Urban exploration is based on the principles of take nothing except picture,
leave no trace and not revealing the location.

Hong Kong | 2022
24 Jun 2022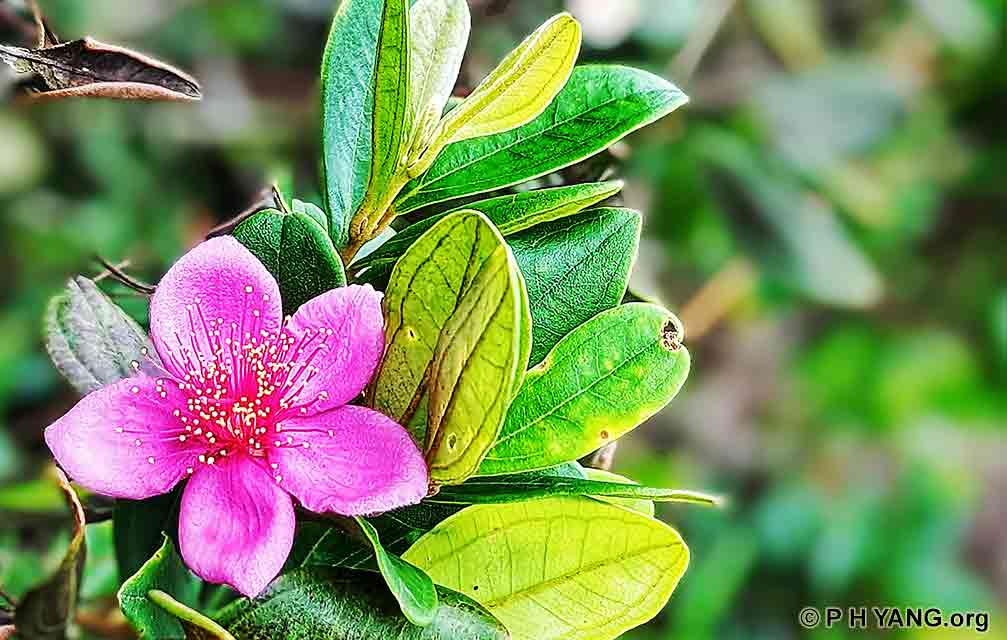 Rose Myrtle Blooming

Rose Myrtle, aka Downy Rosemyrtle, commonly found on the hillsides in Hong Kong. Its pink
flowers usually bloom from April to June. Mature fruits are dark purple in colour and are
sweet and juicy. Such delicious fruits attract hikers and birds.

Tung Lung Island . Hong Kong | 2019
23 Jun 2022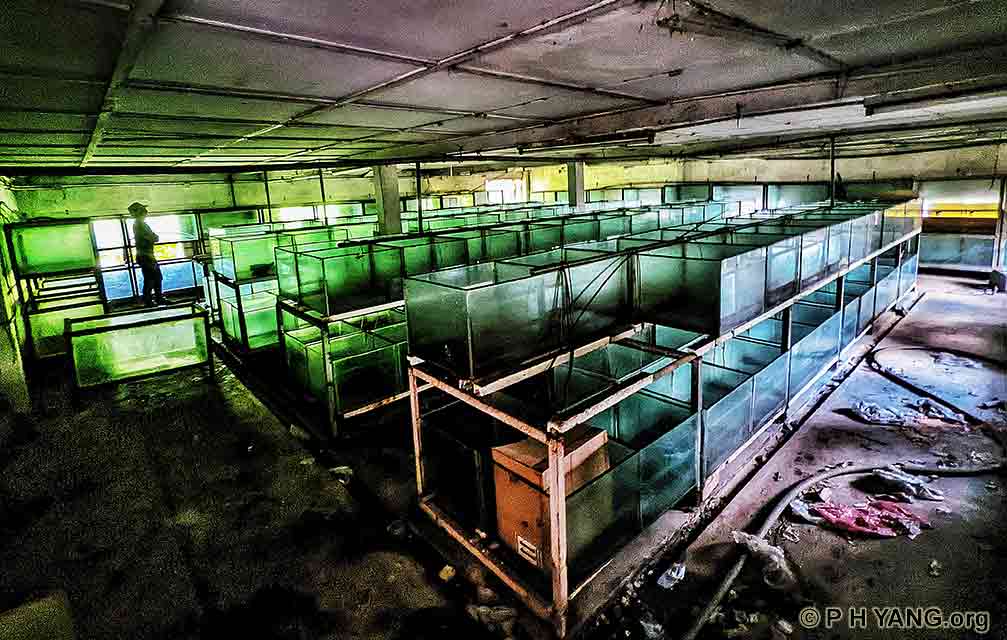 Fish Tank Fish Tank Everywhere

An avid urban explorer ventures into an abandoned fish farm.

The fish farm has numerous fish tanks in many rooms. There is a 2-storey office
building in the compound. It has been deserted for a while. Furniture and
personal items are scattered throughout the building.

Urban exploration is based on the principles of take nothing except picture,
leave no trace and not revealing the location.

Hong Kong | 2022
22 Jun 2022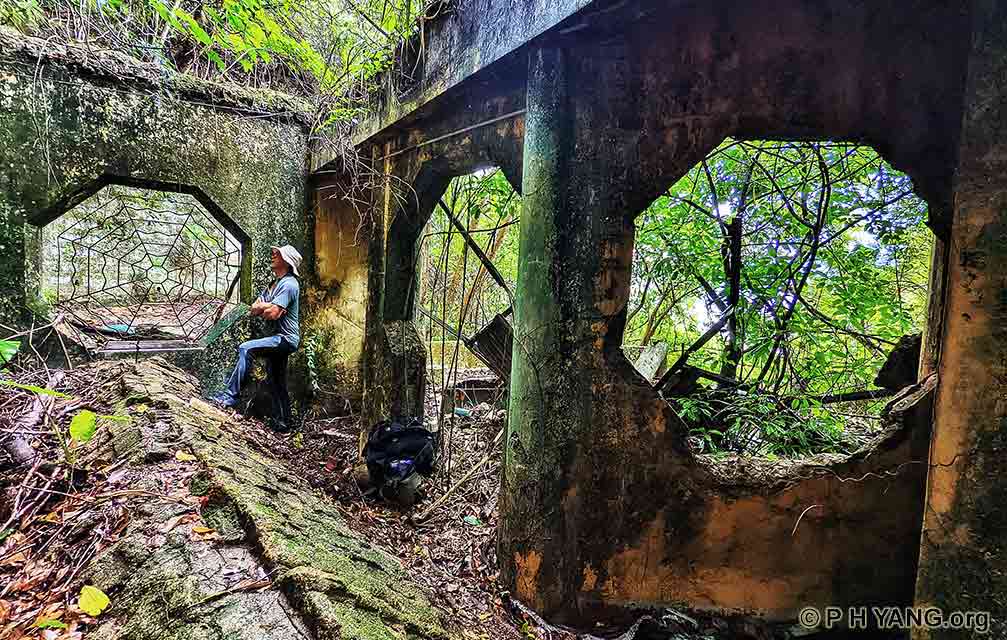 Exploring Deserted Villa Garden from 1950

An avid urban explorer ventures into a deserted villa garden in the h ills.

The villa was built in 1950 with a very impressive design. There was a Chinese-style mansion, a
swimming pool, pavilions, lotus ponds, artificial stone garden, and even a zoo. There were
many ceramic sculptures in the garden, which is a bit like Tiger Balm Garden. In the 1960s, it
was open to the public during holidays.

The owner, Mr Shum, passed away in 1960 and was buried there. The villa was sold
afterwards. It was demolished and replaced by a columbarium. Only the garden
in a state of disrepair remains.

Urban exploration is based on the principles of take nothing except picture,
leave no trace and not revealing the location.

Hong Kong | 2022
21 Jun 2022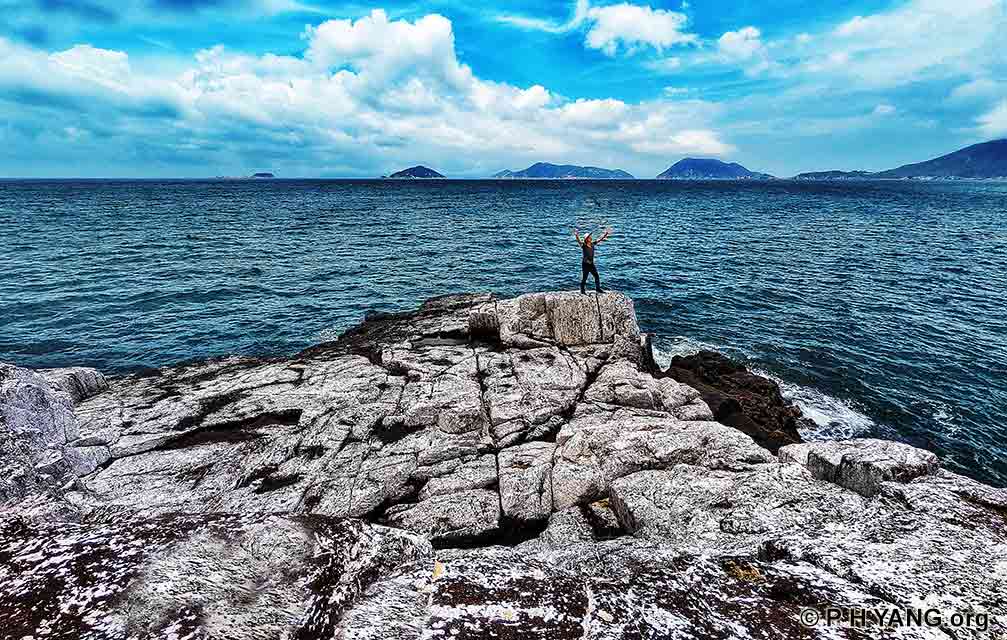 White Cliff of Tung Lung Island

Tung Lung Island, aka Tung Lung Chau, is an island off the tip of the Clear Water Bay
Peninsula in the New Territories. There is a patch of White Cliff, which is artificially painted
to aid navigation, at the south end of the island.

Tung Lung Island . Hong Kong | 2019
20 Jun 2022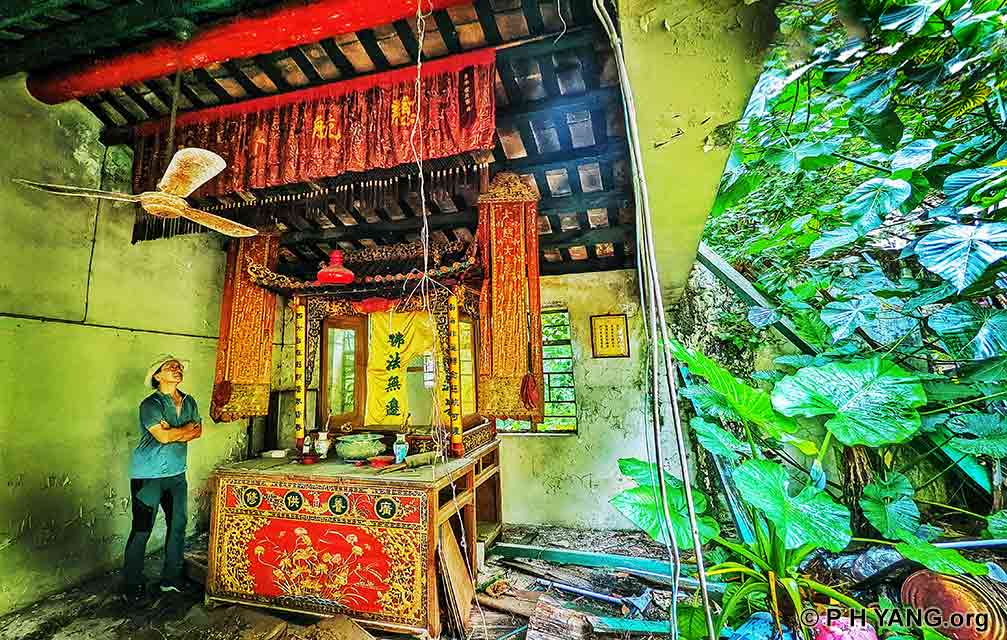 Exploring Abandoned Spinster House from 1960s

An avid urban explorer ventures into an abandoned spinster house.

The 2-storey house was opened in 1968 with a plaque written by Sir Tang Shiu Kin for spinsters,
a shared home for old women unlikely to get married. It has been deserted for a long time
and is in a state of disrepair. The stairs leading to the first floor where a shrine is located,
has collasped. Furniture and personal items are scattered throughout the house.

Urban exploration is based on the principles of take nothing except picture,
leave no trace and not revealing the location.

Hong Kong | 2022
19 Jun 2022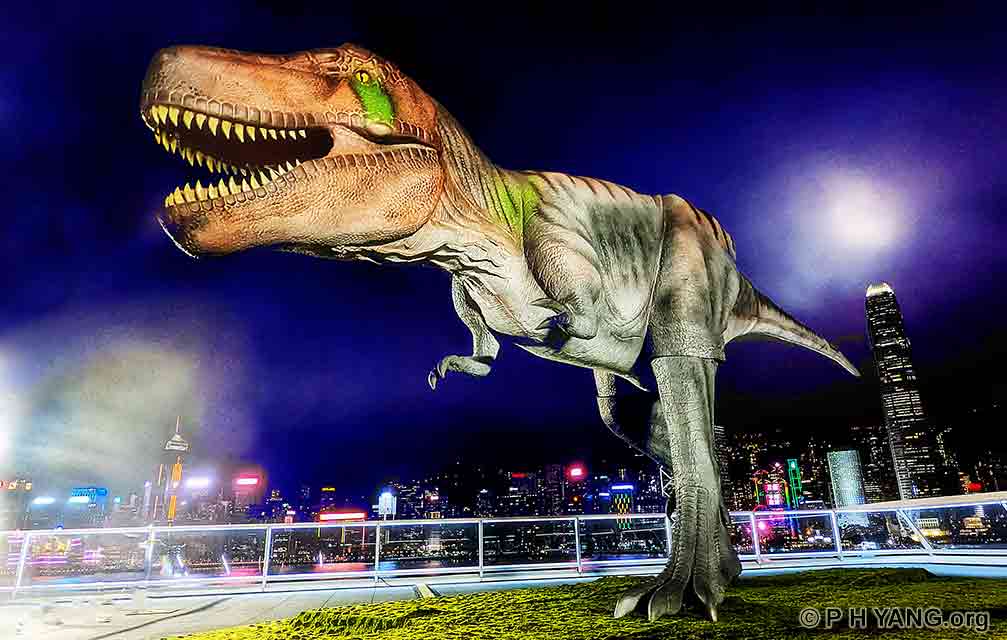 T-Rex Invades Hong Kong

A fearsome 4.6m tall x 12m long Tyrannosaurus-Rex (T-Rex) is seen roaring on the Ocean
Terminal Deck in Tsimshatsui. It is a life-size robotic dinosaur on display by Harbour
City from now until July 17.

Tsimshatsui . Hong Kong | 2019
18 Jun 2022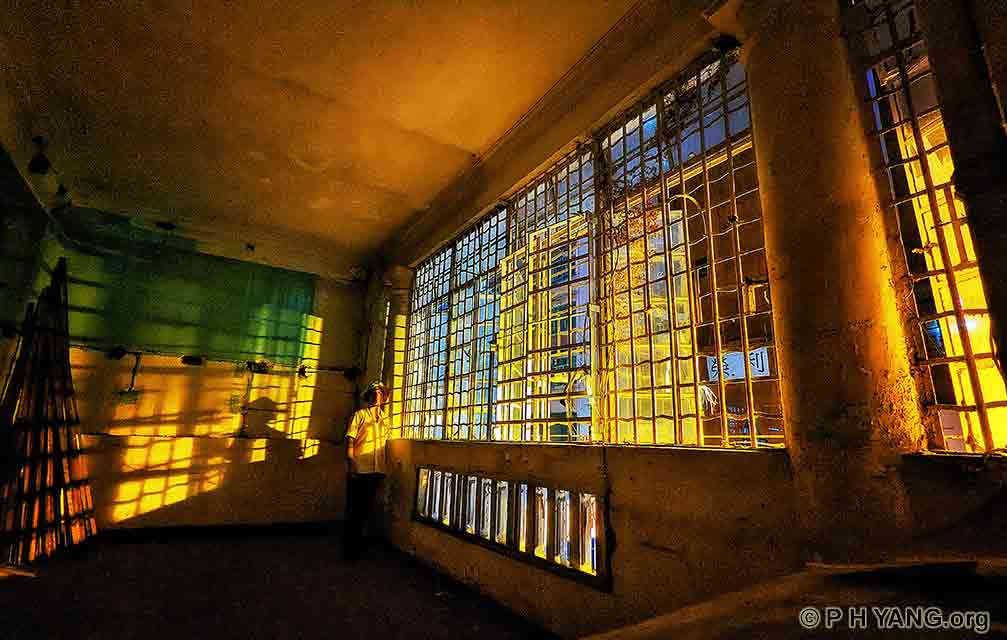 Exploring Deserted Tong Lau from the 1920s-1930s

An avid urban explorer ventures into a deserted Tong Lau (Chinese Tenement).

The building was completed between 1929-1936. It is a Grade II historic building with 3 storeys
in a typical pre-war shophouse style tenement building. The ground floor is used for shops and
the upper floor is used for residential purposes. The pillars on both sides of each storey have
different patterns and are unique. The nett area ranges from 1,008 - 1,823 sq ft. Some units
are partitioned into smaller rooms. The floor tiles are gorgeous. It appears to have been
deserted since 2006 and most of the units have been cleared.

Urban exploration is based on the principles of take nothing except picture, leave no trace
and not revealing the location.

Hong Kong | 2022
17 Jun 2022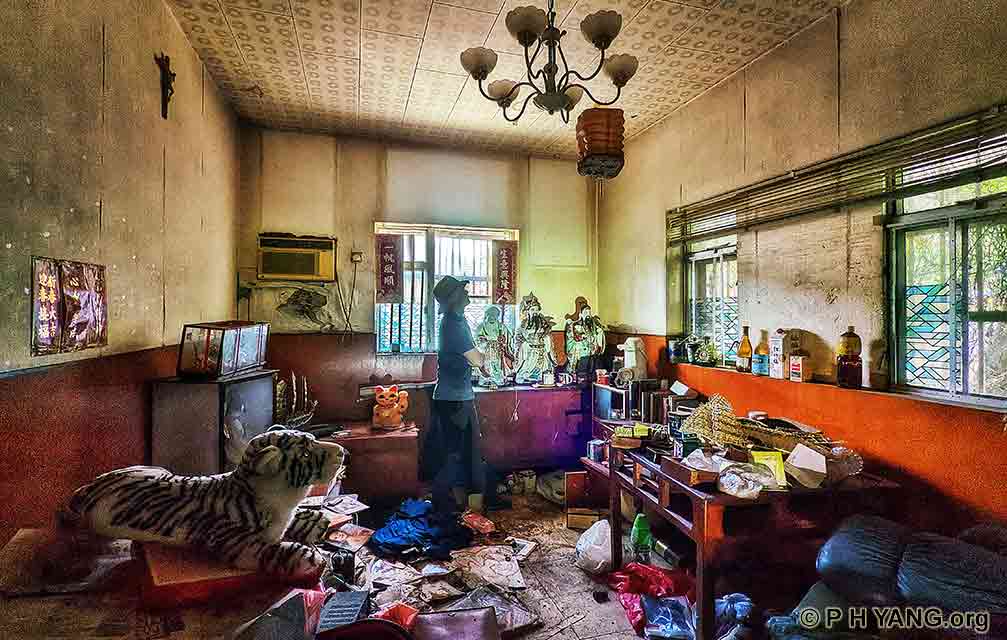 Exploring Deserted Village Mansion

An avid urban explorer ventures into a deserted village mansion.

The mansion is located inside a fish tank compound. A metal external stairs leads to roof.
It has been deserted for a while. Furniture and personal items, including photos, statues,
plush toys, clothings, bedding, etc, are scattered throughout the building.

Urban exploration is based on the principles of take nothing except picture,
leave no trace and not revealing the location.

Hong Kong | 2022
16 Jun 2022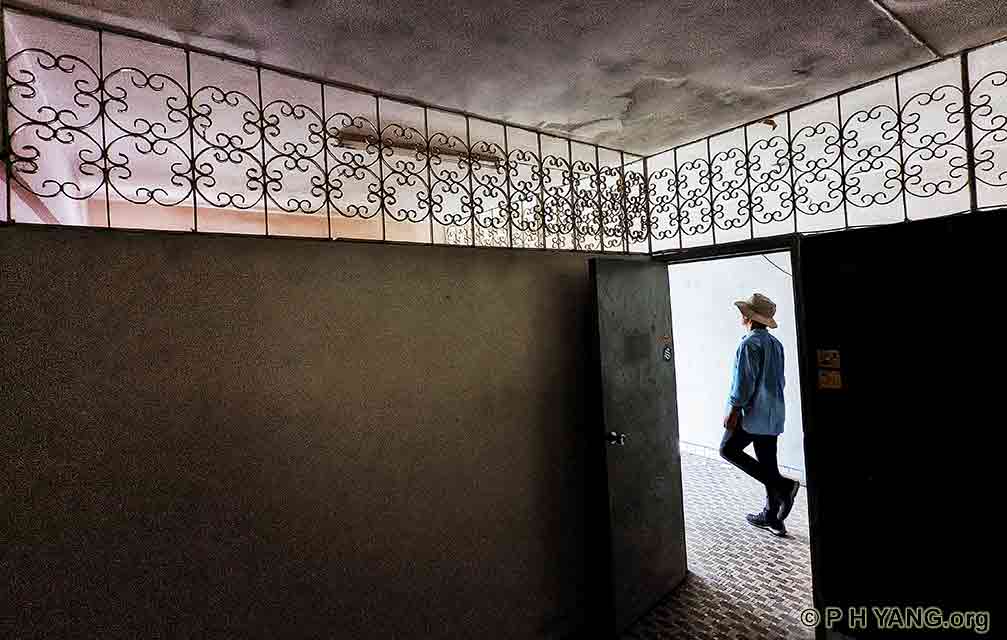 Exploring Deserted Tong Lau from the 1960's

An avid urban explorer ventures into a deserted Tong Lau (Chinese Tenement).

The building was completed in 1963. It has 8 storeys of a 8 units on each floor with a nett area
of 187-380 sq ft. Some units are partitioned into smaller rooms. Others are chicly designed
in the interior. It appears to have been deserted since 2010 and a large number of personal
items and furniture are scattered throughout the building.

Urban exploration is based on the principles of take nothing except picture, leave no trace
and not revealing the location.

Hong Kong | 2022
15 Jun 2022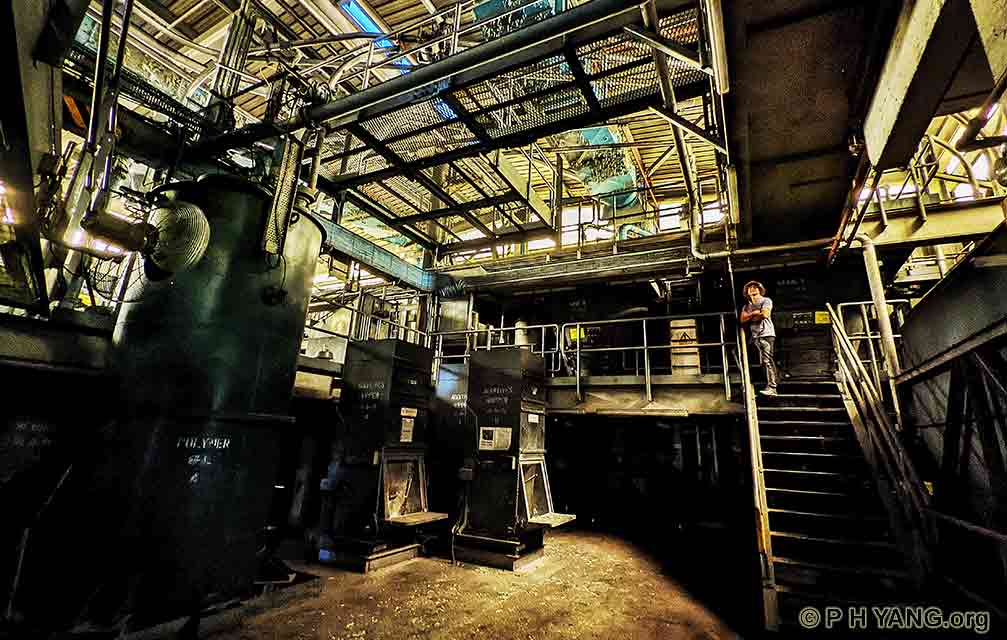 Exploring Deserted Factory

An avid urban explorer ventures into an deserted factory.

Established in 1987, the factory was in manufacturing, wholesaling and exporting of industrial
chemicals like carbon black, conductive compounds and master batch including dyes for
plastic materials. It appears to have been deserted since 2013. The warehouse is mostly cleared.
Furniture and personal items are scattered thoughout the office building.

Urban exploration is based on the principles of take nothing except picture,
leave no trace and not revealing the location.

Hong Kong | 2022
14 Jun 2022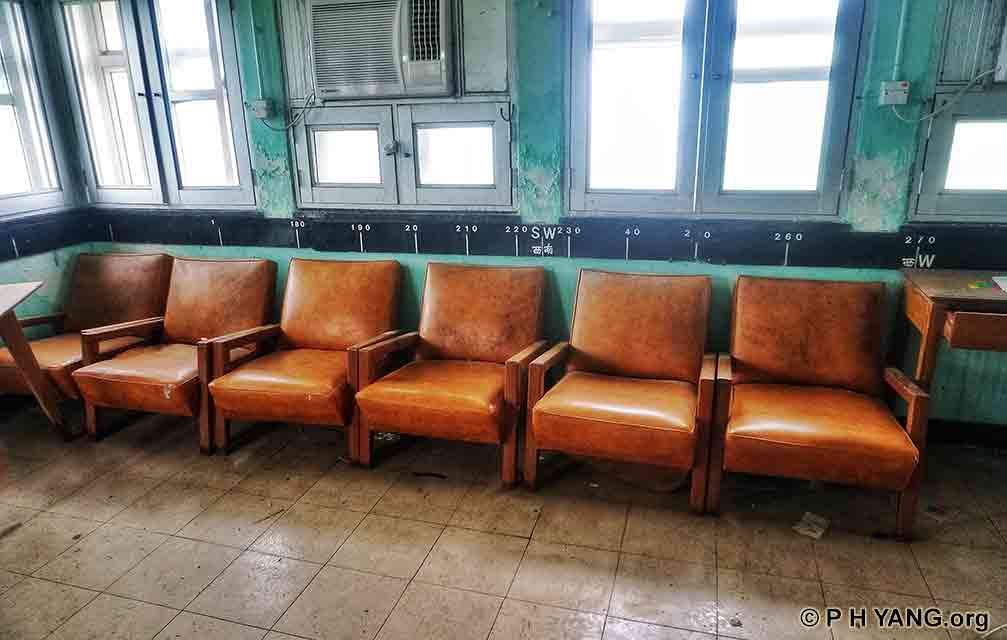 Exploring Engine Room from 1940s

An avid urban explorer ventures into a deserted engine room with lots of sofas.

The building was built between 1941-1945 by the Japanese army during their occupation of
Hong Kong. It was converted into an engine room in 1965. There are quite a few
single-seat sofas in the building.

Urban exploration is based on the principles of only taking pictures, leaving no
traces, and not revealing the location.

Hong Kong | 2021
13 Jun 2022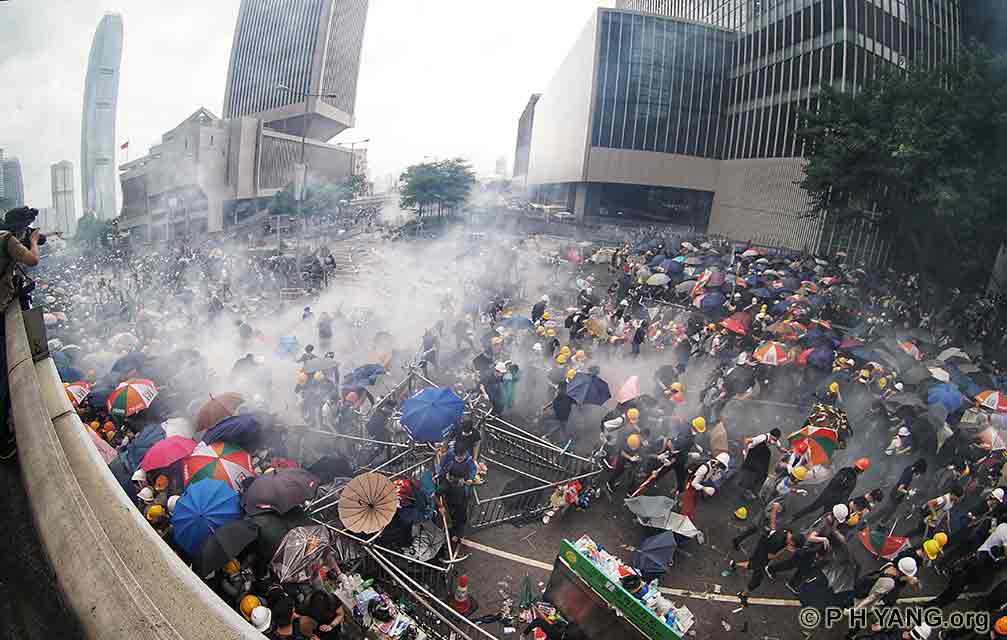 39 Cities in 11 countries in Global Memorial of 12 Jun 2019 Hong Kong Protest 3 Years On

Intense confrontation between 40,000 anti-extradition bill protesters and the Hong Kong Police
occurred on 12 June 2019 outside the Government Headquarters in Admiralty, Hong Kong
Island. The protest was sparked by the government's introduction of the controversial Fugitive
Offenders amendment bill, which was set to go through second reading on 12 June
despite mass opposition. 'We are back' is posted on Lennon Wall in Admiralty.

39 Cities in 11 countries wirldwide engage in a global memorial of the 12 Jun 2019 Hong Kong
Protest on its third anniversary today. 7 cities in USA including New York, Chicago, San Francisco;
6 Canadian cities including Toronto and Vancouver; 7 in UK including London and Manchester;
4 in Europe including Berlin and Prague; 2 in Asia including Tokyo and Taipei; 7 cities in
Oceania including Sydney, Melbourne and Auckland.

The protesters were confronted with gun-totting heavily armed riot police. The police attacked
with excessive force and without prior warning, firing rubber bullets, bean bags, tear gas, and
pepper spray indiscriminately. It was also the first time that the police shoot at local protesters after 1997.

Clouds of tear gas shrouded Admiralty area, including government headquarters, Chief
Executive's Office and Legislative Council Building. 72 people were injured, 2 of them seriously.
The demonstrators were temporarily forced to retreat but continue to occupy after regroup.

The police characterised the incident as 'riots'. The Chief Executive, Carrie Lam, described it as
an organised 'riot' and reiterated that the amendments would not be withdrawn.

The mass protest was headline news on mainstream overseas media, including New York Times,
CNN, Financial Times and others. British Broadcasting Corporation (BBC) described the
scene as 'completely chaotic', 'like a battlefield.' Overseas media generally only use
'protests' as opposed to Hong Kong Government's 'riot'.

Over 200 members of the Chief Executive Election Committee jointly requested Carrie Lam to
step down and call for re-election. They also requested the withdrawal of the Fugitive
Offenders amendments, and the police to stop the violence immediately.

Admiralty . Hong Kong | 2019
12 Jun 2022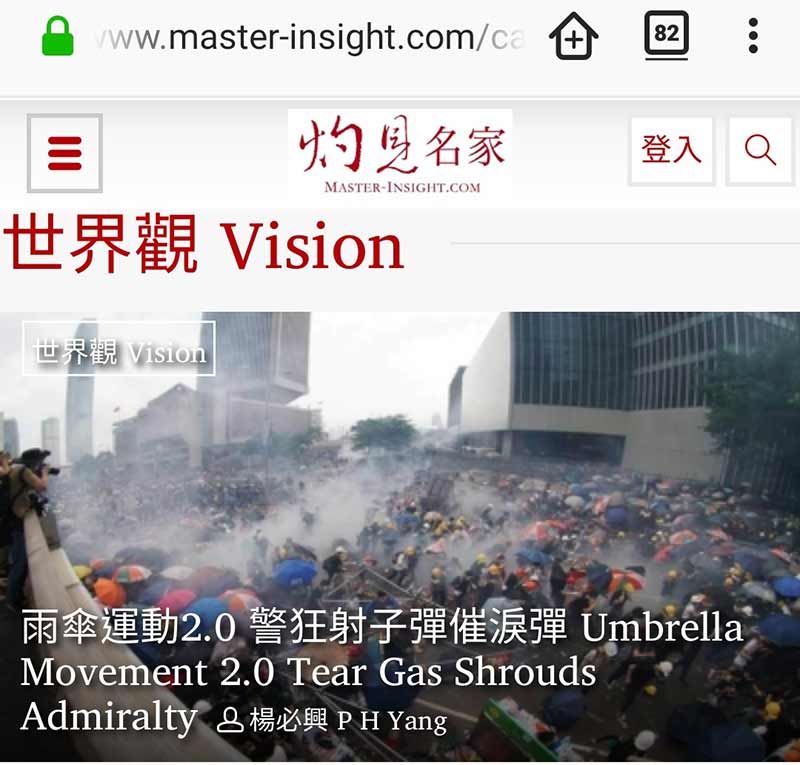 My photo on the front page of Master Insight.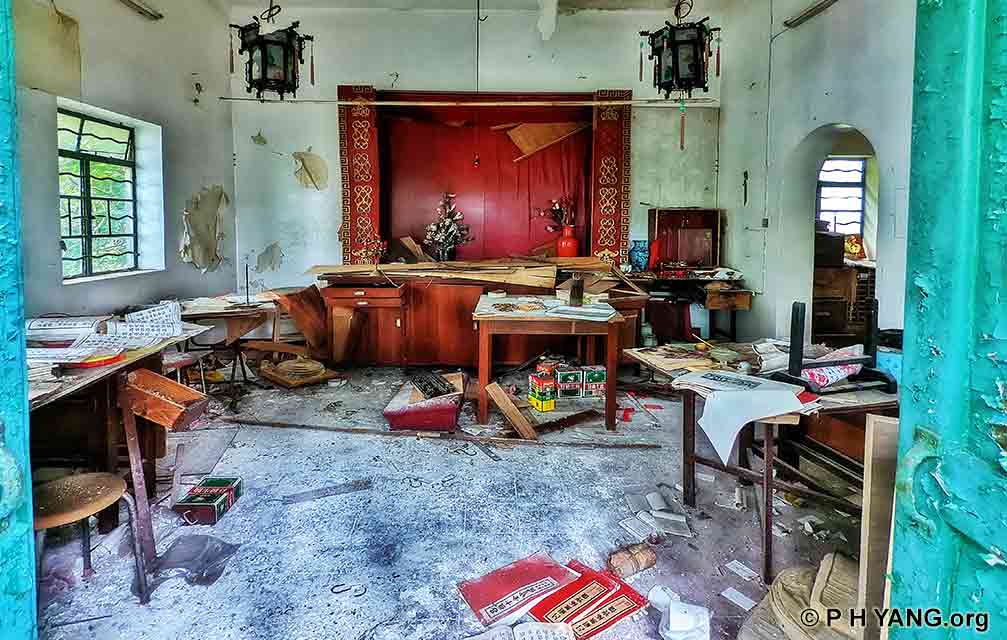 Exploring Abandoned Taoist Temple

An avid urban explorer ventures into an abandoned Taoist temple.

The 2-storey temple bears its name on the lintel above the main door. There is balcony on
the first floor. The temple appears to have been abandoned since 2015.
Furniture and personal items, including many Taoism books and manuals are
scattered throughout the building.

Urban exploration is based on the principles of only taking pictures, leaving no
traces, and not revealing the location.

Hong Kong | 2021
11 Jun 2022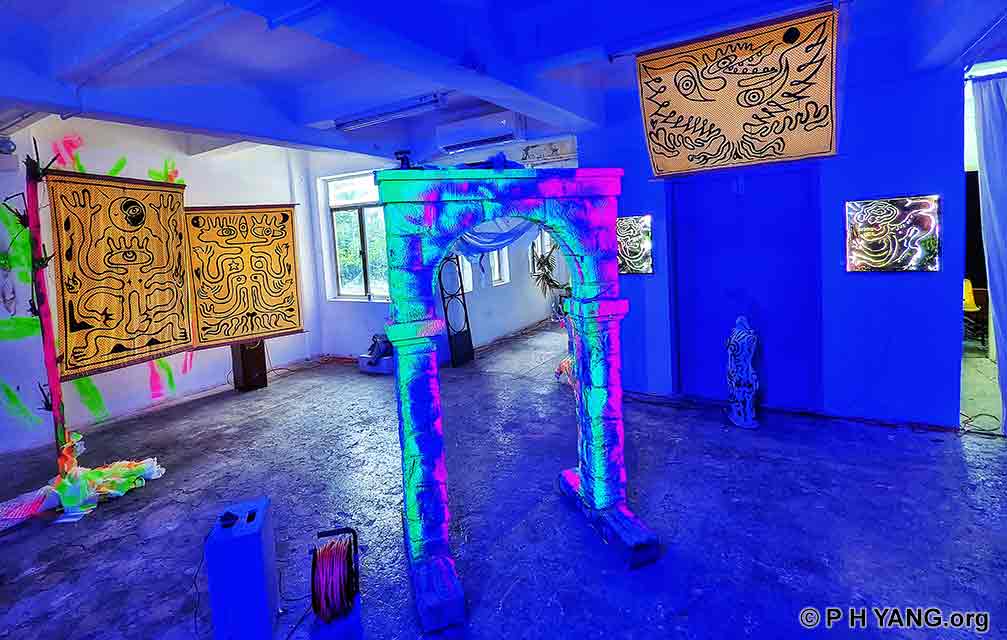 Lousy People Exhibition by Square Street Gallery

"Lousy People", a solo exhibition by Hong Kong artist Lousy was launched after completing
a 4-month artist residency with Square Street Gallery and EJAR | Ragora, 18 A Kung Ngam
Village Lane, 11 May to 11 June.

His work is raw and fascinating, evoking images of animalism, tribalism and mystic rituals.
The artist cited ancient mythologies and "Sanxingdui", a 3,000-year-old archaeological site
in Sichuan, China rumoured to be of extraterrestrial origin, as sources of inspiration.
The artist is pushing his own creative envelope after splashing Hong Kong's streets
with his iconic Kissface images.

Shaukeiwan . Hong Kong | 2022
10 Jun 2022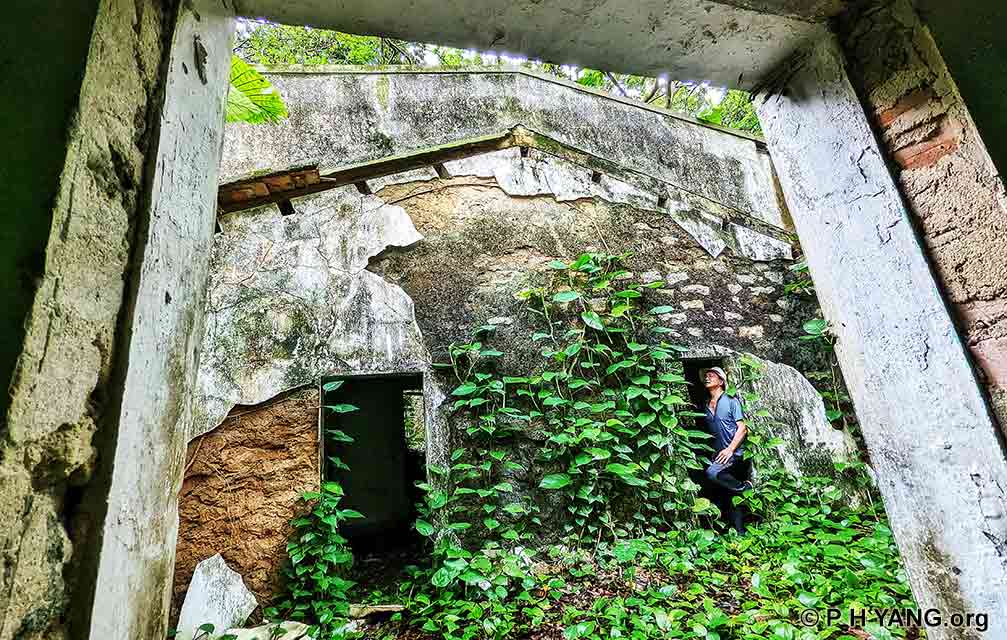 Exploring Abandoned Village House

An avid urban explorer ventures into a abandoned village house.

The village house has 3 sections and the roof in the middle has totally collapsed.
It has been deserted for a while. Furniture is scattered throughout, including 2 very old
refrigerators. Vines grow wild on the walls.

Urban exploration is based on the principles of take nothing except picture,
leave no trace and not revealing the location.

Hong Kong | 2022
9 Jun 2022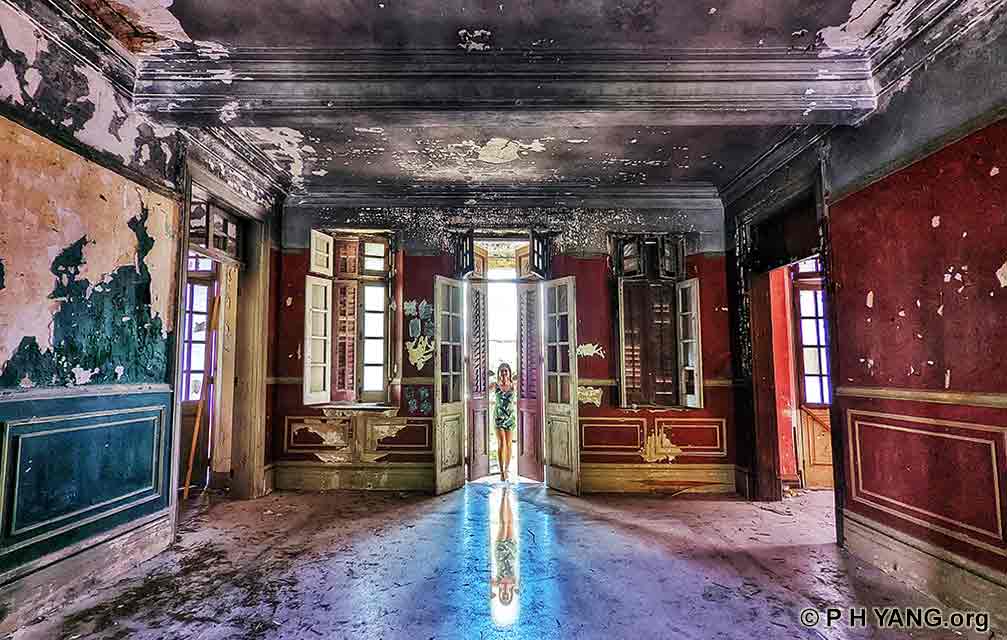 Foxy Marie Explores Deserted European Villa

Foxy Marie, a model and an avid urban explorer from the Philippines ventures into a
deserted European Villa.

Built in 1927, the mansion was rated as a Grade I historic building in 2007 and then Grade II in 2010.

Urban exploration is based on the principles of take nothing except picture, leave no trace
and not revealing the location.

Hong Kong | 2022
8 Jun 2022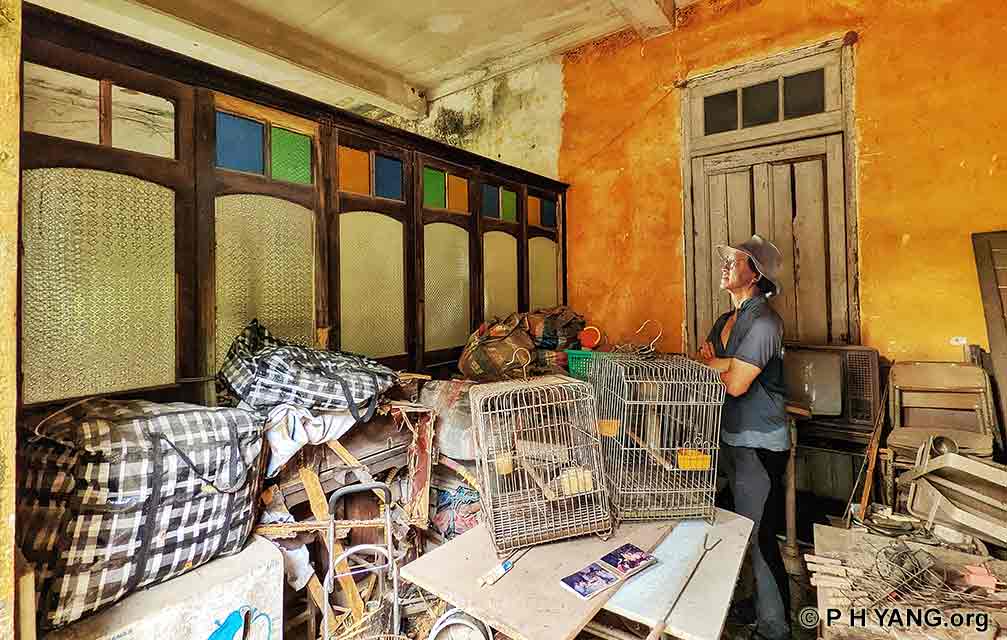 Exploring Deserted Village Mansion

An avid urban explorer ventures into an deserted village mansion.

The 2-storey mansion is one of the 3 buildings in the compound. There are 2 fireplaces.
Colourful glass tiles are used on the partitions to divide the rooms. A bridge on the first
floor connects the mansion to the next house. Apparently, it has been deserted since 2000.
Furniture and personal items are scattered throughout the mansion.

Urban exploration is based on the principles of take nothing except picture,
leave no trace and not revealing the location.

Hong Kong | 2022
7 Jun 2022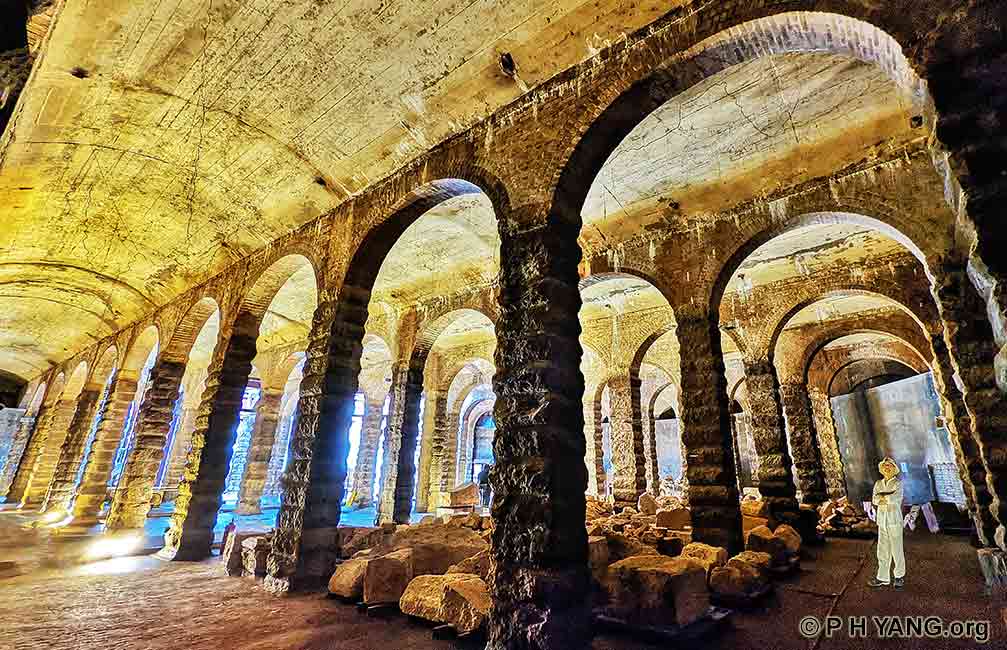 Exploring Century-old Bishop Hill Reservoir

Located at Bishop Hill in Shek Kip Mei, the century-old Romanesque underground
reservoir has just completed its $20 million preliminary restorations. The Water Supplies
Department (WSD) is opening the premises to allow visitors to view the site.

Built in 1904, it was the first locally built circular underground service reservoir to
provide fresh water to residents in Kowloon Tong, Sham Shui Po and Tai Hang Tung. It
ceased operations in 1970, after the Shek Kip Mei Fresh Water Service Reservoir,
with a storage capacity of 30 million gallons, was commissioned.

Now rated Grade I historic building, the ex-Sham Shui Po reservoir will be accommodating
individual and group guided tours daily.

Shek Kip Mei . Hong Kong | 2022
6 Jun 2022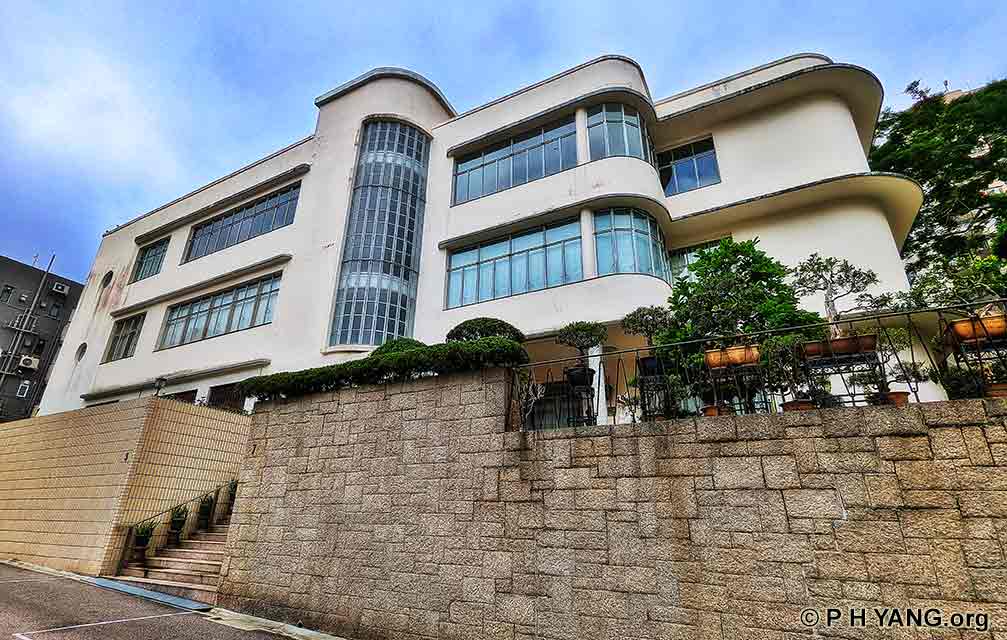 1939 Former Residence of Tang Shiu Kin

Built in 1939, 5 & 7 Broom Road, Happy Valley are semi-detached houses in Bauhaus architecture.
According to Apple Daily, this property was owned by the second generation of Eu Yang Sang's
founder, Eu Tong Sen. It was sold to Sir Tang Shiu Kin, who lived in the premises in his
later years. In 2018, there were suggestions to list it as Grade III historic building.

Happy Valley . Hong Kong | 2022
5 Jun 2022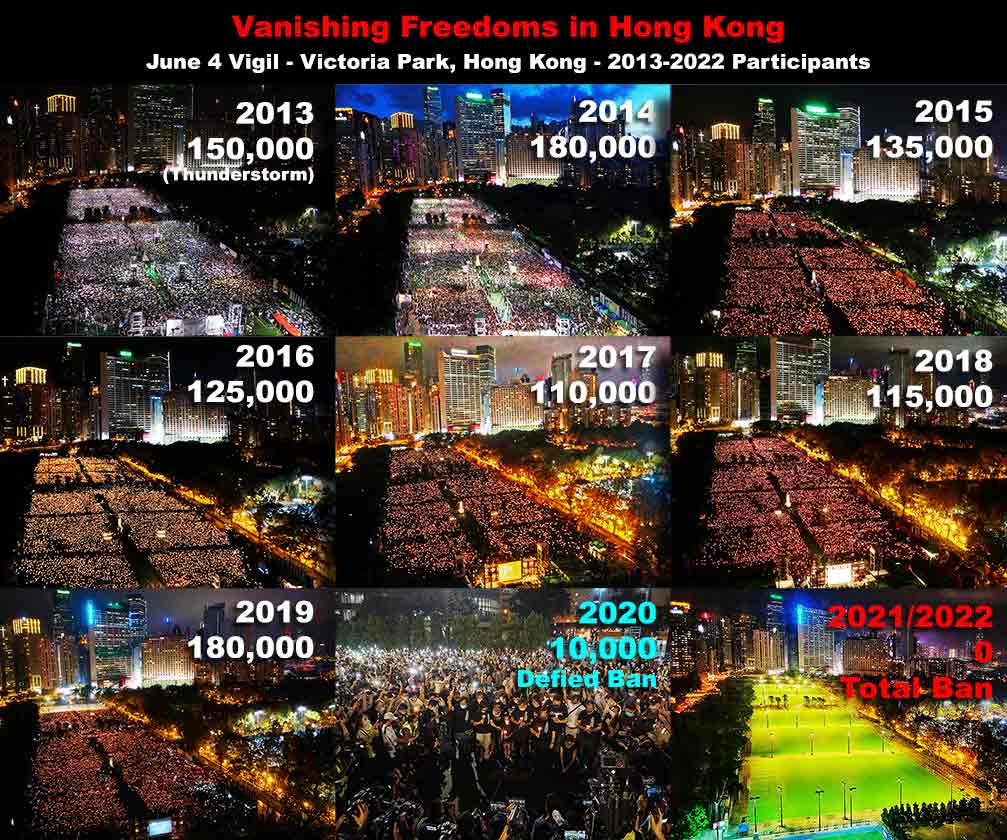 Deserted Victoria Park Witnesss Vanishing Freedoms in Hong Kong

On June 4, 2022, the deserted Victoria Park bears witness to the vanishing freedoms in Hong Kong.

For over 3 decades, tens of thousands have gathered annually on June 4 in Hong Kong's
Victoria Park, lighting candles and singing songs to commemorate the victims of the bloody
1989 massacre on pro-democracy protesters in Beijing's Tiananmen Square. Organisers said
110,000-180,000 participated in the vigil each year between 2013-2019 peaking on the 30th anniversary.

But the tradition is vanishing in Hong Kong after the police banned the annual vigil starting 2020,
citing pandemic-related prevention measures. That year, over 10,000 defied the ban and entered
Victoria Park, taking down the barricades, to join the candlelight vigil, undaunted by at least
20 police vans deployed nearby.

On June 4, 2022, massive police and police vans have been deployed near Victoria Park and Causeway
Bay. Police have warned that anyone participating in an unauthorised assembly risks up to 5 years
in prison, as Victoria Park is closed ahead of Saturday's Tiananmen crackdown
anniversary. The park in Causeway Bay has traditionally been the site of commemorative
candlelit vigils to remember the 1989 dead.

On 4 June 2021, 7,000 police were deployed and the organisers of the annual vigil arrested,
as the authorities sealed off most parts of Victoria Park, citing risks of an unauthorised assembly.

In defiance of police ban, thousands still gathered at and around Victoria Park with lit
candles, phones and placards reading "Never Forget June 4".

180,000 Hong Kong people attended the 2019's 30th anniversary vigil, gathering in
Victoria Park and lighting candles, a great contrast with the empty grounds in 2021 and 2022.

That marked 3 years in a row that the event was banned in the city. 9 Hong Kong pro-
democracy activists have been jailed for between 6 and 10 months for taking part in an
unauthorised assembly at the 2020 vigil. 3 others received suspended sentences.

In September 2021, police arrested members of the Hong Kong Alliance in Support of
Patriotic Democratic Movements in China, the organiser of the vigils, under national
security legislation imposed by Beijing in 2020. Alliance leaders Albert Ho, Lee Cheuk-yan and
Chow Hang Tung were charged with inciting subversion. Ho and Lee are already in jail over their
role in the protests in 2019. Chow was denied bail.

Police also raided the premises of the closed June 4th museum dedicated to the Tiananmen victims.
The Pillar of Shame, an installation commorating the Tiananmen Massacre at the
University of Hong Kong has been summarily removed, under protest by the Danish artist.

"Banning the vigils fits with the claim many are making that 'One Country, Two Systems' has
now become 'One Country, One System,' with fewer and fewer political markers of difference
between the two former colonies and [mainland China]," said Jeff Wasserstrom, a
historian of modern China at the University of California in Irvine.

Causeway Bay . Hong Kong | 2013-2022
4 Jun 2022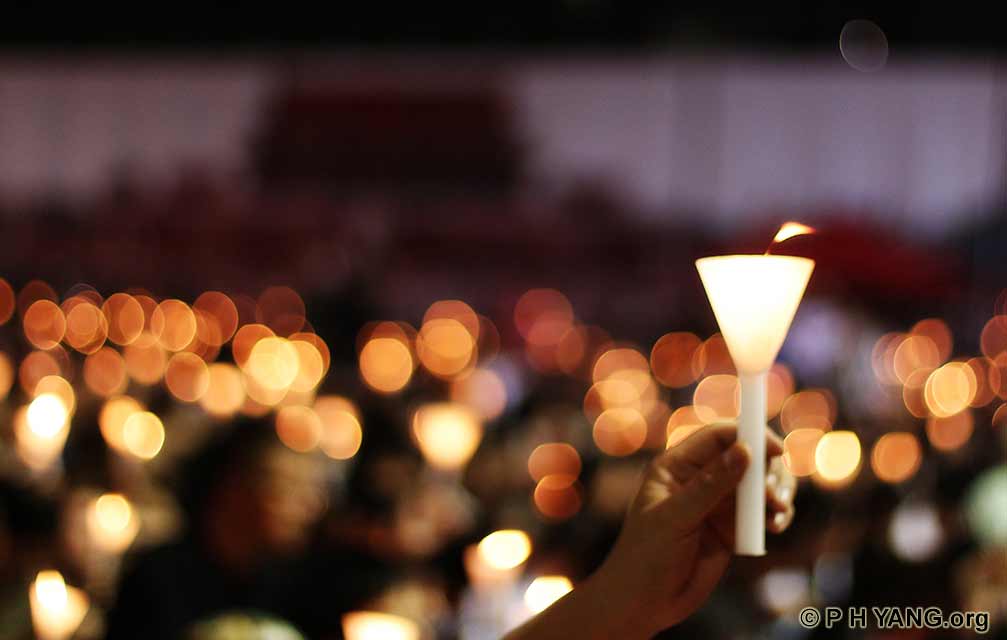 Sea of Candles at June 4 Vigil

The sea of candles at the June 4 vigil at Victoria Park, Hong Kong where 150,000 braved
thunderstorm and torrential rain to commemorate the 24th anniversary of 1989 Tiananmen
Massacre in 2013.

The annual June 4 vigil at Victoria Park for the 33rd anniversary this year has been banned
by the Hong Kong Police for the third consecutive year.

Causeway Bay . Hong Kong | 2013
3 Jun 2022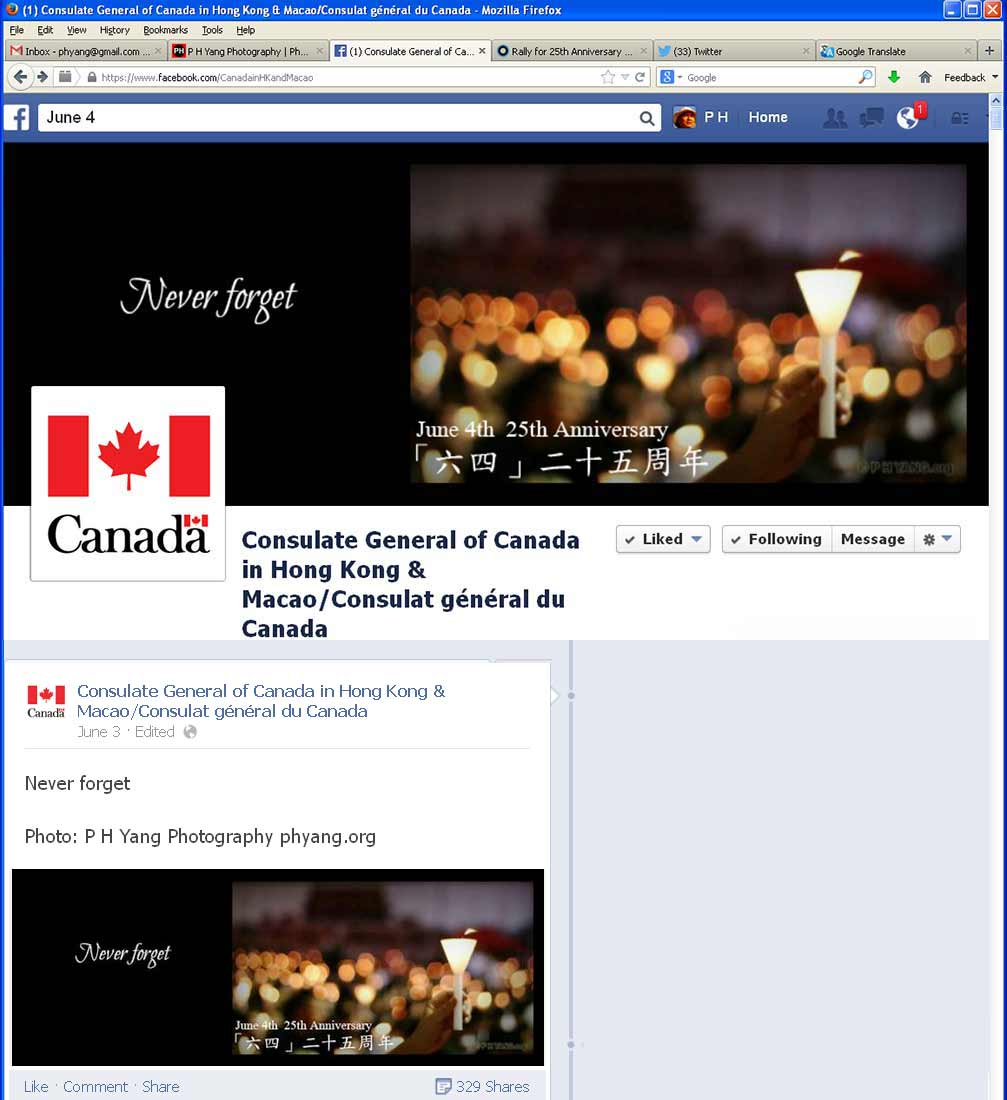 This image was used by the Consulate General of Canada for Hong Kong & Macao
as their Facebook Cover Photo in June 2014.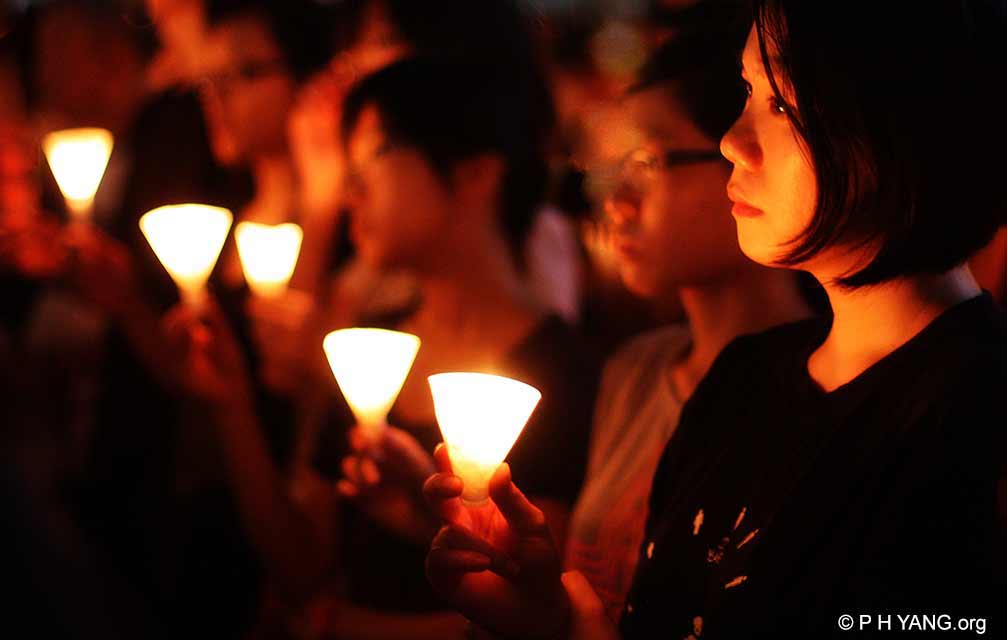 Cannot Forget - June 4 Vigil

19 year-old Mary mourns at the annual vigil at Victoria Park, Hong Kong, with her friends, to
commemorate the 23rd anniversary of the 1989 June 4 Tiananmen Massacre.
They were all born after the event.

The annual June 4 vigil at Victoria Park for the 33rd anniversary this year has been banned
by the Hong Kong Police for the third consecutive year.

Causeway Bay . Hong Kong | 2012
2 Jun 2022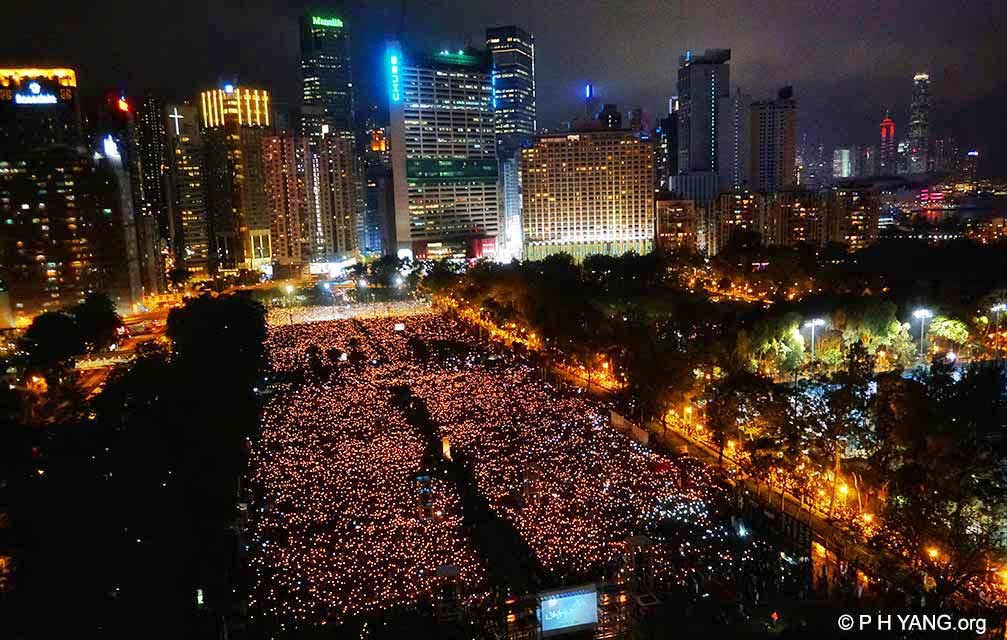 180,000 Joined 30th June 4 Vigil in 2019

A sea of light illuminated Victoria Park in Hong Kong.

180,000 gathered at the annual candlelight vigil to commemorate the 30th anniversary
of the June 4 Tiananmen Massacre of 1989 in Beijing.

Turnout was at record high despite pouring rain before and being snubbed by college
students who are severing ties with China.

For over 3 decades, tens of thousands have gathered annually on June 4 in Hong Kong's
Victoria Park, lighting candles and singing songs to commemorate the victims of
the bloody 1989 massacre on pro-democracy protesters in Beijing's Tiananmen Square.
Organisers said 110,000-180,000 participated in the vigil each year between 2013-2019.

But the tradition is vanishing in Hong Kong after the police banned the annual vigil starting
2020, citing pandemic-related prevention measures. That year, over 10,000 defied the ban and
entered Victoria Park to join the vigil, undaunted by at least 20 police vans deployed nearby.

Causeway Bay . Hong Kong | 2019
1 Jun 2022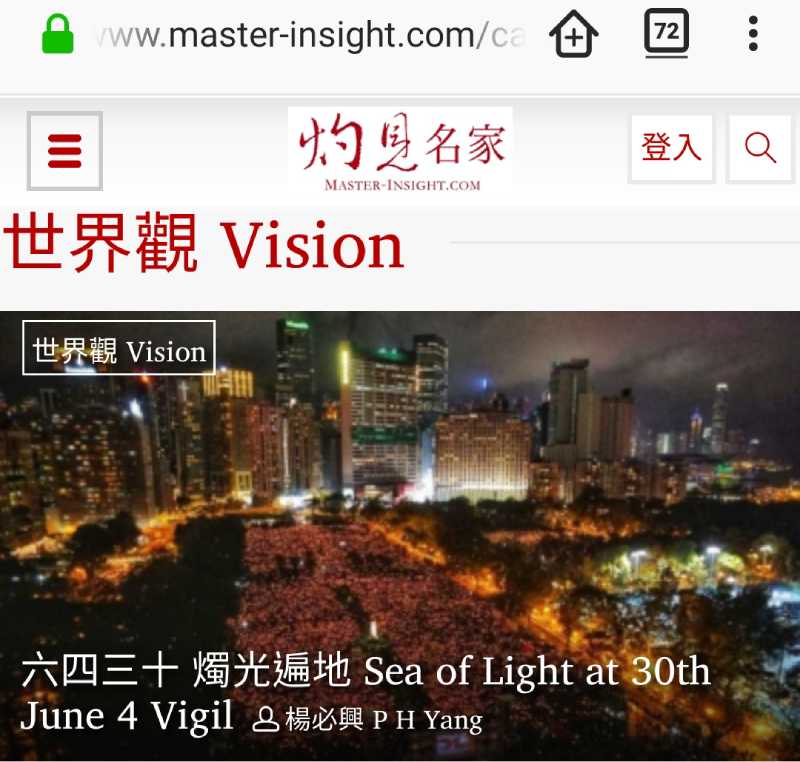 My photo on the front page of Master-Insight.

Archive:
May Apr Mar Feb Jan 2022
Dec Nov Oct Sep Aug Jul Jun May Apr Mar Feb Jan 2021
Dec Nov Oct Sep Aug Jul Jun May Apr Mar Feb Jan 2020
Dec Nov Oct Sep Aug Jul Jun May Apr Mar Feb Jan 2019
Dec Nov Oct Sep Aug Jul Jun May Apr Mar Feb Jan 2018
Dec Nov Oct Sep Aug Jul Jun May Apr Mar Feb Jan 2017
Dec Nov Oct Sep Aug Jul Jun May Apr Mar Feb Jan 2016
Dec Nov Oct Sep Aug Jul Jun May Apr Mar Feb Jan 2015
Dec Nov Oct Sep Aug Jul Jun May Apr&nbsp Mar Feb 2014


(C) p h yang 2022 - all rights reserved