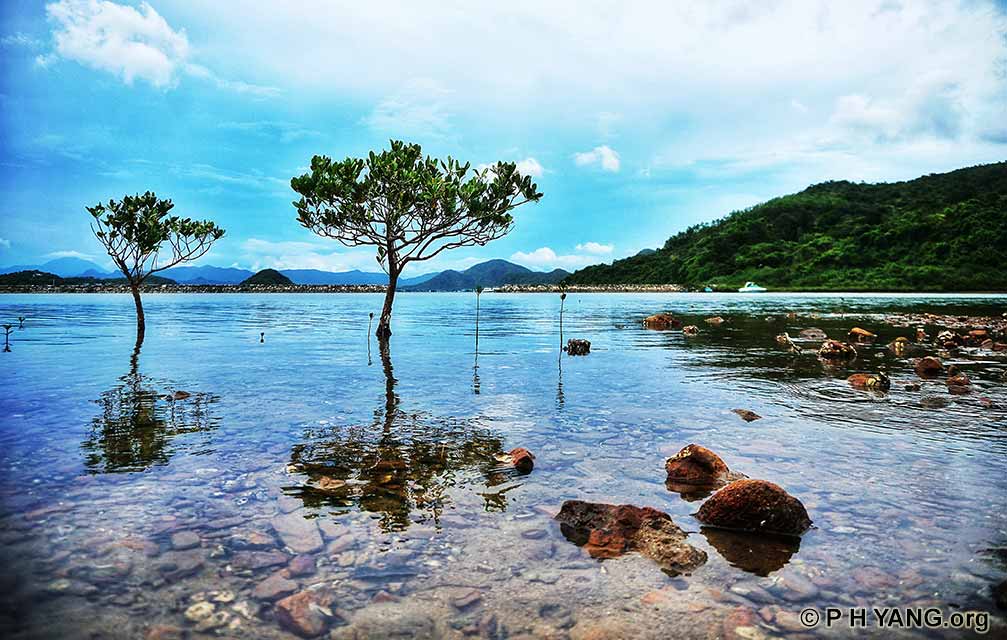 Gorgeous Three Fathom Cove in Sai Kung

The scenery in Three Fathom Cove, Sai Kung is gorgeous. Hiking along the waterfront near
Kei Ling Ha Lo Wai, Shui Long Wo and Yung Shu O, you will find green fields, mangroves,
shoals and an astronomical observatory, with diverse sights.

Three Fathom Cove (Kei Ling Ha Hoi) is a bay located east of Ma On Shan. Since Ma On Shan
is also known as 'Kei Ling', the bay is called 'Kei Ling Ha' (Lower Kei Ling).

Sai Kung . Hong Kong | 2020
31 Jul 2020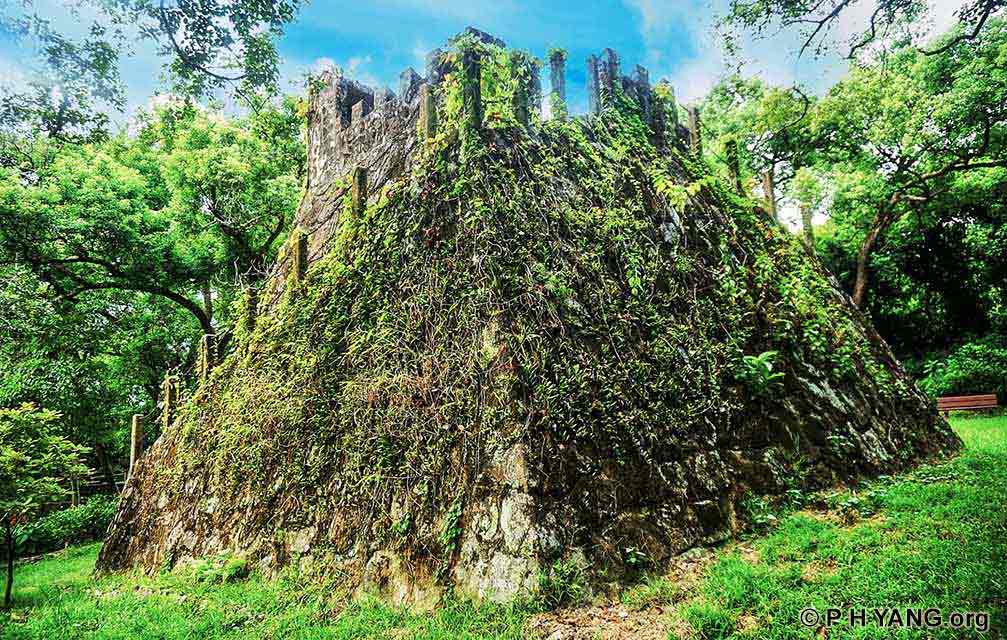 'Castle in the Sky' Found in Sai Kung?

In the dense forest of Shui Long Wo in Sai Kung, there is a mysterious stone fort entangled
by vines. It resembles Hayao Miyazaki's "Castle in the Sky", and it also looks like an
ancient Mayan pyramid of Mexico.

It turned out to be a "astronomical observatory", a 6-metre-high trapezoidal stone tower
made of granite, surrounded by stone stairs that access the top. It was modelled after
the ancient astronomical observatory in Gaocheng Town, Dengfeng County, Henan,
China. Star gazing here at night is perfect as there is no light pollution.

Sai Kung . Hong Kong | 2020
30 Jul 2020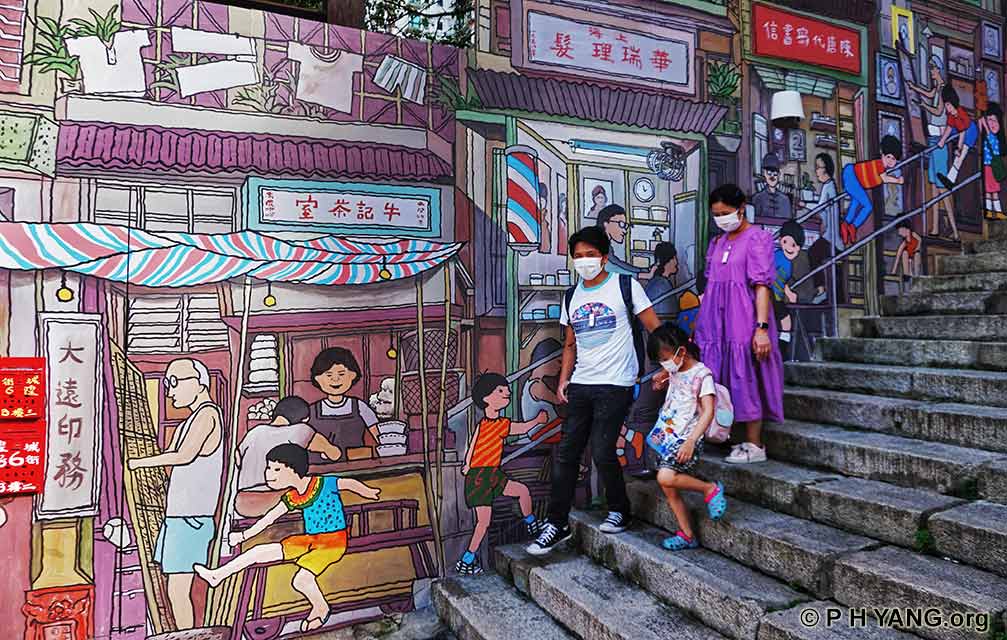 Century-old Stone Staircase of Shing Wong Street

The century-old granite stone staircase at Shing Wong Street in Sheung Wan, has nearly 200 steps,
starting from Caine Road, going downhill through Wing Lee Street, Bridges Street and Hollywood
Road. Recently, murals have been added, which has increased its popularity.

With a history of over 100 years, it is the 9th attraction on the Dr Sun Yat-sen Historic Trail. Between
Hollywood Road and Staunton Street, there are more than a dozen centuries-old banyan trees
growing on the stone wall, providing shades for passers-by as they enjoy the light breeze.

Sheung Wan . Hong Kong | 2020
29 Jul 2020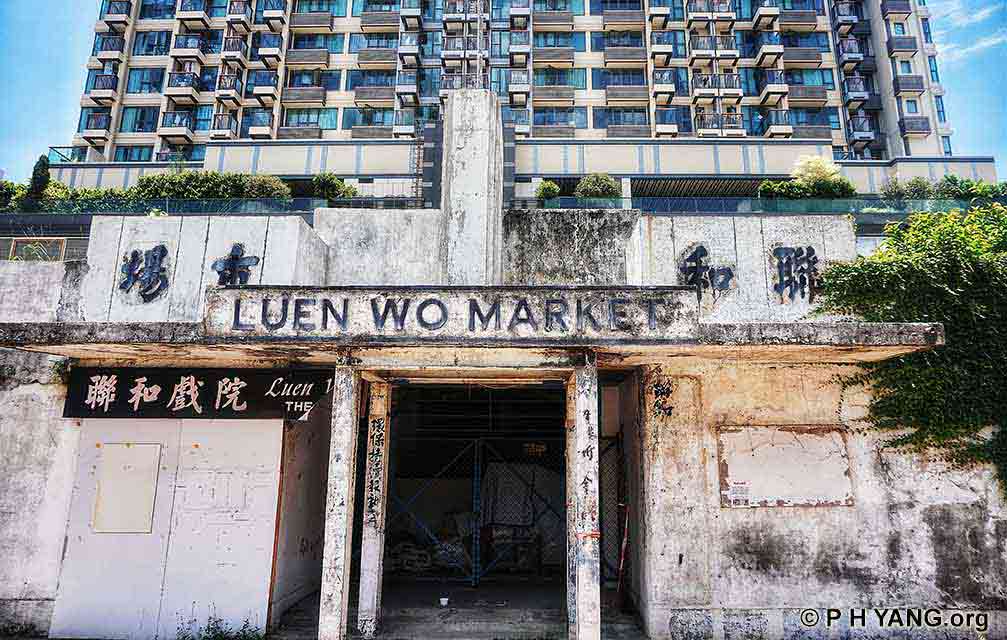 Unique Luen Wo Market

Luen Wo Market is the main building of Luen Wo Hui in Fanling, New Territories. It was opened in 1951
and was the first market in the North District after the war and the largest market in the New Territories
at that time. The market was closed on September 26, 2002. Afterwards, the Antiquities and Monuments
Office expressed interest in the archway in the market, and this historic building was retained and was
rated as a unique design in Hong Kong by experts. With the efforts of the residents, there was kept, but it
remained vacant. In 2018, the old market started a revitalization project and retain its original appearance.

Architect Mok Yeuk-chan who adopted an early Modernist style for this simple one-storey building.
The building has a symmetrical E-shaped plan with brick and concrete columns supporting a
reinforced concrete roof of beams and slabs.

Fanling . Hong Kong | 2020
28 Jul 2020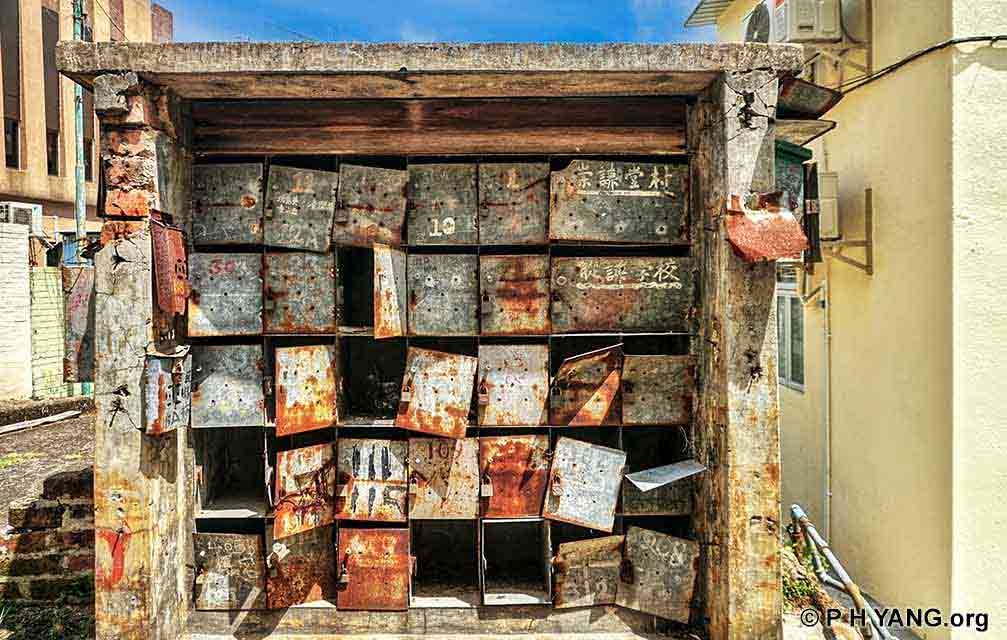 Dilapidated Mailboxes

Most of the mailboxes in walled villages in the New Territories are concentrated at the entrance
of the village to facilitate the delivery of letters by postmen. Old mailboxes in Shung Him Tong
Village, Fanling, are dilapidated, new mailboxes have been built beside the church.

Shung Him Tong Village, originally named Chung Ham Tong, is located in Fanling, New Territories,
Hong Kong. It was founded in 1903 by Pastor Ling Kai-lin, a retired Hakka Basel missionary. It is
a Hakka Christian community and a rare walled village in the New Territories with a church
and no ancestral hall.

Fanlingn . Hong Kong | 2020
27 Jul 2020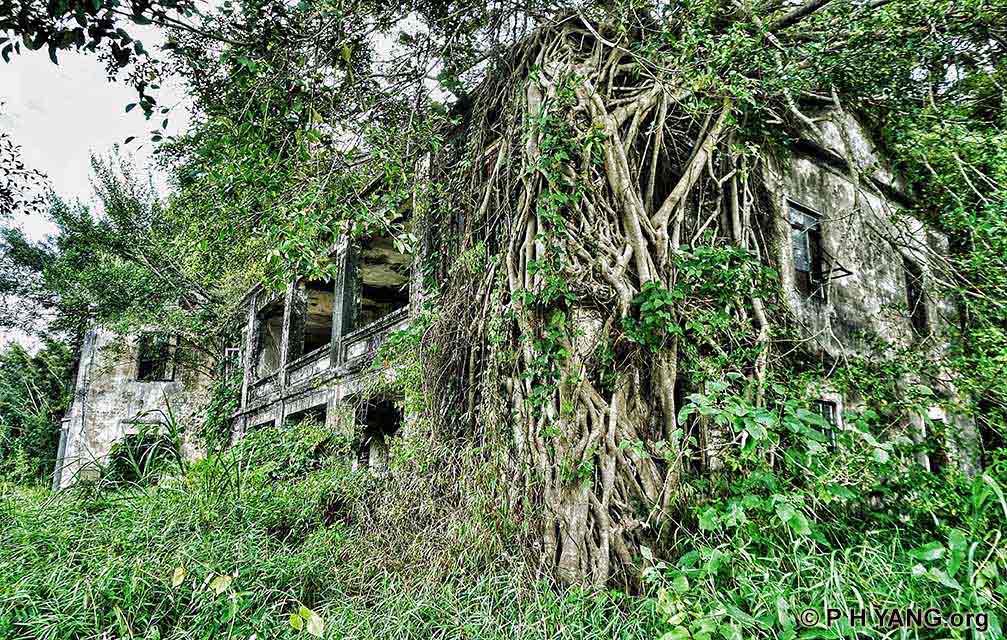 Abandoned Mansion in Fanling Swallowed Up by Nature

A two-storey mansion in Fanling, a blend of Chinese and Western architectural styles comprising
a main building and an annex block, is abandoned and swallowed up by nature. Despite its colonial
-style characteristics in the walls, balcony and stone columns, the building has a traditional Chinese
pitched roof supported on wooden purlins and battens and is covered by Chinese clay tiles.

Another notable feature includes the courtyard, as well as the layout of the rooms, which resembles
that of traditional Chinese residences. Located in the middle of the roof parapet of the main building
is a semi-circular pediment engraved with the name of the mansion in Chinese.

Fanling . Hong Kong | 2020
26 Jul 2020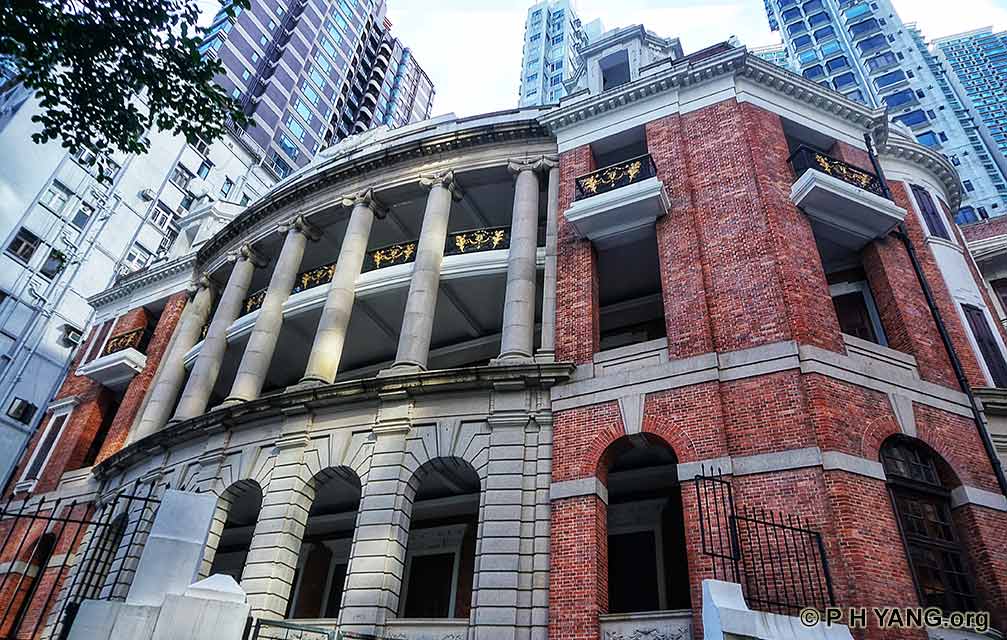 Dr Sun Yat-sen Museum

Dr Sun Yat-sen was a world-renowned revolutionary who devoted his entire life to overthrowing the
Qing Dynasty and thousands of years of feudal monarchy and founded the Republic of China. His
achievements were recognised and admired not only by the local and overseas Chinese, but also
by the global community. Dr Sun had a close relationship with Hong Kong, where he received
his secondary and university education. Hong Kong was also the cradle of his revolutionary
thoughts and uprising plans.

Opened to public in 2006, the four-storey Museum has a floor area of 2,560 square metres. The
Museum has two permanent exhibitions displaying a number of precious historical artefacts.
Supplemented by a wide range of audiovisual programmes, the Museum gives a comprehensive
overview of the life and career of Dr Sun, and Hong Kong's vital role in the reform movements
and revolutionary activities in the late 19th and early 20th centuries.

Sheung Wan . Hong Kong | 2020
25 Jul 2020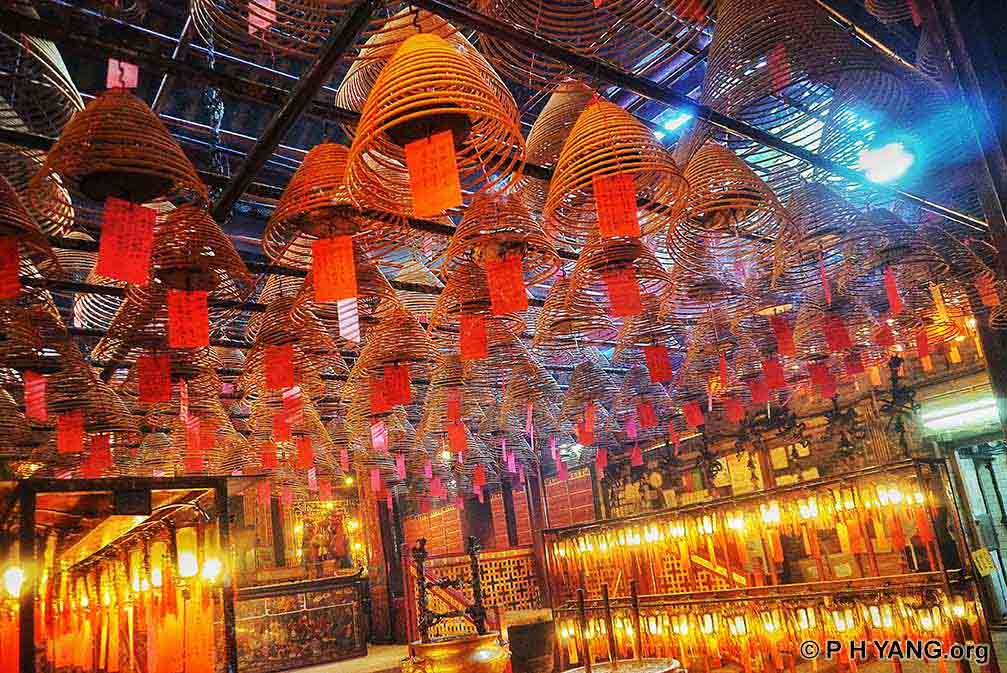 Historical Man Mo Temple

Light smoke lingers in the Man Mo Temple in Sheung Wan, with long burning incense coils hanging
from the ceiling. This is the largest Man Mo Temple in Hong Kong, dedicated to Man Cheong (God
of Literature), in charge of titles and officialdom, and Mo Tai (God of Martial Arts), representing
wealth and loyalty. Many faithful people who wish to pray for the success of their studies and
careers come here to worship.

The Man Mo Temple Compound on Hollywood Road in Sheung Wan comprising three blocks – Man
Mo Temple, Lit Shing Kung and Kung Sor – was built between 1847 and 1862. It is one of the oldest
temples in Hong Kong. The Lit Shing Kung is used to enshrine the gods and saints, and the Kung
Sor (public hall) is a place for the Chinese in the district to discuss and resolve disputes.

The Man Mo Temple group is a typical traditional Chinese folk architecture, decorated with
exquisite pottery sculptures, granite sculptures, wood carvings, grey sculptures and
murals, which fully demonstrate the exquisite traditional craftsmanship.

Man Mo Temple was listed as a declared monument in 2010.

Sheung Wan . Hong Kong | 2020
24 Jul 2020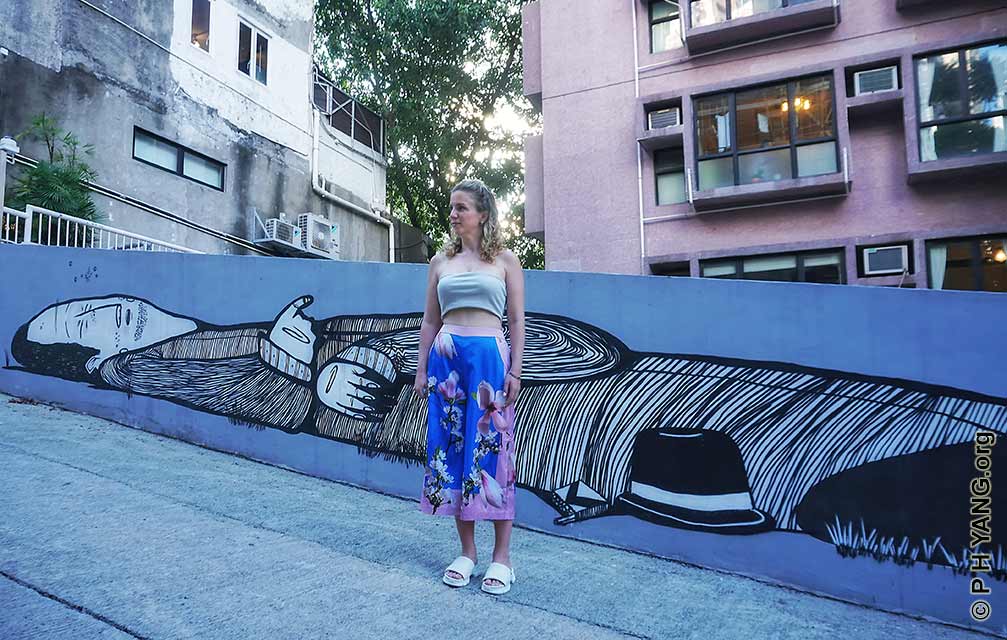 Olga Filatova Savours Street Art

Multi-talented Olga Filatova, a tech investment/marketing consultant and art lover from
St Petersburg, Russia, enjoys street art and heritage buildings in Hong Kong. She
loves visiting art exhibitions frequently.

Olga savours this art work, by Brazilian street artist Alex Senna, depicting a man and his
dog lying leisurely on the slope enjoying life, at Tank Lane. Senna creates vivid
expressions of human love, romance and relationships on city walls around the
globe as he ignites urban settings with feelings of love and happiness.

Olga is a Forbes contributor and a frequent speaker at Russian and international
IT conferences.

SOHO . Hong Kong | 2020
23 Jul 2020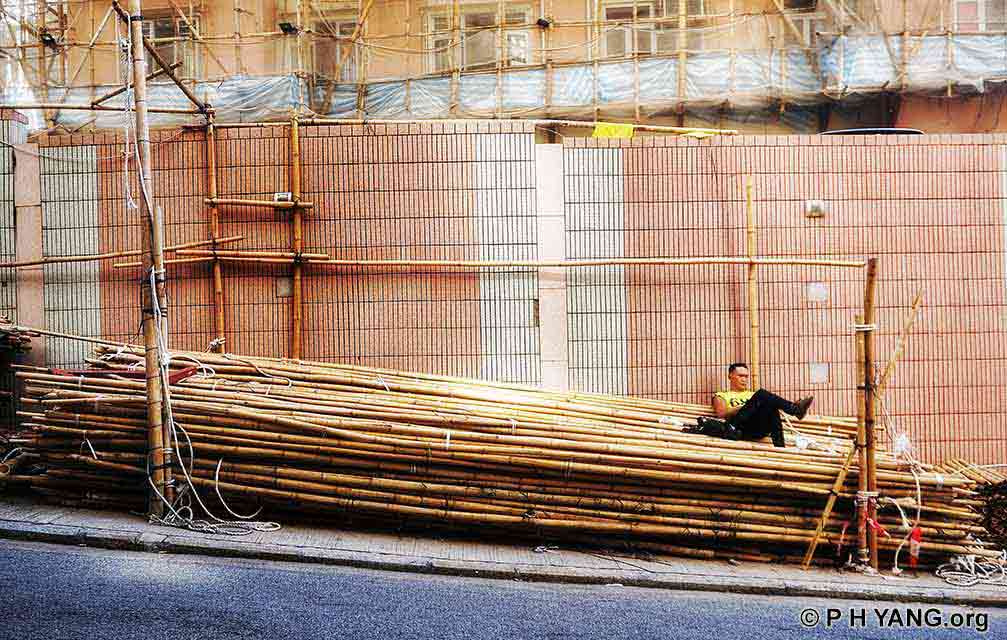 Taking a Breather

A bamboo artist takes a breather after setting up a scaffolding for a building ready for renovation.

Hong Kong is the last frontier of bamboo scaffolding where skyscrapers shoot up daily and more
than five million bamboo rods, each six to seven metres long, are used every year.

It takes strength, skill and, most importantly, intellect to be a bamboo artist, erecting intricate
webs of sky-high walls and platforms strong enough to hold a legion of construction workers.
Workers build scaffolding up to 350 metres above the ground.

Tai Hang . Hong Kong | 2020
22 Jul 2020



Dozens at Landmark Protest Against July 21 Terror Attack Interrupted by Riot Police

On the evening of July 21, 2019, men dressed in white attacked citizens indiscriminately in Yuen
Long. Hundreds suspected of having triad background attacked citizens with weapons and
injured a large number of them.

Yuen Long District Councillor Mak Ip-sing received news of a possible attack that morning and
informed the police, who claimed to have made deployments. However, the police did not prevent
the incident from happening, and no police were present to enforce the law when the citizens were
attacked. The July 21 Yuen Long terror attack was deemed a 'police, rural and triad collusion', which
was the catalyst for many protests that followed, and the slogan 'July 21 police missing' was born.

One year later, most of the men in white are still at large, only 7 were charged. Netizens launched
the 'Lunch with You' flashmob in Central today, undaunted by the passing of the Hong Kong
version of National Security Law.

At 1 pm, several dozen gathered at all 3 levels of Landmark atrium in Central. They raised white
placards to protest, as 'Free Hong Kong, Revolution of Our Time' is deemed pro-Hong Kong
Independence and banned by the government. They sang 'Glory to Hong Kong',
demonstrating they are resolute in "5 Demands, Not One Less" in their protest.

At 1:15 pm, dozens of riot police entered all levels of the Landmark and interrupted the gathering.
Police pulled up a blockade line and checked the identity of the citizens present.

Central . Hong Kong | 2020
21 Jul 2020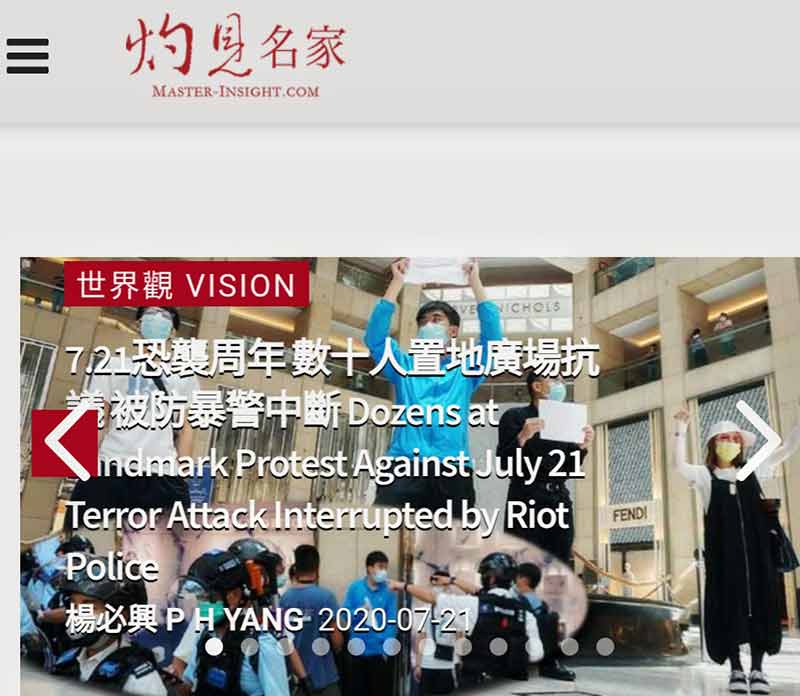 My photo is the top story on the front page of Master-Insight.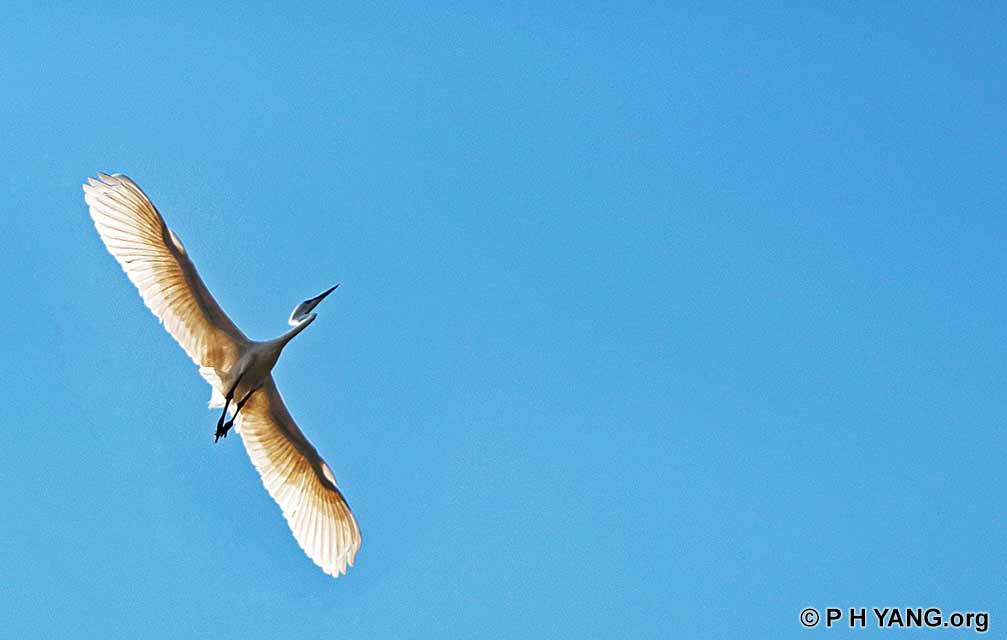 Little Egret Homeward Bound

A Little Egret is in flight back to its nest in the Tai Po Egretry, where 151 nests of several egret
species and night herons call home, according to the Hong Kong Bird Watching Society.
The government listed it as a Site of Special Scientific Interest in 1994.

The Little Egret has a black beak. The Intermediate Egret has a shorter, thicker yellow beak
that may turn red or black in the breeding season. The Great Egret has a long, thin,
yellow beak that may become darker in the breeding season.

Tai Po . Hong Kong | 2020
20 Jul 2020



Blue and White Mural in Cheung Chau

A serene pastel blue and white mural, featuring birds in flight, blends in well with the blue
sky with wisps of white clouds.

Cheung Chau is a sleepy little island in the shape of a dumbbell with a short ferry ride from
Hong Kong Island. It's a fishing village, known for its slower pace of life and seafood,
that's most famous for its annual parade during the Dragon Boat Festival.

Cheung Chau . Hong Kong | 2020
19 Jul 2020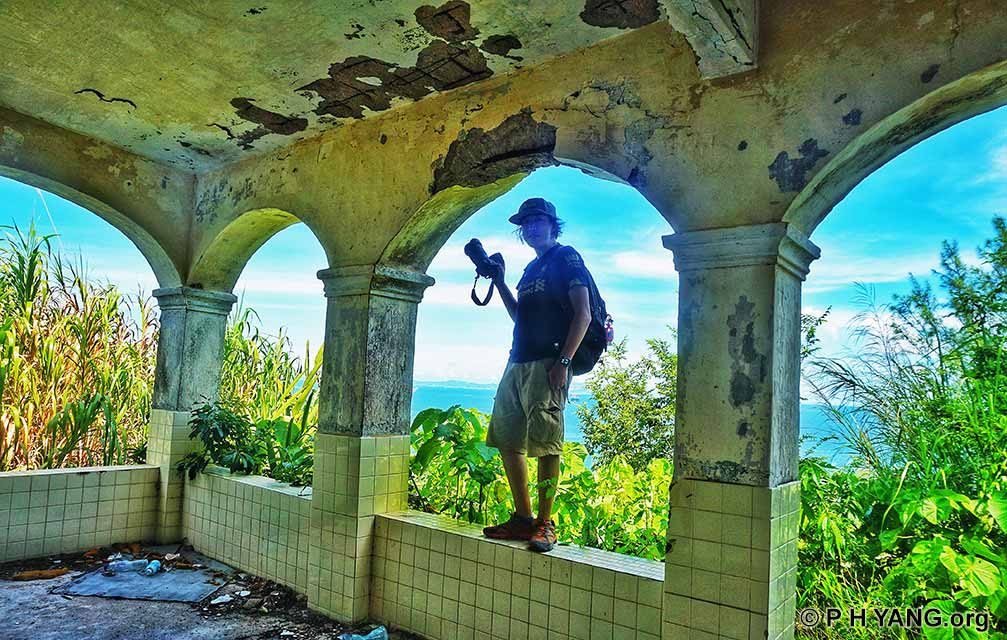 Dan Explores Abandoned Seaview Seminary in Cheung Chau

Dan, an avid urban explorer and photographer, ventures into a abandoned seminary
with a colonaded balcony and expansive seaview on Cheung Chau island.

Cheung Chau is perhaps the most colourful, popular, and happening of the outlying
islands in Hong Kong. It's peculiar shape, of two large granite masses joined by a
narrow tombolo, has earned it the nickname 'dumbbell island'.

Cheung Chau . Hong Kong | 2020
18 Jul 2020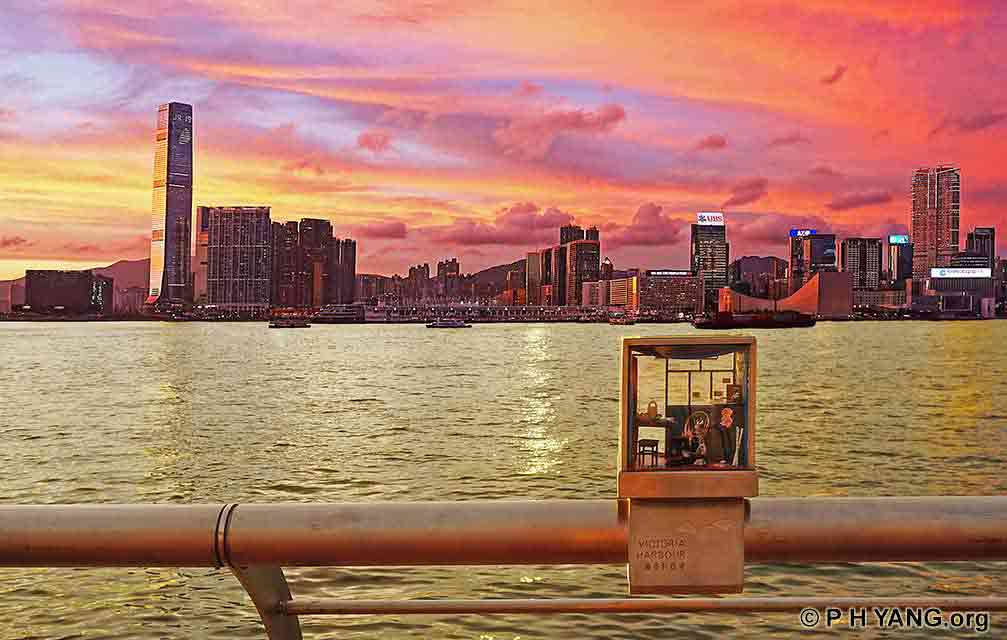 Victoria Harbour Art Installation

An art installation, of a miniature room with household details, against the fabulous Victoria
Harbour along the Central Waterfront Promenade near Admiralty.

The art installation includes sculptures of the 12 horoscope figures and other art work.

Admiralty . Hong Kong | 2020
17 Jul 2020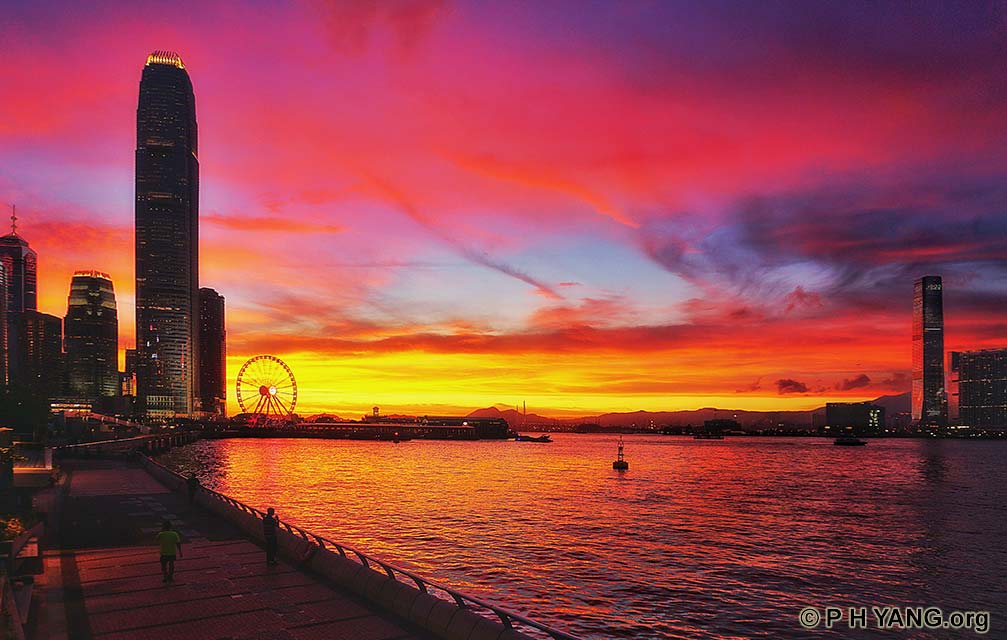 Crimson Sunset

A fiery crimson sky over the Victoria harbour at sunset in Hong Kong on Wednesday.

Admiralty . Hong Kong | 2020
16 Jul 2020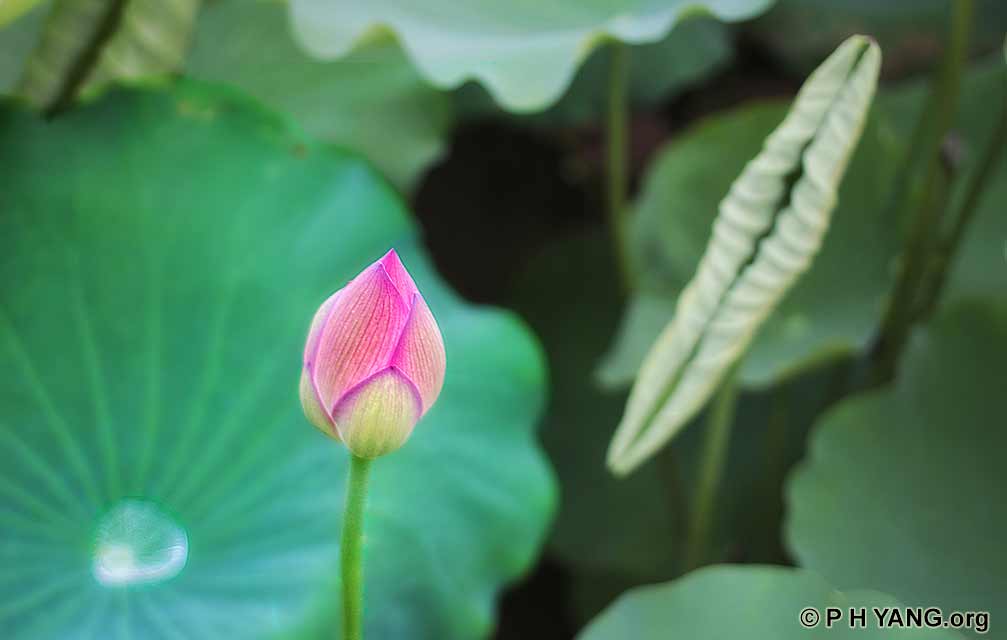 Budding Lotus

The lotus pond in the South Park of Shing Mun Valley Park in Tsuen Wan has always been
one of the popular places to shoot lotus. Visiting today, most of the lotus flowers are
just buds, the lotus flowers should blossom in the coming week.

Tsuen Wan . Hong Kong | 2020
15 Jul 2020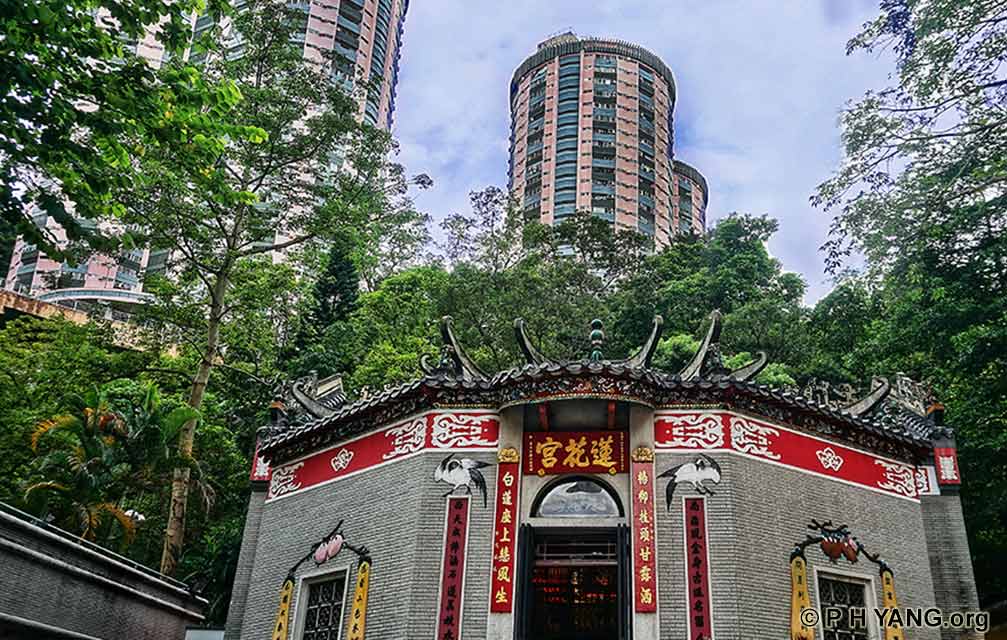 Historical Lotus Temple in Tai Hang

Lin Fa (Lotus) Temple in Tai Hang on Hong Kong Island was probably built in 1863 to
worship Kwun Yam, the Goddess of Mercy.

The architecture of the Lotus Temple is very unique. The front hall with the heavy eaves
and spires is octagonal, and there is no patio between it and the rectangular main hall.
Since the temple is located on a hillside, the front hall needs to be built on an arched
stone platform. The entrance stairs to the temple are located on the left and right sides
of the front hall, which is different from the traditional main entrance in the front centre.

Lotus Temple was listed as a monument in 2014. Lai Tak Tsuen, a cylindrical-shaped
public housing estate, is uphill in the background.

Tai Hang . Hong Kong | 2020
14 Jul 2020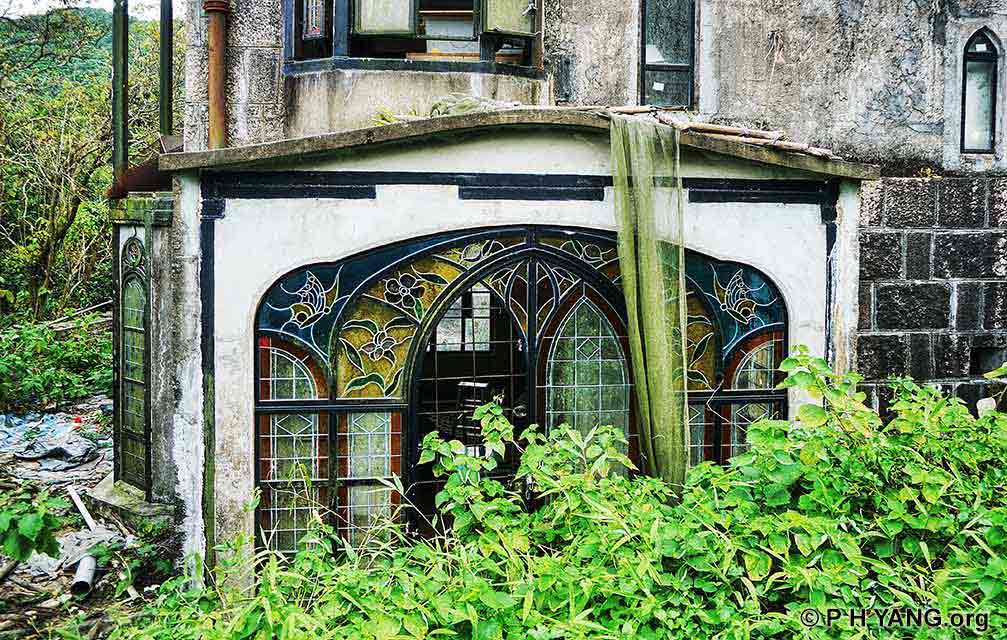 Haunted Gorgeous Abandoned House at Pak Fa Lam

A gorgeous 3-storey house full of pretty stained-glass windows, abandoned, at Pak Fa Lam. An
external stairs lead from the second floor up to the roof. The door was locked and one can
look inside through the windows.

Neighbours say the house is an illegal structure built on government land by a Mr Lam.
It has been shutdown by the government.

This writer and a friend became unwell for 2 to 5 days after a brief visit. It is suspected
to be haunted.

Pak Fa Lam is a cemetery area near Kowloon Peak. Many tombs can be found on the
hillside facing the sea, with great fung shui.

Pak Fa Lam . Hong Kong | 2020
13 Jul 2020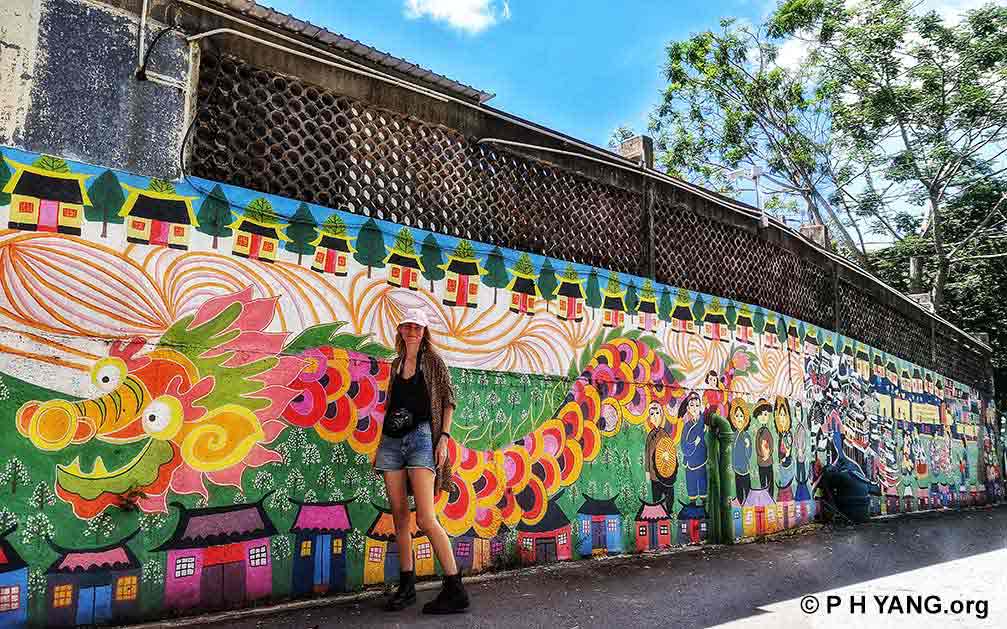 Caroline Zeller Explores Kam Tin Mural Village

Caroline Zeller, a graphics designer and digital marketing consultant from Paris, loves the variety
of murals and street art in Hong Kong, like the Kam Tin Mural Village in the New Territories.

The walls of this rural village have become a canvas for a community of creative students.
Inspired by the mural art trend in Hong Kong and an attempt to revitalise this neighbourhood,
46 murals have been painted across various surfaces of Kam Tim Village since 2017. The
artistic endeavour was warmly welcomed by the villagers and visitors alike.

Kam Tin . Hong Kong | 2020
12 Jul 2020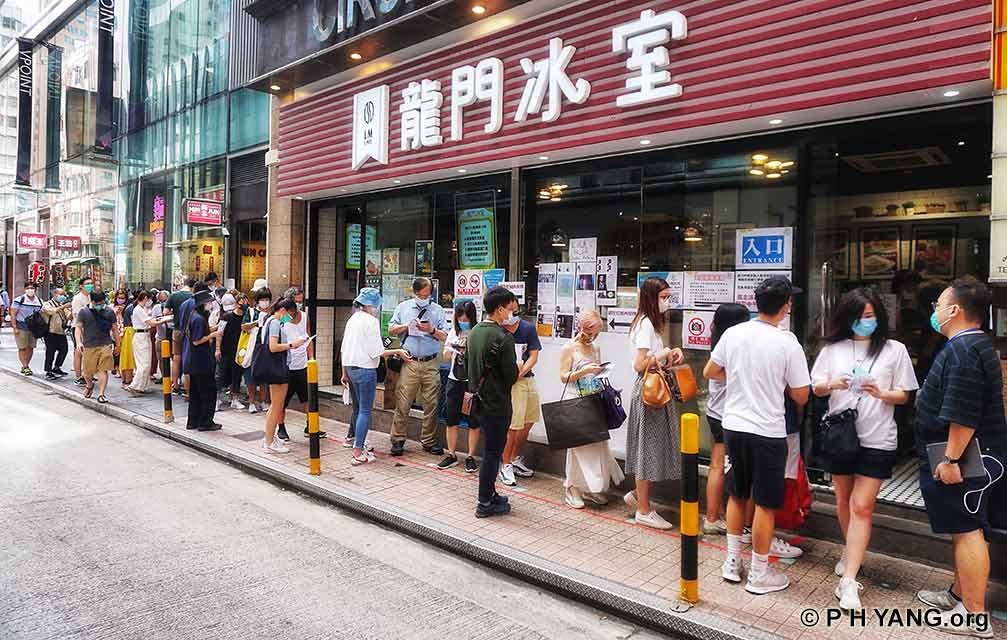 Long Lines at Democrats' Primary Undaunted by Police Threat

Pan-Democrats is holding primary elections today and tomorrow. Voters on Hong Kong Island were
eager and there were long lines at many districts. Police officers took pictures outside polling
stations at Tang Lung Street in Causeway Bay and North Point.

On the eve of the primary election, police raided the Hong Kong Public Opinion Reasearch Institute,
which is responsible for the development of the polling system, with a court warrant to try to take
their computers, claiming that the computer system was hacked, and that there was information
about the police. Power for Democracy, organisers of the primary election, said that today's
primary election will be held as usual, at the same time, place and voting method. Benny Tai,
associate professor at the Law Department of the University of Hong Kong, who coordinated
the primary election, pointed out that the regime is intended to create a threatening effect.
Hong Kong people must remain calm, and today they must vote to refute the lies.

Causeway Bay . Hong Kong | 2020
11 Jul 2020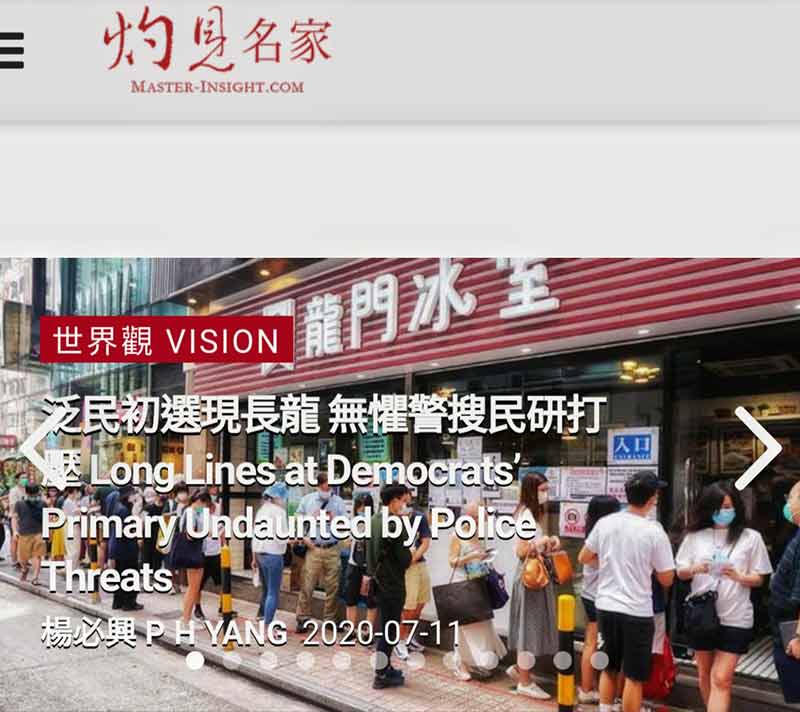 My photo is the top story on the front page of Master-Insight.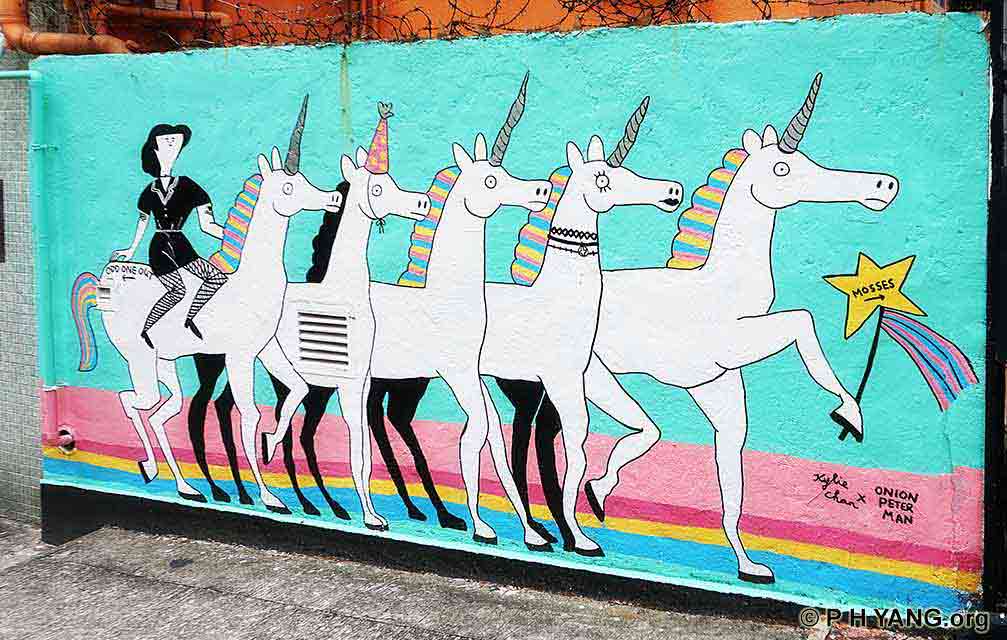 Unicorns Mural by Kylie Chan and Onion Peterman

A colourful mural of 5 unicorns, by illustrationists Kylie Chan and Onion Peterman, in the Star
Street precinct of Wanchai.

Quaint and hip, in the heart of the city, the Star Street Precinct nestled in between Admiralty
and Wan Chai is the best area to explore trendy independent eats and boutiques.

Wanchai . Hong Kong | 2020
10 Jul 2020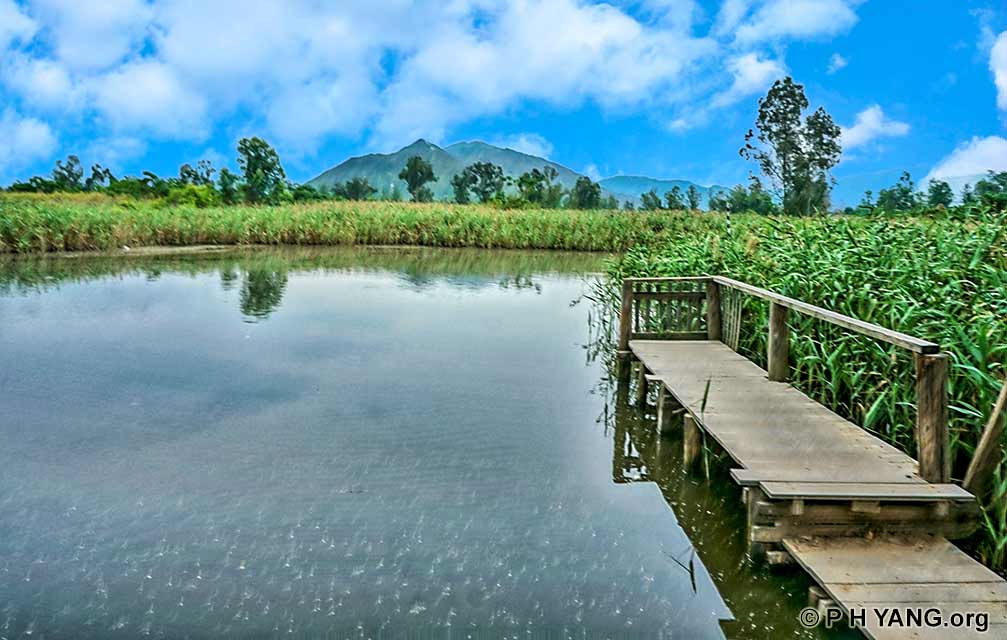 Nam Sang Wai

Nam Sang Wai is located in Yuen Long, Hong Kong, surrounded by vast mangroves, reed fields and
ponds. The wetlands are also a paradise for migratory birds.

The beautiful scenery of Nam Sang Wai not only attracts birds, but in recent years many citizens,
especially photography enthusiasts, who come to watch birds and take pictures. The mountain
and forest scenery, winding rivers and wooden bridge (wedding bridge), etc. also become ideal
backgrounds for wedding photos. It is the back garden for Hong Kong people.

Wanchai . Hong Kong | 2020
9 Jul 2020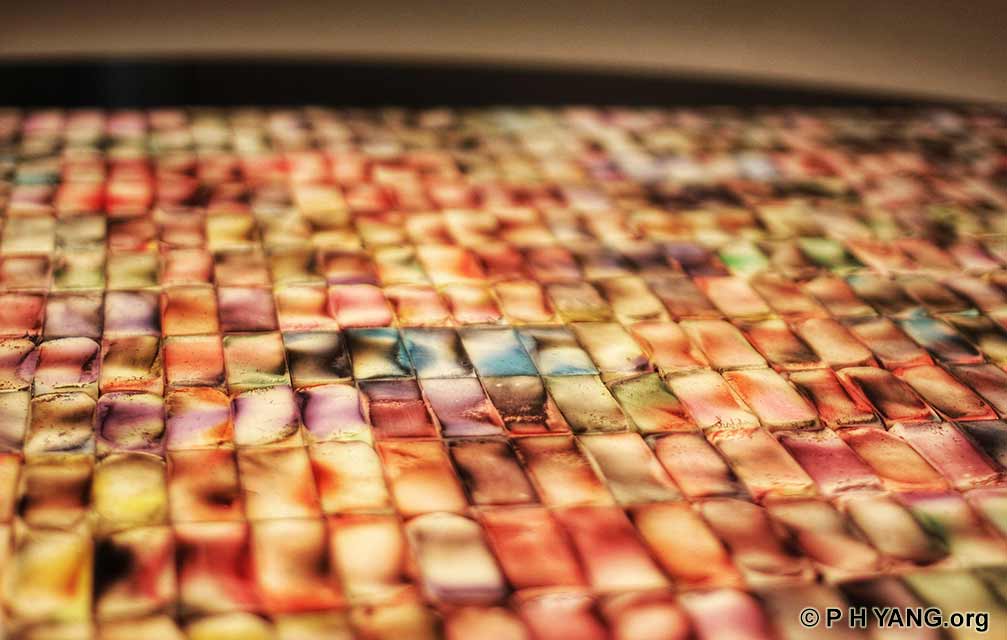 Erasing News by Artist Sophie Cheun

Erasing News, by artist Sophie Cheung Hing-yee, is made with ink from newspapers on 1,500
pieces of erasers. It satirises that news is being erased by authoritarian governments and is
most poignant as the Standing Committee of the National People's Congress passed the Hong
Kong version of the National Security Law, severely restricting freedom in Hong Kong.

Part of Hong Kong Art School / RMIT University – Bachelor of Arts (Fine Art) Graduate Exhibition
2020 at the Pao Galleries in the Hong Kong Art Centre, on 5-21 July, 10 am - 8 pm.

Wanchai . Hong Kong | 2020
8 Jul 2020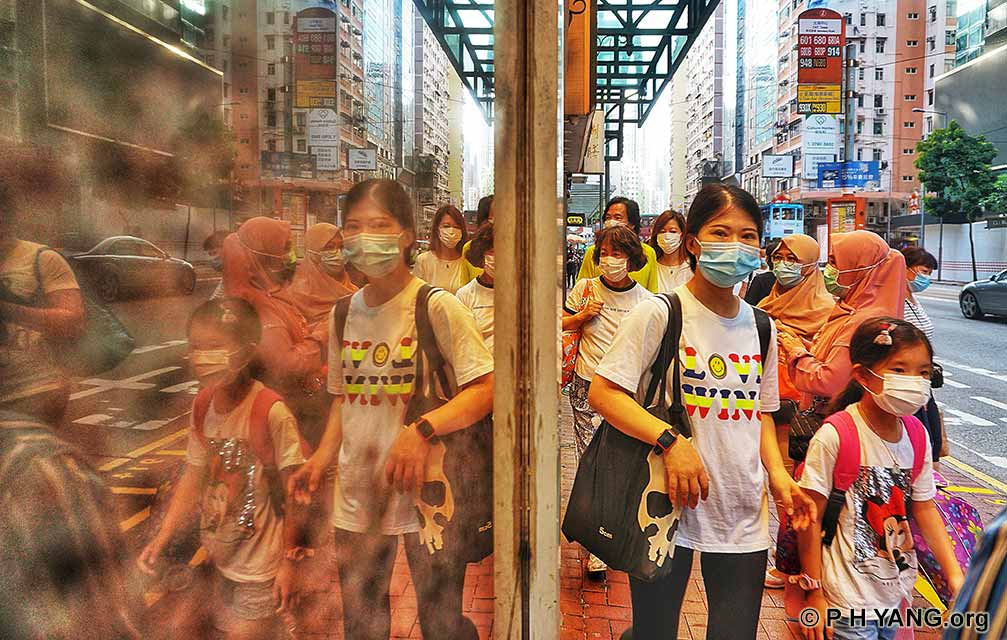 The New Normal

In times of the coronavirus pandemic, wearing face masks has become ubiquitous
in many communities and countries.

Wanchai . Hong Kong | 2020
7 Jul 2020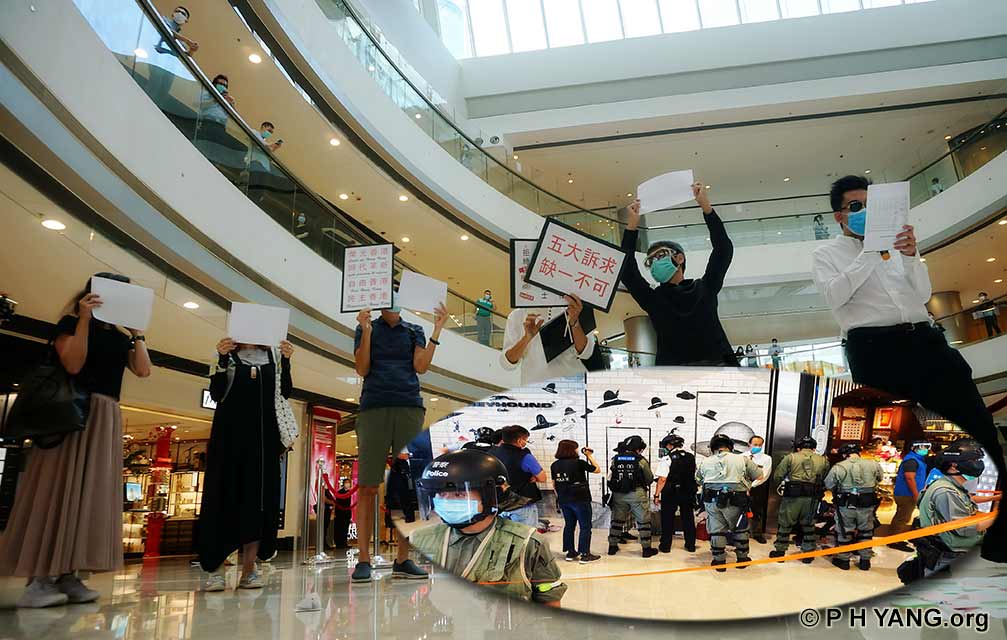 Over 100 'Lunch with You' at IFC - White Card Protest National Security Law - Interrupted by Riot Police

Citizens are very angry at Beijing's full-blown attack on Hong Kong by introducing National Security
Law at National People's Congress – undermining 'One Country, Two Systems'. The protests have
been reactivated and Central Flashmob protest is now revived regularly and more frequently.

Netizens launched the 'Lunch with You' at IFC Mall in Central, at 1 pm today, undaunted by the
passing of the Hong Kong version of National Security Law.

At 1 pm, over 100 started gathering at all 3 levels of IFC Mall atrium in Central. They raised white
placards to protest, as 'Free Hong Kong, Revolution of Our Time' is deemed pro-Hong Kong
Independence and banned by the government. They sang 'Glory to Hong Kong', demonstrating
they are resolute in '5 Demands, Not One Less' in their protest.

At 1:45 pm, several dozen riot police entered IFC on various levels and interrupted the gathering. They
raised a blockade line, then stop and search the citizens on site.

Central . Hong Kong | 2020
6 Jul 2020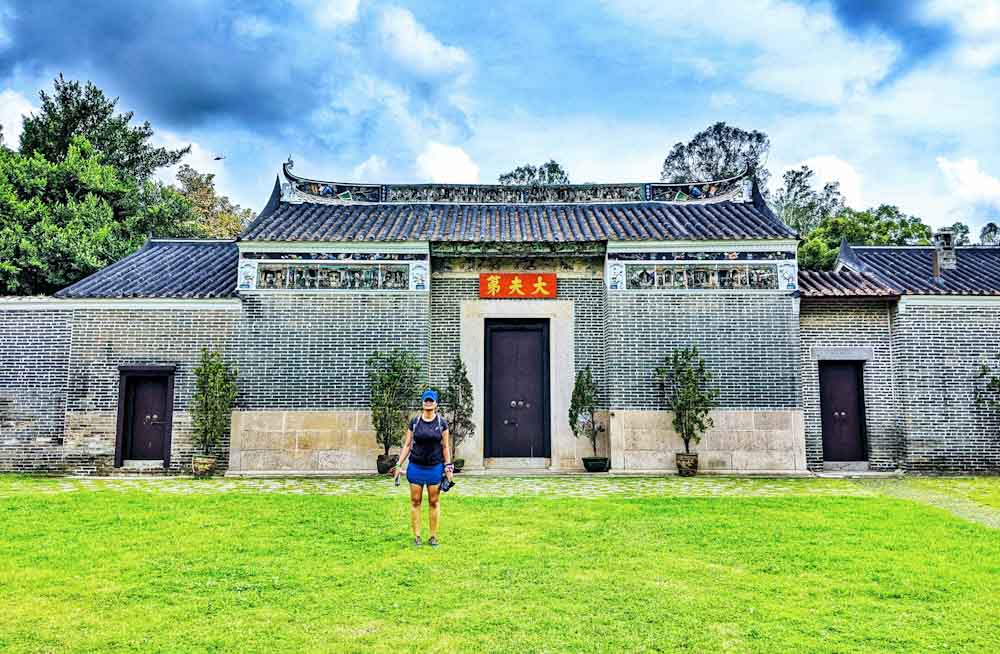 Historical Tai Fu Tai Mansion

Tai Fu Tai Mansion is located in Wing Ping Village in Yuen Long. It was built around
1865 as residence of the wealthy Man Chung-luen, who was bestowed the title
of Tai Fu, which means senior official. It was declared a monument in 1987.
It was opened to the public in 1988.

Tai Fu Tai is a fine example of a traditional dwelling of the scholar-gentry class in
southern China and one of the most beautifully embellished historic
buildings in Hong Kong.

Some decorative details have a Western style. The door of the house is engraved with
Rococo reliefs, the windows and doors are colored glass, and the geometric patterns
of different shapes are built. The railings of the corridor on the second floor have
cross-shaped decorative patterns.

Fanling . Hong Kong | 2020
5 Jul 2020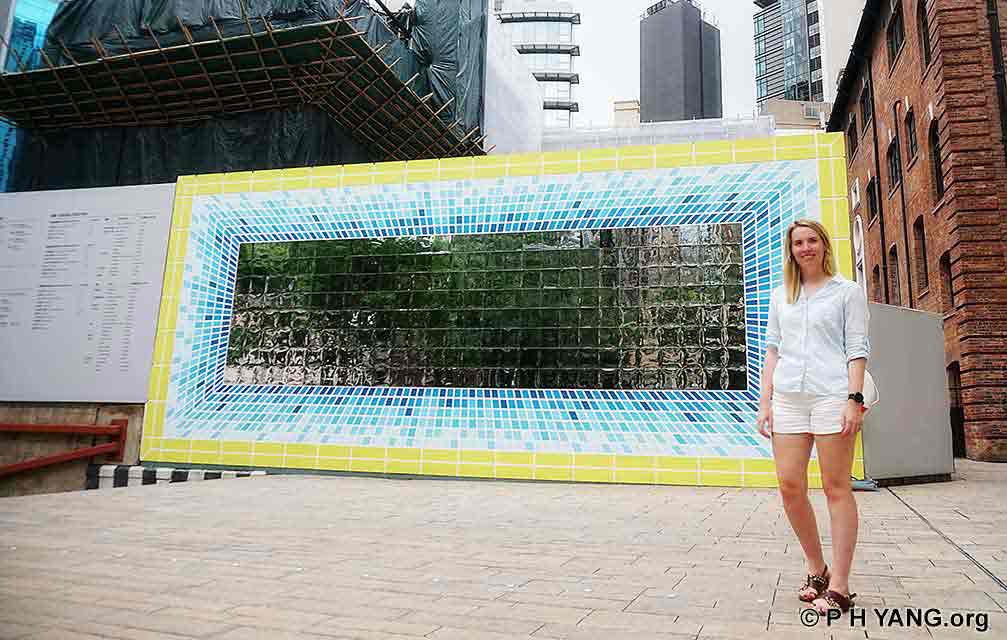 Zara Gibson Explores Tai Kwun

Zara Gibson, from Birmingham, United Kingdom, loves to explore old heritage
buildings and public art, such as Tai Kwun in Central.

Tai Kwun, the Former Central Police Station Compound including the Former
Central Magistracy and the Victoria Prison, has been revitalised as a centre
for heritage and arts.

Central . Hong Kong | 2020
4 Jul 2020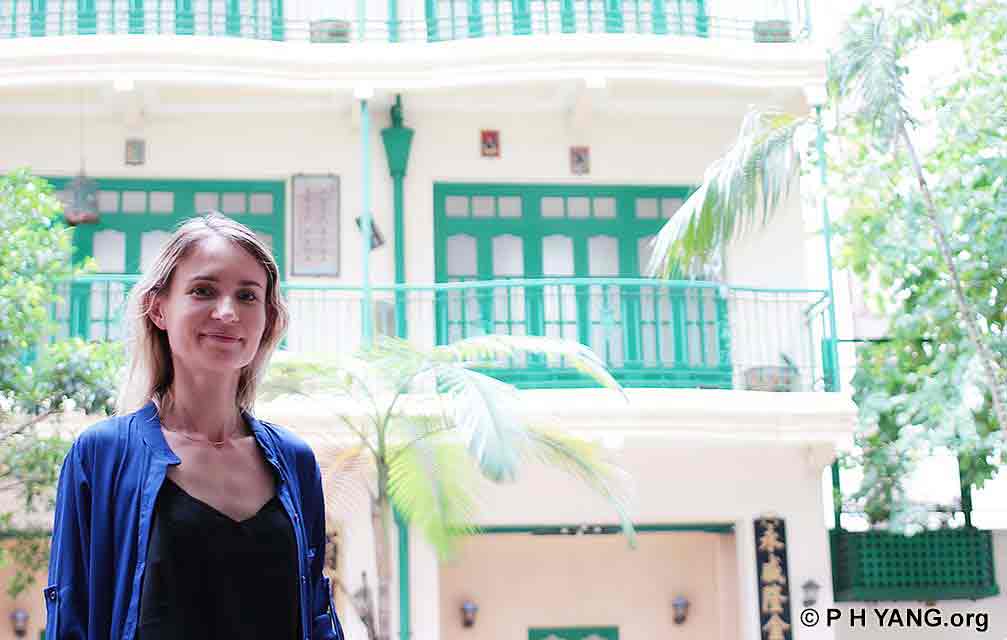 Caroline Zeller Savours Li Chit Garden

Caroline Zeller, a graphics designer and digital marketing consultant from Paris, loves
the old heritage buildings in Hong Kong, like the reconstructed facade of a Chinese
tenement house (Tong Lau) at Li Chit Garden in Wanchai.

On February 7, 1991, the 17 pre-war buildings on Li Chit Street were classified as dangerous.
All residents moved out in April, and later they were converted into a small Nanyang-style
park. The Land Development Company reconstructed the facade with leftover materials.

The street is named after Li Chit, the brother of Li Sing, the richest Chinese in Hong Kong
at the end of the 19th century, and a decorated official of the late Qing Dynasty. Li Sing
owns the title of Li Sing Street, Ko Shing Street, Chung Sau Street East and Chung Sau
Street West in Hong Kong.

Wanchai . Hong Kong | 2020
3 Jul 2020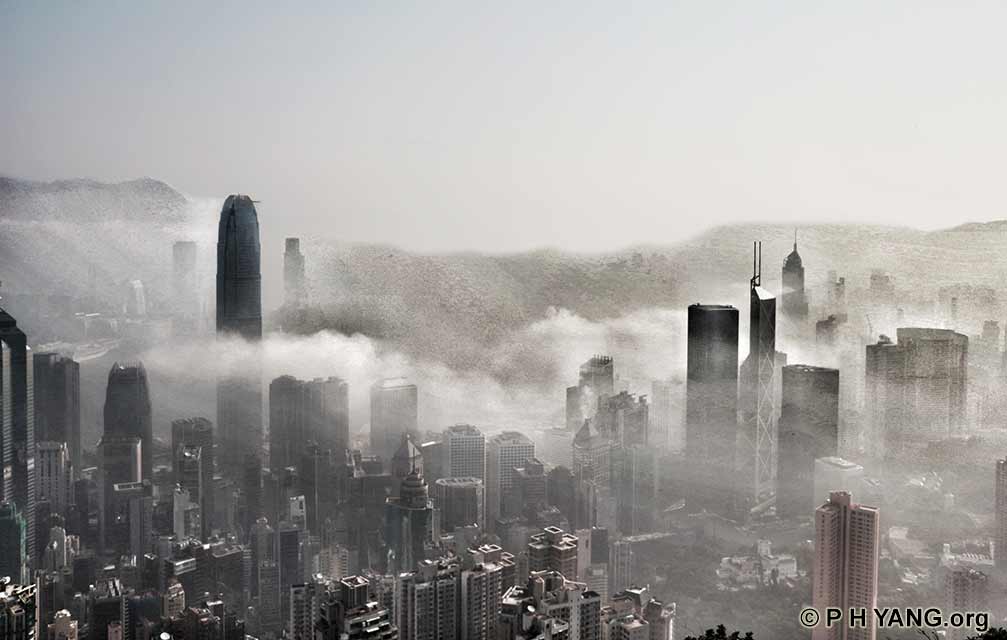 Hong Kong in the Mist

Lustre of the pearl fades in the mist.

The Peak . Hong Kong | 2020
2 Jul 2020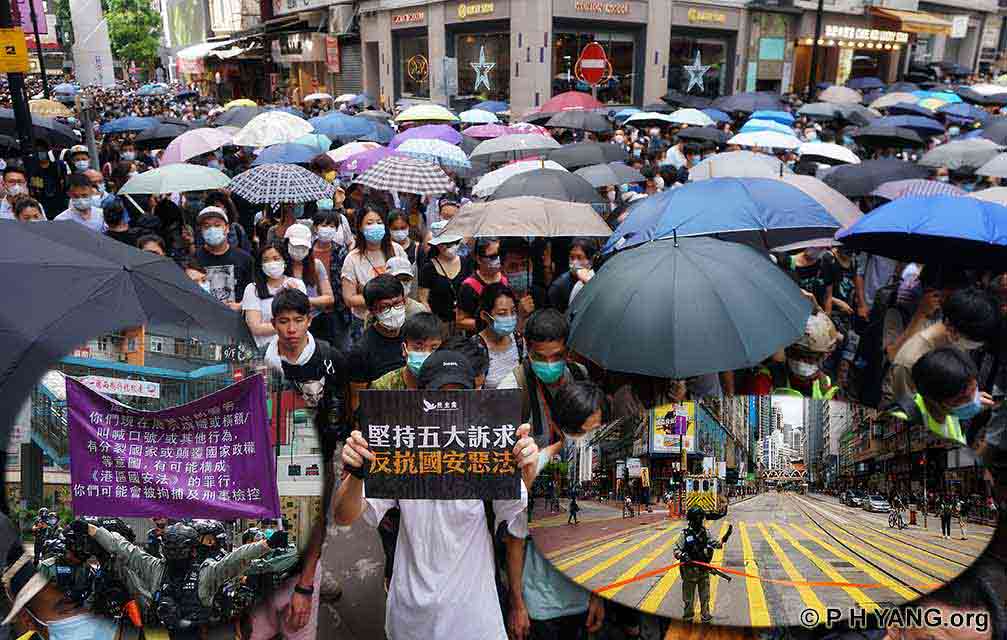 Thousands March on July 1 Undaunted by Threat of 6,000 Riot Police

The annual July 1 march organised by the Civil Human Right Front (CHRF) was opposed by
the police for the first time since 1997. Earlier, the appeal was filed with the Public Assembly
and Procession Appeals Committee, and the committee rejected the appeal for the
risk of spreading coronavirus.

Legislator Eddie Chu, Democratic Party Wu Chi-wai, Deputy Convener of CHRF Figo Chan,
District Councillors Chui Chi-kin, Bull Tsang and Chan Wing-tai took over the march in their
personal capacity. They called on citizens to take to the streets. The march will meet at 2 pm
and depart at 3 pm. The route will start at East Point Road outside Sogo department
store in Causeway Bay and march to Chater Road in Central.

The theme is the same as the July 1 march of the CHRF. It is 'Rebel Against the Nationa
l Security Law and insist on 5 Demands.' The National Security Law was passed during the
July 1st march, but they will not restrict what slogans are used and what placards are held.

A large number of citizens were dissatisfied that the Standing Committee of the National
People's Congress passed the Hong Kong version of the National Security Law and wish
to protest against the evil law. At 3 pm, the march started outside the Sogo Department
Store in Causeway Bay, heading towards Chater Road in Central. People chanted 'Free
Hong Kong, Revolution of our Time', '5 Demands, Not One Less' and and gestured with
their hands.

The police raised the purple (first time, new for National Security) at least 5 times and blue
(illegal assembly) flag at least 20 times as warnings, and repeatedly pulled up blockade
lines at Hennessy Road to stop the public from moving forward; Causeway bay looked like
under martial law. However, the citizens marched fluidly, turning into sidestreets, and
then continued after the blockades. They marched towards the direction of Central,
undaunted by the threat of 6,000 riot police deployed.

Causeway Bay . Hong Kong | 2020
1 Jul 2020

Archive:
Jun May Apr Mar Feb Jan 2020
Dec Nov Oct Sep Aug Jul Jun May Apr Mar Feb Jan 2019
Dec Nov Oct Sep Aug Jul Jun May Apr Mar Feb Jan 2018
Dec Nov Oct Sep Aug Jul Jun May Apr Mar Feb Jan 2017
Dec Nov Oct Sep Aug Jul Jun May Apr Mar Feb Jan 2016
Dec Nov Oct Sep Aug Jul Jun May Apr Mar Feb Jan 2015
Dec Nov Oct Sep Aug Jul Jun May Apr Mar Feb 2014


(C) p h yang 2020 - all rights reserved