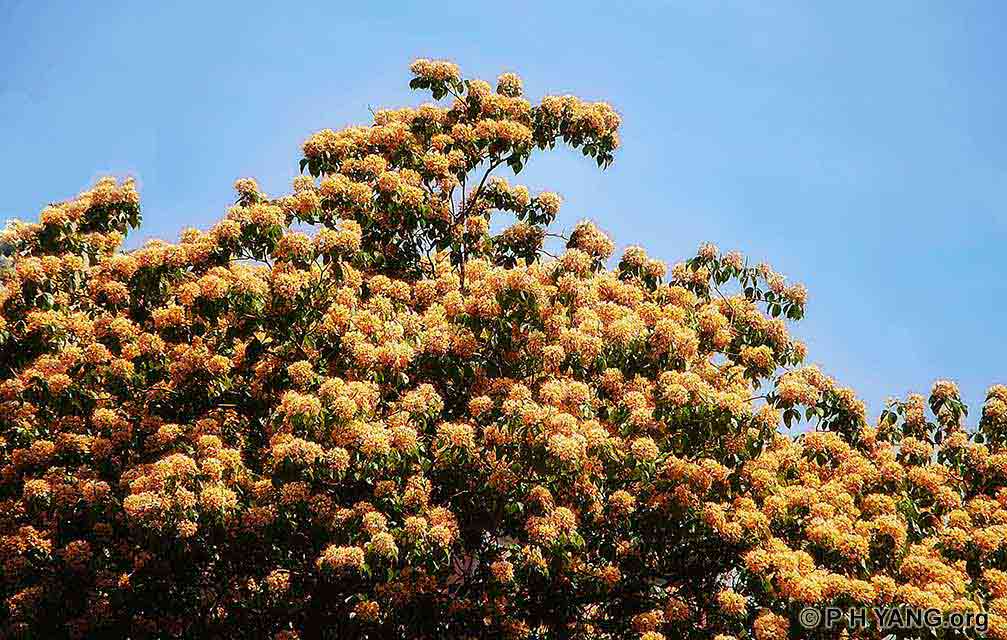 Spider Tree Blossoming

Spider Tree withstands wind well and grows at any altitude. It has wide
spreading crown and blooms abundance of flowers when flowering.
It is extensively planted as a roadside tree in Hong Kong.

The flowers are white in the initial stage but turn yellow in the late stage.
Its long and red filaments stretch out from the flowers which are similar
to the spider legs and thus named as 'Spider Tree'.

Kowloon City . Hong Kong | 2020
30 Apr 2020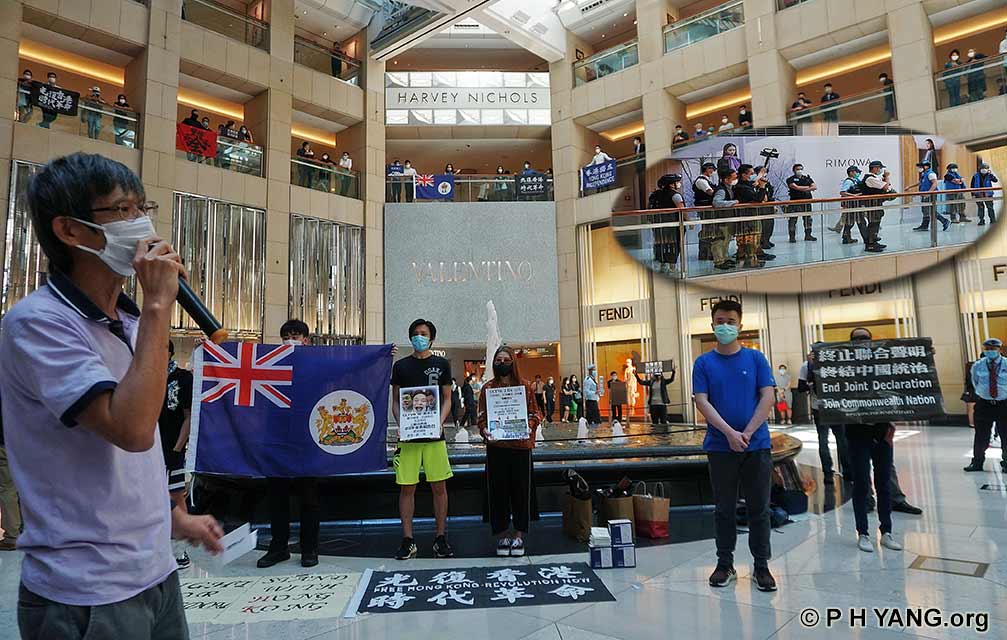 'We are Back' The Fourth Wave - 'Lunch with You' at Landmark

With coronavirus pandemic continuing for a few months, the anti-extradition protests
have been subdued. In the face of inadequate epidemic prevention and control by
the Carrie Lam government, plus Beijing's full-blown attack on Hong Kong's
legislative, judicial, legal and civil society - threatening 'One Country, Two Systems',
(see report) the protests have been reactivated. Following Friday's Central Flashmob at IFC,
Sing with You at Citiplaza on Sunday, and Sing with You at IFC on Tuesday,
the fourth wave of protests has revived.

Some netizens launched the "With You Lunch" at Landmark in Central, Hong
Kong, at 1 pm today, in support of legislator Dennis Kwok, against the transgression
of Hong Kong affairs by Beijing's Hong Kong and Macau Affairs Office and China
Liaison Office in breach of Article 22 of the Basic Law.

At 12:45 pm, about 100 protesters started gathering at all 3 levels of Landmark atrium
in Central. They raised the black flags 'Free Hong, Revolution of Our Time', colonial
Hong Kong flag and sang 'Glory to Hong Kong', demonstrating they are resolute in
'5 Demands, Not One Less' in their protest.

At 1:30 pm, about 15 police officers entered Landmark to disrupt the protest, warning
them the congregation of over 4 people is illegal. The protesters dispersed peacefully.

Central . Hong Kong | 2020
29 Apr 2020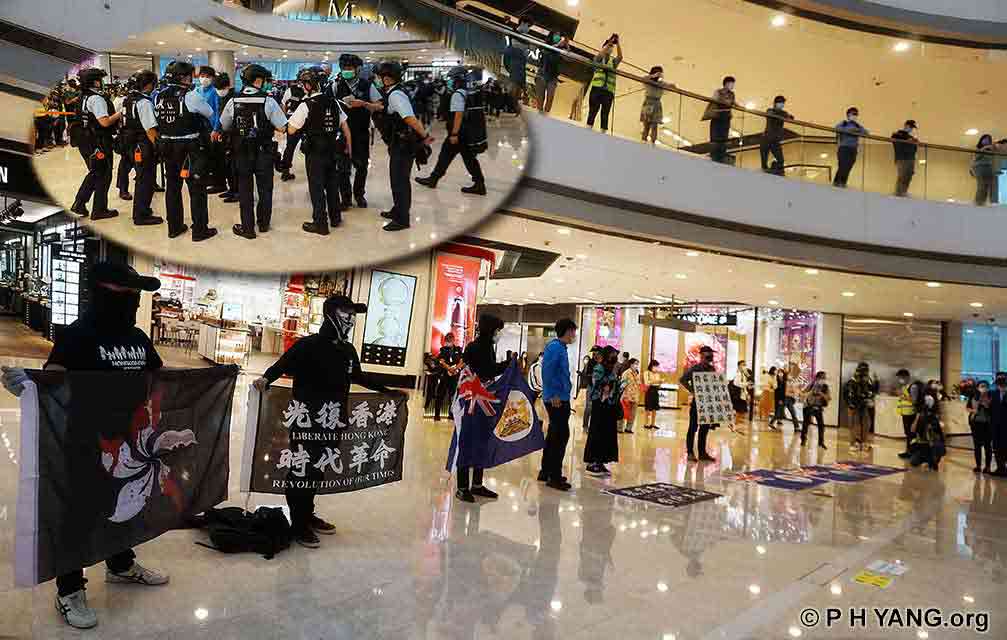 'Sing with You' Reactivated at IFC -Interupted by Over 100 Police

With coronavirus pandemic continuing for a few months, the anti-extradition protests
have been subdued. In the face of inadequate epidemic prevention and control by the
Carrie Lam government, plus Beijing's full-blown attack on Hong Kong's legislative,
judicial, legal and civil society - threatening "One Country, Two Systems", the
protests have been reactivated. Following Friday's Central Flashmob at IFC,
Sing with You at Citiplaza on Sunday, the third wave of protests has revived.

Netizens initiated the "Sing with You" flashmob at IFC, the landmark of Hong Kong,
at 6:30 tonight, to demonstrate their determination with their demands.

At 6:15 pm, about 100 protesters started gathering at all three levels of IFC atrium in
Central. They raised the black flags 'Free Hong, Revolution of Our Time', colonial
Hong Kong flag and sang 'Glory to Hong Kong', demonstrating they are resolute
in '5 Demands, Not One Less' in their protest.

At 6:25 pm, even before the scheduled protest start time, hundreds of police entered
IFC and interupted the protest. Police cordoned off the atrium area and dispersed
the protesters and shoppers. A few protesters were rounded up for ID checking
and questioning. The number of police is more than the number of protesters,
shoppers and journalists combined, totally out of proportion. This is the first time
police entered IFC to disperse a protest.

Central . Hong Kong | 2020
28 Apr 2020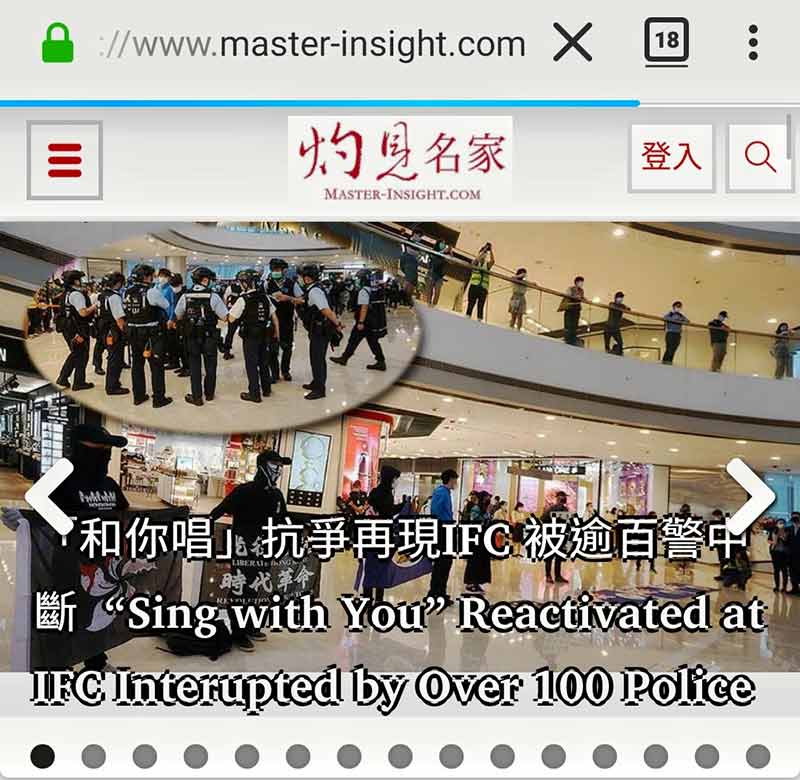 My photo is the top story on the front page of Master-Insight.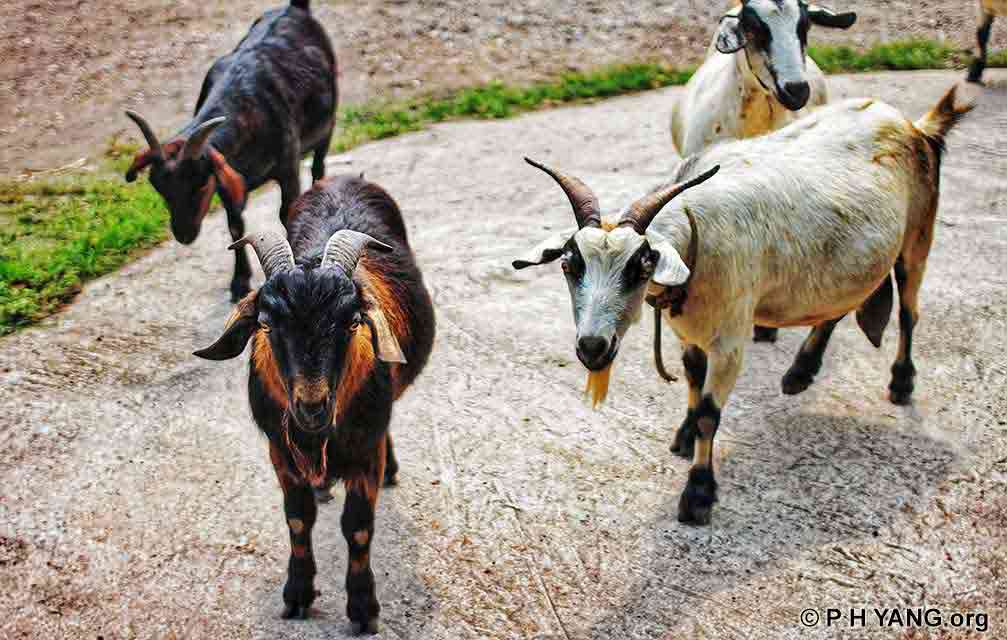 Goats at Nam Sang Wai

A herd of goats at a farm in Nam Sang Wai, a wetland area in San Tin,
to the north of Yuen Long.

Nam Sang Wai's rustic scenery attracts bird-watchers, cyclists and
picnickers, as well as photographers and even film crews. This
landscape of mostly abandoned farms and glistening fish ponds
surrounded by waving tall reeds and simple wooden huts will
make you feel a world away from urban Hong Kong.

Nam Sang Wai . Hong Kong | 2020
27 Apr 2020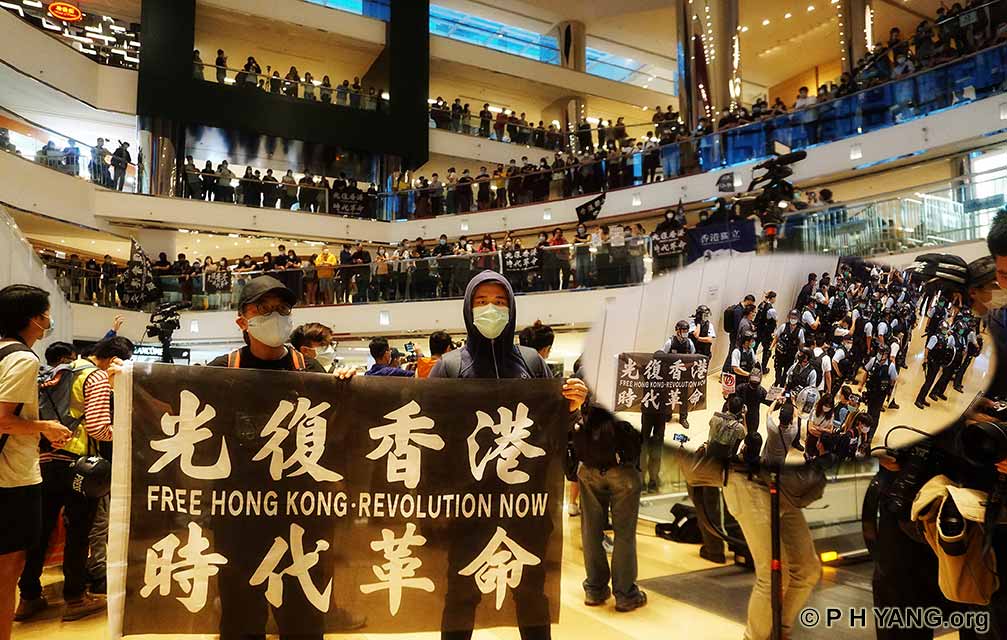 'Sing with You' Protest Reactivated at Cityplaza - Disrupted by Riot Police

With coronavirus pandemic raging for a few months, the anti-extradition protests have
been subdued. In the face of government's inadequate epidemic prevention and control,
plus Beijing's full-blown attack on Hong Kong's legislative, judicial, legal and civil society -
threatening "One Country, Two Systems", the protests have been reactivated. Following
Friday's Central Flashmob at IFC, the second wave of protests has revived.

Netizens initiated the 'Sing with You' flashmob at Cityplaza tonight, to demonstrate their
determination with their demands, towards glory to Hong Kong.

At 6:30 pm, Over 1,000 gathered at Citiplaza in Quarry Bay at all 4 levels, singing 'Glory to
Hong Kong', demonstrating they are resolute in '5 Demands, Not One Less' in their protest.

At 6:45 pm, hundreds of police followed by riot police in full gear entered Citiplaza
and disrupted the gathering. Many protesters dispersed. Dozens remain confronting
the police and continue to raise the black flag of 'Free Hong Kong, Revolution of Our Time'
and chanting protest slogans.

At 7:45 pm, police shutdown Citiplaza and clear everyone including protesters and
citizens from the mall.

Quarry Bay . Hong Kong | 2020
26 Apr 2020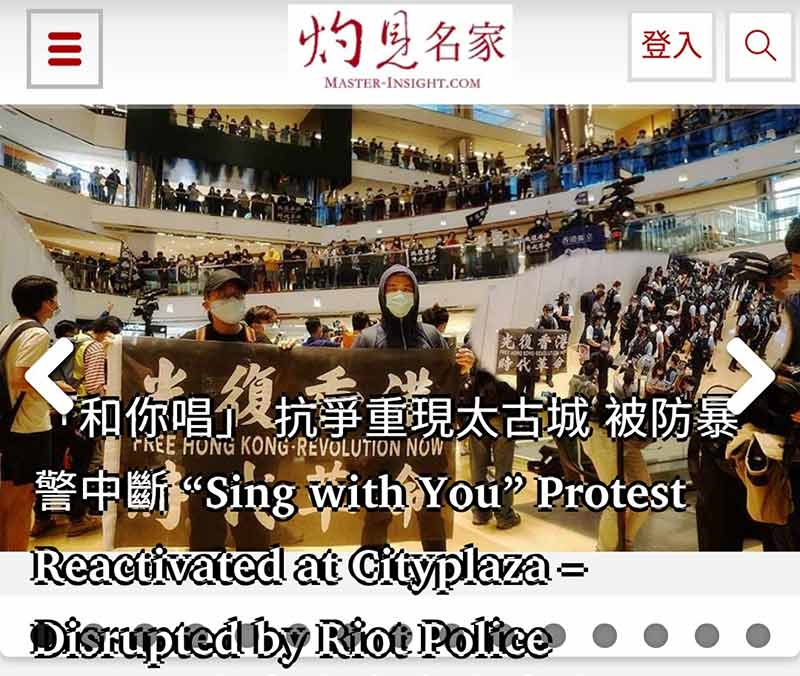 My photo is the top story on the front page of Master-Insight.



Tin Hau Temple at Tai Miu Wan

Built in the Li Chung period in the Southern Song Dynasty, the ancient temple of
Tin Hau was the oldest and largest in Hong Kong. It was classified as a Grade I
historical building by the Antiquities Advisory Committee.

The Tin Hau Temple at Tai Mui Wan, Sai Kung was rebuilt in the 20th year of
Tao Kwong (1804), the 3rd year of Kwong Shui (1877), 1962 and 2009.

Tin Hau's birthday is on the 23rd day of the 3rd month of the lunar calendar.
There are endless stream of followers who come to visit on that day, as many
as 30 40 thousands. Followers prefer to touch the dragon bed in the side
hall to ask for heirs, health and wealth. This year's celebration was
canceled owing to the spread of Coronavirus.

Sai Kung . Hong Kong | 2020
25 Apr 2020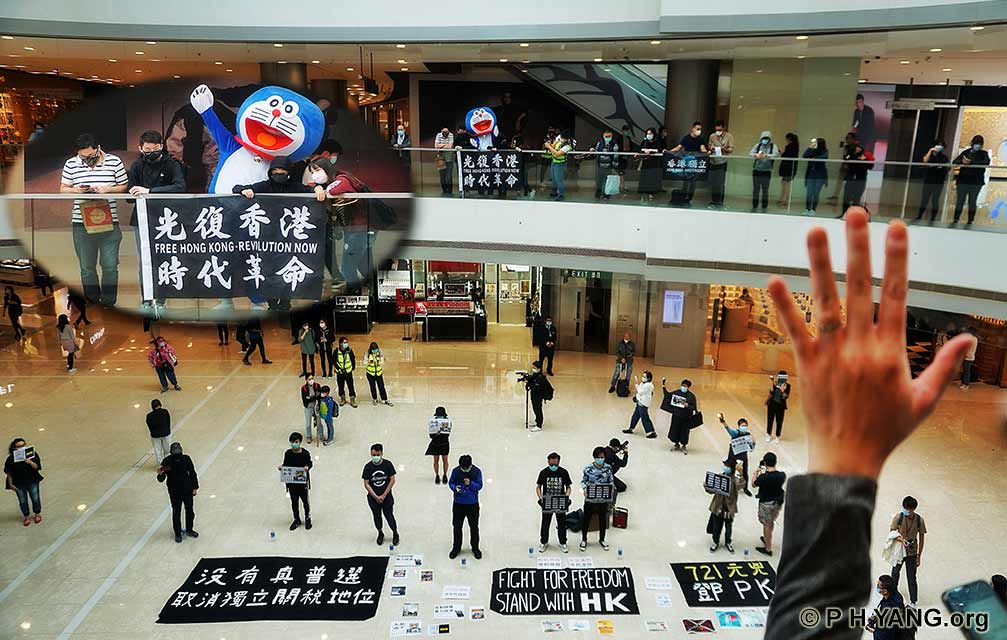 Beijing's Full-blown Attack on "1 Country 2 Systems" Reactivates Protests

With world's attention focused on the coronavirus pandemic and protesters off the
streets, Chinese and Hong Kong authorities stepped up their efforts to crack down
on the city's pro-democracy movement.

Over a span of 5 days, the city saw its legislature, judiciary, legal system and civil
society come under threat.

Last Tuesday, Beijing's Hong Kong and Macao Affairs Office and the Hong Kong Liaison
Office named the legislator Dennis Kwok and other democrats, for delaying the election
of the chairman of the internal House Committee, may be in breach their oaths and
committing misconduct in public office, implying that the democrat lawmakers should
be disqualified. The Liaison Office refuted that the two offices were not subject to
Article 22 of the Basic Law which prevents them in interfering in Hong Kong affairs;
the Hong Kong Government issued press releases and changed its position 3 times
and finally accepted the position of the Liaison Office.

On the same day, Reuters reported that Hong Kong's judicial independence and rule of
law had been threatened by Beijing's interference, citing 3 anonymous senior judges.

Last Wednesday, Luo Huining, Director of the China Liaison Office renewed his call for the
Hong Kong government to step up its efforts to safeguard national security by
strengthening legislation and enforcement.

In response, pro-Beijing figures called for the implementation of Article 23 of the Basic Law,
which requires the Hong Kong government to enact laws to prohibit acts of treason,
secession, sedition and subversion against Beijing.

Last Saturday, 15 high-profile pro-democracy politicians, and activists were arrested
on suspicion of organising and participating in various unauthorised assemblies
between August and October last year.

Martin Lee, 81, founder of Democratic Party, Margaret Ng, 72, Civic Party ExComm member,
former chair of Democratic Party Albert Ho, Labour Party's Lee Cheuk-yan and media
tycoon Jimmy Lai were among those rounded-up.

  The accused unauthorised assemblies were part of "leaderless" movement since last
June against the China extradition laws that the government was forced to withdraw.
As of mid-March, over 7,800 were arrested and over 1,200 prosecuted in connection
with the mass protests and over 16,000 tear gas rounds fired.

Hong Kong's "One Country Two Systems" is in jeopardy. The arrests drew strong criticism
from human rights groups, international leaders and observers.

Owing to the coronavirus pandemic, the protests that had been subdued for several
months and now finally reactivated.

Today's office workers in Central restarted the 'With You Lunch' event with a flashmob
protest at the IFC Mall, a landmark of Hong Kong, to defend Hong Kong's press freedom,
and return Hong Kong people to universal suffrage.

At 1 pm, more than 100 people gathered in the atrium of the IFC Mall at 3 levels. Some
people raised the black flag of 'Free Hong Kong, Revolution of Our Time' and 'Fight for
Freedom, Stand with Hong Kong', sang 'Glory to Hong Kong' and other protest songs,
and chanted '5 Demands, Not 1 Less.' Someone in Doramon costume came to
support and distributed bottled drinks to protesters.

Central . Hong Kong | 2020
24 Apr 2020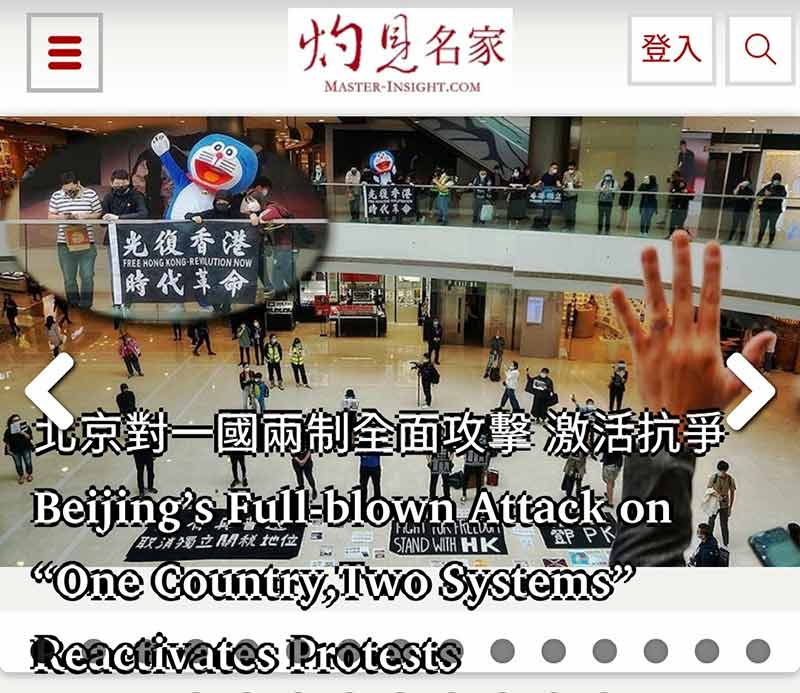 My photo is the top story on the front page of Master-Insight.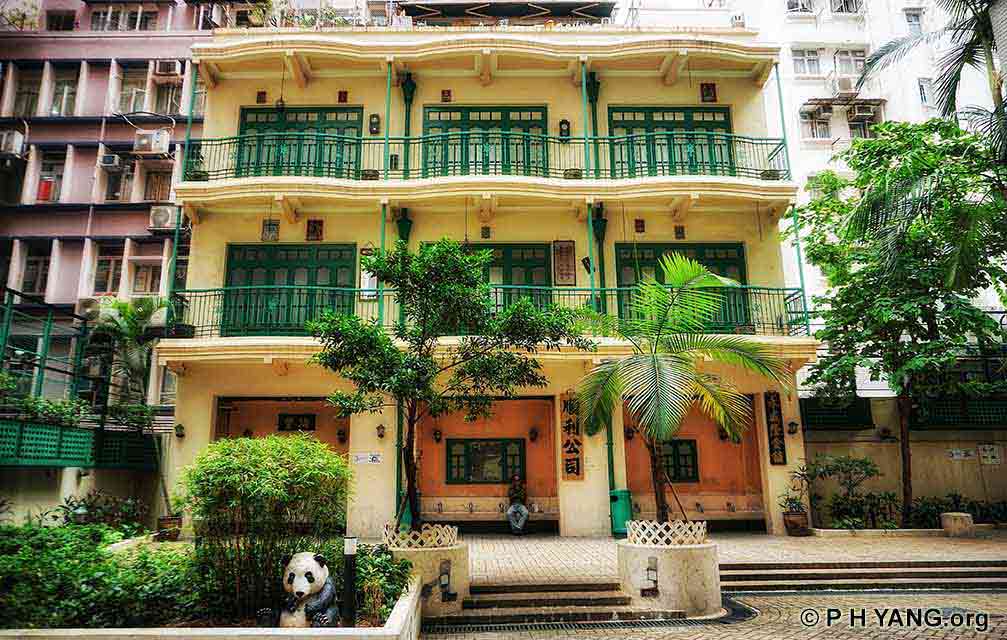 Li Chit Garden in Wanchai

The re-constructed facade of a Chinese tenement house (Tong Lau) at Li Chit
Garden in Wanchai.

On February 7, 1991, the 17 pre-war buildings on Li Chit Street were classified
as dangerous. All residents moved out in April, and later they were converted
into a small Nanyang-style park. The Land Development Company
reconstructed the facade with leftover materials.

The street is named after Li Chit, the brother of Li Sing, the richest Chinese in
Hong Kong at the end of the 19th century, and a decorated official of the late
Qing Dynasty. Li Sing owns the title of Li Sing Street, Ko Shing Street, Chung
Sau Street East and Chung Sau Street West in Hong Kong.

Li Sing has successively participated in the establishment of Tung Wah Hospital
and Yuk Choi School. In 1881, Li's total tax payment was the highest in Hong
Kong, surpassing all foreign businessmen, equivalent to the sum of all other
Chinese businessmen in Hong Kong at that time.

Wanchai . Hong Kong | 2020
23 Apr 2020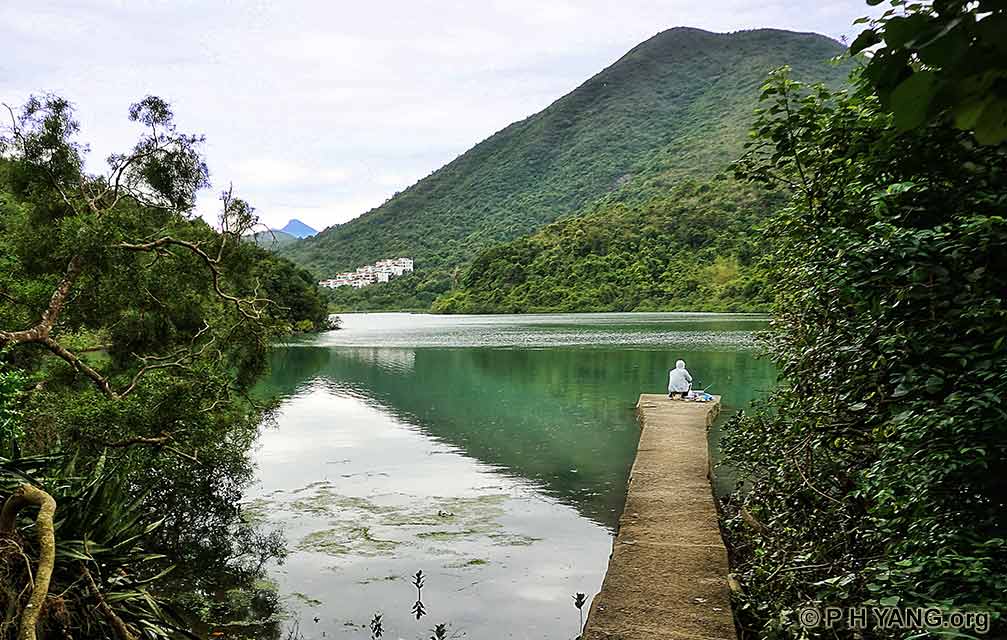 Po Kwu Wan in Sai Kung

Scenic Po Kwu Wan is a hidden gem of nature with great hiking
opportunities near High Island Reservoir in Sai Kung.

With its combination of gorgeous beaches, pictureque hiking
trails and quality dining options, Sai Kung is one of Hong
Kong's best city escapes.

Sai Kung . Hong Kong | 2020
22 Apr 2020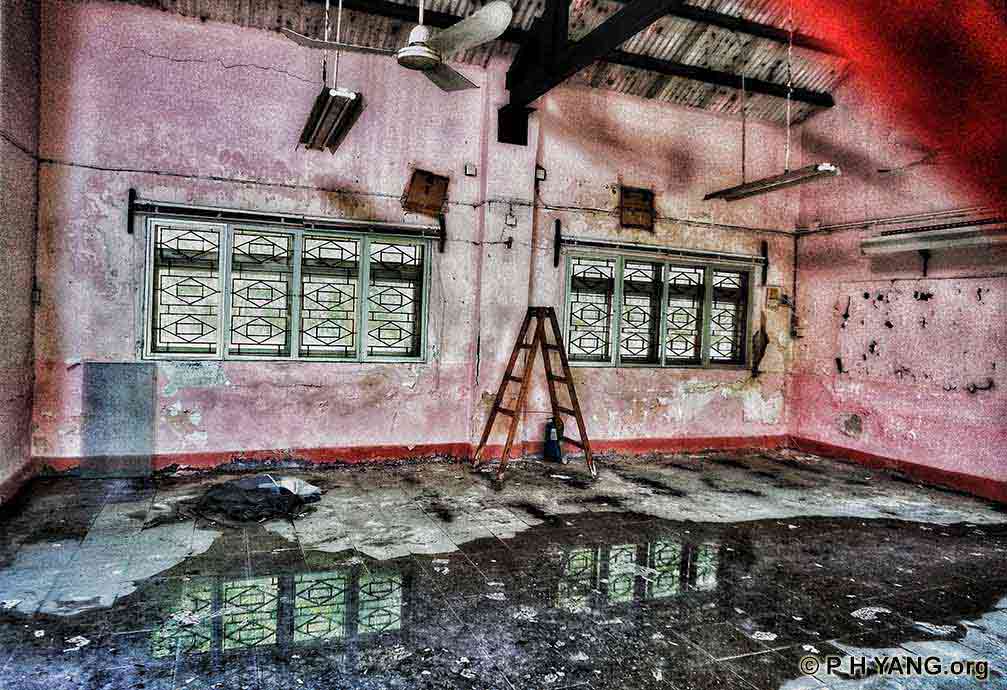 Abandoned School on Lamma

The abandoned school at the village of Lo So Shing which was closed in
2004 due to a lack of students. The semi-abandoned village on Lamma
Island is more than 300 years old and the early settlers were mostly farmers.

Just 20 minutes by ferry from busy Central business district, Lamma is an
oasis for locals and visitors alike, with hiking trails, beaches, seafood
restaurants and abandoned villages.

Lamma . Hong Kong | 2020
21 Apr 2020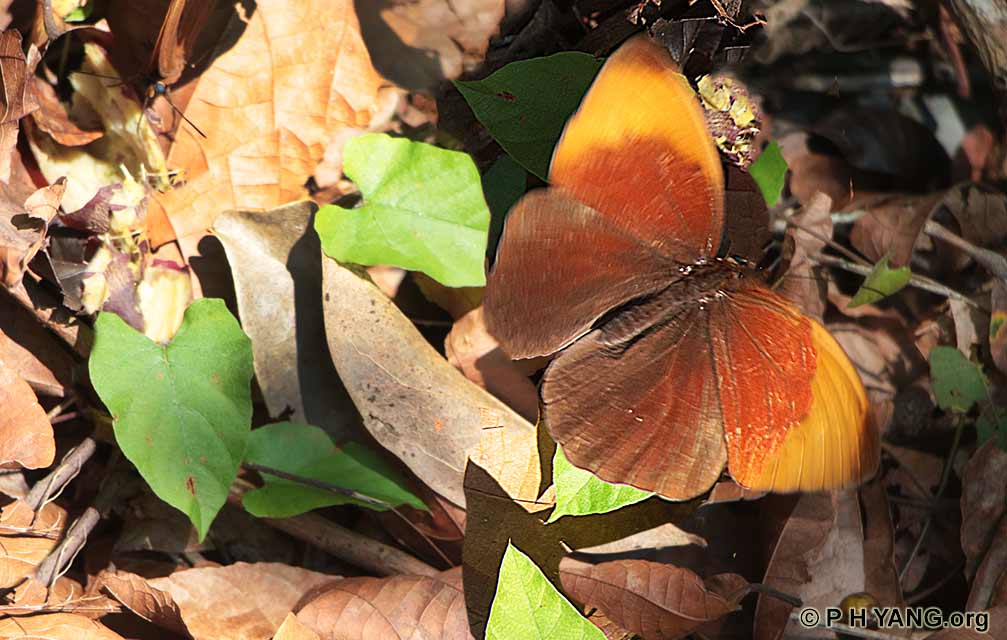 Butterfly in Sai Kung

A butterfly with strong camouflage colour is spotted near Clear Water Bay in Sai Kung.

There are about 16,000 recorded species of butterflies in the world. Among them,
1,300 species can be found in China and 235 species in Hong Kong.

Sai Kung . Hong Kong | 2020
20 Apr 2020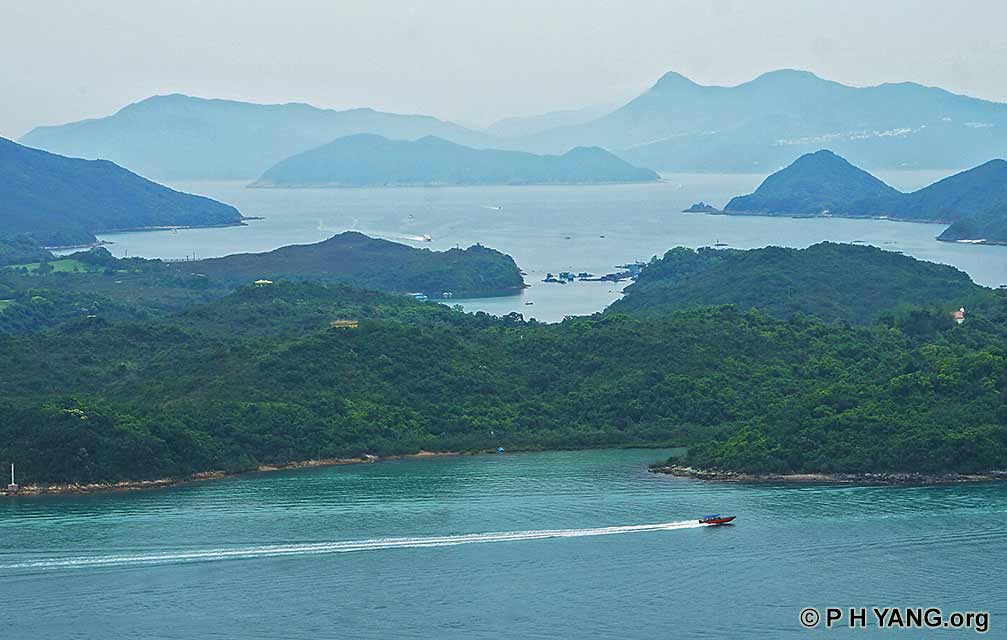 Tranquil Sai Kung Inner Sea

With its combination of gorgeous beaches, pictureque hiking trails
and quality dining options, including a seafood floating market,
Sai Kung is one of Hong Kong's best city escapes.

The tranquil Inner Port Shelter (Sai Kung Sea), as seen from
Cheung Shan (Long Hill) while hiking from Tai Mong Tsai
to Pak Tam Chung in Sai Kung.

Sai Kung . Hong Kong | 2020
19 Apr 2020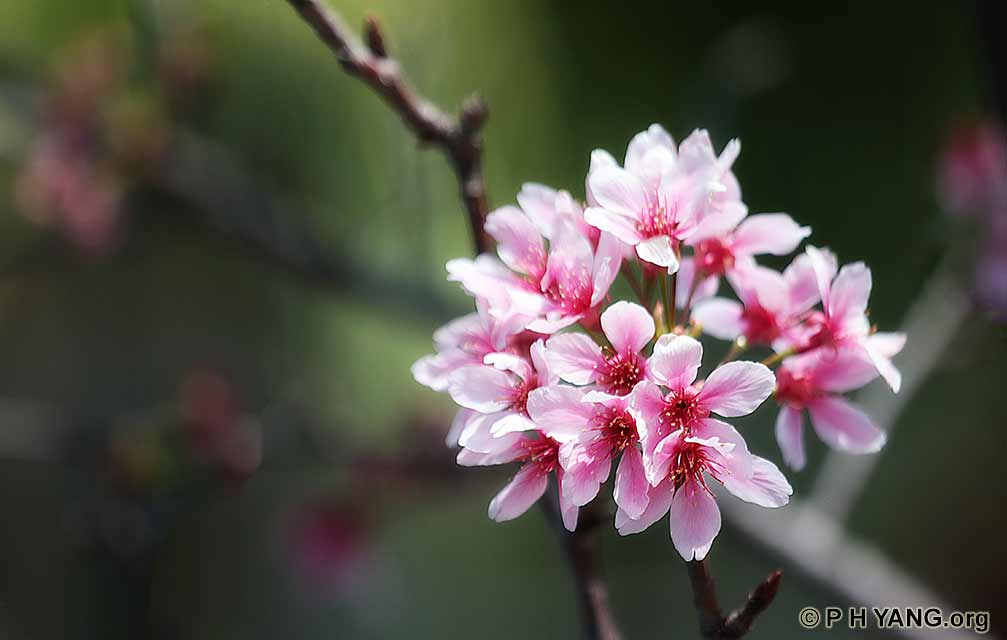 Cherry Blossom Blooming

This is the season for cherry blossom viewing as it is blooming in Hong Kong.

Despite the changing weather, many cherry blossoms in Hong Kong still look
magnificent. You can see enchanting sakura in Tai Po Waterfront Park and
Velodrome Park in Tseung Kwan O, among others.

Tai Po . Hong Kong | 2020
18 Apr 2020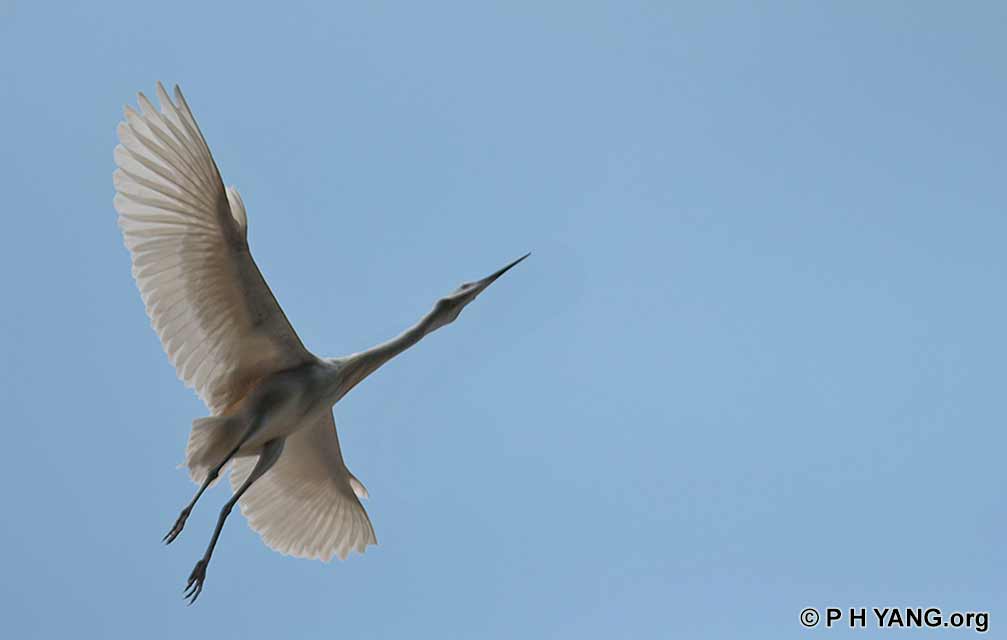 Little Egret in Flight

A Little Egret is on its way back to its nest in the Tai Po Egretry, home to 151 nests
of several egret species and night herons, according to the Hong Kong Bird Watching
Society. The government listed it as a Site of Special Scientific Interest in 1994.

The Little Egret has a black beak. The Intermediate Egret has a shorter, thicker yellow
beak that may turn red or black in the breeding season. The Great Egret has a long,
thin, yellow beak that may become darker in the breeding season.

Tai Po . Hong Kong | 2020
17 Apr 2020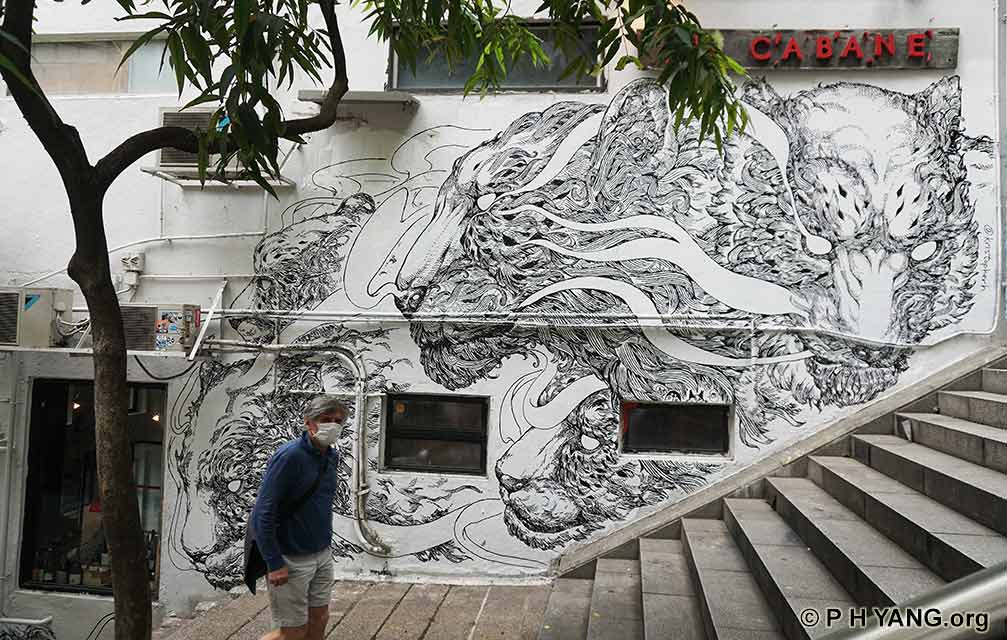 Snow Leopard by Artist Kristopher Ho

A mural of snow leopard by popular Hong Kong-based street artist
Kristopher Ho in Sheung Wan.

Named one of the 15 coolest neighborhoods in the world in 2020,
Sheung Wan is a hip district teeming with fashionable lounges,
craft coffee houses, late night eateries and appealing art galleries.
People also enjoy its historical temples, graffitied walls, antique
dealers and dried-fish vendors.

Sheung Wan . Hong Kong | 2020
16 Apr 2020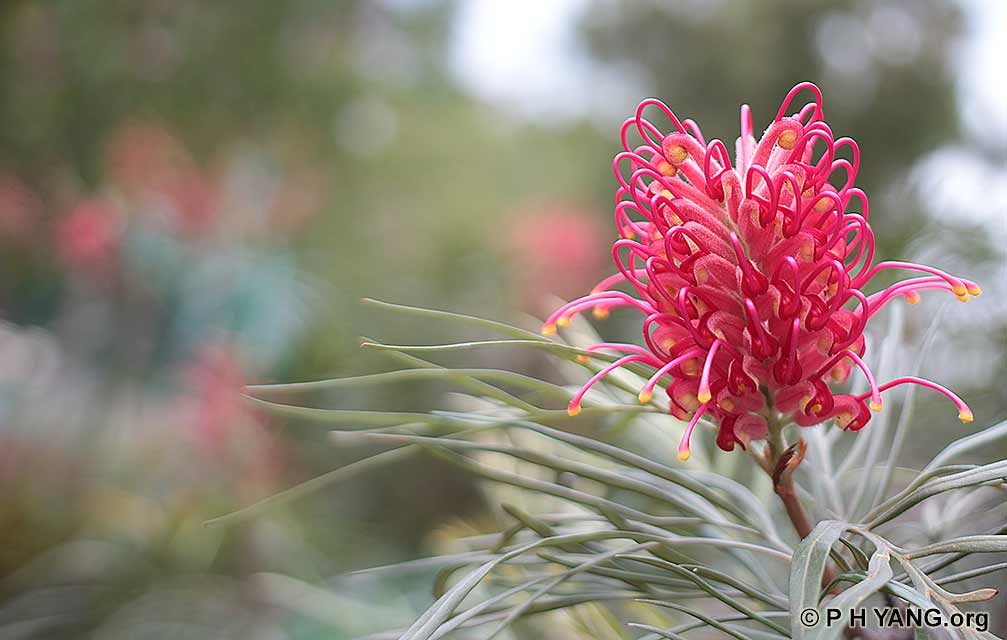 Red Silky Oak Blooming

The Red Silky Oak, aka Grevillea banksii, is a shrub with large, blood
red flowers throughout the year.

Native to Queensland, Australia, it is a popular garden plant as a
spreading shrub, or small tree up to 7 m (23 ft) high.

Quarry Bay . Hong Kong | 2020
15 Apr 2020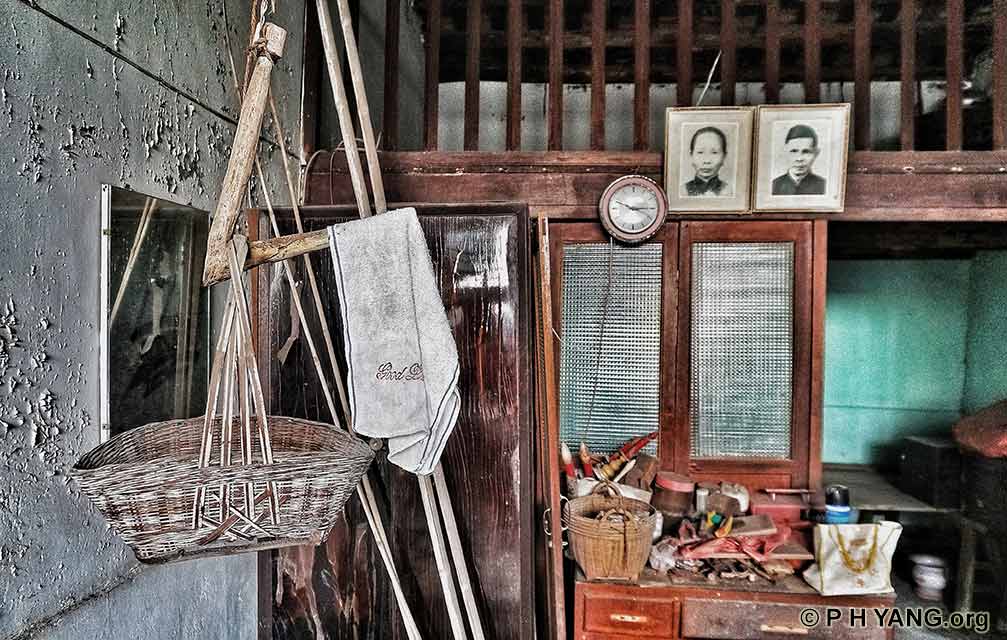 Abandoned Luk Chau Village House of Lamma

Baskets, family photos, furniture and personal items were left inside a
village house at the semi-abandoned Luk Chau village, which sits
on the remote northeast coast of Lamma Island. Many of the uninhabited
properties are now derelict and dilapidated, with vines and trees
reclaiming the village.

About a dozen families still live there today. Luk Chau is a 45-minute hike from
Sok Kwu Wan on Lamma, or a 15-minute speedboat ride from Aberdeen.

Lamma . Hong Kong | 2020
14 Apr 2020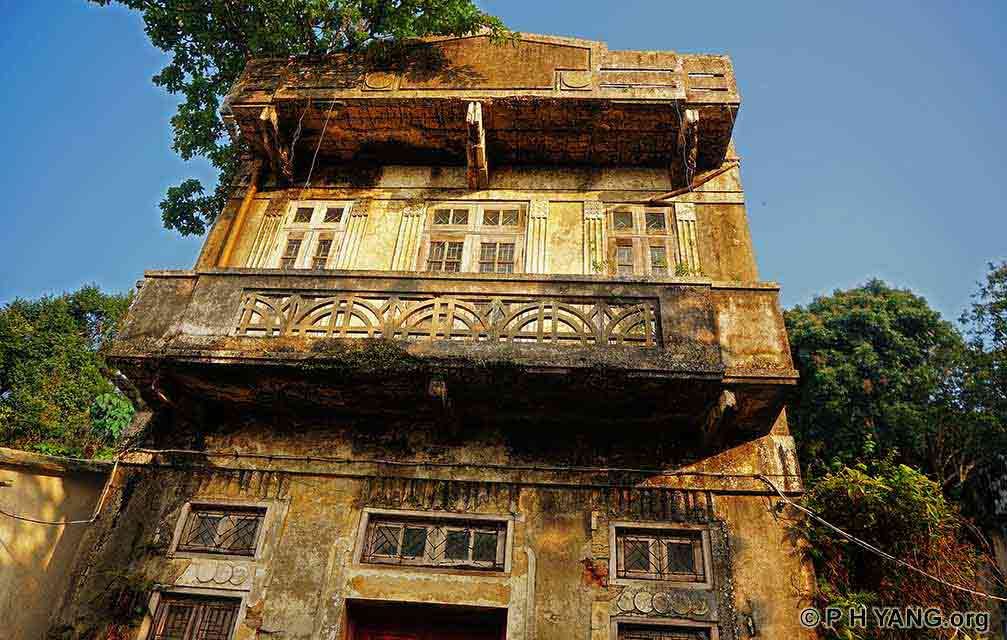 Abandoned Luk Chau Village of Lamma

The almost-abandoned Luk Chau village sits on the remote northeast coast
of Lamma Island. Many of the uninhabited properties are now derelict and
dilapidated, with vines and trees reclaiming the village. Some of the properties
contain family photos, furniture and crockery – now left abandoned.

About a dozen families still live there today. Luk Chau is a 45-minute hike from
Sok Kwu Wan on Lamma, or a 15-minute speedboat ride from Aberdeen.

Lamma . Hong Kong | 2020
13 Apr 2020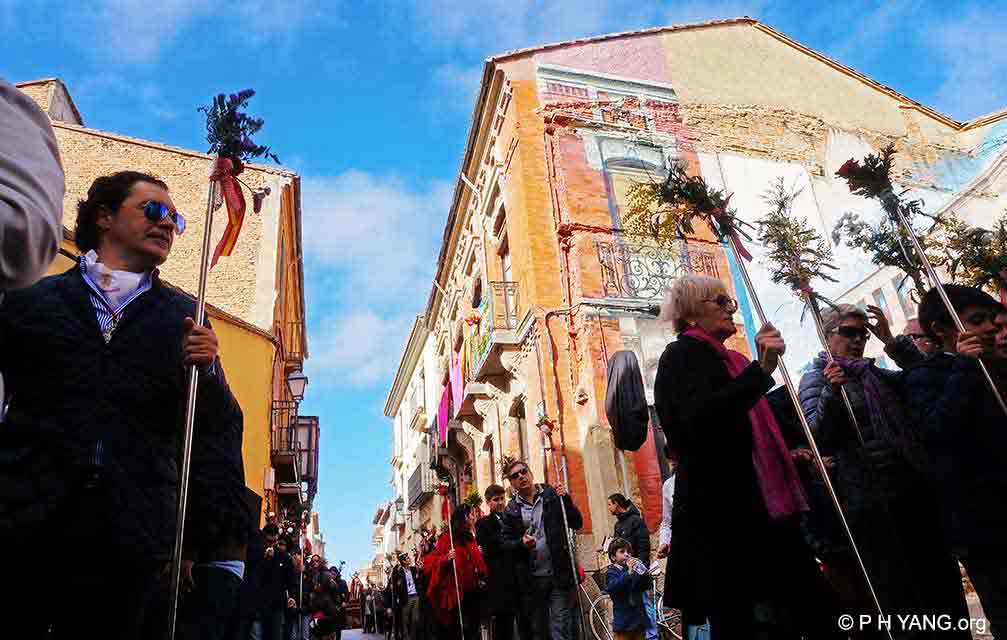 Easter Palm Sunday Procession at Zamora in Spain

A festive procession on Easter Sunday concludes the Holy Week (Semana Santa)
at Zamora, Spain as hundreds of citizens holding palm branches parading
through the streets in the old town with the paso of the resurrected Jesus
carried on the shoulders of the cargadores.

This was the scene in 2015.

Zamora . Spain | 2015
12 Apr 2020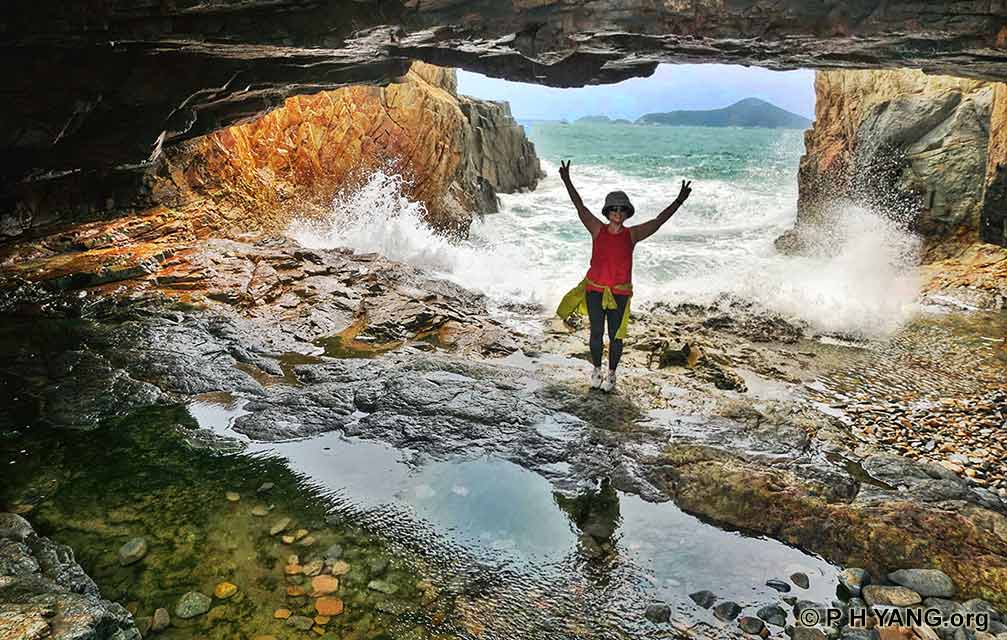 Carmen Frolics at Crab Hole in Cape D'Aguilar

Carmen, an avid hiker, frolicks at Crab Hole, an arch-shaped rock that looks like
a crab claw from afar, with a window to the crashing waves of Cape D'Aguilar.

Cape D'Aguilar Marine Reserve lies on the southeastern tip of Hong Kong Island.
It offers a panoramic view of the sky and sea from the coastal cliff, with a
century-old lighthouse.

Cape D'Aguilar . Hong Kong | 2020
11 Apr 2020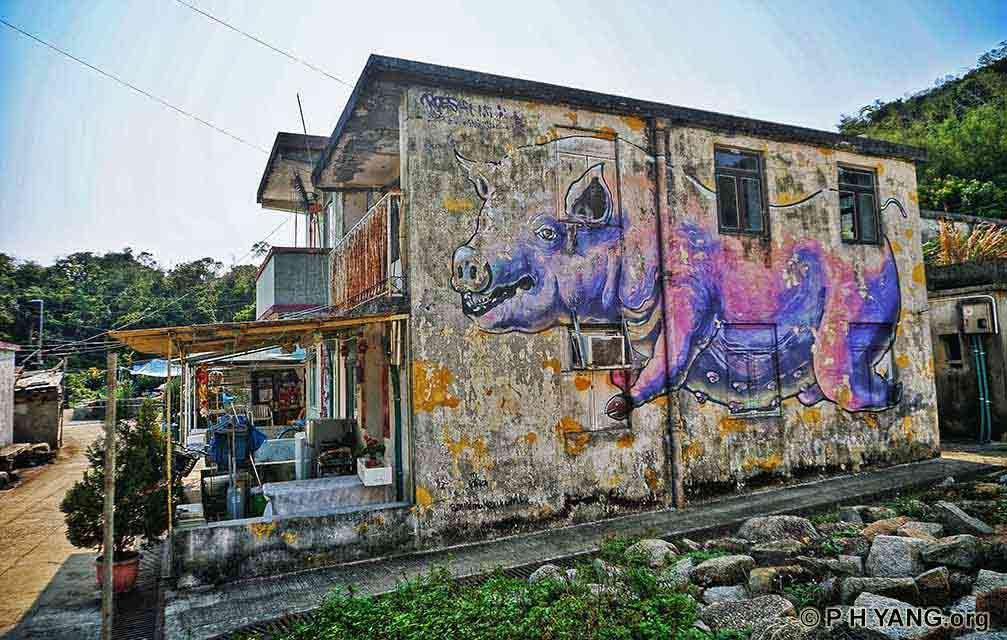 Mural on Lamma

A giant, purple pig mural is on the wall of a village house in the partially abandoned
village of Lo So Shing on Lamma Island. The village is more than 300 years old and
the early settlers were mostly farmers. It's only school closed in 2004 due to a
lack of students.

Just 20 minutes by ferry from busy Central business district, Lamma is an oasis
for locals and visitors alike, with hiking trails, beaches, seafood restaurants
and abandoned villages.

Lamma . Hong Kong | 2020
10 Apr 2020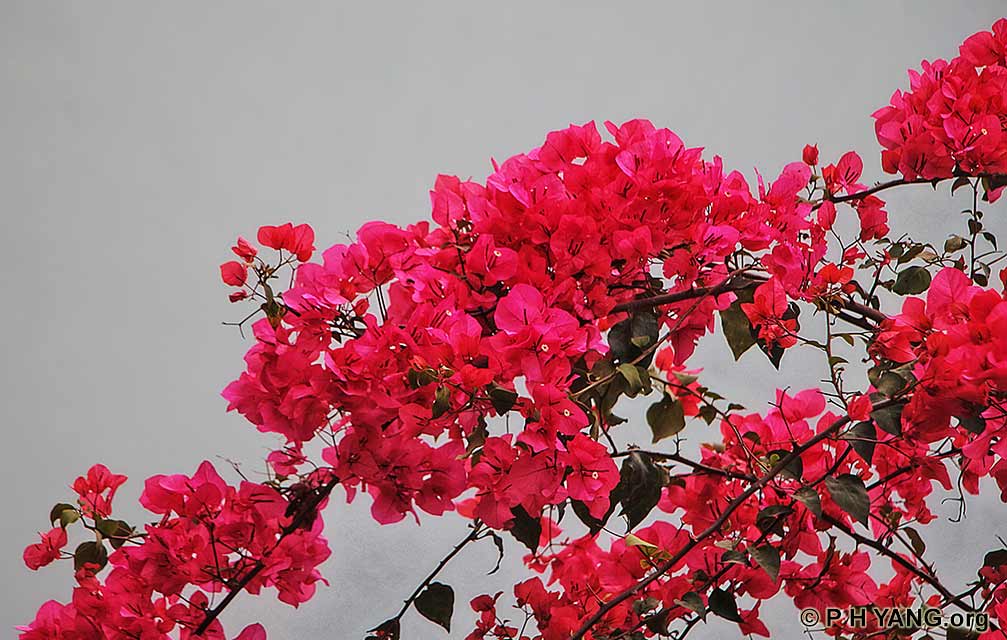 Bougainvillea Blooming

Bougainvilleas are quintessential tropical vines, known for their drought-
tolerance and lavishly brilliant flowers. They originate from tropical South
and Central America, where they're called paper flowers. Bougainvilleas
are rapid growers, flowering all year-round in the tropics and subtropics.

A native to coastal Brazil, the bougainvillea was discovered in 1768 in
Rio de Janeiro by French naturalist Dr Philibert Commerson.

Jardine Lookout . Hong Kong | 2020
9 Apr 2020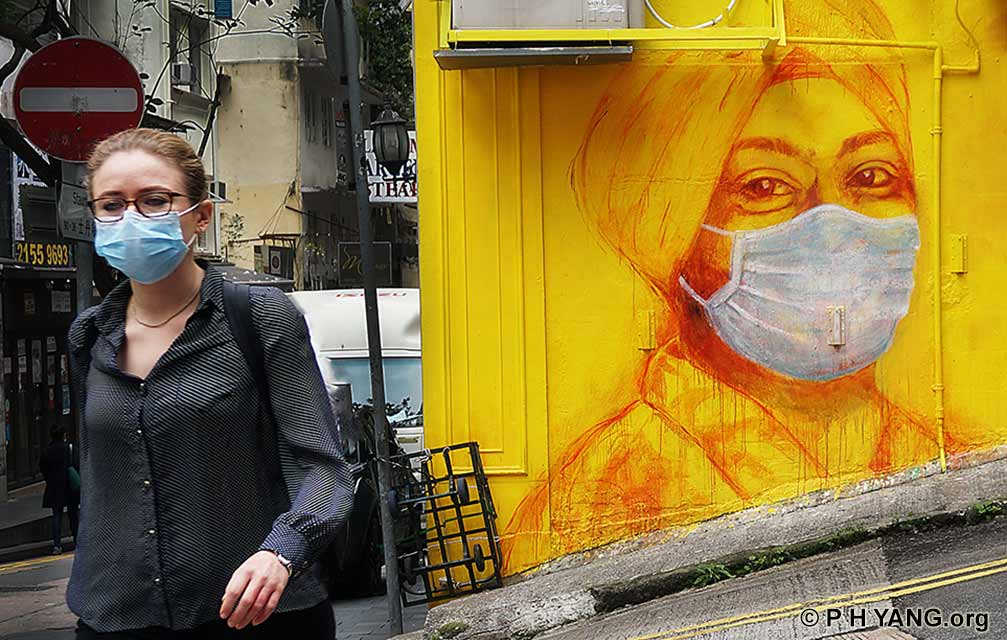 Most Contemporary Street Art

A mural in Sheung Wan reflects contemporary life. Mask wearing is
common for protection as 21 new coronavirus cases are confirmed
bringing total to 935 on Tuesday in Hong Kong.

Sheung Wan . Hong Kong | 2020
8 Apr 2020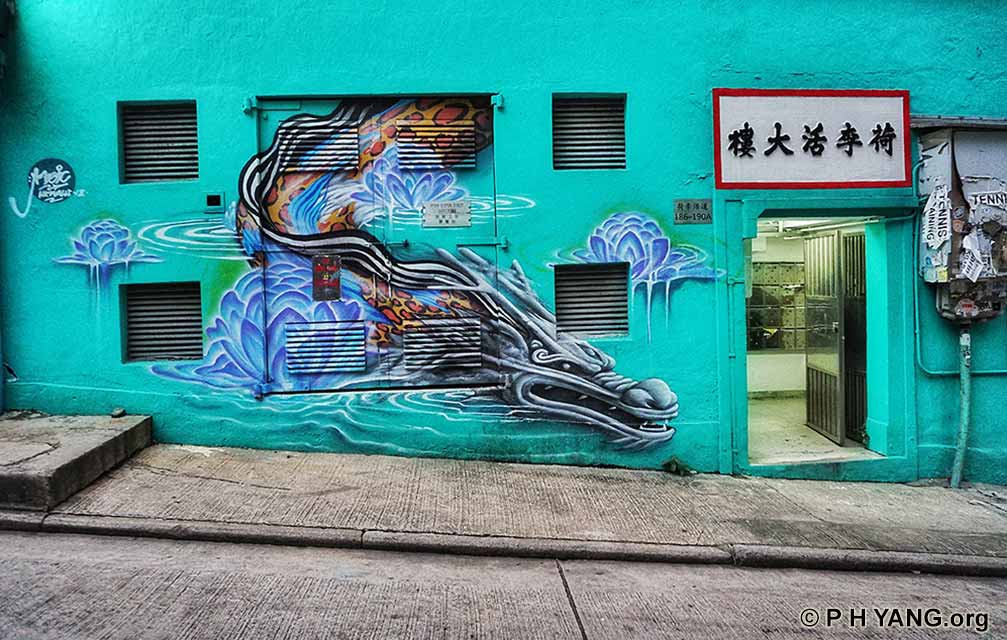 Magic Dragon by Artist Megic4ever

Magic Dragon by Shenzhen-based Chinese street artist Megic4ever in
Sheung Wan. Part of the international street art festival organised by
HKWalls.org in 2018.

Named one of the 15 coolest neighborhoods in the world in 2020, Sheung
Wan is a hip district teeming with fashionable lounges, craft coffee
houses, late night eateries and appealing art galleries. People also
enjoy its historical temples, graffitied walls, antique dealers and
dried-fish vendors.

Sheung Wan . Hong Kong | 2020
7 Apr 2020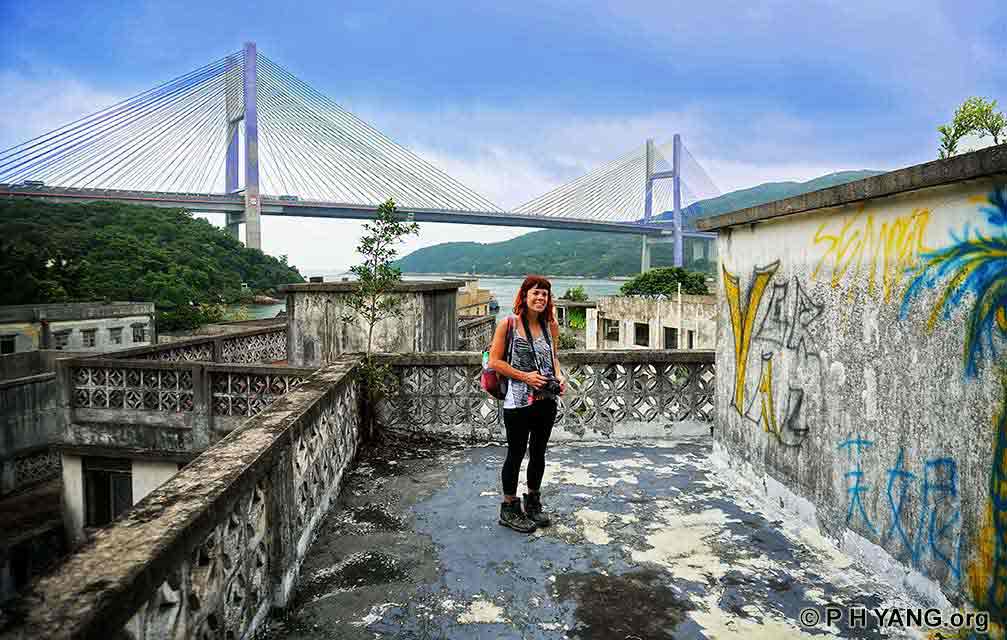 Heather Explores Abandoned Ma Wan Village

Heather, an educator from Bristol, loves urban exploration and checks out the
abandoned village of Ma Wan. Once a thriving fishing village with stilt houses,
restaurants and a school, Ma Wan fishing village is now a ghost town. The residents
were evicted by the government in 2011, some unwillingly, to give way
to Park Island, a huge gated housing estate developed by Sun Hung Kai
Properties for 5,000 families.

The island has a long history, dating back to Neolithic times, much of which
has been swallowed in recent years by the ever hungry need for housing development.
Complete Neolithic human skeletal remains were found in tombs at Tung Wan
in 1997. Ching Ma Bridge linking Kowloon with Lantau Island provides a dramtic background.

Ma Wan . Hong Kong | 2019
6 Apr 2020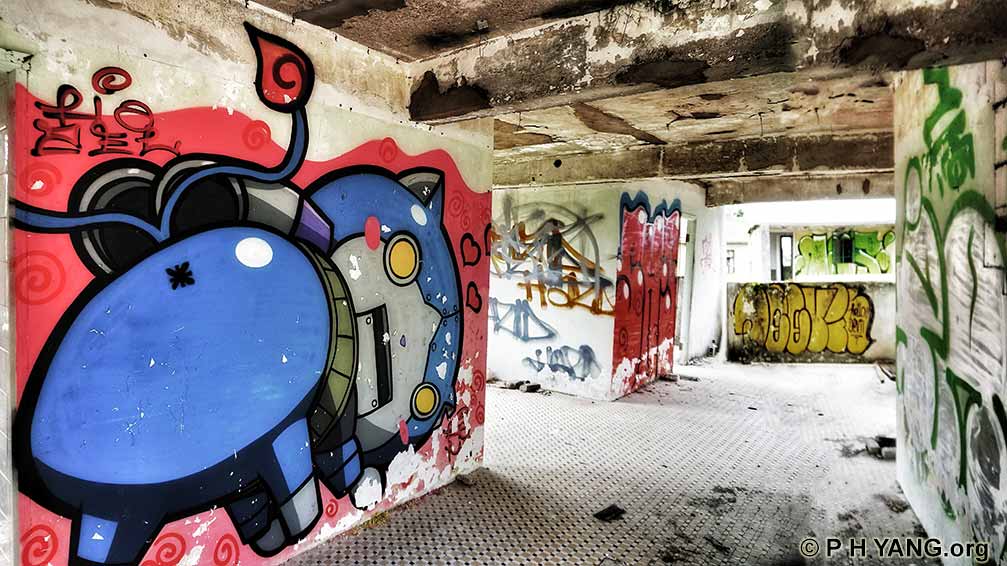 Abandoned Ma Wan Ghost Village

Graffiti at the abandoned village of Ma Wan. Once a thriving fishing village
with stilt houses, restaurants and a school, Ma Wan fishing village is now
a ghost town. The residents were evicted by the government in 2011, some
unwillingly, to give way to Park Island, a huge gated housing estate
developed by Sun Hung Kai Properties for 5,000 families.

The island has a long history, dating back to Neolithic times, much of
which has been swallowed in recent years by the ever hungry need
for housing development.

Ma Wan . Hong Kong | 2019
5 Apr 2020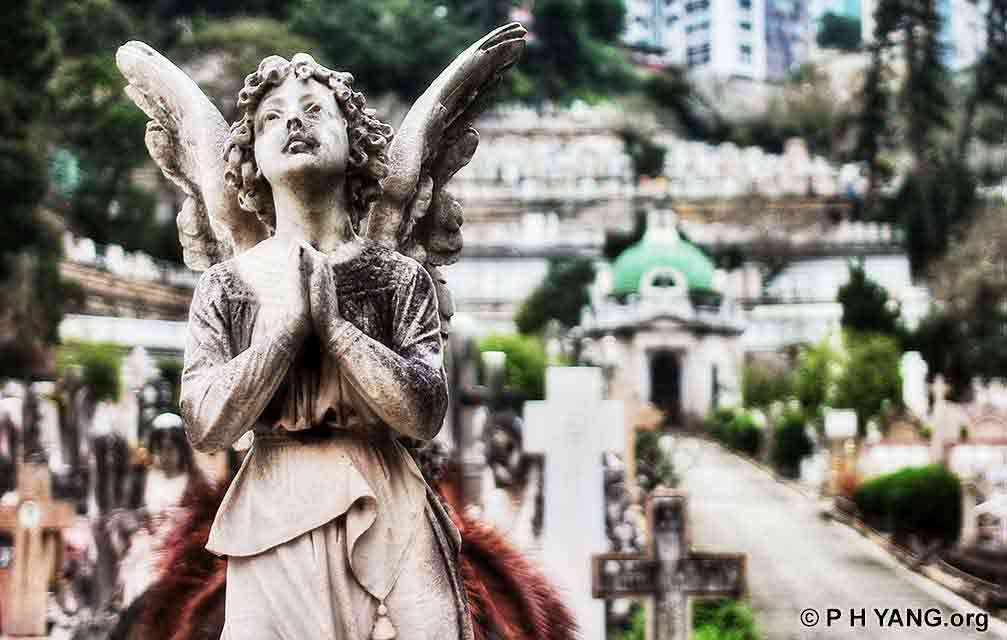 Few Tomb Sweepers on Ching Ming amid Coronavirus Spread

Fewer visitors are observed at Hong Kong Cementary in Happy Valley on Ching Ming
Festival today as 17 new infections are recorded taking the total to 863.

Thousands visit cemeteries every year to mark the Ching Ming Festival and pay
respects to their ancestors.

The government has been putting in place various measures to reduce people
crowding together amid the coronavirus outbreak and appealed to grave sweepers
not to crowd together at cemeteries as they pay tribute to their ancestors.

Happy Valley . Hong Kong | 2020
4 Apr 2020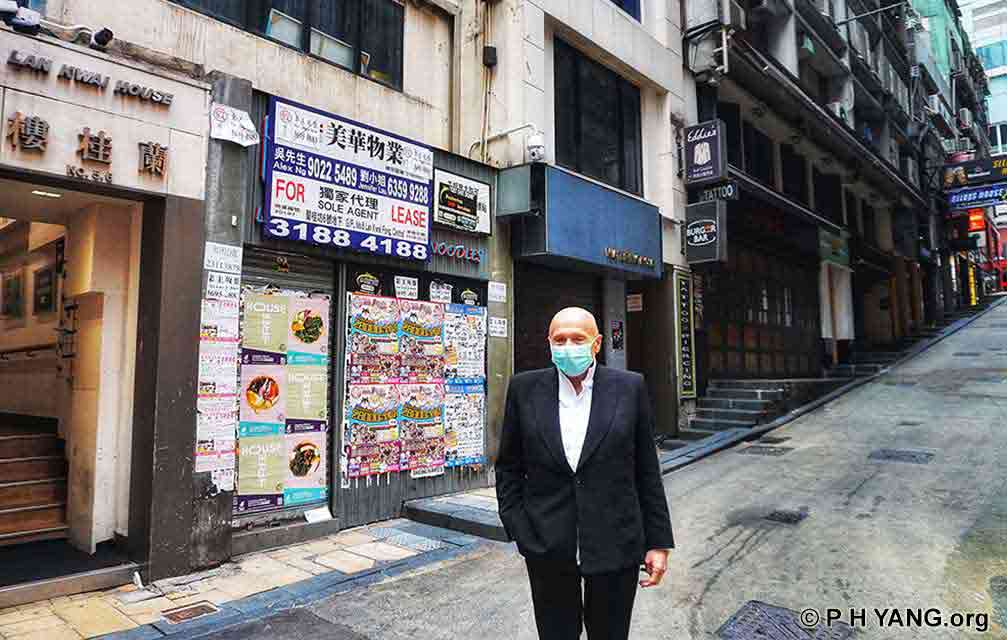 All Bars Shutdown by Government as Hong Kong Coronavirus Cases Exceed 800

Hong Kong government ordered all 1,200 bars and pubs to close down for 2 weeks
starting 6 pm today (3 April), in the latest of a series of mandatory closures targeting
entertainment venues in an effort to curb the spread of coronavirus.

Violators face 6 months in prison and a maximum fine of HK$50,000.

Allan Zeman, Chairman of Lan Kwai Fong Group, surveys the damage on the empty
streets and closed businesses in the city's most popular bar district which was
usually packed with drinking revellers.

To-date, there have been 69 confirmed coronavirus cases here that have been linked
to local bars, leading to 14 further infections -- including that of a 40-day-old baby boy.

The bar industry accused officials making them the scapegoat, while failing to close
the border and take effective action earlier. Many complained that business was
already slow, and a full shutdown would sound the death-knell for many.

Central . Hong Kong | 2020
3 Apr 2020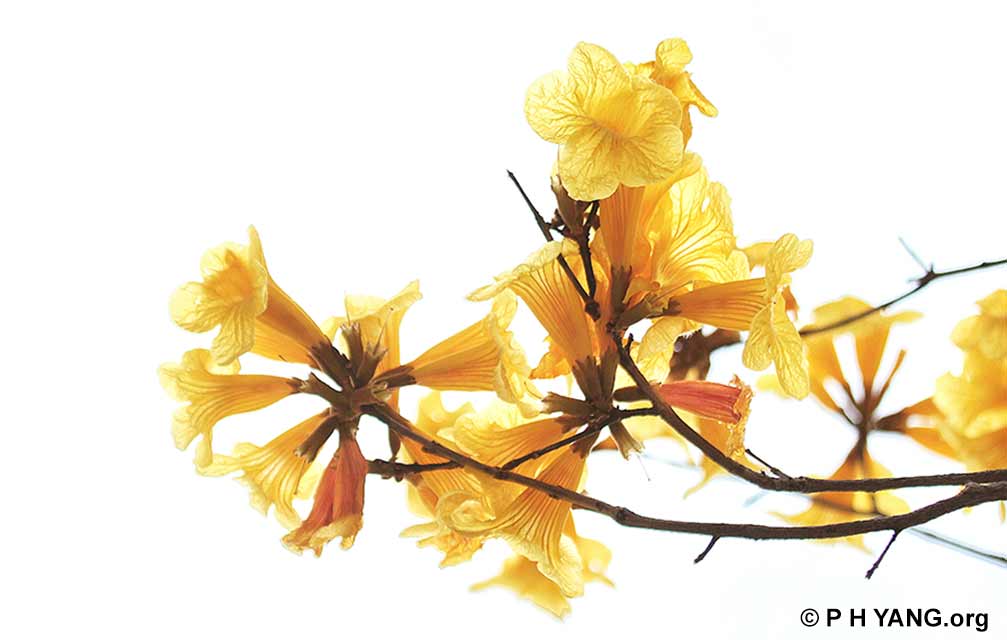 Golden Trumpets Blooming

Spring is blooming, and there are nearly thirty golden trumpet
trees in the center of Nanchang Park in Sham Shui Po. Golden
trumpet is native to South America. It is the national flower
of Brazil. It usually blooms in March and April.

Nam Cheong . Hong Kong | 2020
2 Apr 2020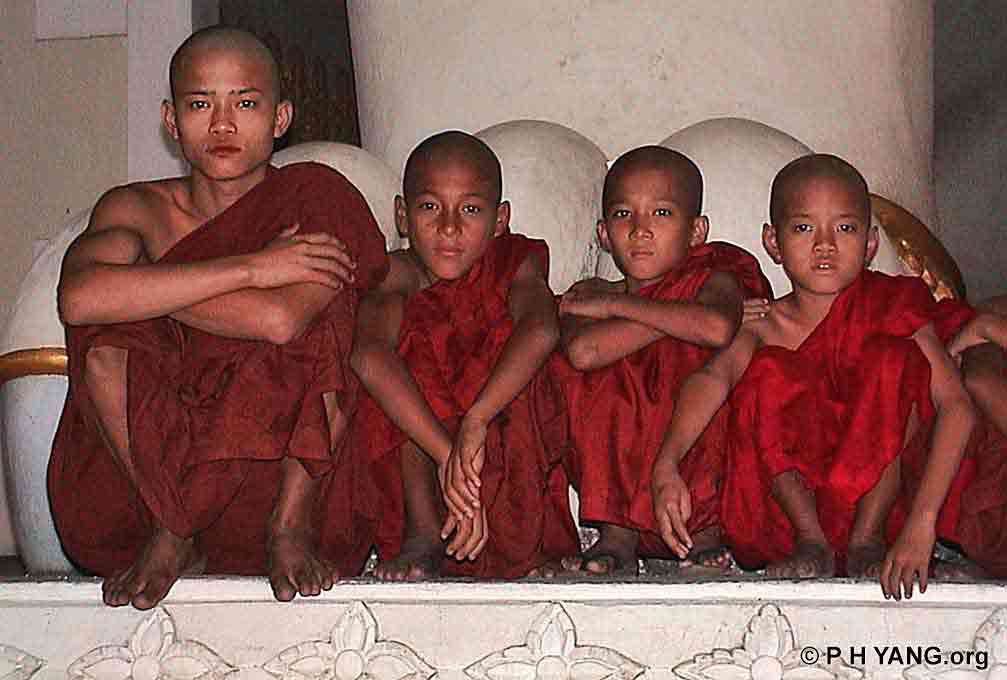 Young Novice Monks at Yangon in Myanmar

Four novice Buddhist monks hang out at Shwedagon Pagoda (temple)
in Yangon, Myanmar's most sacred religious monument.

Entering monkhood is a rite of passage for many Myanmar boys, although
most of them spend a few months, typically 100 days, as young monks
rather than making a lifetime commitment.

There are about 500,000 Buddhist monks, novices and nuns in Myanmar,
a nation of 53 million people. Around 90% of the population are Buddhist.

Yangon . Myanmar | 2003
1 Apr 2020

Archive:
Mar Feb Jan 2020
Dec Nov Oct Sep Aug Jul Jun May Apr Mar Feb Jan 2019
Dec Nov Oct Sep Aug Jul Jun May Apr Mar Feb Jan 2018
Dec Nov Oct Sep Aug Jul Jun May Apr Mar Feb Jan 2017
Dec Nov Oct Sep Aug Jul Jun May Apr Mar Feb Jan 2016
Dec Nov Oct Sep Aug Jul Jun May Apr Mar Feb Jan 2015
Dec Nov Oct Sep Aug Jul Jun May Apr Mar Feb 2014


(C) p h yang 2020 - all rights reserved