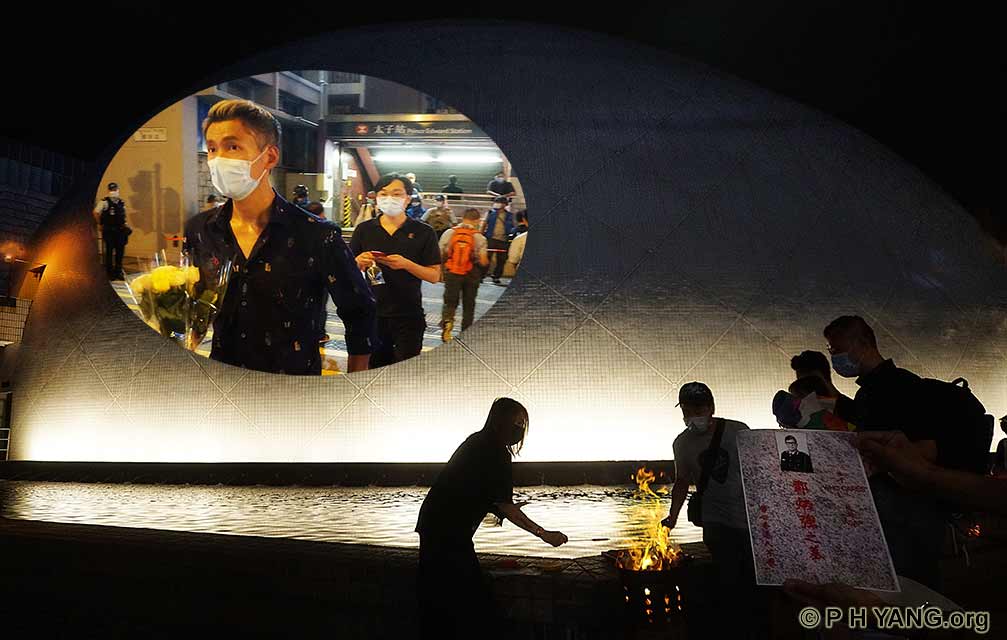 Flowers at Prince Edward & 'Mourn PK Tang' at Planetarium on Aug 31 One Year On

On the evening of August 31, 2019, the police attacked passengers indiscriminately at Prince Edward Station
in Mong Kok, Kowloon. Initially, the passengers who opposed the extradition protests provoked and attacked
the protesters and citizens. The protesters were angry and fought back. Afterwards, many riot police and
Special Tactical Team members entered the platform and train at Prince Edward Station towards Central and
used batons and pepper spray indiscriminately to attack passengers in the carriages. Information on the
Internet alledged that several people were beaten to death by the police. Some people regard the
incident as 'the police version of the Yuen Long July 21 terrorist attack.'

Today is the first anniversary of the August 31 incident. Since noon, citizens have successively presented
flowers and "3 bows" to mourn at the Prince Edward Station. However, the police and the MTR cleaners
kept clearing the flowers, and some people were charged for 'littering' flowers. David, a frequent 'Lunch
with You' protester, raised his hand signalling '5 Demands, Not One Less' at Prince Edward Station was
cited for 'causing a nuisance to passengers.'

Today is also the 6th anniversary of the 'August 31 Resolution' of the Standing Committee of the National
People's Congress that banned true universal suffrage in Hong Kong. Leung Kwok-hung, Avery Ng, Wong
Ho-ming and Chan Ho-won went to the Central Liaison Office to protest and demand that the CCP revoke
the 'August 31 Resolution' and abolish the Hong Kong version of National Security Law. All 4 were
charged by the police for violating the social distancing order.

At 7:30 pm, dozens of people responded to the call of netizens to a 'night memorial' outside the Planetarium
for Police Commissioner P K Tang, expressing their strong dissatisfaction with Hong Kong police's
indiscriminate arrests, charges and brutality. The paper "Tombstone of P K Tang" was displayed on site,
and signed "Disrespectful Hong Kongers", burning joss, incense and other offerings.

Tsimshatsui . Hong Kong | 2020
31 Aug 2020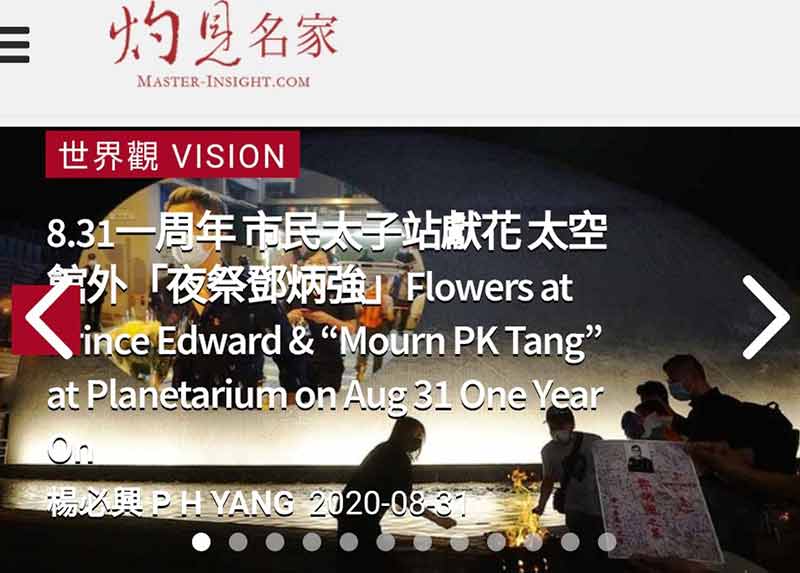 My photo is the top story on the front page of Master-Insight.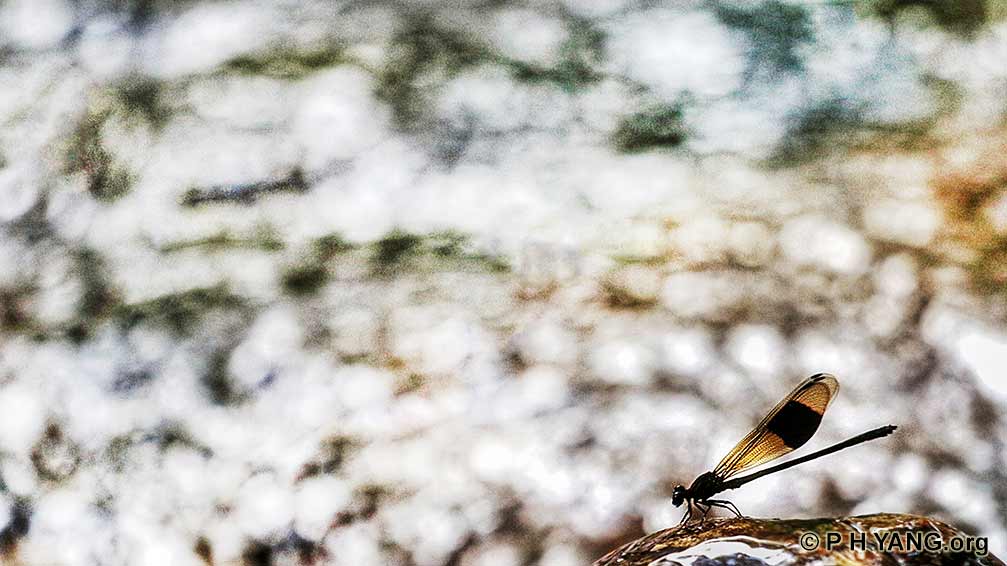 Black-banded Gossammerwing

Black-banded Gossammerwing belongs to the Anaconda (called "damselfly") Ximenidae. The obvious
feature is a checkered black marking near the end of the back wing. They are the first dragonfly
recorded in Hong Kong.

Generally speaking, dragonflies are stout, with compound eyes connected, and will spread their wings
horizontally when resting; damselflies are slender, with separated compound eyes; the forewings and
hindwings are very similar in size and shape, and they will fold their wings while resting.

Tsuen Wan . Hong Kong | 2020
30 Aug 2020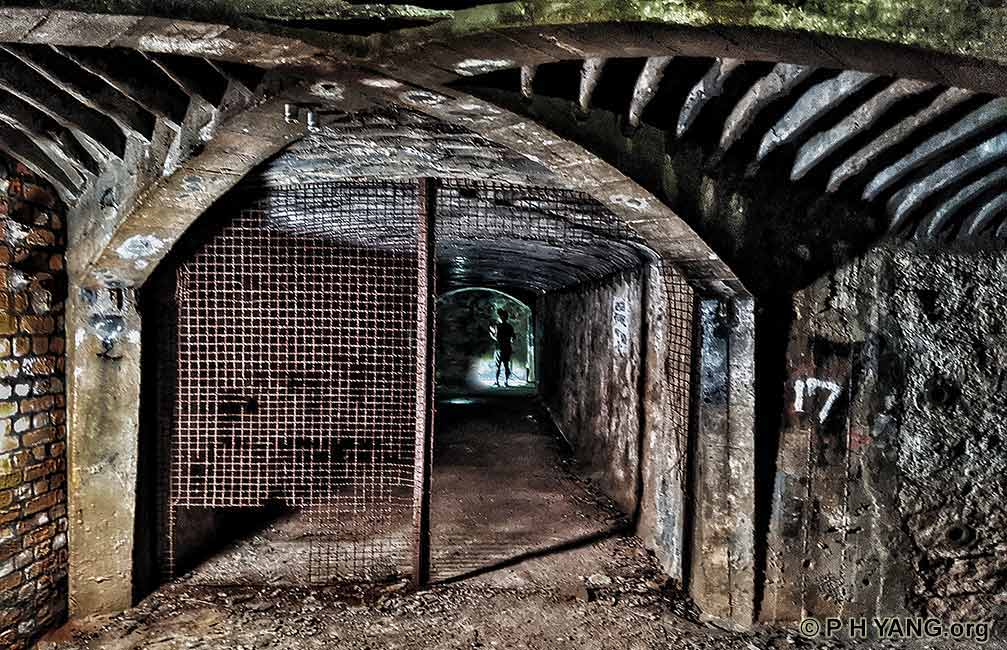 Exploring Deserted Air-raid Shelter Downtown

During World War II, the government built air-raid shelters in various places in Hong Kong to allow citizens
to take refuge during Japanese air raids. The path in the cave has many twists and bends, with ramps.
There are numbered signs along the path with forks, which makes it easy to get lost. It was dark and
gloomy inside, with only the faint light of the flashlight that was brought, and the atmosphere was terrifying.

Although some facilities have been blocked by the government or repurposed, as long as you observe
carefully, it is not difficult to find the relics of the wartime past.

Hong Kong | 2020
29 Aug 2020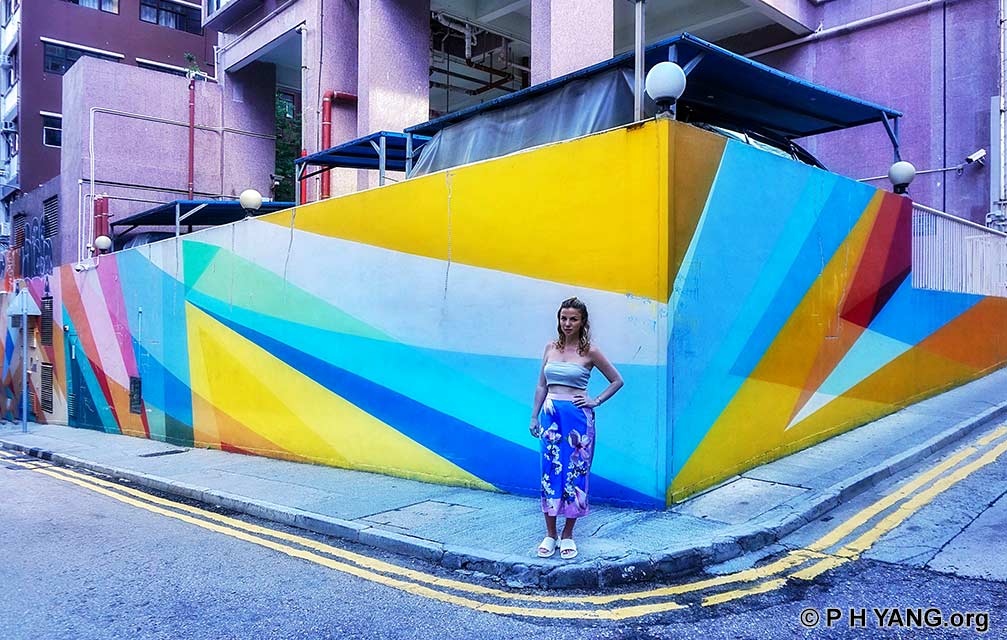 Olga Filatova Loves Street Art

Multi-talented Olga Filatova, a tech investment/marketing consultant and art lover from St Petersburg,
Russia, enjoys street art and heritage buildings in Hong Kong. She love visiting art exhibitions frequently.

Olga especially loves this art work, by fellow Russian street artist Pasha Wais, also from St Petersburg,
at Square Street. Wais is known for being artistically adventurous with bold experimentations and
innovative creations with distinctively styled geometric graphics.

Olga is a Forbes contributor and a frequent speaker at Russian and international IT conferences.

Sheung Wan . Hong Kong | 2020
28 Aug 2020

,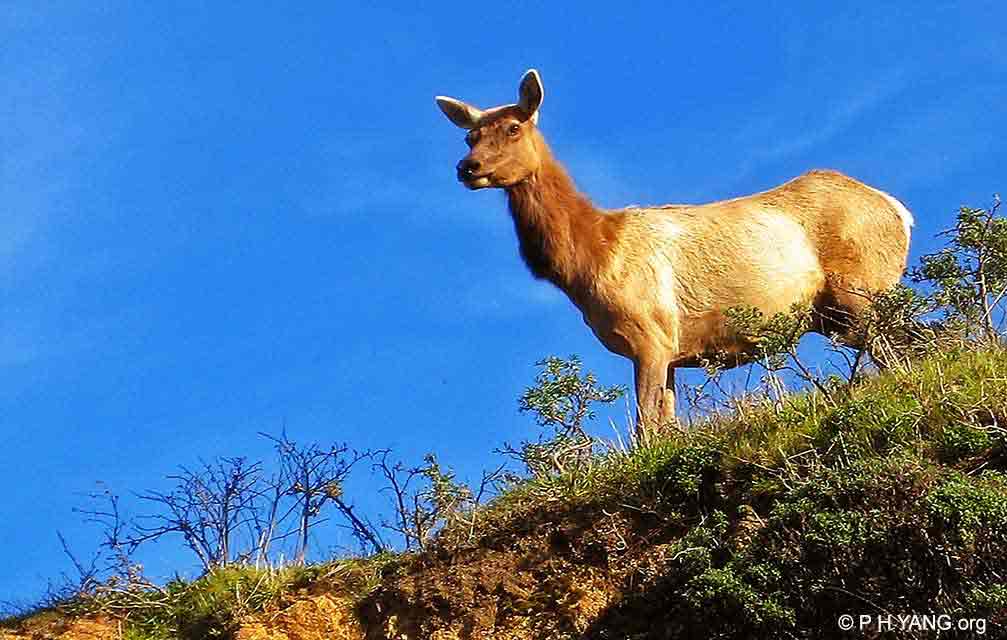 Hong Kong Police Accused of 'Tampering with History' on July 21 Yuen Long Mob Attack

On August 26, the police arrested 13 people including Lam Cheuk-ting, a legislator of the Democratic Party,
and charged them with crimes such as riots at the Yuen Long Station on July 21 last year. The police held a
press conference in the afternoon and described the July 21 incident as a conflict between 'two evenly-matched
parties of different views'. The police is accused of 'tampering with history' and 'calling a stag a horse.'

Last July 21, over 100 white-clad assailants, some with triad backgrounds, indiscriminately attacked
passengers, protesters, journalists and commuters inside and around Yuen Long's MTR station.

Hong Kong police claim that the Yuen Long attack involved two evenly-matched parties of different views,
denying that it was an indiscriminate attack initiated by the assailants and 'collusion between police and triads.'

Lam Cheuk-ting claimed that he was a victim of the July 21 incident, but is being turned into a defendant,
criticising the police for having become a political tool to 'persecute the innocent and protect the thugs.'

The Democratic Party chairman Wu Chi-wai criticised the police's actions for confusing right and wrong,
and emphasized that the Lam was at the scene to mediate the dispute, but the police turned the plaintiff
into the defendant, which was obviously an indiscriminate arrest and a chilling effect.

Yuen Long . Hong Kong | 2020
27 Aug 2020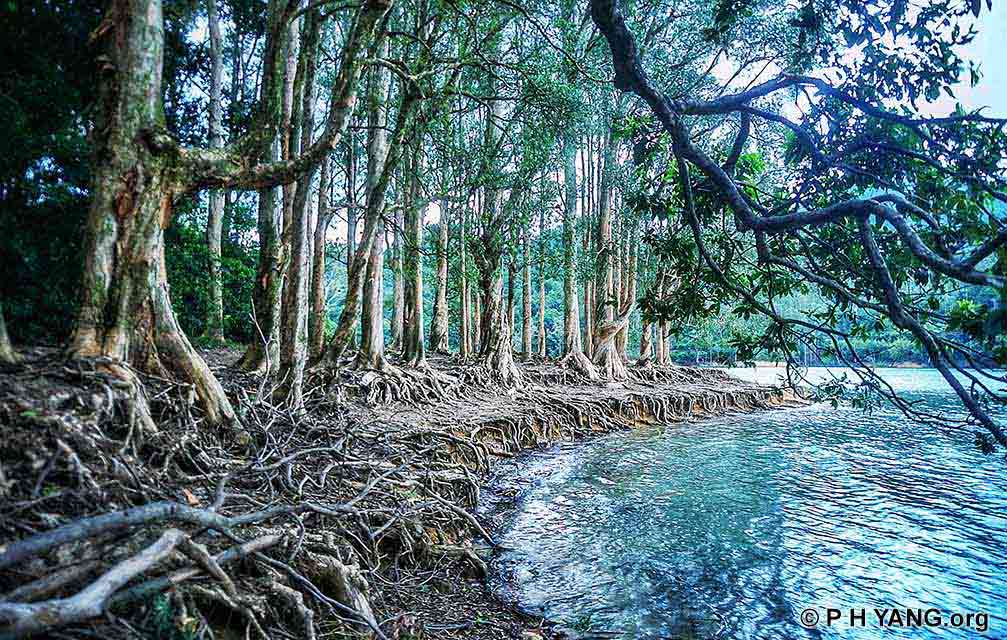 Paperbarks by Shing Mun Reservoir

Before the government built the Shing Mun Reservoir in Tsuen Wan, the surrounding area was rich in
pineapples. After the completion of the reservoir, it was called "Pineapple Dam" by the Hakka
villagers at that time. The Pineapple Dam Nature Education Trail has beautiful scenery, with many
macaques, butterfly gardens, rocky streams, small waterfalls, many shades and gentle slopes.
It is suitable for parent-child hiking in all seasons.

There are many Melaleuca trees, akah Paperbarks, by the reservoir, and other trees grow along the
banks. Their thick and strong roots can make people feel the vitality. The Melaleuca bark is grayish-
white, resembling a lamellae, and it peels by layers, so it is called Paperbark.

Tsuen Wan . Hong Kong | 2020
26 Aug 2020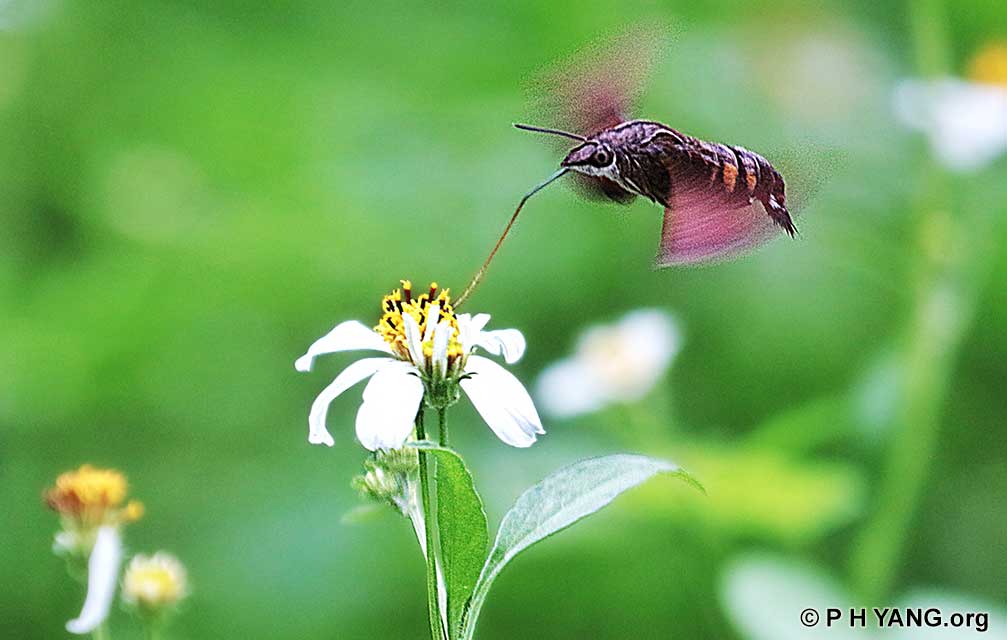 Hovering Hummingbird Hawk-moth

Hummingbird hawk-moth, aka Bee Hawk-moth or Sphinx moth, can be described as flying like a
hummingbird and looking like a shrimp. It is a moth in the insect species.

It is a day-flying moth with a wingspan of about two inches (50-58mm). It has a brown,
white-spotted abdomen, brown forewings and orange hindwings.

The larva of the hummingbird hawk-moth feeds on legumes. On maturity, it mainly sucks nectar.
Like hummingbirds, it has strong flying ability. It can hover above flowers and then stretch out
its long proboscis to suck nectar. It is not like bees carrying pollen to make honey. Hummingbird
hawk-moths collect nectar without carrying pollen, nor do they make honey.

Fanling . Hong Kong | 2020
25 Aug 2020

and see cheek cu to an o look like c.. x o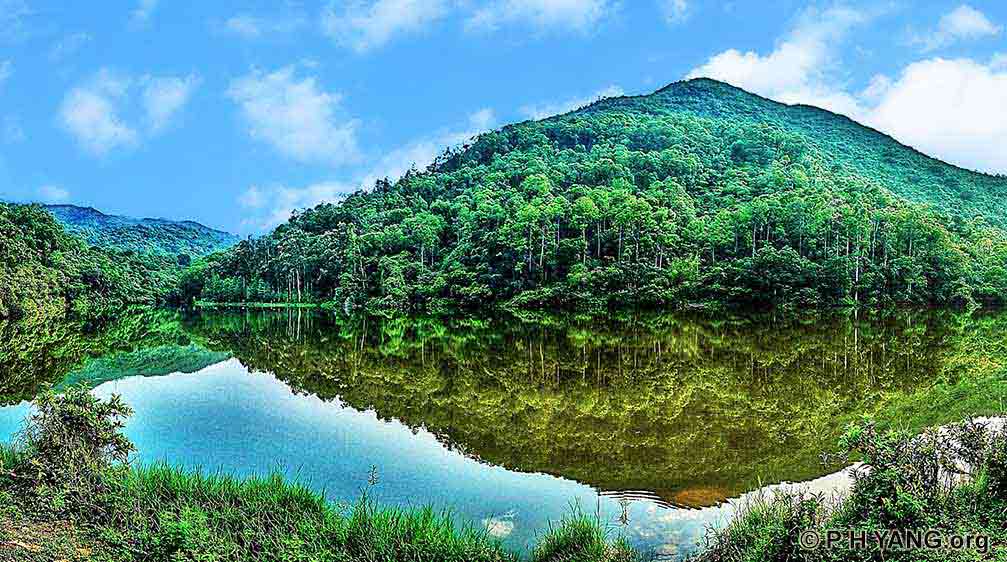 Charming Lau Shui Heung

The Lau Shui Heung Reservoir in Pat Sin Leng Country Park is a small irrigation reservoir. The water
is used to irrigate nearby farmland. If the weather is good, most of the time the surface of the
reservoir is calm like a mirror, and you can see the reflection of the entire mountain and forest,
and it is called the Hong Kong version of the 'mirror of the sky'.

There are a variety of special trees at the reservoir, with Melaleuca planted behind the opposite
bank, and pine trees in front. To experience the gurgling sound of flowing water, you can only
hear it near Lau Shui Bridge and Lung Shan Bridge.

Fanling . Hong Kong | 2020
24 Aug 2020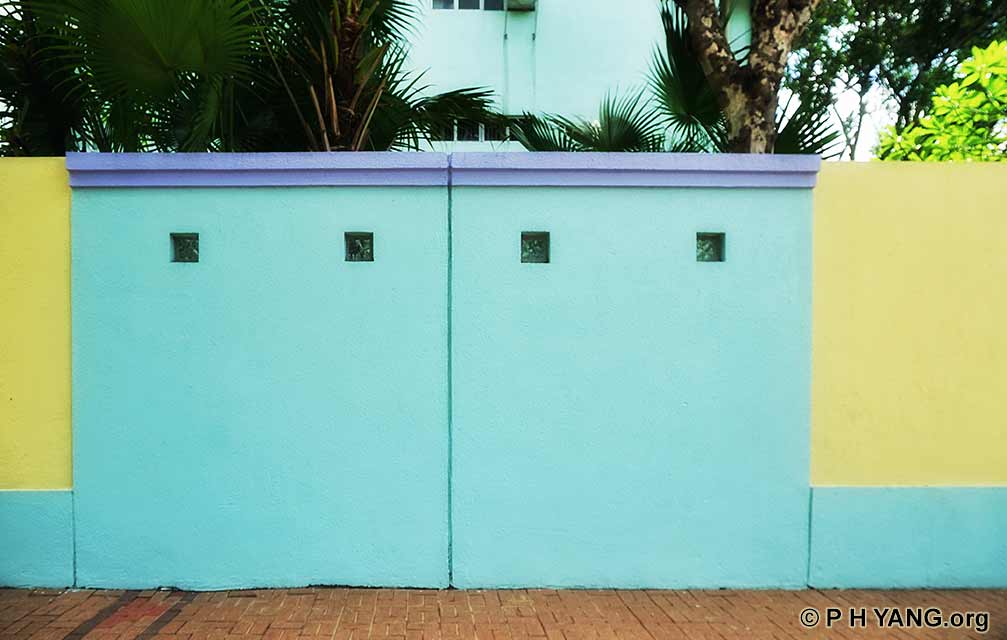 Pastel Wall in Fanling

Pastel colours are soft and soothing, ideal as a backdrop on walls or as accent colours on furniture or trim.

Fanling . Hong Kong | 2020
21 Aug 2020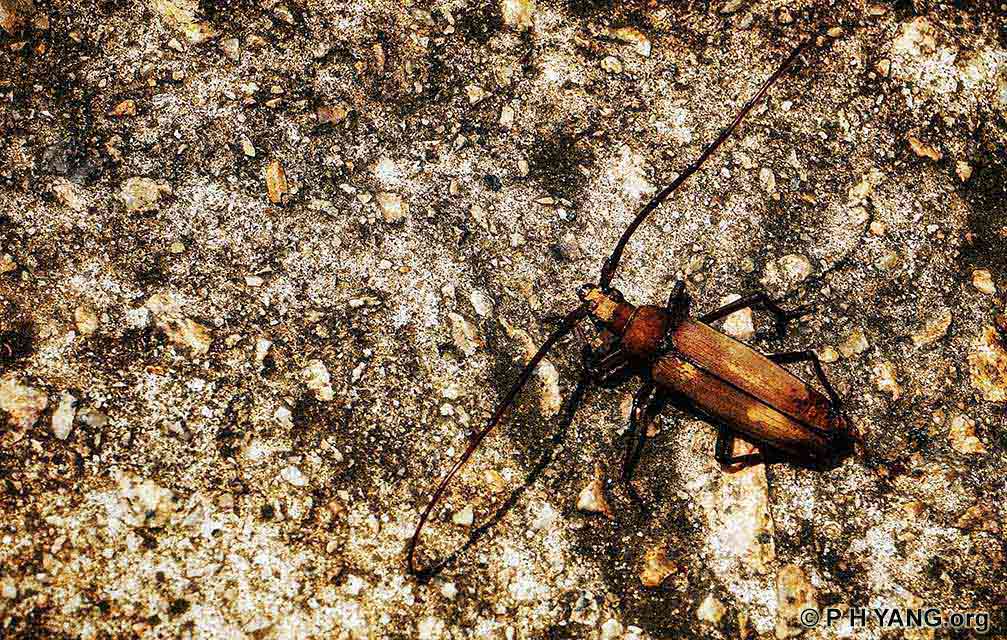 Long Horn Beetle

The longhorn beetle, also known as long-horned or longicorns, are a family of beetles, typically
characterized by extremely long antennae, which are often as long as or longer than the
beetle's body.

Ma Wan . Hong Kong | 2020
22 Aug 2020



'Hong Kong Phooey' Art Installation by Invader Disappeared

Wan Chai District Councillor Clara Cheung is also an artist and has been striving to promoting art development
in the district. On August 7, she was informed that the "Hong Kong Phooey" created by French artist Invader
on the wall of Hip Wo Lane in Happy Valley disappeared and the entire artwork was removed.

It is a mosaic of 1970s American cartoon character Hong Kong Phooey — a mask-wearing dog who is an
expert in kung fu — resurrected by Invader.

The Highways Department stated that they did not remove the artwork on the wall and believed that the
tiled pattern did not affect slope safety and slope maintenance work. The contractor carried out routine
inspections and repairs for the slope on June 18. At that time, the artwork on the slope were intact.
It is estimated that the "Kung Fu Dog" was removed between June 18 and August 7.

It was reported that the original Hong Kong Phooey was removed in 2015 by the government, and was widely
criticized for not respecting artistic creation. The artwork that appeared there later was a work of restoration.

Invader once copied the Hong Kong Phooey artwork as Alias HK_58 and auctioned it at Sotheby's in 2015.
It was bought by a European private collector for HK$1.96 million.

Happy Valley . Hong Kong | 2020
21 Aug 2020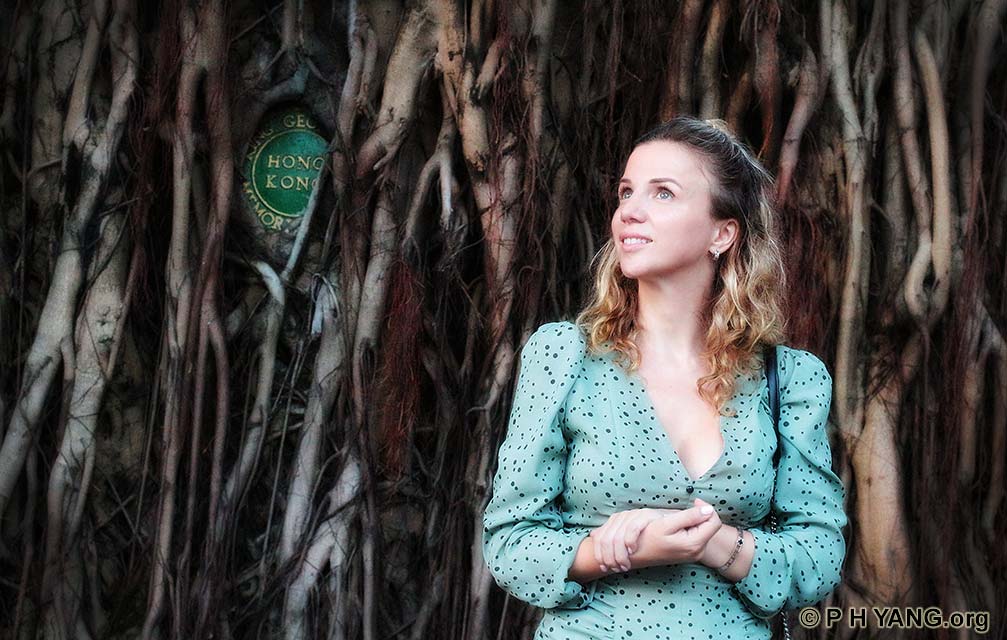 Olga Muses on Hong Kong's Dilemma Post-National Security Law

Olga Filatova, a tech investment/marketing consultant from St Petersburg, Russia, muses at the sign on
the ancient masonry wall of King George V (KGV) Memorial Park being swallowed up by the roots of
the many bayan trees there. Does it reflect the current situation in Hong Kong, after the National
Security Law was passed?

KGV Memorial Park in Sai Ying Pun is a historical park, also known as the Little Garden. It was built
to commemorate the passing away of King George V in January 1936, one of the few parks in
Hong Kong that retains its former colonial connection.

Hong Kong | 2020
20 Aug 2020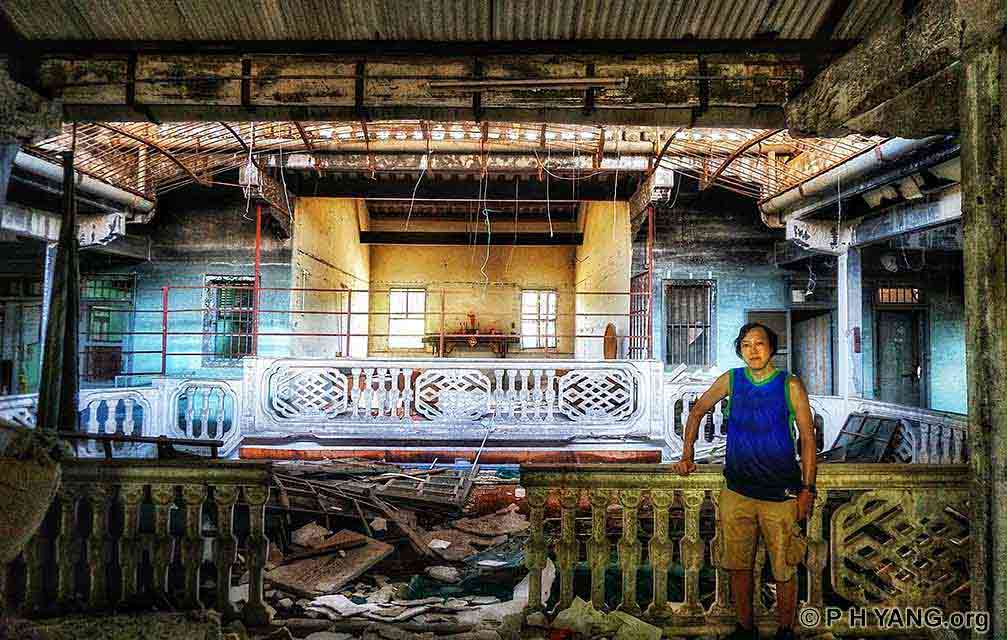 Dan Explores Abandoned Hakka Mansion

Dan, who loves urban exploration and photography, discovers an abandoned Hakka mansion in the
New Territories. The mansion has a history of over 80 years and is rated as a Grade 3 historical
building.  It is a two-storey building blending Chinese and Western styles, with round stone pillars,
carved stone walls, wooden gate firs, and carved fences around the central lightwell on the upper floor.

A revitalisation plan was confirmed at the end of 2019. The plan intends to retain its Hakka architectural
characteristics, and to restore it with reference to the original architectural design, combining Chinese
and Western design styles, and lease it to social enterprises afterwards.

This article aims at the introduction of the story and history behind the abandoned places, and urban
exploration is based on the principle of "not revealing the location" and "not destroying anything".

Hong Kong | 2020
19 Aug 2020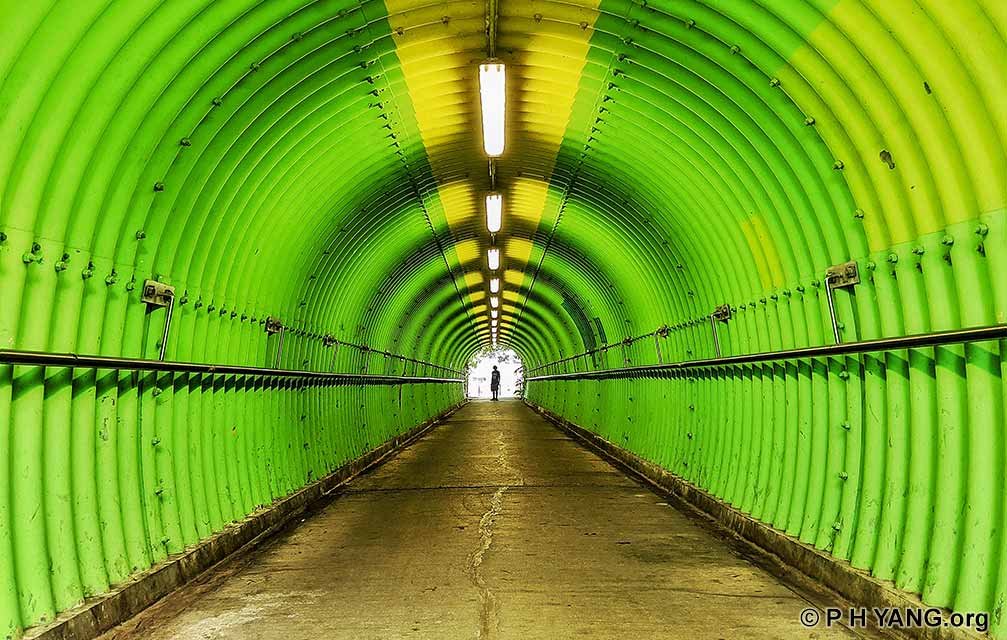 Green 'Time Tunnel' of Yuen Long

The NS220 pedestrian tunnel at Tai Kei Leng Road, Yuen Long, is also a bicycle track.
The green tunnel, made of arched metal sheet, has a futuristic look, just like being
in a time tunnel. It became popular because of the filming of the music video for
the song 'Eight Kilometres' by the Queen of Pop, Sammi Cheng.

Yuen Long . Hong Kong | 2020
18 Aug 2020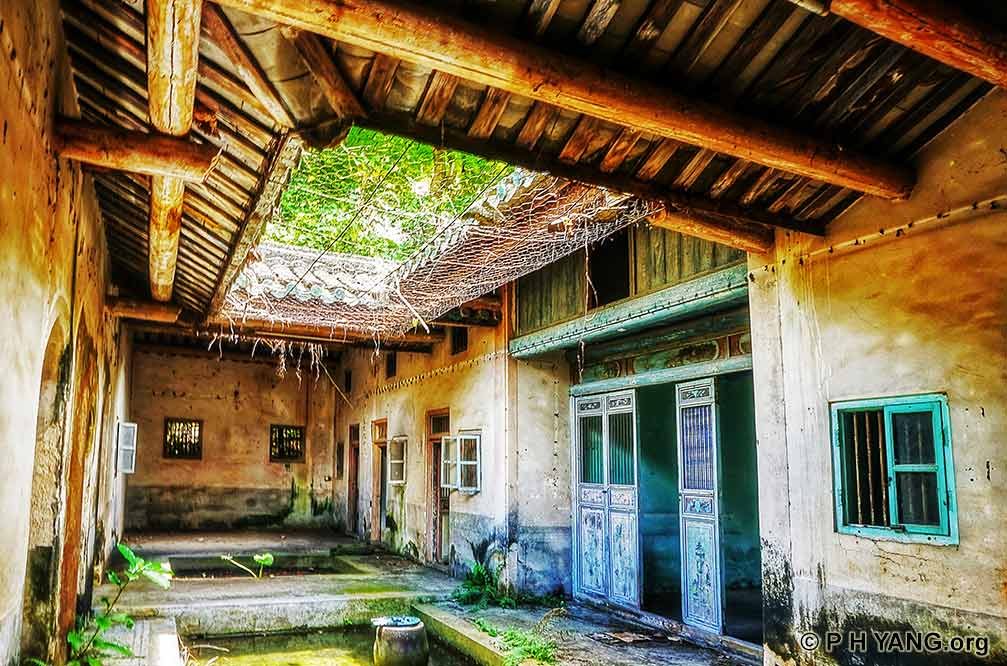 Elegant Abandoned Hakka Mansion

An elegant traditional Hakka mansion, hidden behind bushes, has been long abandoned, with weeds
growing in front of the house. The mansion, with a history of over 80 years, is typical of the
Hakka 'two-halls two-horizontal' residential building in Mei County, Guangdong. It is the only
single residential building in Hong Kong listed as a Grade I historical building.

The exquisite lion carvings on both sides of the gate beam have been removed. The half-moon-shaped
fengdhui pool in front of the house has been overrun by reeds and weeds, and the eaves are in
disrepair and dilapidated.

The whole mansion has 16 rooms, 6 halls and two inner courtyards. The hall is the central axis of the
house, with horizontal houses on either side, including bedrooms and kitchens. The courtyards has
a pool each, and the wooden doors of the rooms are exquisitely carved. Both design and colour
are tasteful. Since it has been abandoned for many years, most of the furnitures are gone.

This article aims at the introduction of the story and history behind the abandoned places, and urban
exploration is based on the principle of 'not revealing the location' and 'not destroying anything'.

Yuen Long . Hong Kong | 2020
17 Aug 2020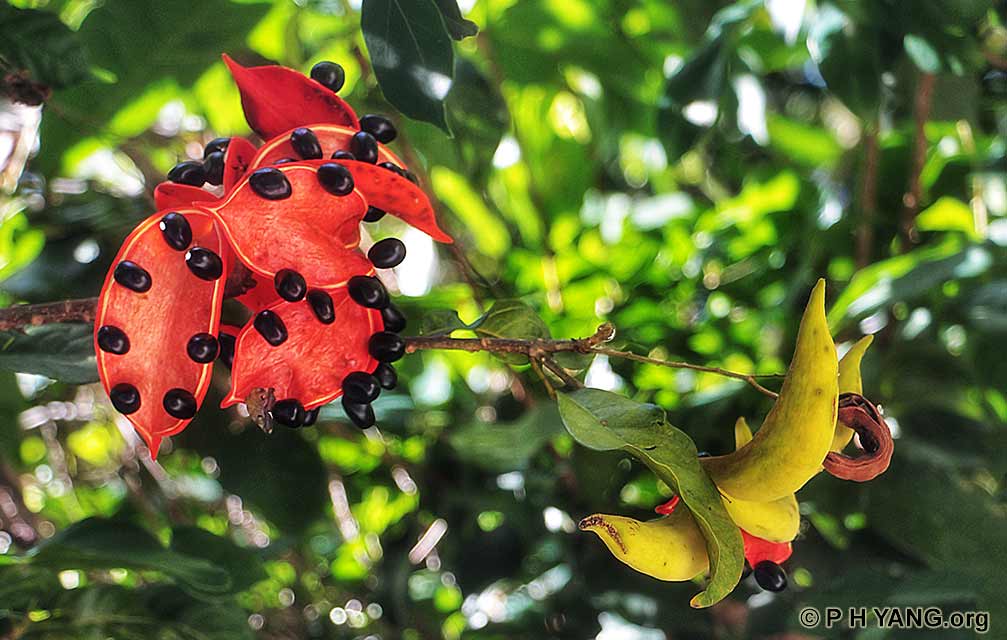 Lance-leaved Sterculia

Midsummer is the time when the Lance-leaved Sterculia matures. Also known as Sterculia lanceolata,
it has peculiar flowers and fruits, edible seeds and oil can also be pressed from it. Its stem bark fiber can
be woven into sacks, linen cloth and paper, and the leaves can be made into Chinese medicinal materials.

Its flower has no petals, and the open little red star is its split sepal. In summer, the fruit of follicles, in five,
is palm-shaped and radial, the unripe fruit is yellowish-green, and the mature fruit is bright red. The ripe fruits
look like red fruits exploded from a distance, with black pearl-like seeds inside.

Cheung Chau . Hong Kong | 2020
16 Aug 2020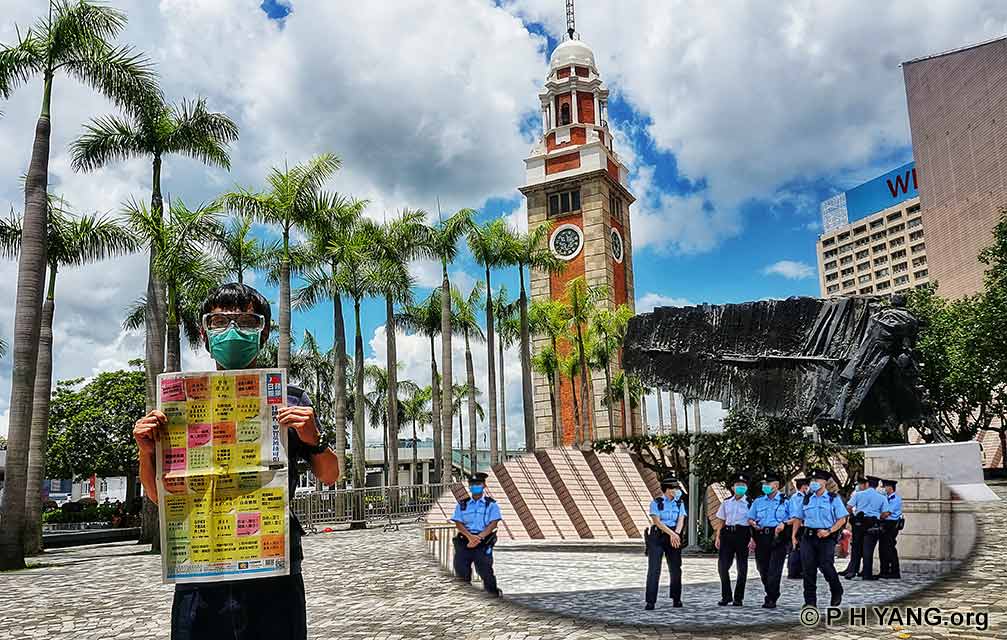 HongKongers in Silent Protest Holding Apple Daily in Support of Jimmy Lai

On August 10, the police arrested Jimmy Lai, founder of Next Media, and his two sons, all executive directors
of Next Media (3 people), Chow Ting, one of the founders of Demosisto, Lee Yu-hin, member of 'Hong Kong
Story', and Wilson Li , member of the disbanded Scholarism, a total of 10 people. 6 were involved in collusion
with foreign forces, and some were involved in conspiracy to defraud. Nearly 200 police officers marched
into the headquarters building of Next Media in Tseung Kwan O where Apple Daily was located in a high-
profile search for 9 hours, and took 25 boxes of exhibits. During the period, the officers looked through the
documents on the desks of reporters. Apple employees said that the police did not show them a search warrant.

The arrest has aroused international attention, and Chris Patten and Pompeo criticized that the rights of
Hong Kong people were infringed. Most Hong Kong people are very angry and netizens launched a 'Hey,
Fatso Lai, I'll Support You!' silent protest holding up Apple Daily near any newstand across Hong Kong.

The clock tower in Tsimshatsui was rumoured to be one of the hotspots. Mr Leung bought an Apple Daily
in Tsimshatsui and went to the clock tower near the waterfront. There were about 20 police officers in
uniform and plainclothes patrolling, stopped and searched him and other passers-by. Leung asked the
police what crime they committed in buying Apple Daily and why they were stopped and searched, but
no direct reply was given by the police.

Mr Leung then displayed the Apple Daily in front of the clock tower and the statue of the freedom fighter
'Flying Frenchman' undaunted by the police threats.

Tsimshatsui . Hong Kong | 2020
15 Aug 2020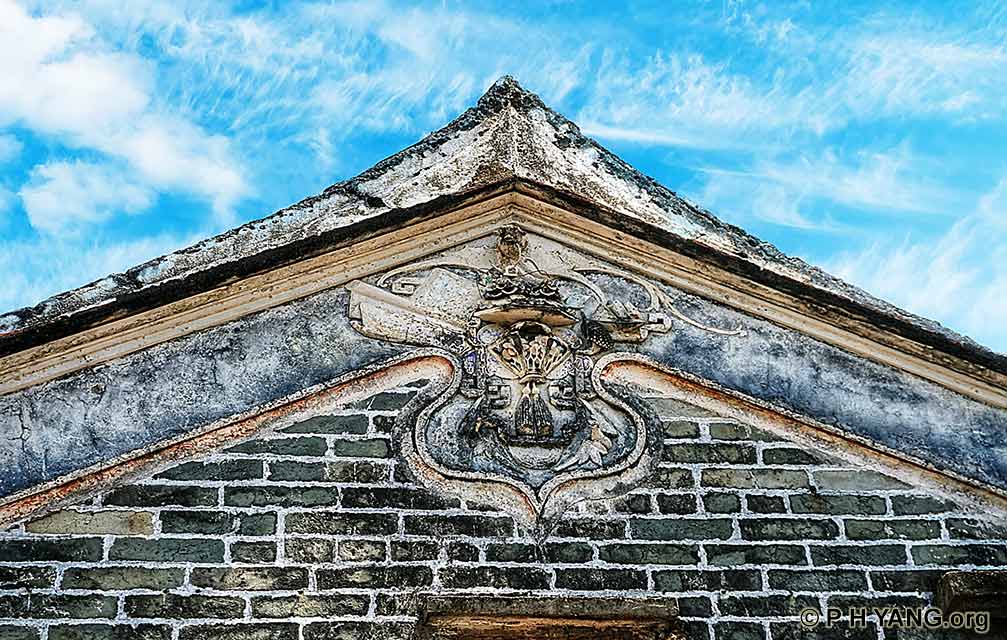 Exquisite Carved Eaves of Fanling Old Village House

The five walled communities and six villages in Lung Yeuk Tau, Fanling, are settlements of the
Tang family, who were originally descendants of the royal family. The carved design of the
eaves of the ancient village house is meticulous and unique. Hong Kong's heritage cultural
preservation is conservative and backward, and development is given priority. There are
few preserved old village houses.

Fanling . Hong Kong | 2020
14 Aug 2020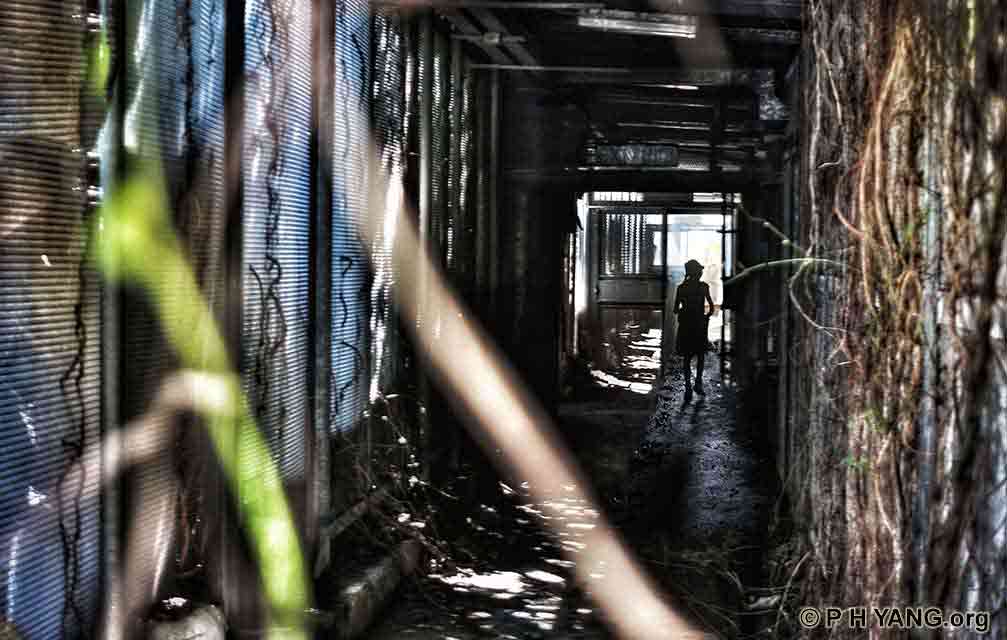 Exploring Abandoned Camp Entangled by Vines

Annes, who loves urban exploration, discovers a huge, vine-entangled abandoned camp on an
uninhabited island, which can accommodate hundreds of people before being deserted.

Hong Kong | 2020
13 Aug 2020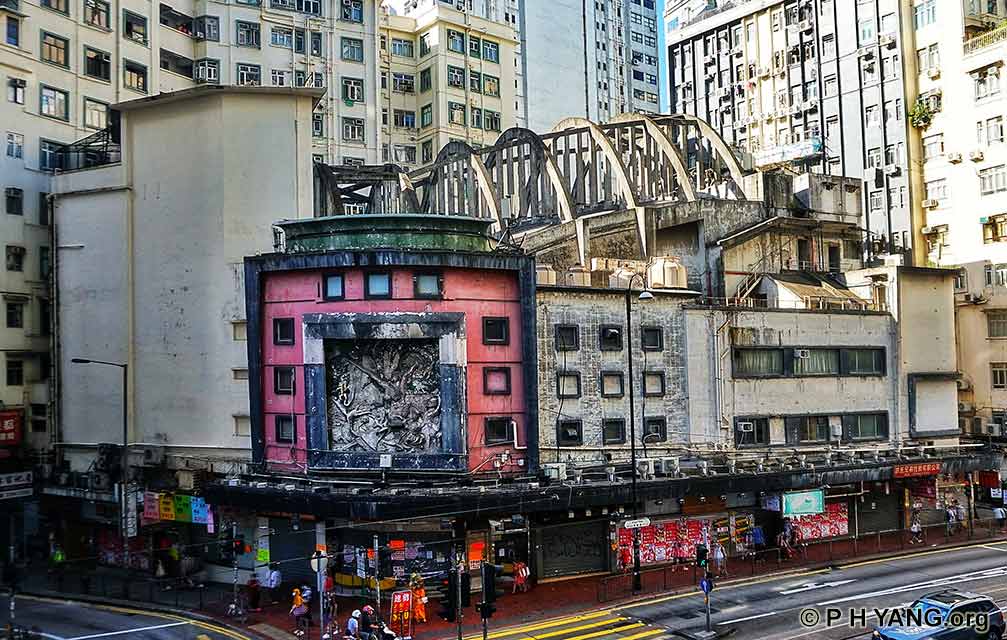 ,,,, poor of o What Next for Historical State Theatre?

The State Theatre is a former cinema in North Point, Hong Kong. Concerns were raised in 2015
that it may be demolished in the near future. The building was listed as a Grade I historic
building /in March 2017 with a distinctive parabolic roof trusses.

In October 2019, New World Development, which owns 95 percent of the complex, applied to buy the
building with plans to redevelop portpions of it. They will "actively consider how to preserve the
essence of the former State Theatre." But th you e relevant plan has not been announced.

The cinema opened in December 1952 as the Empire Theatre, with 1,400 seats. It closed in 1957, and
reopened in 1959 as the State Theatre, fol lowing extensive renovations. The State Theatre closed in 1997.

North Point . Hong Kong | 2020
12 Aug 2020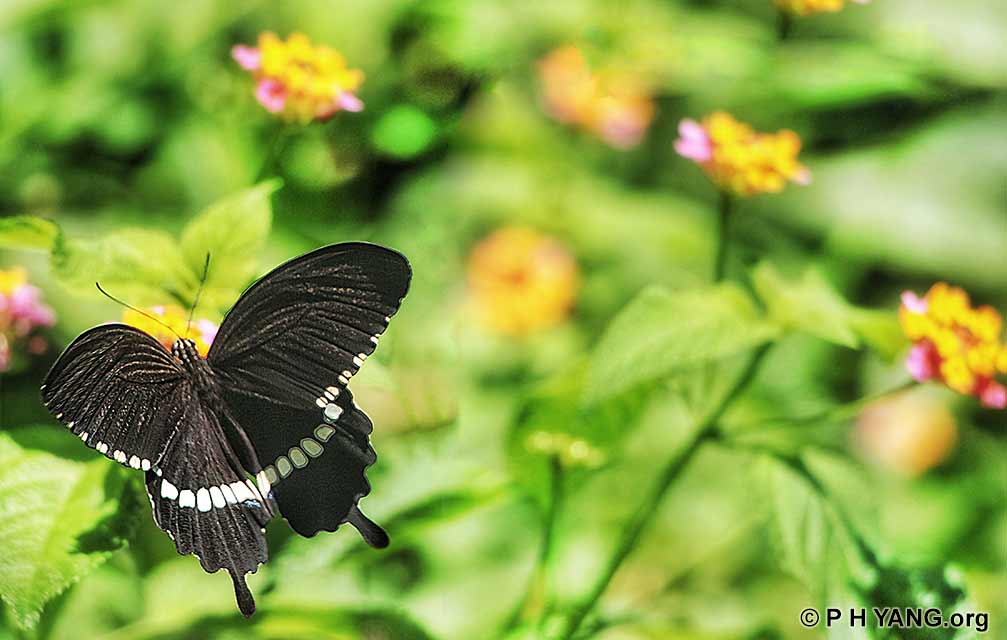 Gold Rim Swallowtail Butterfly

Gold Rim Swallowtail Butterfly, aka Polydamas Swallowtail, with wingspan of 90 to 120 mm
(3.5 to 4.7 in) without the tail. The top of the wings are black with a broad submarginal band
formed by large yellowish-white spots. The undersides of the forewings have the same pattern.

Western . Hong Kong | 2020
11 Aug 2020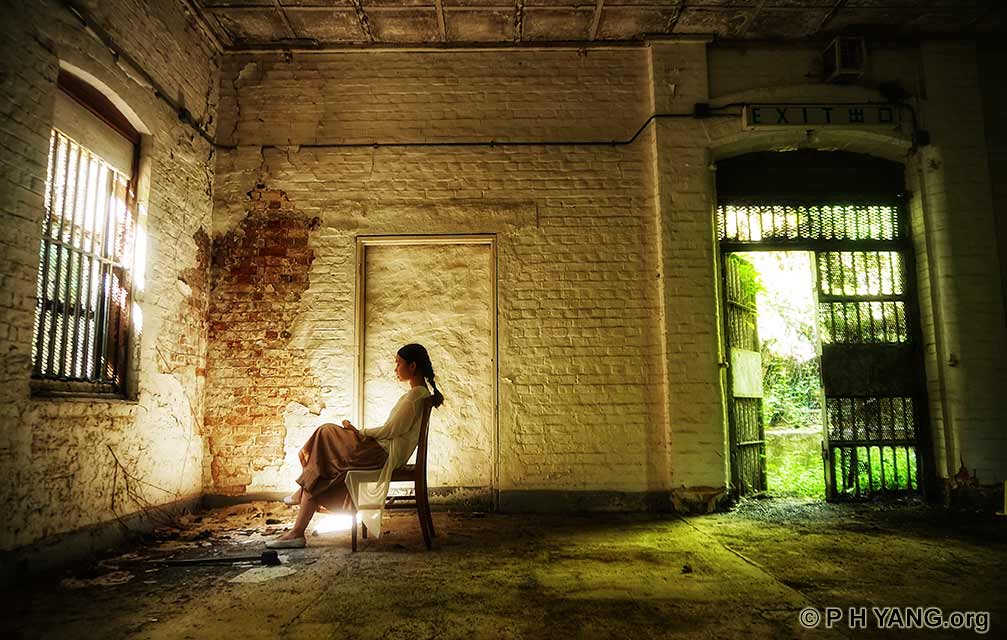 Hiu-man Waiting for Godot?

Hiu-man, an avid urban explorer and photographer, sits down to takes a rest after exploring
a massive abandoned camp complex on an uninhabited island.

Hong Kong | 2020
10 Aug 2020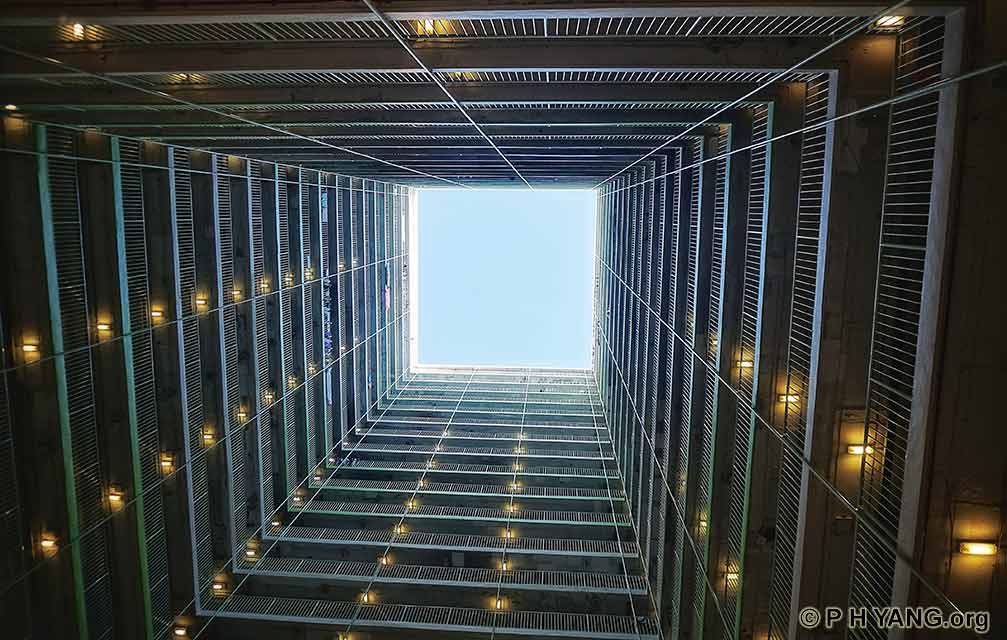 Geometric Cubist

Wah Sang House of Wah Fu Estate in Aberdeen, seen from the geometric and cubist light well of
the government-subsidised public housing. Wah Fu means wealthy Chinese and is home to
more than 50,000 residents. It was completed in the 1968 to provide locals with affordable
housing with significantly improved social welfare in the wake of the 1967 riots.

Wah Fu Estate was the first public housing estate built with a township concept, with infrastructures
including schools, grocery stores, restaurants and banks. Wah Fu has Hong Kong's first public
library in a housing estate – the second public library after the one at the City Hall. It also has
the first elderly home and first car park inside a public housing estate.

Aberdeen . Hong Kong | 2020
9 Aug 2020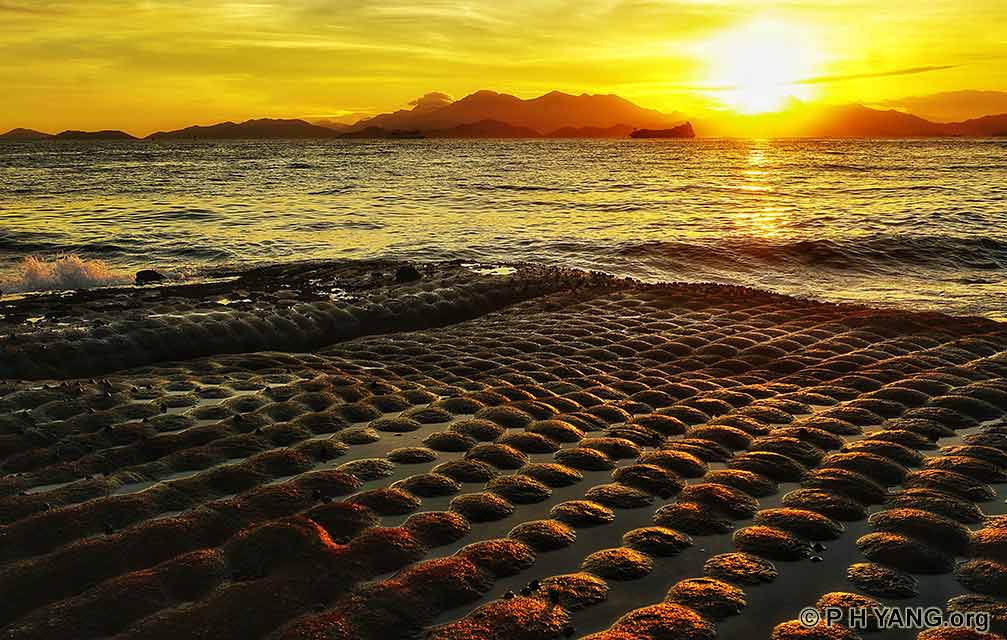 Sunset over Wah Fu 'Eggette'

The waterfront of Waterfall Bay Park at Wah Fu Estate is an ideal place for watching sunset. One feels
fabulous as the sun sets with a golden glow while the sea breeze blows gently.

At low tide, the coast exposes a spherical rocky bed that looks like the Hong Kong street food
"eggette", thus named the "Wah Fu Eggette". It is best to check the tide information before
departure, and make sure the tide is below one metre at 17:00 - 19:00.

Aberdeen . Hong Kong | 2020
8 Aug 2020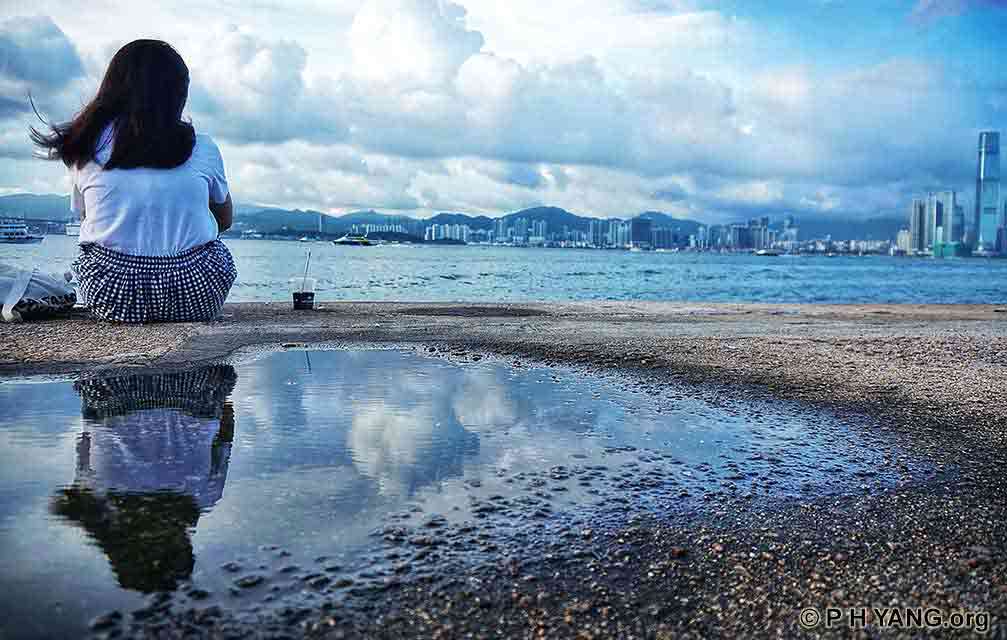 Days of Watching the World Go By

As the COVID-19 spreads, a lone girl sits at the Western waterfront and watches the world go by.

Western . Hong Kong | 2020
7 Aug 2020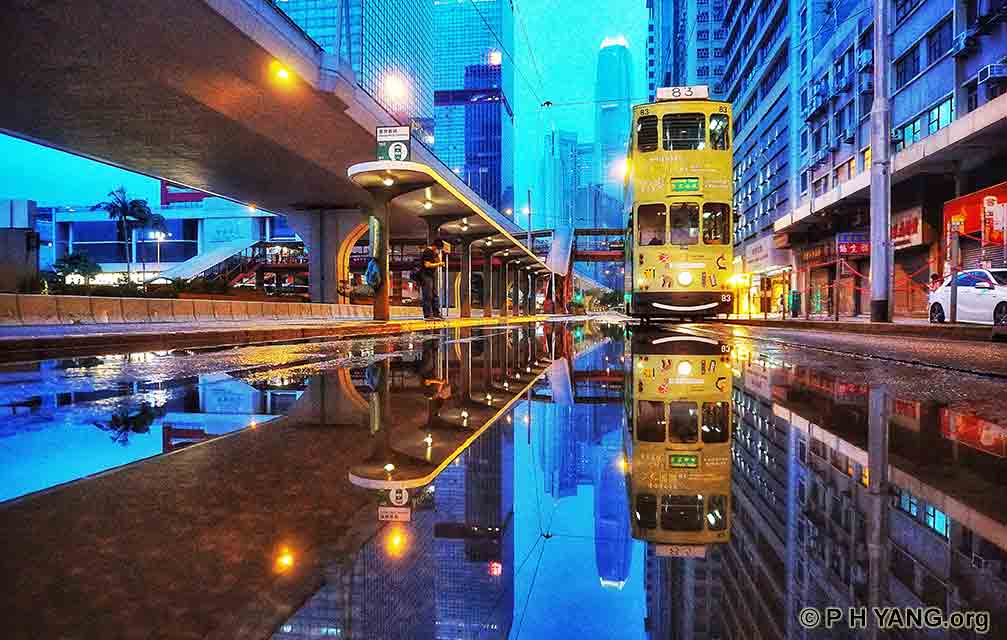 Reflection After the Rain

Reflection of the historical Hong Kong Tram with the iconic International Finance Centre (IFC)
after the rain. After heavy rain, the wet ground provides a good mirror effect.

Sheung Wan . Hong Kong | 2020
6 Aug 2020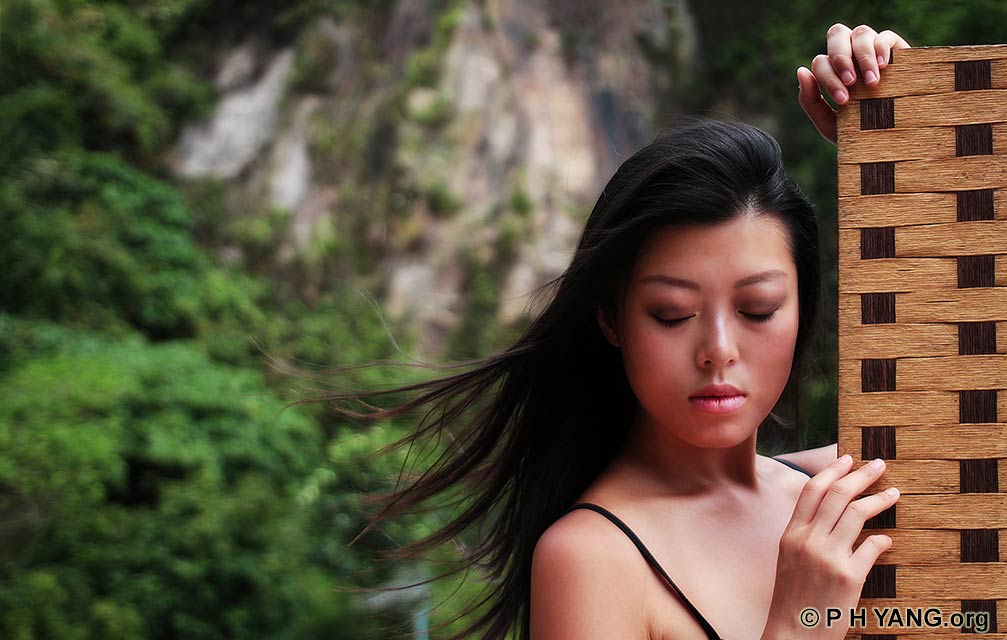 Elyse Muses at her Village Home

Multi-talented Elyse, a graphic designer, photographer and model, frolics at her new village
home in Sam Ka Tsuen at Lei Yue Mun. She tries on her new swimsuit getting ready
for the beach.

Lei Yue Man . Hong Kong | 2020
5 Aug 2020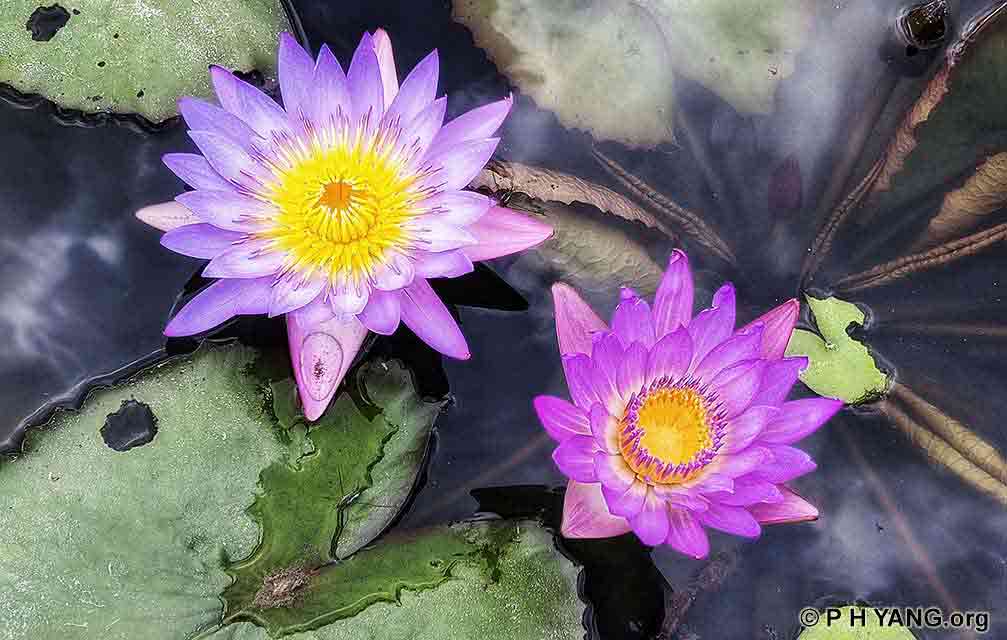 Water Lilies

Thai lotus flowers and water lilies are blooming at San Tin Farm in Yuen Long, attracting a large
number of visitors to take pictures.

Fanling . Hong Kong | 2020
4 Aug 2020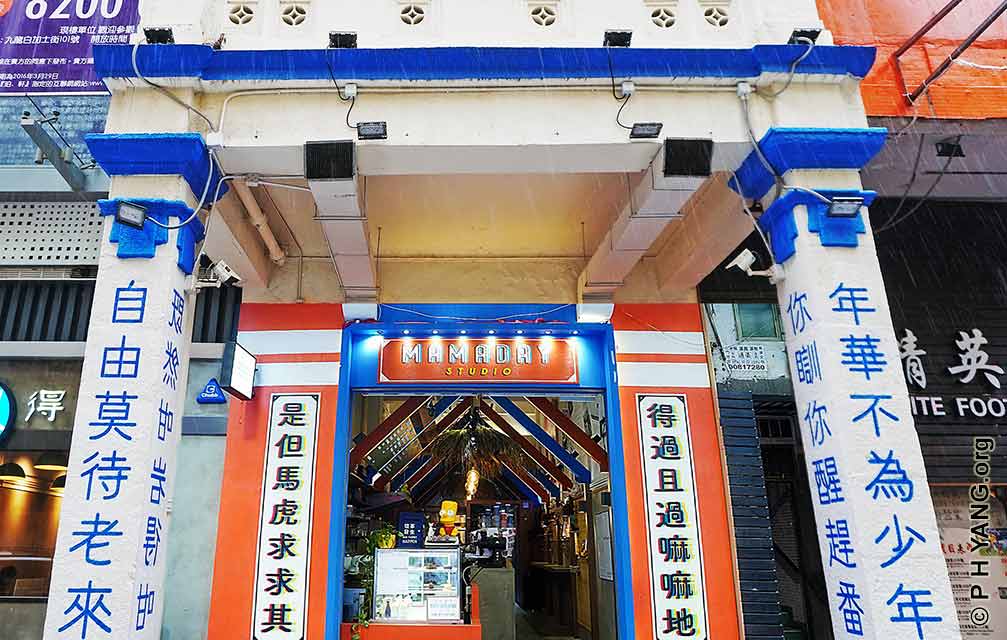 Mamaday Hip Cafe in Jordan's Revitalised Chinese Tenement

The Mamaday Cafe from Taipei is very popular with its lively style. Following the Causeway Bay and
Tsimshatsui branches, a 75-year-old pre-war Chinese tenement building in Jordan was revitalised as
MAMADAY Studio. It offers hand brewed coffee, special drinks, delicious desserts and light meals.

The new cafe is three stories high. It uses lively murals of different colors to change the gray tones of
the old building. To go upstairs, ond has to pass through a luminous colourful staircase corridor.
Interesting furnishings and decorations are placed everywhere, which has become a hot spot
for many to take pictures.

Jordan . Hong Kong | 2020
3 Aug 2020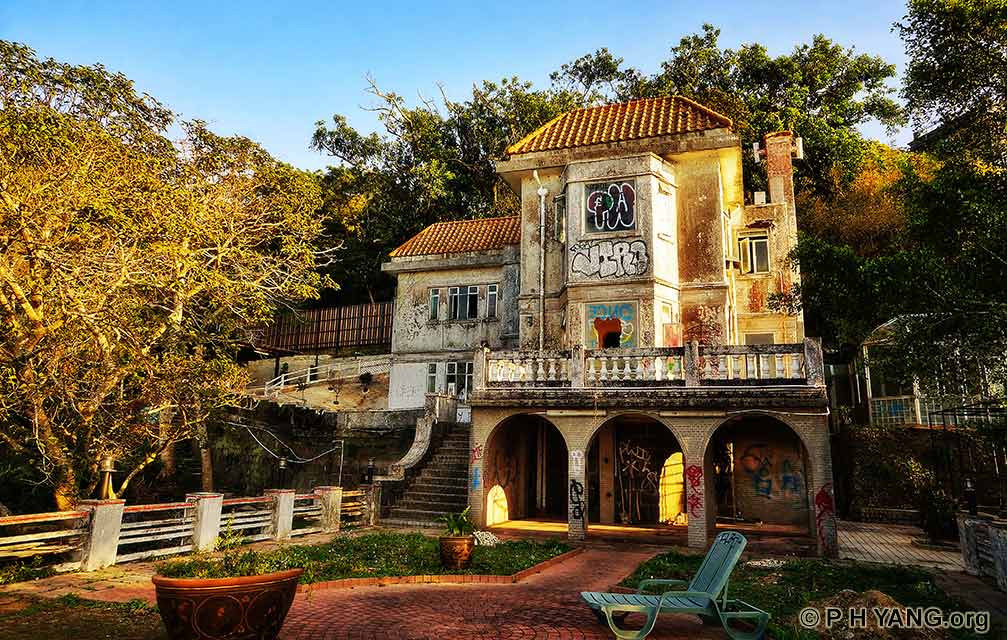 Most Haunted Abandoned Villa

Known as Hong Kong's most haunted abandoned villa, this multi-storey mansion is located in one
of the most upscale district on Hong Kong Island.

Built before WWII, it is said that the original owner went bankrupt. The second owner died in the
house. It is said that seven Catholic nuns were executed here during the Japanese occupation
and neighbours regularly complain about peculiar sounds.

A woman who lived here in the 70s said she often saw a 'ghost child' with thick matted hair
and wearing a white lace nightgown and heard her crying.

Hong Kong | 2018
2 Aug 2020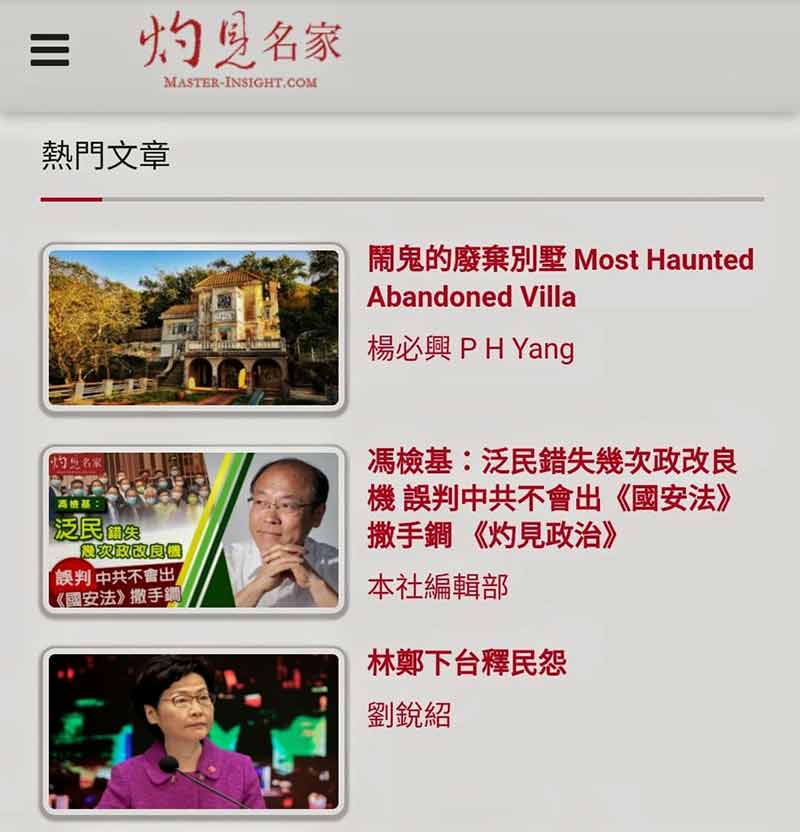 My photo is the top story on the most popular articles of Master-Insight.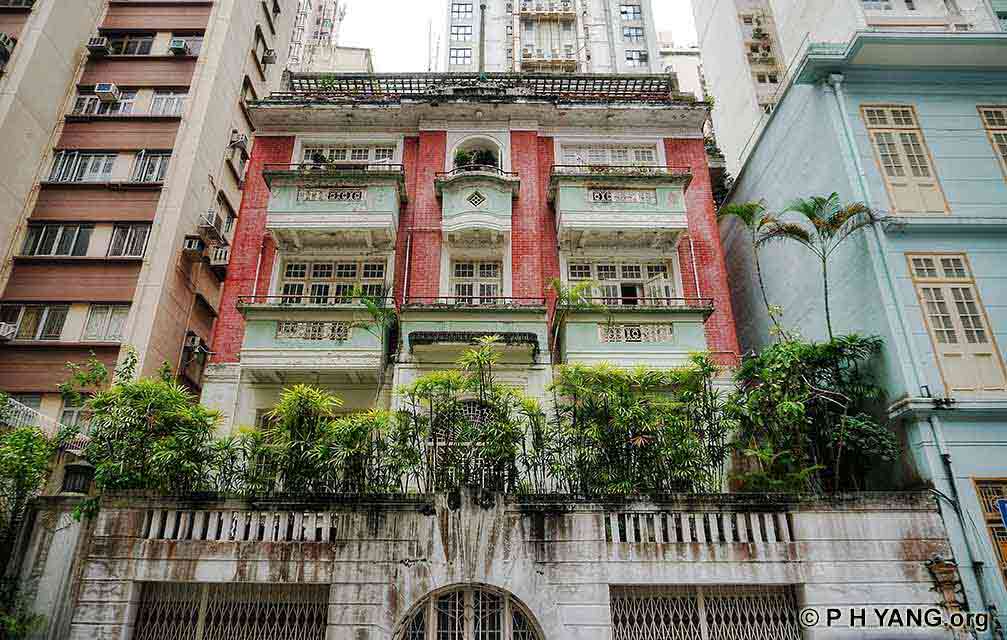 Mansion at 15 Yuk Sau Street

The European-style mansion at 15 Yuk Sau Street in Happy Valley was built between 1931 and 1932.
The exterior wall is covered with red brick and powder green balconies, giving a European town feel.
The four-storey building adopts the classical revival style and is symmetrical. There are full French
windows on the second and third floors leading to the balcony, and the garage is on the ground floor.

The mansion a typical Edwardian-style building with exterior walls of red bricks and stucco. It belongs
to the Ma Kam-chan family of Dah Sing Bank, and was listed as a Grade II historical building by
the Antiquities and Monuments Office.

Happy Valley . Hong Kong | 2020
1 Aug 2020

Archive:
Jul Jun May Apr Mar Feb Jan 2020
Dec Nov Oct Sep Aug Jul Jun May Apr Mar Feb Jan 2019
Dec Nov Oct Sep Aug Jul Jun May Apr Mar Feb Jan 2018
Dec Nov Oct Sep Aug Jul Jun May Apr Mar Feb Jan 2017
Dec Nov Oct Sep Aug Jul Jun May Apr Mar Feb Jan 2016
Dec Nov Oct Sep Aug Jul Jun May Apr Mar Feb Jan 2015
Dec Nov Oct Sep Aug Jul Jun May Apr Mar Feb 2014


(C) p h yang 2020 - all rights reserved