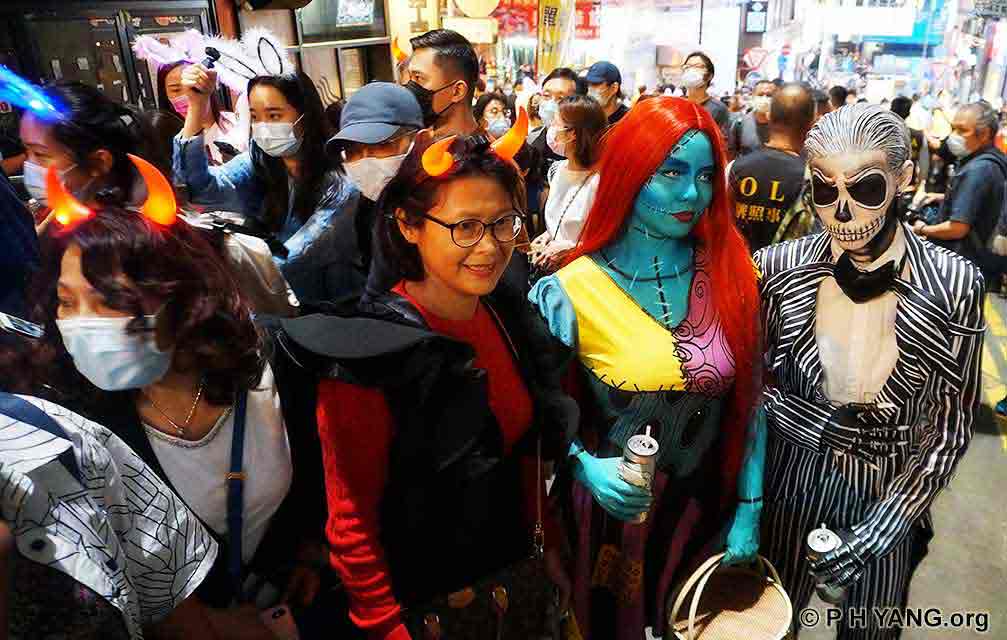 Halloween Street Party at Lan Kwai Fong

Lan Kwai Fong is still the best place in Hong Kong to show off one's costume, makeup and
let loose, despite COVID-19. This is where the city's largest Halloween street party is
held, packed with revellers and running into the wee hours. Massive police is
deployed to enforce social distancing rules and control traffic.

Central . Hong Kong | 2020
31 Oct 2020



My photo is the top story on the front page of Master-Insight.



Ruins in Golden Mile Foretell Future of Hong Kong?

Hong Kong is named the most expensive property market in the world by the CBRE Global Living 2020
report, and the rent of street shops in Causeway Bay, a key shopping area, is one of the most
expensive shop areas in the world. It is hard to imagine that in a prime location, near Time
Square, which is conveniently located in the downtown area, there are abandoned lots.

Beijing has rammed through the dragconian Hong Kong version of the National Security Law, and
the one country, two systems exists in name only, destroying Hong Kong's status as an international
financial centre. Several teenage students can be accused of secession of a superpower, arrested
and refused bail. Some in the legal profession believe that this is contrary to the principle of bail
under the common law of Hong Kong and the concept of 'presumption of innocence'.

A large number of foreign companies and foreigners are evacuating or preparing to leave. Many
young people in Hong Kong feel abandoned and cannot see their future, triggers a new wave
of immigration and causes the forever-climbing property market to decline. With ruins in the
downtown prime area, has the future of Hong Kong been written on the wall?

Causeway Bay . Hong Kong | 2020
30 Oct 2020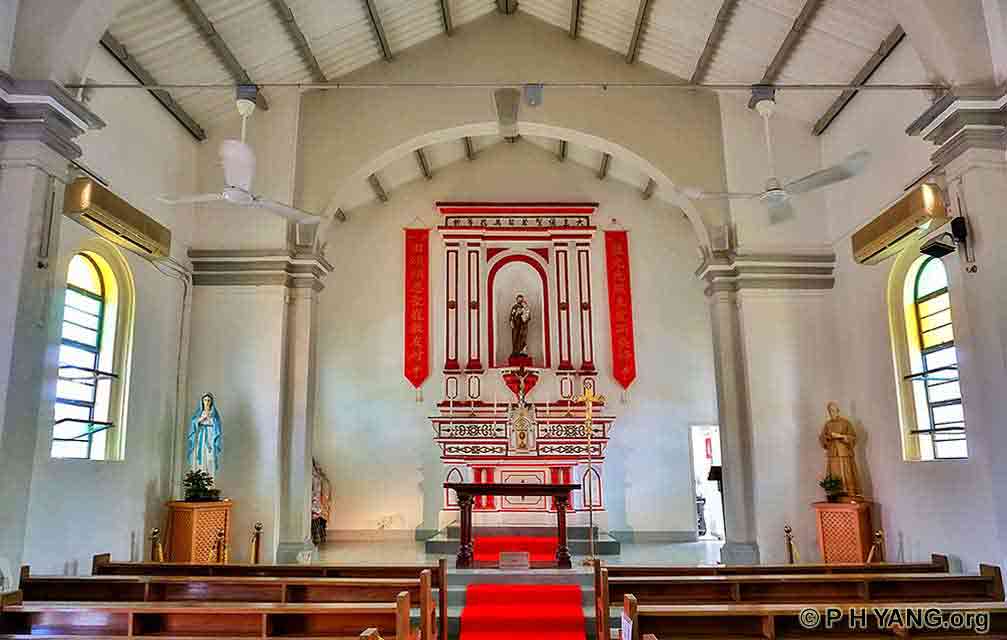 St Joseph's Chapel of Yim Tin Tsai

Perched on a hill of Yim Tin Tsai (Little Salt Pan), a small island off the coast of Sai King, St Joseph's
Chapel at Yim Tin Tsai was inaugurated in 1890 by Josef Freinademetz, a German-Italian missionary.
It was listed as Grade II Historic Building by the Hong Kong Antiquities Advisory Board in 2011.

Yim Tin Tsai village was first established about 300 years ago by Hakka Chan clan migrants, who
made a living by producing salt and farming. Over the past 2 decades, the church, a number of
village houses and the historic salt pans have been restored and earned a UNESCO Asia-Pacific
Award for Cultural Heritage Conservation in 2005.

Sai Kung . Hong Kong | 2020
29 Oct 2020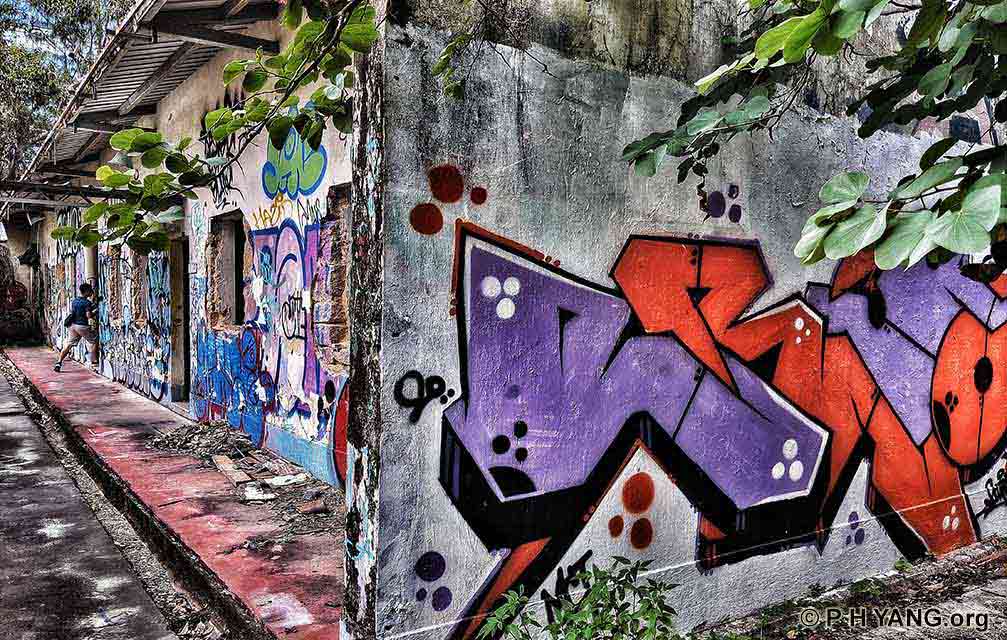 Abandoned School Near MTR as Graffiti Heaven

A primary school that has been abandoned for over 10 years has become a paradise for street
artists. Almost every inch of the inner and outer walls of the school building is occupied by graffiti.
The basketball rack in the middle has fallen, and the classrooms are empty except for graffiti.

The school was established in 1952 and closed in 2007. The school compound has not been
utilised since. The site is close to a MTR station with good transport infrastructure. It covers
an area of 0.8 hectares. As Hong Kong government did not rezone the site for public housing
or other transitional housing purposes, it means that the land is not fully utilised.

Urban exploration is based on the principles of take nothing except picture, leave no trace
and not revealing the location.

Hong Kong | 2020
28 Oct 2020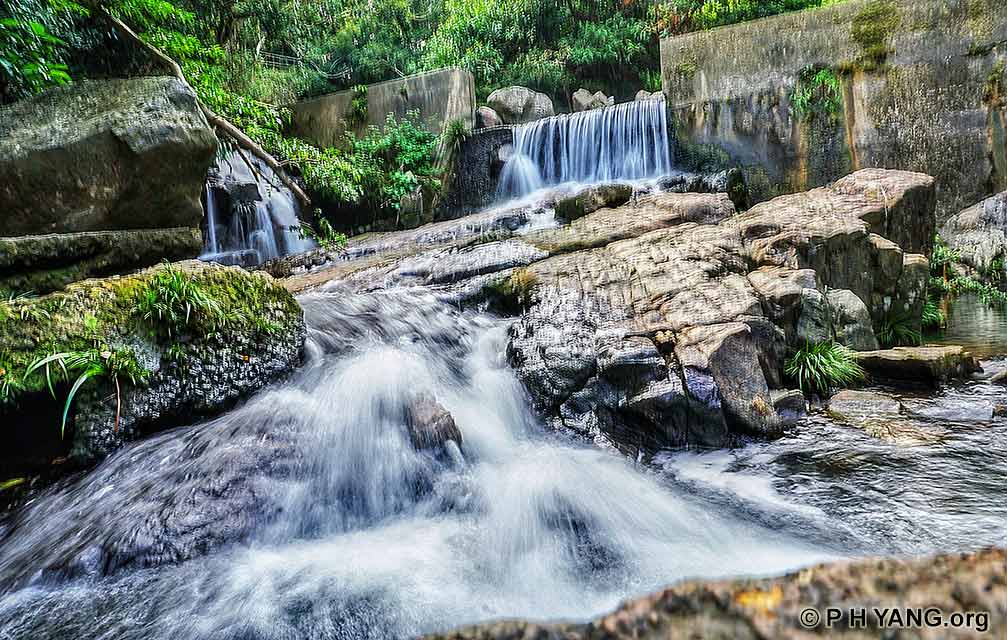 Little Hawaii Waterfalls

The Little Hawaii Trail is located between Tseung Kwan O and Tseng Lan Shue. It is the back
garden of Tseung Kwan O. Along the way, it is mainly shady, passing a rock stream and the
Little Hawaii Waterfalls, with nice scenery. Hiking from Tseng Lan Shue towards Po Lam
Station in Tseung Kwan O, the path is all well-paved and moderately sloped downhill, suitable
for novices. The whole journey is 4 kilometres and takes about 1 hour to complete.

Transportation: Take Minibus No. 11 or Bus No. 91 from Hang Hau Station to Tseng Lan Shue
stop and leave from Po Lam Station.

Sai Kung . Hong Kong | 2020
27 Oct 2020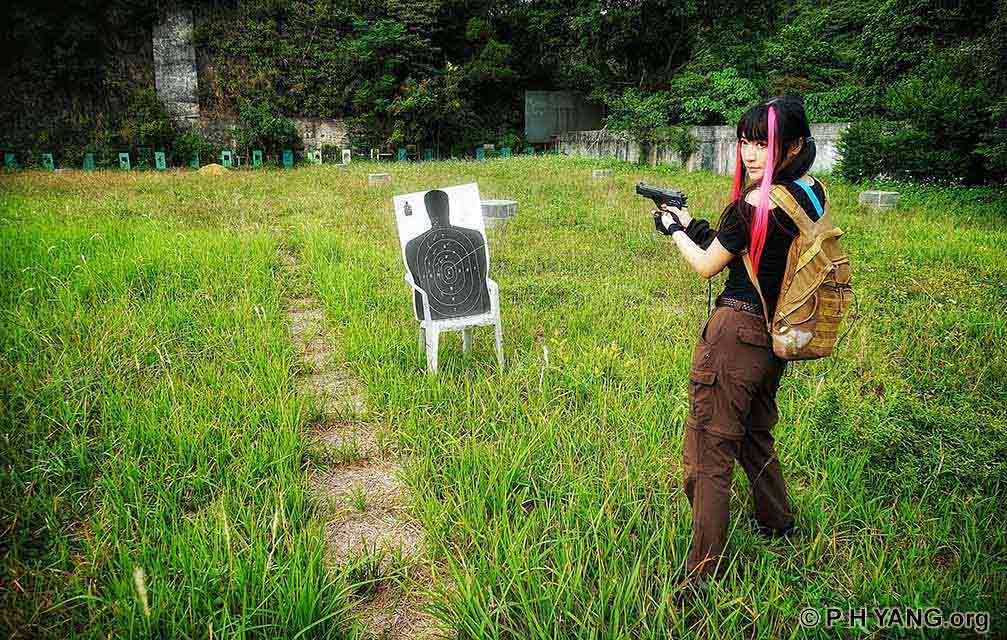 Karma Explores Abandoned Olympic Shooting Range

Karma, a multi-talented artist, photographer, traveler, composer and writer, is an avid urban
explorer. She explores an abandoned shooting range.

The Olympic standard shooting range covers an area of about 7,600 square metres. The target
shooting facilities are reserved on the current site, with a lawn in the centre. The facility was
abandoned in 2013 and now full of debris, including many trophies.

Urban exploration is based on the principles of take nothing except picture, leave no trace
and not revealing the location.

Hong Kong | 2020
26 Oct 2020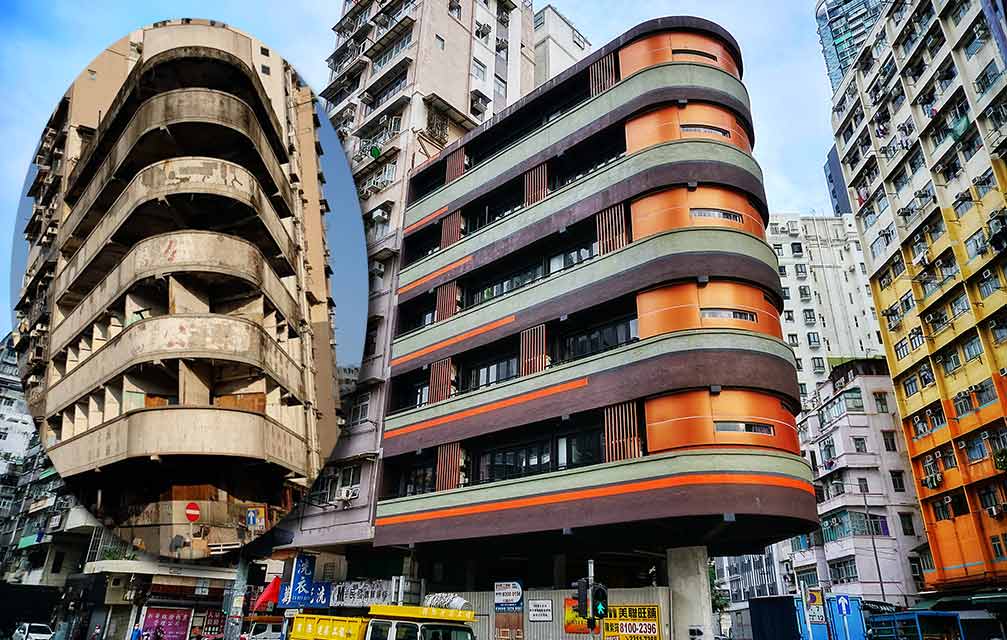 Apartment at 14 Nam Cheong St Completely Redesigned

The Apartment located at 14 Nam Cheong Street, Shamshuipo, is a 6-storey triangular columnar
building and was a landmark of the district in the past. It used to look and feel like the old Hong
Kong Chinese corner tenement house, and had become the object of desire for photography
enthusiasts and cultural groups from time to time.

In 2019, the exterior wall of the apartment has been completely renovated, using a bronze colour,
with a somewhat Cyber design. Many netizens feel that the orange-green metal exterior wall
design is ugly and wierd. Their comments included: 'This is indeed not aesthetically
pleasing, and it didn't preserve the original appearance. It is meaningless', 'the balcony should
not be sealed', 'I don't like the current appearance, it is really nondescript, especially the colour',
'change to CyberPunk 2077', 'a building with just unique characteristics... just gone.'

Shamshuipo . Hong Kong | 2020
25 Oct 2020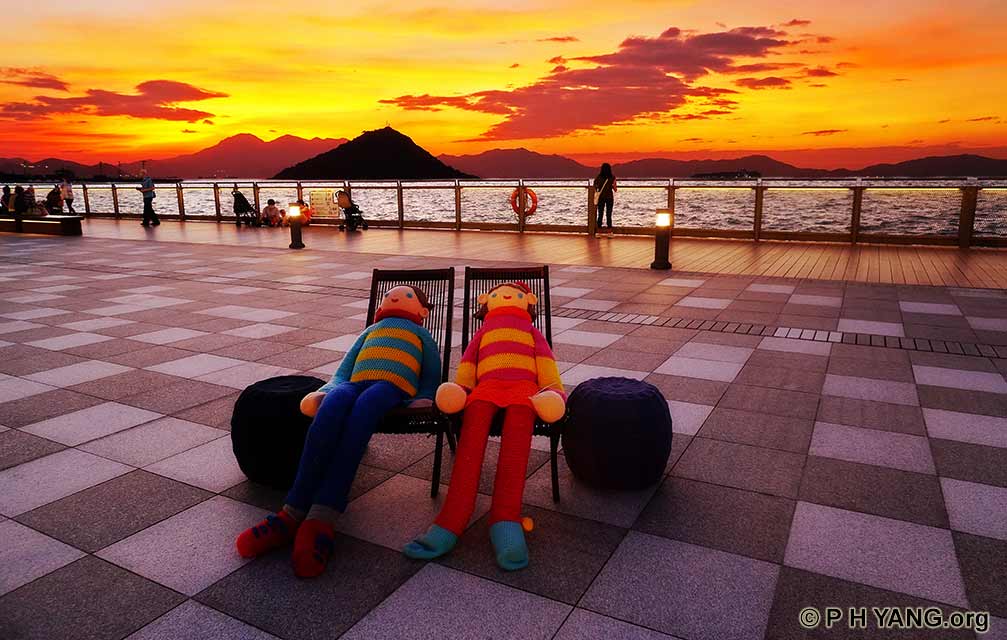 Belcher Bay Waterfront Recreation Area is Latest Hotspot

The Belcher Bay Waterfront Recreation Area in Kennedy Town is open 24 hours a day. Formerly a
public cargo handling area, it consists of a 172-metre long promenade and connected open space,
covering an area of approximately 5,900 square metres. Sun loungers and activity platforms are
set up, with 4 life-size knitted dolls.

The activity platforms are made of light blue cargo pallets. Some pallets have turf. One can freely
piece together a seat or recreation space. It is suitable for bringing children to play or take selfies
with friends! The venue is equipped with lounge chairs, green gardens, and pet corners. It has
become the latest hot spot for selfies in Western. You can also enjoy the sunset in the evening.

Kennedy Town . Hong Kong | 2020
24 Oct 2020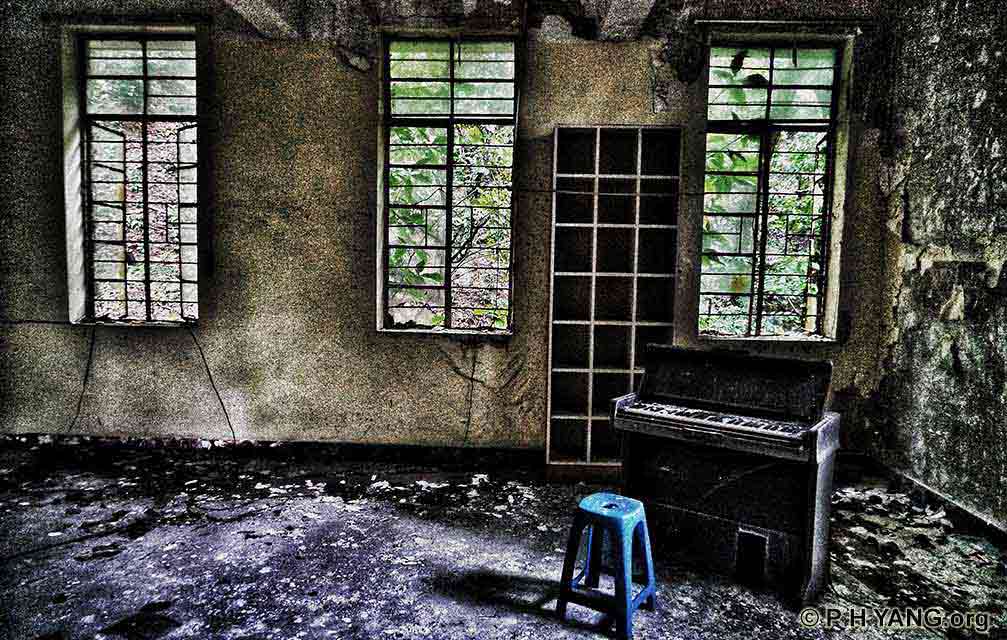 Mid-levels Hostel Abandoned for Over 20 Years

A hostel in the mid-levels of Hong Kong Island, covering an area of over 10,000 sq ft, was built
in the 1950s, demolished in the 1990s, and was abandoned for more than 20 years. It is currently
fenced in, overgrown with weeds, and dilapilated in disrepair. It was handed over to the
government in 2006, and there has been no development so far, which is very wasteful.

Urban exploration is based on the principles of take nothing except picture, leave no trace
and not revealing the location.

Hong Kong | 2020
23 Oct 2020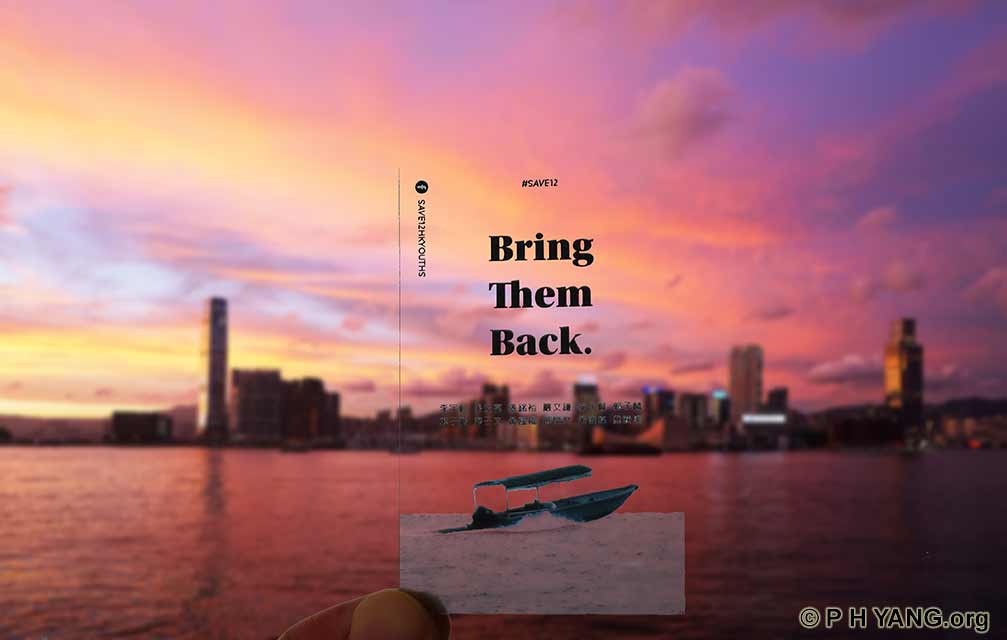 #Save12HKYouths Transparent Card Campaign with Sunday Online Rally

12 Hong Kong youths suspected of being intercepted by Chinese Police while fleeing to Taiwan,
are secretly detained for about 2 months and attracting international attention. A Concern Group
led by Chow Ka-sing, Eddie Chu, Joshua Wong and Lester Shum plan to distribute 50,000
transparent cards printed with "#Save12HKYouths" through District Councillors. Citizens are
encouraged to take pictures with it in various locations and post to social media to raise awareness.

Joshua Wong said this campaign mirrored the movement to save China's rights activist Zhen
Jiang-hua, who was arrested for inciting sedition.

Chow Ka-sing said that the Concern Group will hold an online rally 'International Connection,
Support 12 Hong Kong Youths' this Sunday (Oct 25), which will include family members of
the 12 youths and other speakers, to garner international support to prompt their release.
Over 30 cities worldwide will hold rallies and marches on October 23-25 in support.

Admiralty . Hong Kong | 2020
22 Oct 2020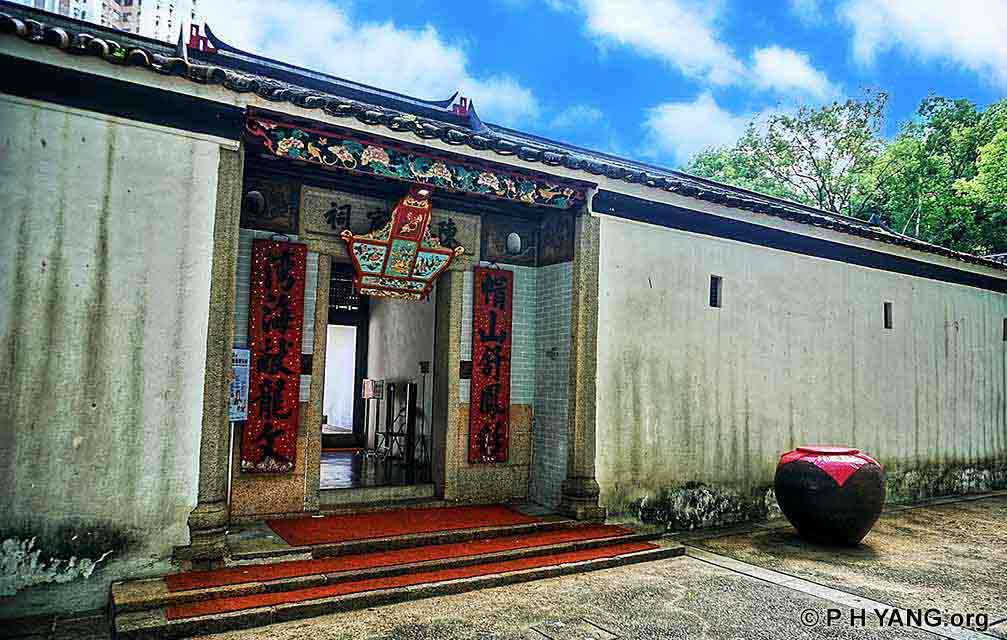 Qing Dynasty Era Hakka Mansion Sam Tung Uk

Sam Tung Uk Village is a Hakka walled village that was built by the Chan clan in the 51st year of
Qianlong in the Qing Dynasty (1786). After moving from Guangdong in the mid-18th century,
the clan settled in Tsuen Wan. Sam Tung Uk was founded by Chan Yam-shing, a leader of
the clan, who constructed three rows of village houses, which were later expanded by his
descendants, who built annexes on both sides and at the back of the houses.

The ancestral altar was placed in the main hall, which lay on the central axis and faced the main
entrance. Four Chinese characters signifying "Chan Family Ancestral Hall" are engraved on
the granite lintel above the door frame. The village was restored in 1987 and opened to the
public as the Sam Tung Uk Museum.

With a history of over 200 years, Sam Tung Uk Village was declared a monument in 1981. It is
very well preserved, and the excellent repair work has enabled the museum to win the 1990
Pacific Heritage Award by the Asia-Pacific Travel Association.

Tsuen Wan . Hong Kong | 2020
21 Oct 2020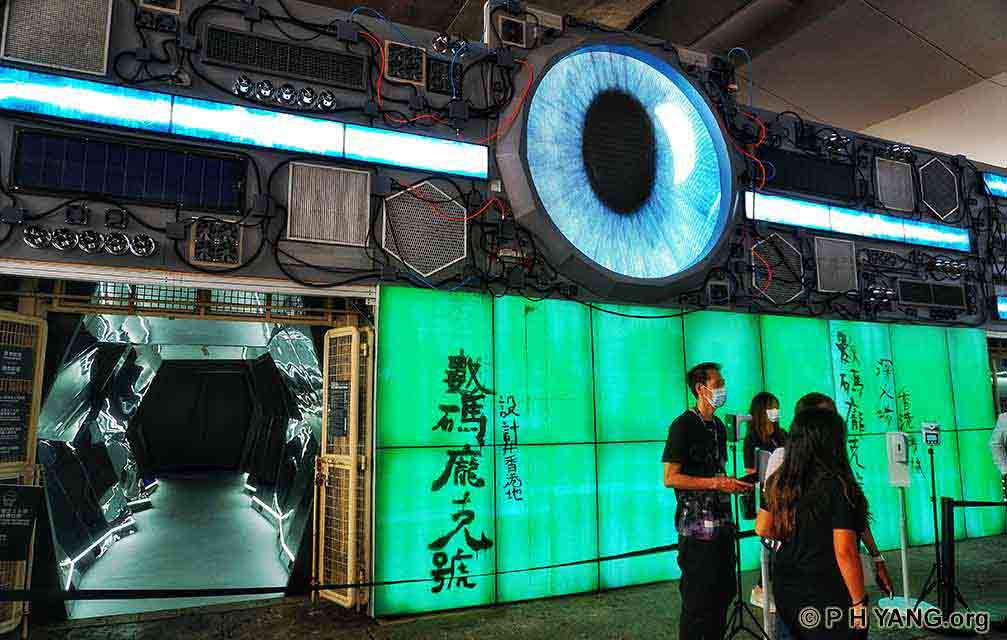 'Heart of Cyberpunk' Exhibition Questioned for Clearing Homeless on Tung Chow St

The 'Heart of Cyberpunk' exhibition, which opened on Tung Chau Street, Sham Shui Po on October 17,
is organized by the Hong Kong Design Centre and the Tourism Commission. It showcases a creative
and hip experience with a number of local designers' future-themed clothing and scenarios, to
explore the development of future cities.

The underside of the Tung Chow Street flyover in Sham Shui Po used to be home to many homeless
people. After the clearance last year, they were moved to nearby Tung Chow Street Park and other
places. The exhibition triggered criticism from various parties, questioning why that after the
government cleared away the homeless, it held an art exhibition at the same place and became
another 'selfie' location, appearing to be whitewashing the government misdeeds.

The organizer responded that the government had cleared the homeless 2 years ago, and there was
no causal relationship with the event. They emphasized: 'We are just using the idle venues to
provide Hong Kong citizens with 9 days of free leisure activities.'

Shamshuipo . Hong Kong | 2020
20 Oct 2020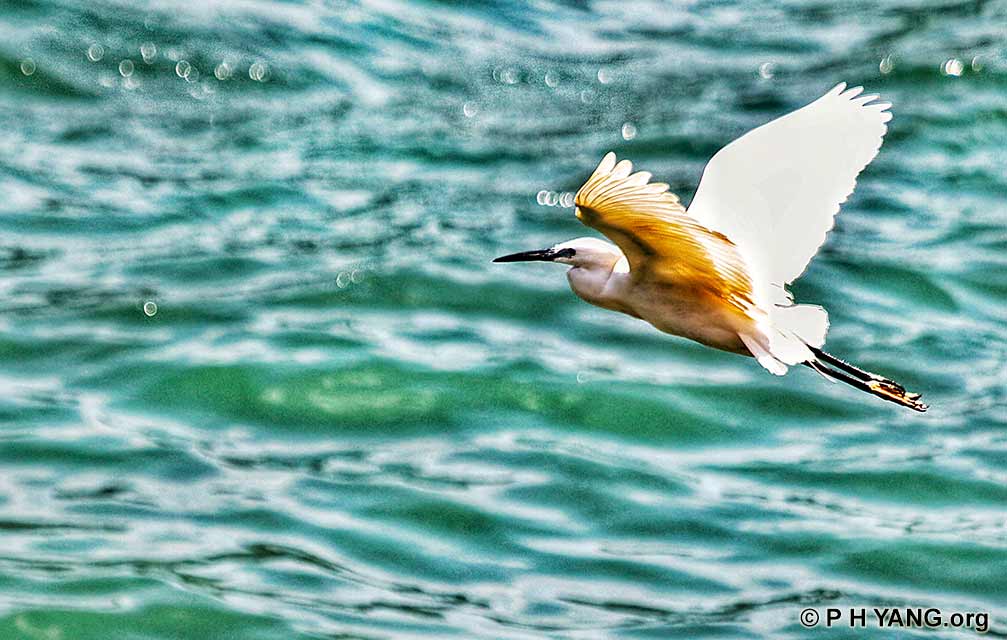 Flight over Tai Po River

A Little Egret, with a black beak, is flying over Tai Po River, on its way back to the Tai Po Egretry,
home to 151 nests of several egret species and night herons.

Tai Po . Hong Kong | 2020
19 Oct 2020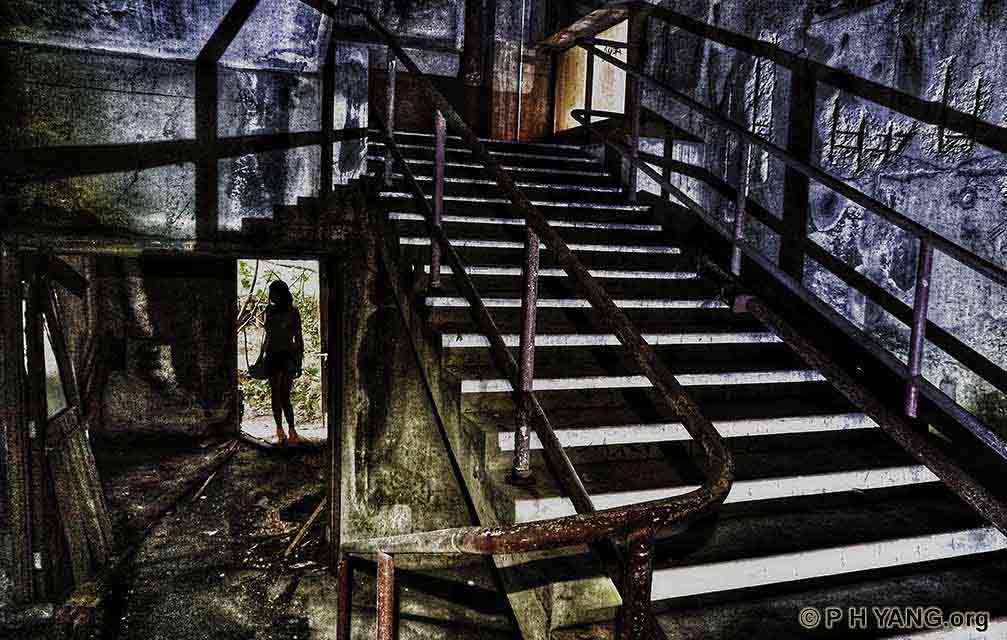 Entering the Unknown Realm

Avid urban explorer K steps into a very dark, mysterious and abandoned warehouse in a busy
part of the city, a stone-throw from a MTR station.

The huge 4-storey warehouse complex consists of 2 buildings and has been abandoned for
over 40 years. It is under the foliage of a few tall trees. The entrance is blocked by
a gate under chains and locks, with weeds and bushes growing in the courtyard.

The buildings are basically empty with quite a few graffiti painted on the walls and lots of
used spray cans left on the floors.

Urban exploration is based on the principles of take nothing except picture, leave no trace
and not revealing the location.

Hong Kong | 2020
18 Oct 2020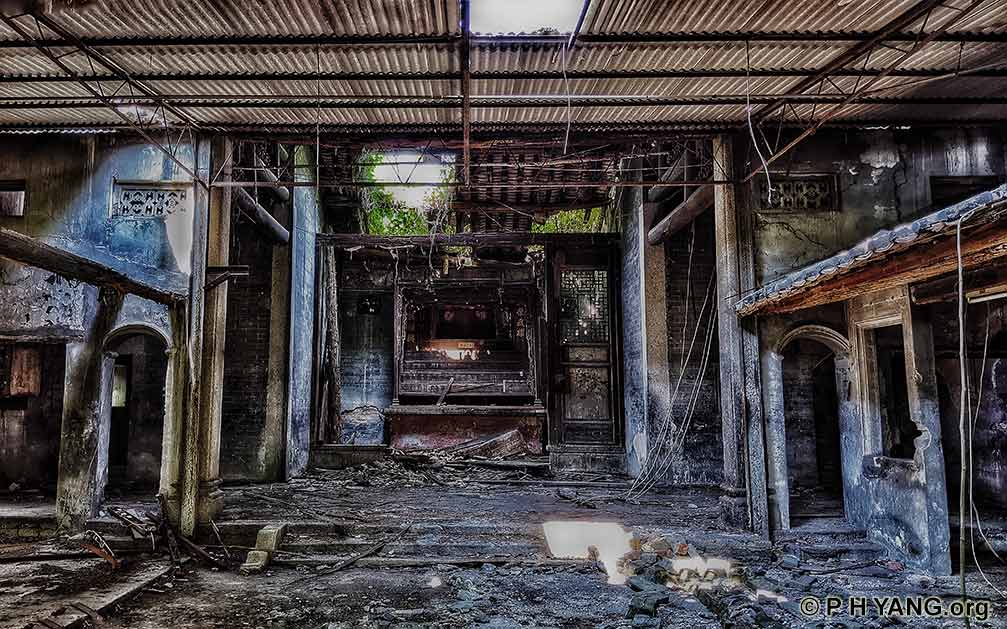 Abandoned Qing Dynasty Era Ancestral Hall

The ancestral hall located in the New Territories of Hong Kong was established in the 16th century
during the Kangxi period of the Qing Dynasty. It is now dilapidated and abandoned with
overgrown weeds. In 1995, it was rated as a Grade I historical building.

The ancestral hall was renovated in 1925, and a plaque was installed in the hall. It is a traditional
building with 3 entrances, 2 courtyards and 3 rooms. The foundation is solid granite, the outer
walls are made of grey bricks, and the front porch has drum stands.

Hong Kong | 2020
17 Oct 2020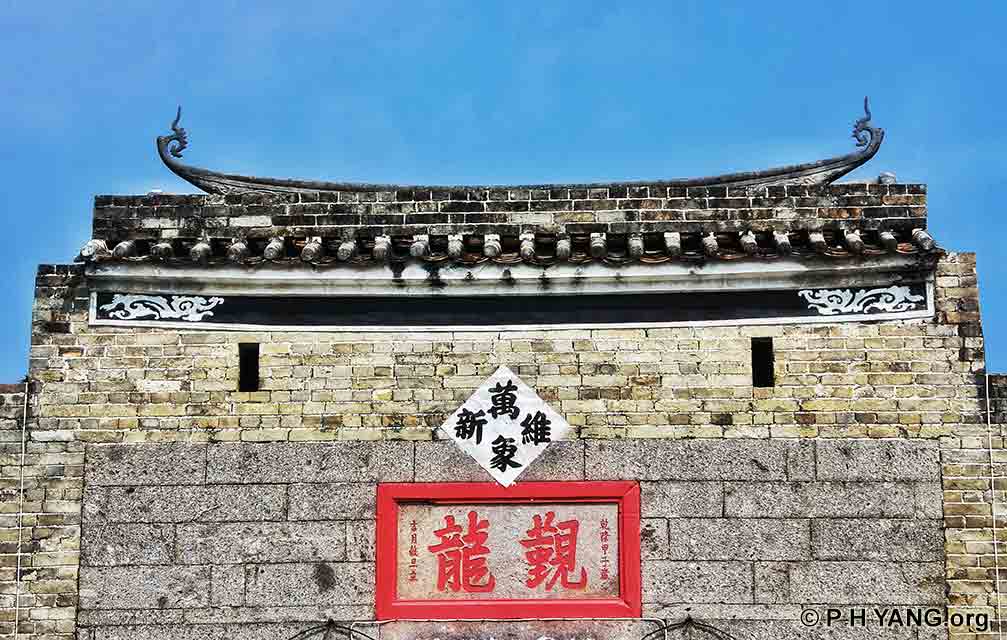 Historical San Wai Walled Village

San Wai, also known as Kun Lung Wai, is located at Lung Yeuk Tau, Fanling, with the Chinese
characters 'Kun Lung' and 'the jiazi year of Qianlong reign (1744)' engraved on the stone
lintel of the entrance to the village.

San Wai is a typical local walled village which is enclosed by grey brick walls with gun holes.
A watchtower was constructed at each of the 4 corners of the enclosing walls to defend
the village. The exterior of the tower was made of granite while two chained-ring iron
gates were installed at the front entrance.

The moat that originally surrounded the walled village has been filled in. Houses inside the village
are laid out along the central axis with a communal altar situated at the end of the main alley.
Unfortunately, most of the old houses have been replaced by new buildings.

The entrance tower and the walls, including the watchtowers, were declared monuments in
March 1988 and April 1993 respectively.

Fanling . Hong Kong | 2020
16 Oct 2020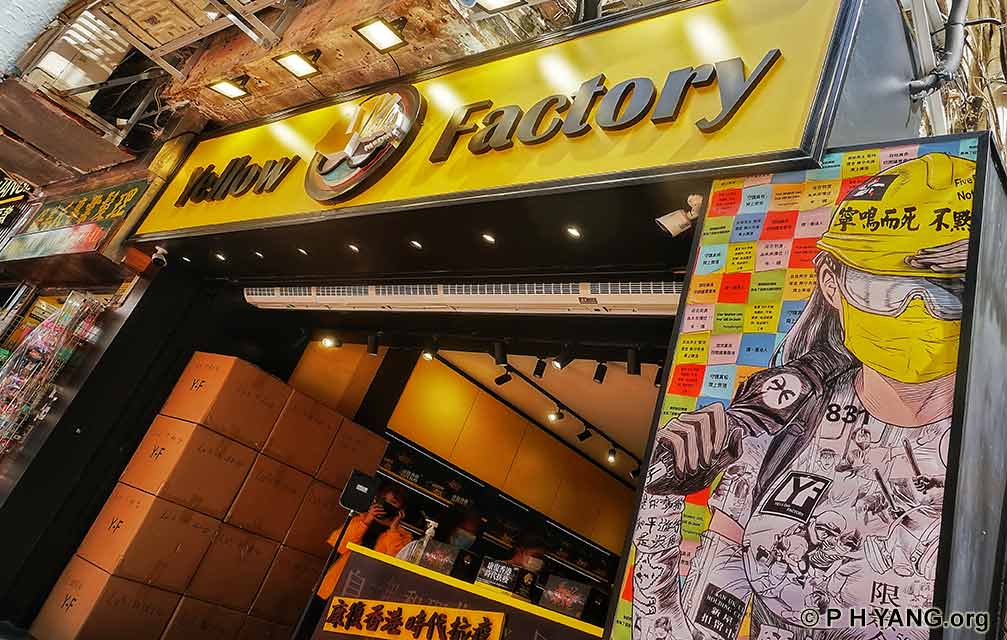 'Yellow Factory' Causeway Bay Mask Shop Opens with Sales Platform for Protesters

The local mask manufactory "Yellow Factory", mainly operated by protesters of the anti-extradition
movement, has evolved from a web-based store to a physical one. Recently, it opened a store in
Causeway Bay to facilitate public shopping. At the same time, it provides a platform for protesters
with the same ideals to sell products, thus further strengthening the yellow economic circle.

Mask Factory Causeway Bay store has a painting of "The New Goddess of Protest", painted by the
original author of "The Goddess of Protest", adding support for the 12 youths arrested and against
riot police brutally attacking pregnant women and arresting 12-year-old girls; with the slogan
'We Fu*king Love Hong Kong'; and a Lennon Wall plastered with Hong Kong people's demands

. There is newly designed packaging for the Yellow Factory masks. After getting boxes
of the yellow, black and white masks, customers will see the new Goddess of
Protest. Special pricing for members are now offered.

Yellow Factory Store
Shop Q, G/F, 77-83 Percival Building, Causeway Bay (near Times Square)
Hours: 12:00~21:00
Online shopping: www.yellowfactory.co

Causeway Bay . Hong Kong | 2020
15 Oct 2020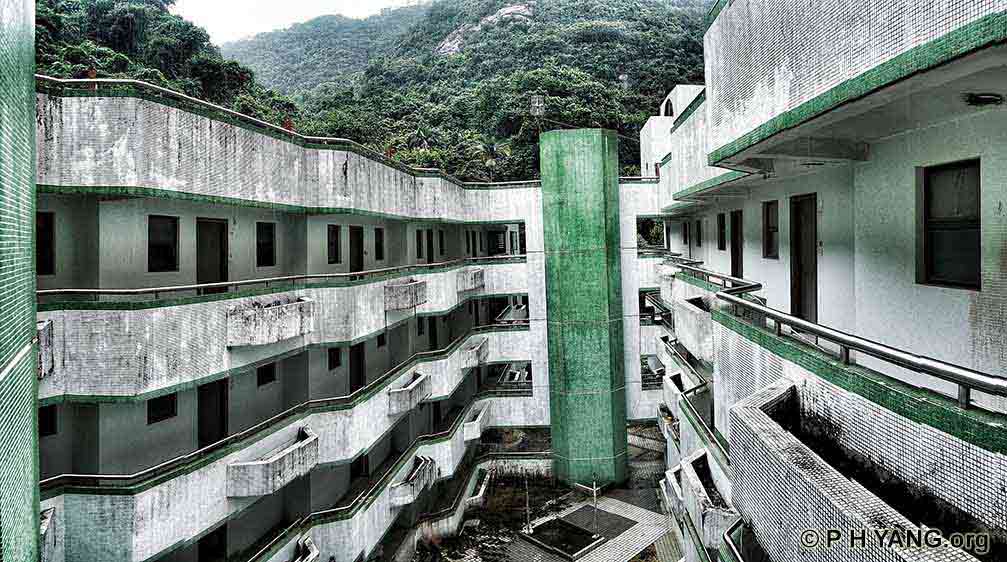 Mid-levels Estate Oddly Abandoned for 30 Years

In the high-end residential area of Mid-Levels in Hong Kong, there is a group of two 4-storey,
72-unit units, which have been vacant for 30 years and uninhabited for unknown reasons.
it is known as a haunted house.

This building looks special, attracting many urban explorers to come to take pictures. But
owing to a lack of maintenance and uninhabited, now the wall tiles are falling off,
parts of the wooden floors are missing, and it is becoming increasingly worn.

It is ironic that in Hong Kong where accommodation is the most expensive in the world, some
people have no house to live in, and there are vacant houses uninhabited.

Urban exploration is based on the principles of take nothing except picture, leave no trace
and not revealing the location.

Hong Kong | 2020
14 Oct 2020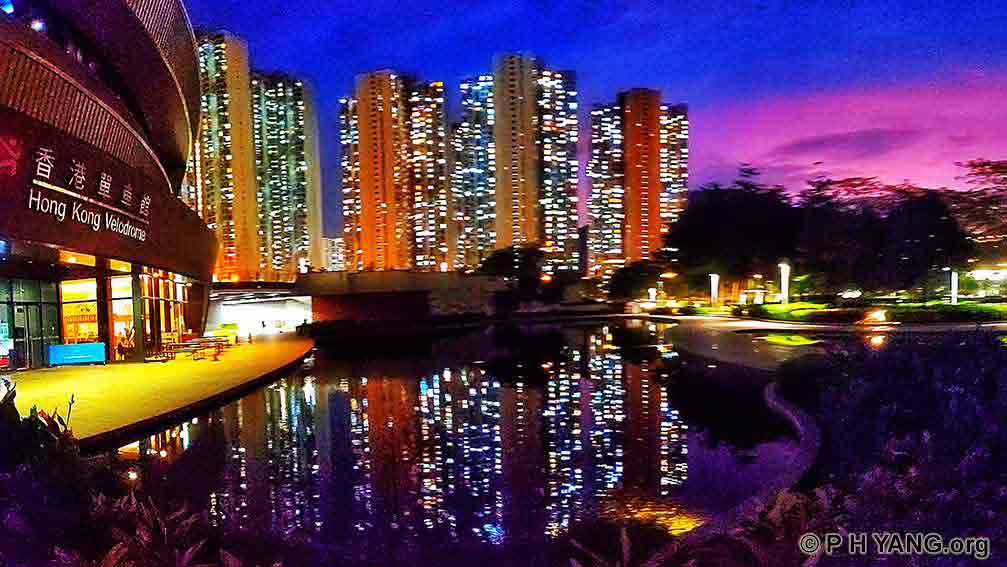 Tseung Kwan O at Dusk

Tseung Kwan O at dusk, with the reflection of Kwong Ming Court in the artificial lake in front
of the Hong Kong Velodrome.

Tseung Kwan O . Hong Kong | 2020
13 Oct 2020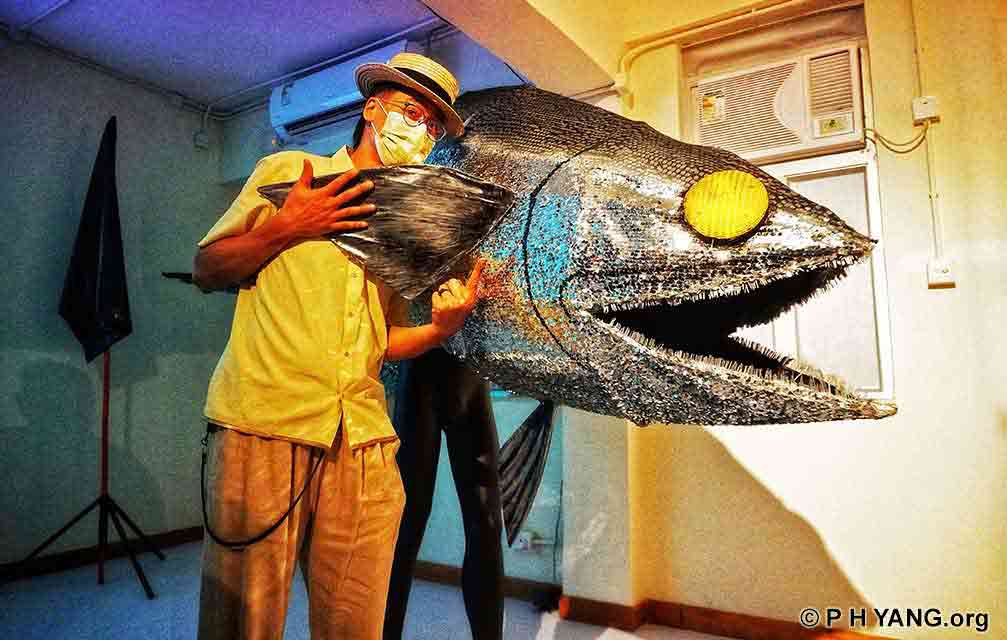 Kacey Wong Showcases Quarantine Project at disCONNECT

Visual artist Kacey Wong showcases his art project "The Quarantine", about the pandemic and the
recent political struggle of the Hong Kong people, at the disCONNECT art exhibition. The story
was set in the distant future of a dystopia society when a seasoned wanderer met a fish and
started a surrealistic venture.

disCONNECT presents site-specific works from 14 artists working across 8 countries, showcasing
works of art that prompt reflection of the human need for a sense of belonging and the
thirsting to be connected physically and emotionally in moments of isolation, an
extension to the recent London exhibition.

Participating artists:
Adam Neate (UK); Aida Wilde (Iran); Alex Fakso (Italy); Mr Cenz (UK); David Bray (UK); Go Hung
(Hong Kong); Jaffa Lam (Hong Kong); Kacey Wong (Hong Kong); Herakut (Germany); Icy and
Sot (Iran); Isaac Cordal (Spain); Wong Ting Fung (Hong Kong); Vhils (Portugal); Zoer (Italy).

Exhibition Period: 11 October to 29 November 2020
Time: Noon to 8pm (Wed-Sun)
Venue: Restored 1950s historic tenement building (2-4/F 14 Pak Sha Road, Causeway Bay)

Causeway Bay . Hong Kong | 2020
12 Oct 2020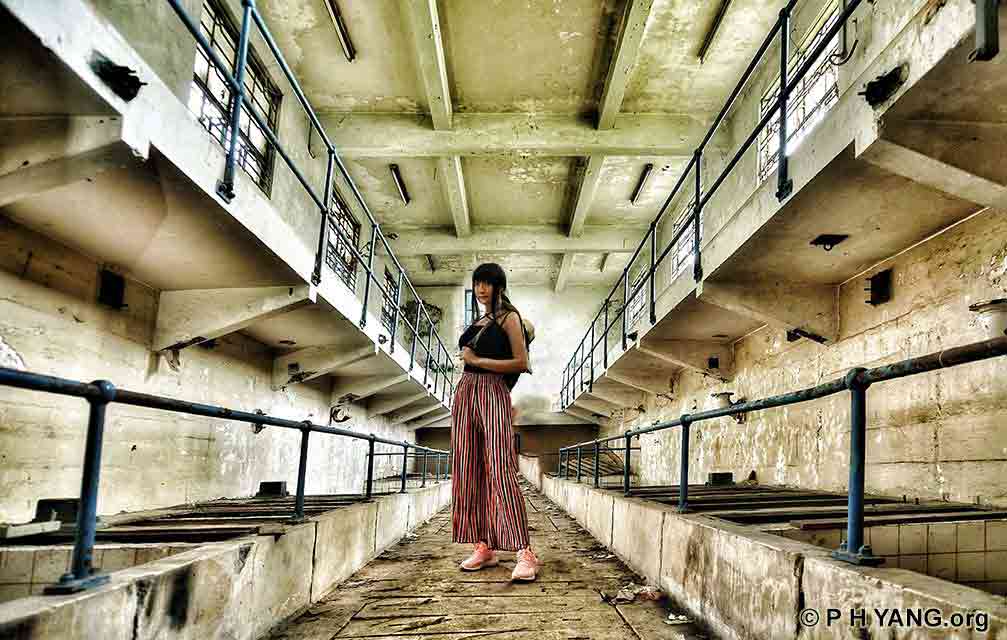 Karma Explores Abandoned Facility

Karma, a multi-talented artist, photographer, traveler, composer and writer, is an avid urban
explorer and loves to probe abandoned buildings and houses.

She is the leader of an urban explorer group and finds walking through the remains in ruins
and abandoned properties a fascinating experience.

Urban exploration is based on the principles of take nothing except picture, leave no trace
and not revealing the location.

Hong Kong | 2020
11 Oct 2020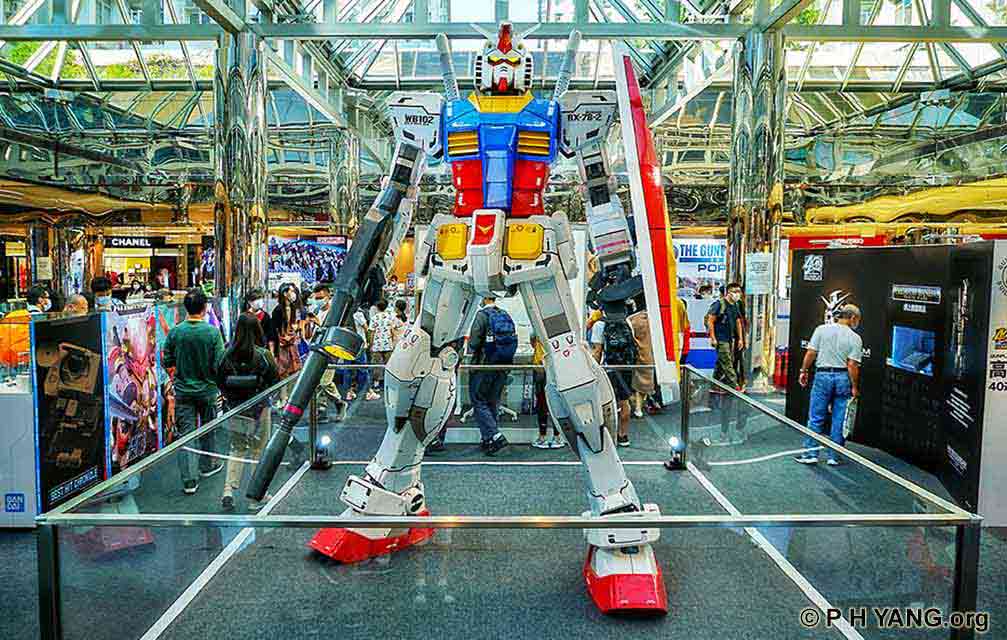 3m-High Gundam RX-78-2 at CityPlaza

For the GUNPLA 40th anniversary, Bandai is holding the 'Bandai Spirits Hobby Exhibition' at
CityPlaza in Quarry Bay. The 3-metre-high RX-78-2 bust and full body Gundam debut in
Hong Kong for the first time. The exhibition introduced the production process and let
everyone know more about GUNPLA. There are also multiple themed exhibition areas,
and the latest limited edition Gundam is on sale. Exhibition period is October 1-21.

Quarry Bay . Hong Kong | 2020
10 Oct 2020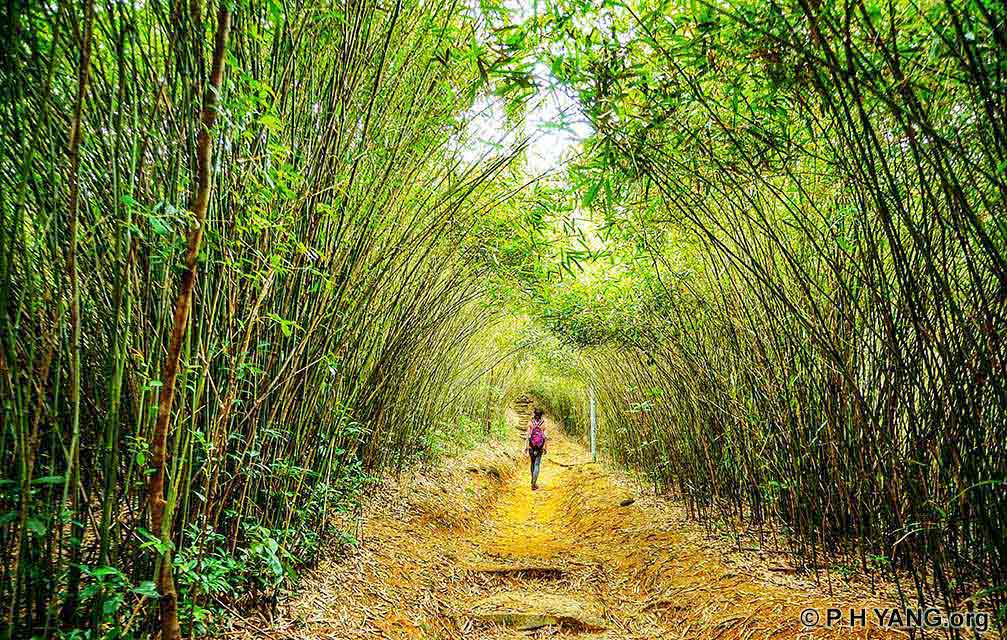 Gwenny Explores Bamboo Tunnel of Pak Kong

Gwenny, an avid hiker who loves outdoor activities, enjoys cool autumn weather and explores
the 'Bamboo Forest Tunnel'.  The bamboo tunnel is located at Sai Kung's Pak Kong Ancient
Trail, with bamboo on both sides forming arches, almost completely covering the sky.
One feels as if walking into a deep tunnel.

It takes 10-15 minutes to reach the Bamboo Forest Tunnel from Sai Kung Pak Kong Ancient Trail,
and another 30-40 minutes to reach the Mau Ping resting area.  You can find the King of Vine
Creepers, a gigantic tree vine nearby. Part of the mountain trail is a bit steep, but it's an easy hike.

Sai Kung . Hong Kong | 2020
9 Oct 2020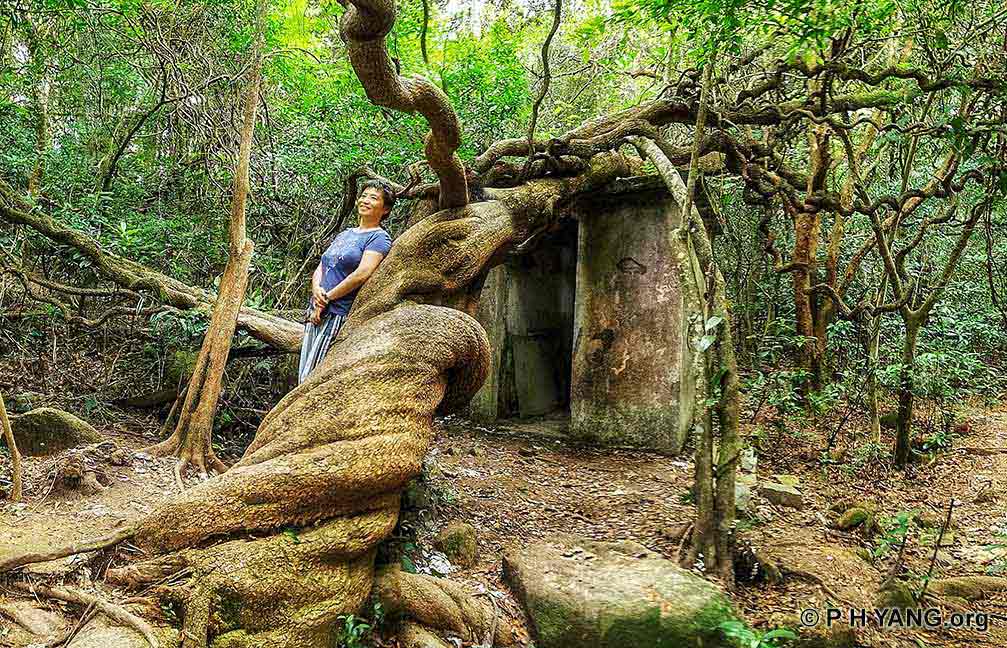 Diana Explores King of Vine Creepers at Mau Ping

Diana, who loves outdoor sports and hiking, explores 'King of Vine Creepers' at Mau Ping. This is
a super gigantic tree vine, also known as Entada phaseoloides. It is located near the grassland
at Mau Ping rest area in Sai Kung, leaning on the toilet of the abandoned village school.

The trunk of the vine creeper is thick and sturdy, rising from the ground in a twisting pattern. Small
vine branches radiate in all directions, criss-crossing, and some of them span the mountain path
like cables, looking very spectacular. Therfore, it is called the King of Vine Creepers by hikers.

Sai Kung . Hong Kong | 2020
8 Oct 2020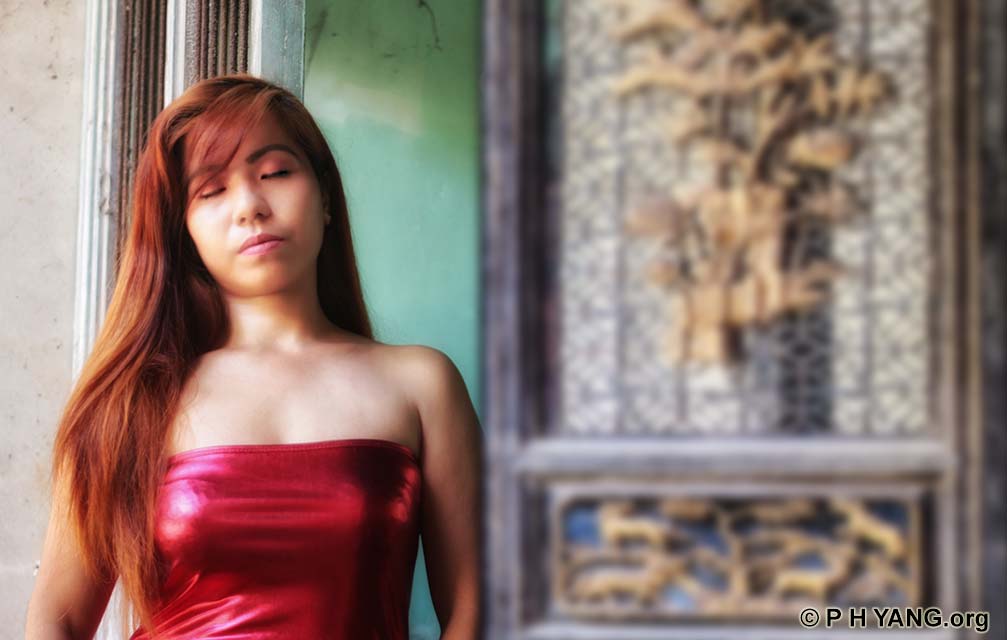 Jovelyn Muses at Abandoned Hakka Mansion

Jovelyn, an avid urban explorer from Santos, Philippines, discovers an elegant traditional
Hakka mansion, hidden behind bushes.

  Long abandoned, the mansion is a typical Mei County Hakka residence, and now a Grade I
historical building. It has 16 rooms, 6 halls and two inner courtyards. The courtyards
have a pool each, and the wooden doors of the rooms are exquisitely carved. Both
design and colour are tasteful.

Hong Kong | 2020
7 Oct 2020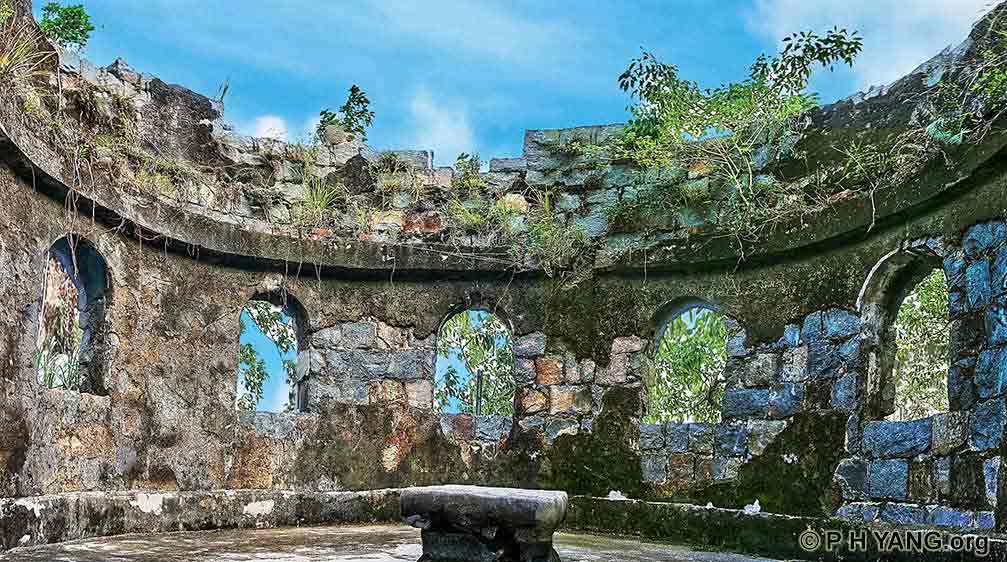 Abandoned Mau Wu Shan Bunker

Mau Wu Shan abandoned bunker, aka Mau Wu Shan Observatory, is located on the slope of Mau Wu
Shan in Tseung Kwan O.  The abandoned fort has a history of over 100 years and is a Grade I
historical building. The mottled brick walls have witnessed the changes of the times.

  In the Qing Dynasty, it was used for observing ship traffic passing Fat Tong Mun channel. It
is also said that the abandoned fort was a defense facility for the British army during World
War II.  From this position, you can see the open view of Tseung Kwan O below the mountain.

Tseung Kwan O . Hong Kong | 2020
6 Oct 2020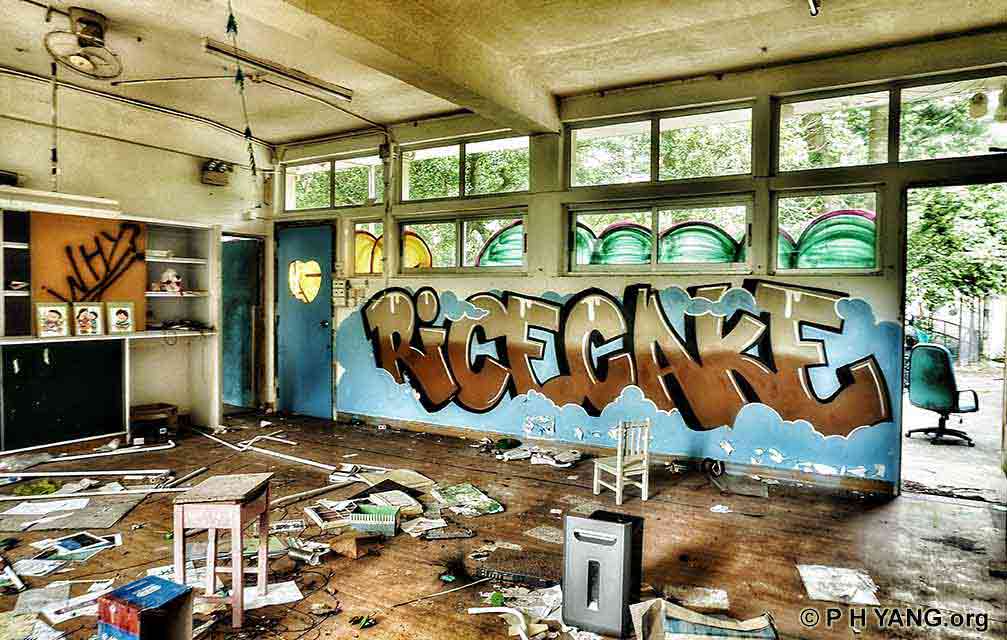 Abandoned Kindergarten at Mid-levels

A non-profit kindergarten was founded in 1945. This school building, located a high-end residential
area at Mid-Levels, began operation in 1975. The building has 3 storeys. Facilities include outdoor
playgrounds, indoor playgrounds, music room, and other specialty rooms, including activity room,
language room, and a hall. The school was relocated in 2012 and this building was abandoned
until now, with graffiti everywhere.

Urban exploration is based on the principles of take nothing except picture, leave no trace and
not revealing the location.

Hong Kong | 2020
5 Oct 2020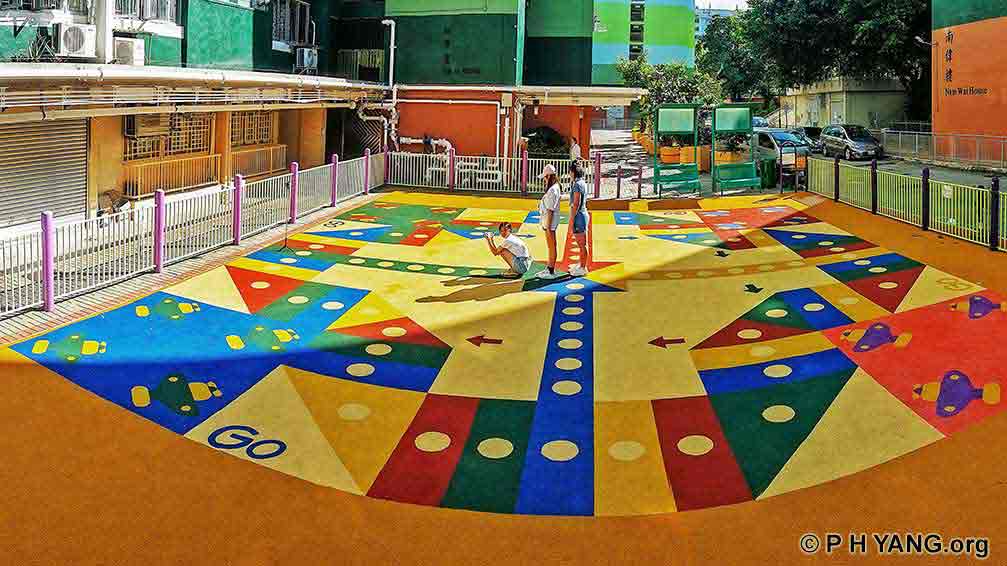 Giant Flying Chess Game of Nam Shan Estate

Not many old housing estates still retain their special characteristics in Hong Kong. built in the
late 1970s, Nam Shan Estate in Shek Kip Mei, is located in the urban area and is directly accessible
by MTR, which is very convenient. There is a giant flying chess game in the estate, with a
board and a turntable, and you and your friends are just flying chess pieces! Let's play!

Shek Kip Mei . Hong Kong | 2020
4 Oct 2020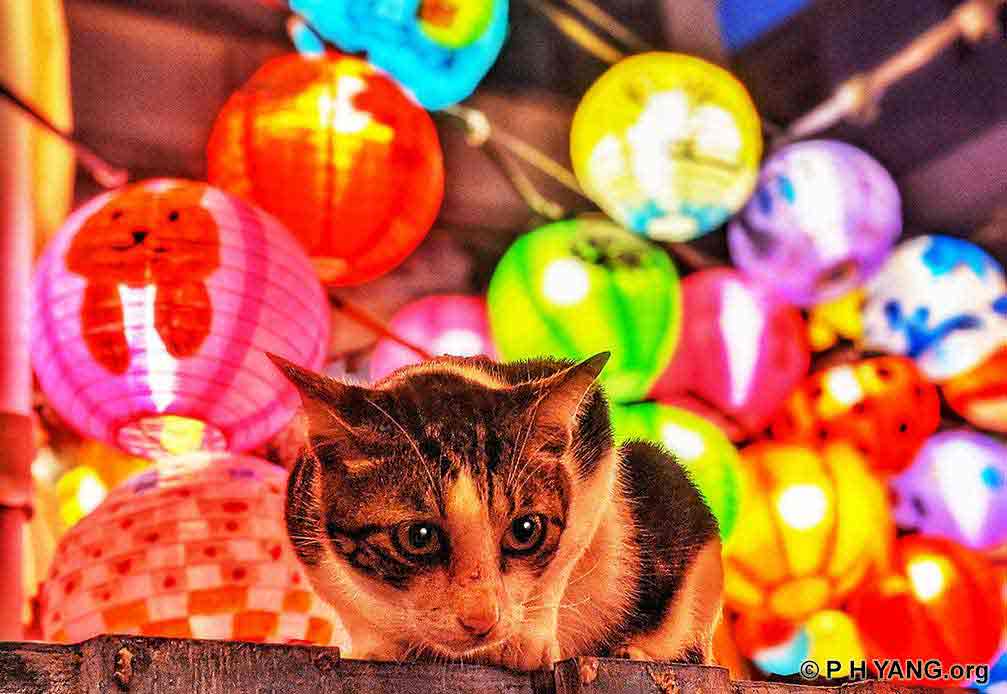 Stray Cat Steals Limelight of Tai O Lantern Festival

There are many stray cats in Tai O, and you will encounter them on the streets and alleys. Most of
them are very friendly and not afraid of strangers. They attract many cat lovers to visit and take
pictures, thus contributing to the tourism economy of Tai O.

Numerous cats are found around the post office as the former post office chief started to feed
stray cats in previous years. He loves cats very much, and will take sick cats to the vet at his
own expense. After retirement, his work was taken over by other willing residents of Tai O.
In 2012, a group of volunteers who love cats established the Tai O Stray Cat Home. They
fed cats throughout Tai O and took them to see a vet when they were sick. They advocate
'adoption rather than purchase' to help stray cats suitable for home pets find their owners;
helping stray cats to be neutered, and to take care of street cats in their old age.

Cats are not only an alternative to help the tourism industry, but more importantly, they can
unite the community. There are more conversation topics among the neighbours, and
more volunteers can be found to care about cats and the community.

To celebrate Mid-Autumn Festival this year, the first choice is to go to Tai O for the Tai O
Lantern Festival. There are 1,000 hand-painted lanterns hanging high in the streets and
alleys. It is organized by the non-governmental organization Tai O Fei Mao Li (rhyming
with non-profit). From September 7 to October 4, lights up from 6:30 to 9:30 pm.
Sometimes the stray cats will steal the limelight, a must-see!

Cheung Chau . Hong Kong | 2020
3 Oct 2020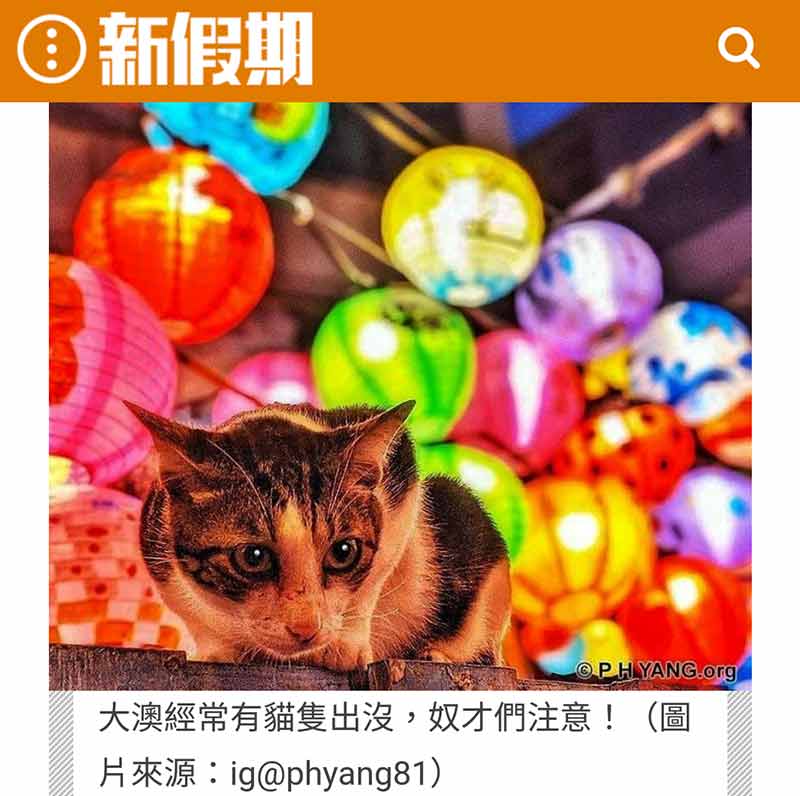 My photo is on the front page of New Weekend magazine.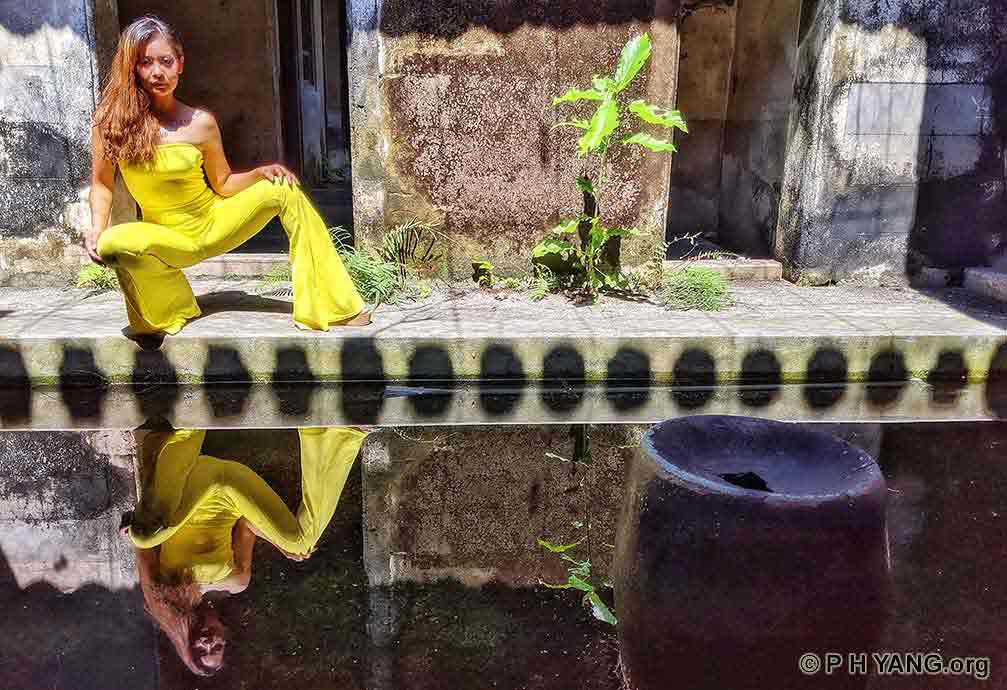 Chie Explores Abandoned Hakka Mansion

Chie, a fashionista and an avid urban explorer from Mlang, Philippines, discovers an elegant
traditional Hakka mansion, hidden behind bushes.

It has been long abandoned, with weeds growing in front of the house. The mansion, with a
history of over 80 years, is the only single residential building in Hong Kong listed as a
Grade I historical building.

Hong Kong | 2020
2 Oct 2020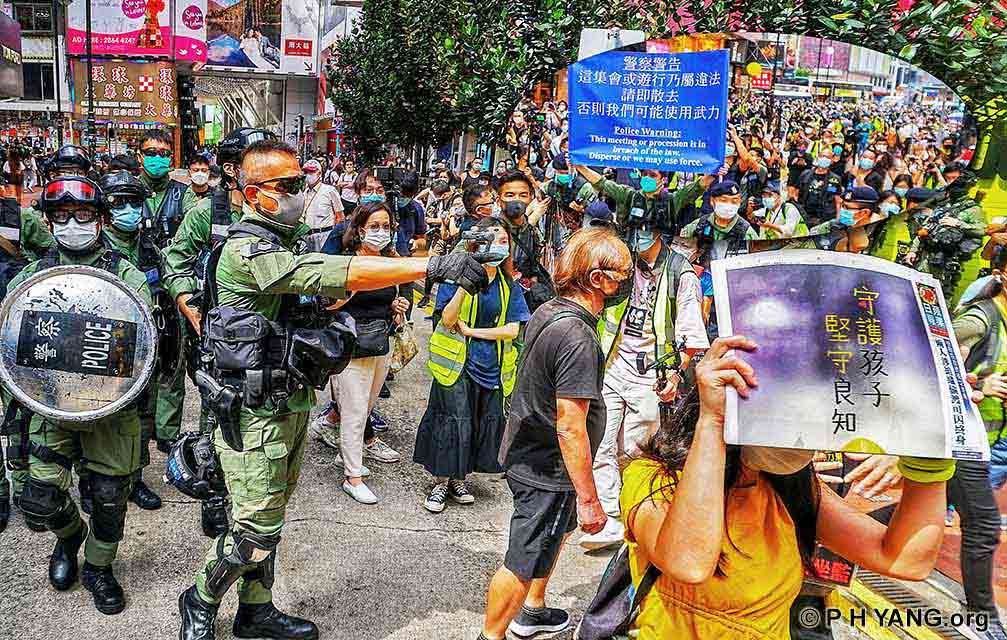 6,000 Riot Police Deployed as National Day Protest March Banned Again

The National Day March 'Don't forget the Martyrs, Save 12 HK Youths' originally planned by Civil Human
Rights Front (CHRF) was banned by the police, and the appeal was unsuccessful. Police suggested to
the CHRF to implement a 'real-name registration' system for marchers for considering a no-objection
notice. CHRF convener Jimmy Sham criticized that the police aimed to obtain citizens' personal
information. 'They really want to know who are brave enough to participate in the march,' and then
go after them, the purpose is chilling. sham said bluntly that the police have now half implemented
the "real-name system." Whenever there is a public event, the police stopped and searched for the citizen's
identity. He believes that it would be impossible for democrats to hold a legal march in the near future.

Starting at 12:30 pm, a large number of people gathered near the Sogo Department Store near East
Point Road in Causeway Bay. There were more than 1,000 people at the peak. Over 1,000 police
officers and dozens of police vans were deployed nearby, stopped and searched citizens frequently.
According to reports, 6,000 police officers were deployed to prevent illegal actions.

At 1:45 pm at East Point Road in Causeway Bay, someone held up the front page of the Apple Daily,
showing 'Safeguard the children and uphold our conscience.' She was surrounded by a large
number of riot police who stopped and checked her identity.

Someone held up a yellow umbrella that read 'Support Freedom and Oppose Evil Law'; someone carried
a large yellow balloon in the air; many made a gesture of '5 Demands, Not One Less'; someone held up
a placard that read 'Chief Executive's words and deeds are hateful'; many chanted 'Free Hong Kong,
Revolution of the Times' and shouted at the police. The police raised the blue warning flag at least a
dozen times to warn citizens and ask them to desperse.

The online platform 'HK Online' also launched the 'October 1 Mid-Autumn Sale', urging shopaholics to
wear black or white and visit large shopping malls in 9 districts from 2 pm to 5 pm. The detailed location
was announced at 1 pm, including International Finance Centre (IFC) in Central, Quarry Bay's Cityplaza
on Hong Kong Island; Harbour City in Tsimshatsui, APM in Kwun Tong, MOKO in Mong Kok, Telford
Shopping Centre in Kowloon Bay, Kowlon; New Town Plaza in Shatin, Supercity inTai Po, and D-Park in
Tsuen Wan, New Territories.

There are many police officers patrolling IFC Mall in Central, but no public action visible.

Causeway Bay . Hong Kong | 2020
1 Oct 2020

Archive:
Sep Aug Jul Jun May Apr Mar Feb Jan 2020
Dec Nov Oct Sep Aug Jul Jun May Apr Mar Feb Jan 2019
Dec Nov Oct Sep Aug Jul Jun May Apr Mar Feb Jan 2018
Dec Nov Oct Sep Aug Jul Jun May Apr Mar Feb Jan 2017
Dec Nov Oct Sep Aug Jul Jun May Apr Mar Feb Jan 2016
Dec Nov Oct Sep Aug Jul Jun May Apr Mar Feb Jan 2015
Dec Nov Oct Sep Aug Jul Jun May Apr Mar Feb 2014


(C) p h yang 2020 - all rights reserved