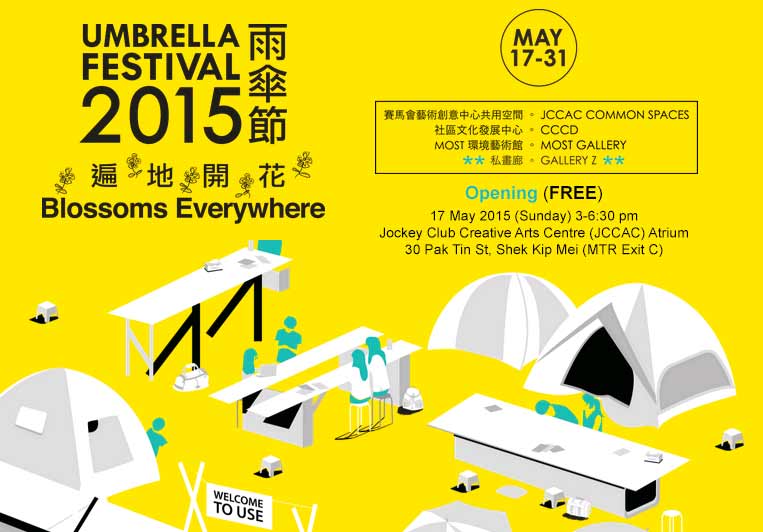 Umbrella Festival
(Click for full program)

From the Other Sides:
Works by Independent Photographers
Gallery Z (L5-22) and L5 Common Space, JCCAC

The dramatic landscapes of the 'occupied zones' and its extended activities reached
every corner of the City. It even made its way to the top of Lion Rock. Images of
a new cityscape anointed with the vision of democracy were captured by thousands
of photographers, amateurs as well as professionals.

19 professional photographers from several generations composed these images of the
Umbrella Movement. They all share the sorrow and sometimes melancholy of the long
and testing quest of democracy, and a sympathy for those selflessly devoted
themselves for the well being of our future generations.

Participating Photographers

Chan Dick | Almond Chu | Joseph Fung | Simon Go | George Ho | Ho Siu Nam South |
Ko Chi Keung Alfred | Lau Ching Ping | Thomas Lin | Ann Mak | Ng Sai Kit |
Sham K H Bobby (Bobpin) | Ducky Tse | Tse Ming Chong | Blues Wong |
P H Yang | Paul Yeung | Yu Wai kin Vincent

This photographer is honoured to be participating in this photo exhibition with
fellow photographers who are amongst the Who's Who in Photography in Hong Kong.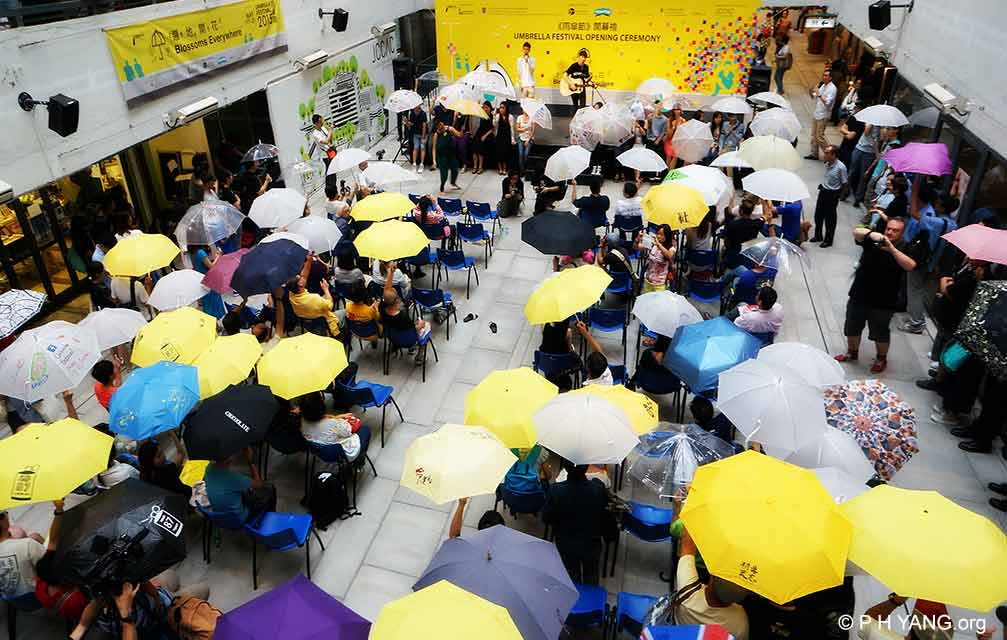 Umbrella Festival Opening

A selection of photos by award-winning photographer, P H Yang, whose work is
licensed by Lonely Planet in their travel guides and frequently appears on
the front page of International newswires including CNN and Demotix; in
publications such as San Francisco Chronicle; Silkroad, Dragonair's
inflight magazine; Hong Kong Economic Journal (daily news and Monthly
magazine), Ming Pao, Metro Daily, Science News of the Chinese Academy
of Sciences, etc; and interviewed by TVB, the leading TV station in
Hong Kong.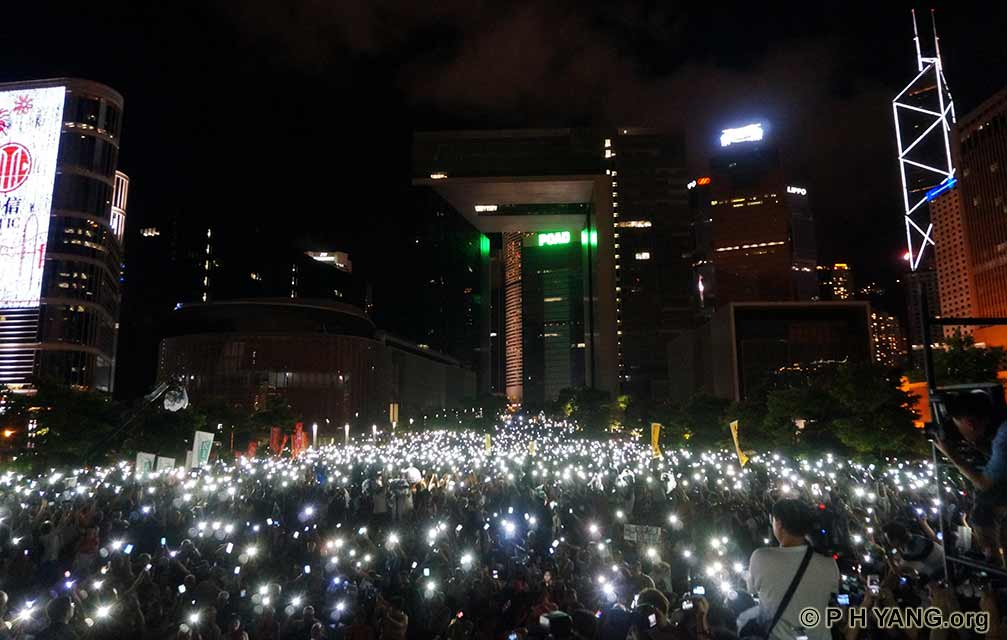 Bright Spots on the 'Darkest Day' of Hong Kong

5,000 flashed their mobile phones at Tamar Park at government headquarters Sunday night
to protest against the decision by Beijing to pre-screen the candidates for the
election of the Chief Executive of Hong Kong in 2017.

"Today is the darkest day of Hong Kong's democratic movement. The road of dialogue has
come to an end and the occupation of Central will definitely happen," says Occupy
Central's Benny Tai. All 25 pro-democracy legislators vowed to veto the government's
bill for the political reform.

Admiralty · Hong Kong | 2014
31 August 2014



Hong Kong Students Boycott Class for Democracy

13,000 students from 25 tertiary institutions across Hong Kong and their supporters gather at
Chinese University to kick off Hong Kong's most massive ever week-long class boycott to
protest against Beijing's highly restrictive framework on the 2017 chief executive election.
High school students plan to join the boycott for a day on Friday, 26 September.

The number of participants at the mass rally far exceeds those for the campaign against
patriotic national education programme in high schools two years ago at the same location.

Ma Liu Shui · Hong Kong | 2014
22 September 2014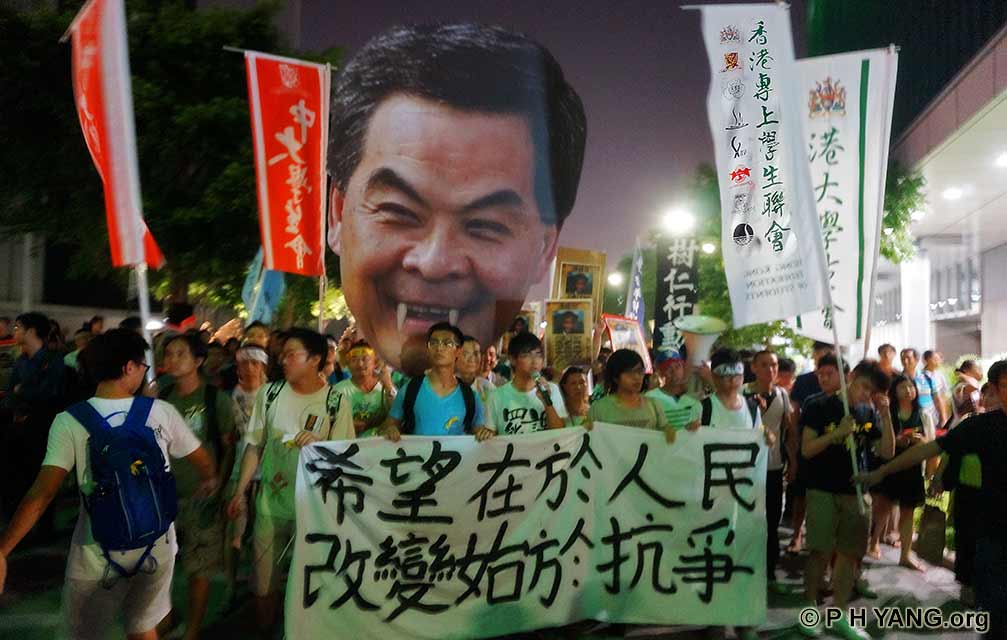 Hong Kong Students Demand Dialogue with Chief Executive

Chow Yong Kang, Secretary General of Federation of Students, leads 4,000 students and
protesters in the march to Hong Kong's Government House, carrying a giant cardboard
head of C Y Leung, Chief Executive of the territory, to protest Beijing's strict
framework for electoral reform and to demand true universal suffrage.

The march was initiated as Leung failed to show up and have a dialogue with the
students after 13,000 students and supporters kicked-off Hong Kong's largest
class boycott on Monday for a week.

Central · Hong Kong | 2014
25 September 2014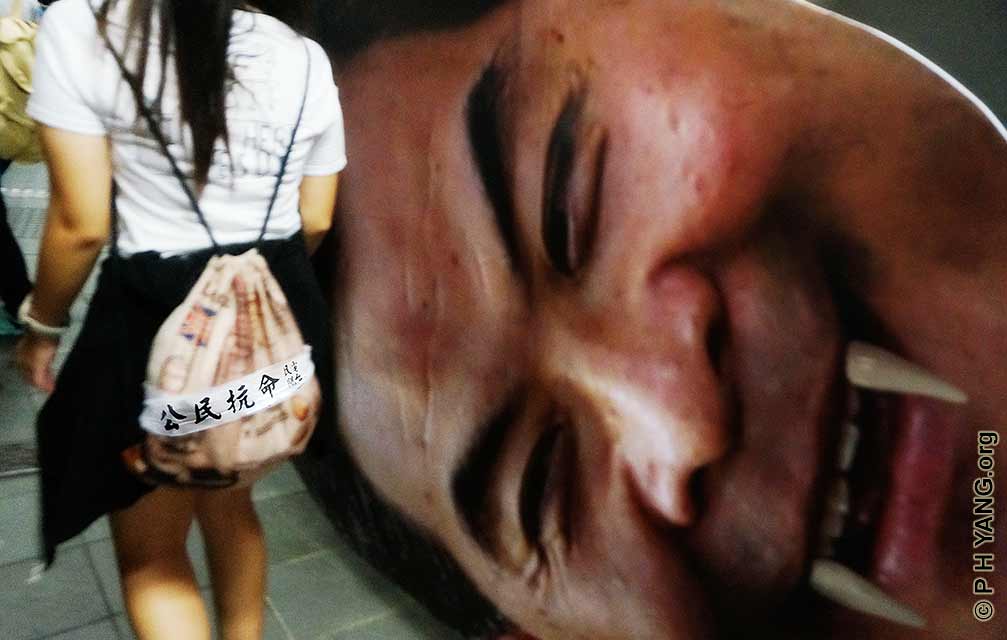 Civil Disobedience - C Y Down

A woman protester puts a headband reading 'Civil Disobedience' on her packpack
as she marches with 4,000 students and their supporters to Hong Kong's
Government House, passing a giant cutout head of C Y Leung, Chief Executive
of the territory, to protest Beijing's strict framework for electoral
reform and to demand true universal suffrage.

Central · Hong Kong | 2014
25 September 2014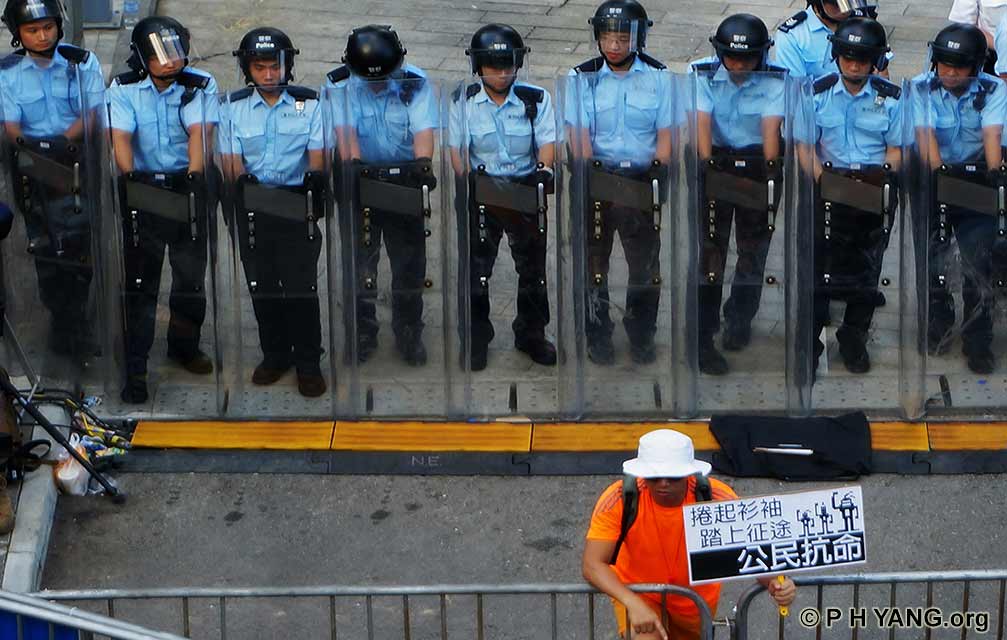 Civil Disobedience

Mr Chao flashes a banner reading 'Civil Disobedience' in front of a pack of
police in full riot gear at Hong Kong's government headquarters at Admiralty,
in support of the Occupy Central movement and to protest Beijing's strict
framework for electoral reform and to demand true universal suffrage.

Admiralty · Hong Kong | 2014
28 September 2014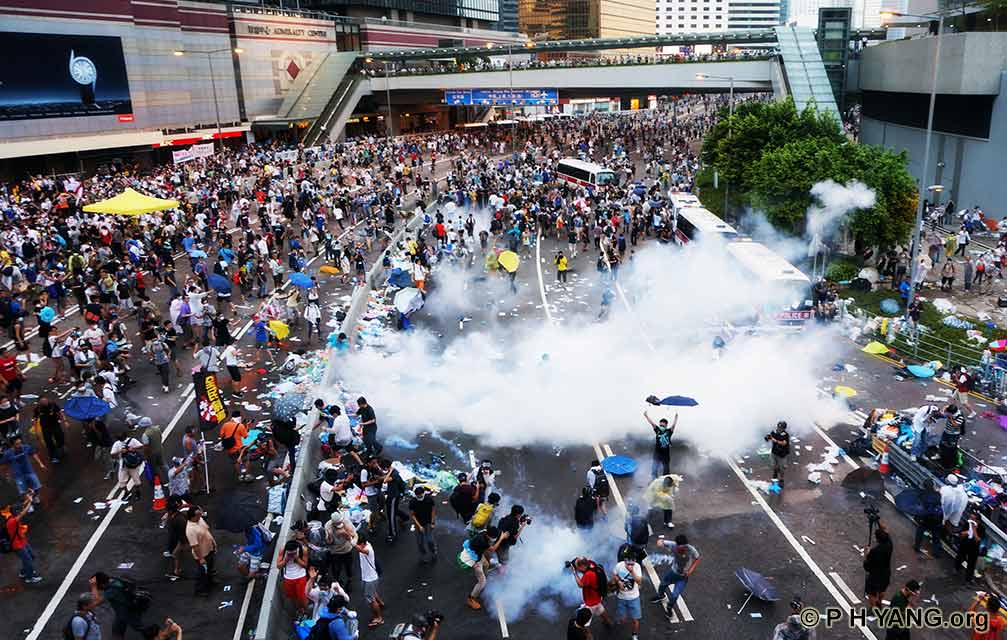 Umbrella Man Undaunted by Tear Gas

A protester with arms and umbrella raised amid clouds of tear gas at Admiralty, has
been dubbed the "Umbrella Man" on social media. Thousands of unarmed and generally
peaceful protesters were only wearing makeshift masks and plastic wraps while
wielding umbrellas against the 87 rounds of tear gas canisters fired against
them by the police in full riot gear and gas masks.

However, the protesters were undaunted by the successive launching of tear gas
canisters. Most dispersed, took cover but regrouped after 10-15 minutes.

Admiralty · Hong Kong | 2014
28 September 2014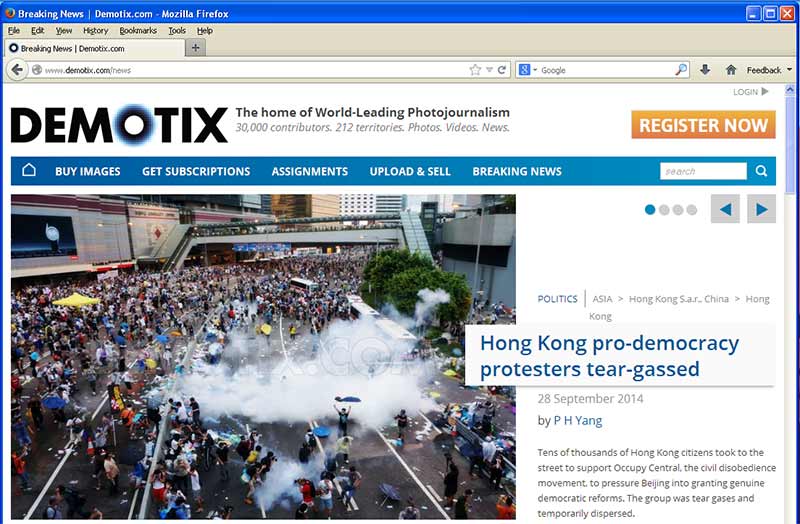 My News Report on the Front Page of Award-winning Newswire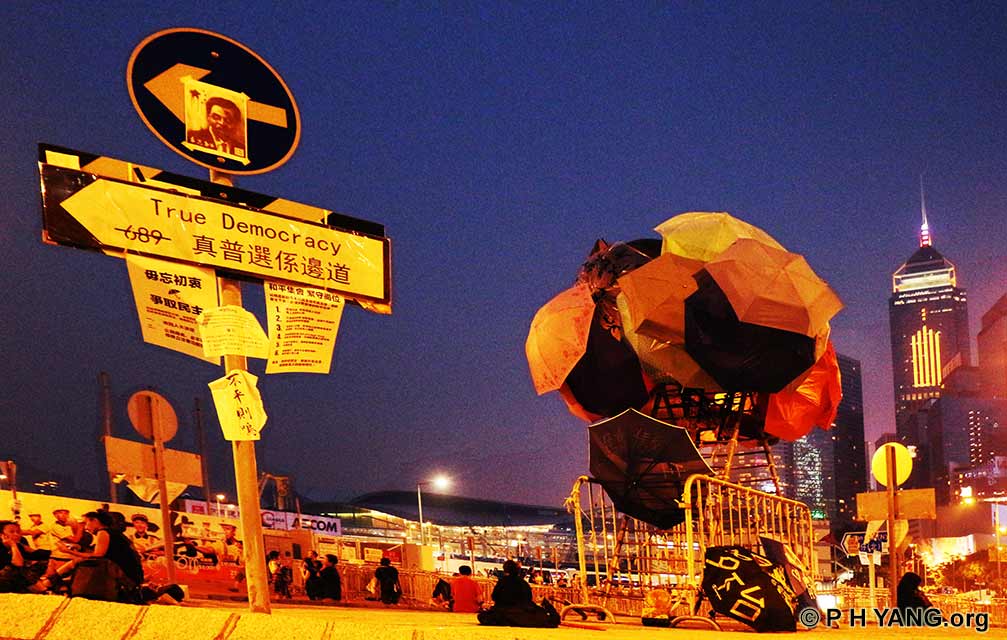 Creativity X Occupy Central = Umbrella Revolution

In the midst of riot police lobbing tear gas canisters at unarmed and generally peaceful protesters
many Hong Kong citizens are putting on their creative and artistic hats to design and put up
interesting art installations throughout the protest areas.

'Where is Genuine Suffrage Road', reads the road sign at Tim Mei Avenue next to the government
headquarters, a play on words as 'where' and 'road' in Cantonese dialect have nearly the same
pronunciation. Sitting next is an art installation of an umbrella tree mounted on four
barricades as the centrepiece symbol of Occupy Central, the civil disobedience movement
that had been dubbed the "Umbrella Revolution" by social media.
(See below and archives for details of Occupy Central.)

Admiralty · Hong Kong | 2014
2 October 2014



Umbrella Man

The 'Umbrella Man' of Occupy Central in Hong Kong, immortalised on the cover of
Time magazine as the symbol of the Umbrella Movement, has materialised at the
centre of the protest zone at Admiralty as a three-metre tall statute holding
a yellow umbrella.

22 year-old artist, Milk, said he was inspired by a picture of an Occupy protester
holding an umbrella over a policeman to protect the officer from the rain and is
a symbol of peace.

Admiralty · Hong Kong | 2014
6 October 2014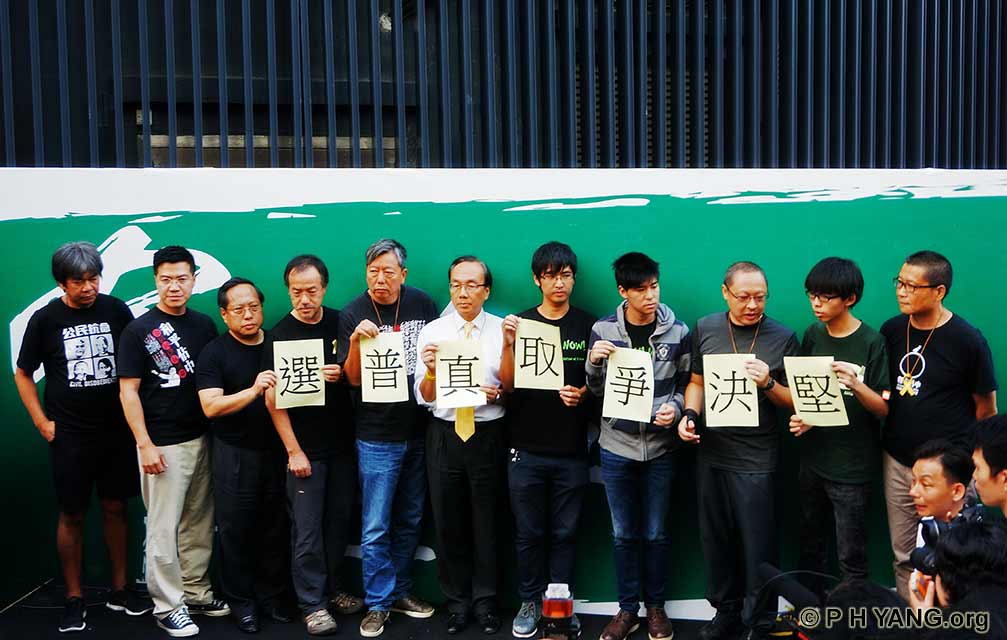 United Non-cooperation Called

Leaders of Occupy Central, Federation of Students and pan-democrat legislators
are united in calling for full-scale non-cooperation with the Hong Kong
government which did not offer any concession in the face of mass protest.

Benny Tai, co-founder of Occupy Central, said that the 'Occupy Movement' is
very important. It is a spontaneous and resolute act initiated by the
citizens to fight for genuine universal suffrage.

Admiralty · Hong Kong | 2014
9 October 2014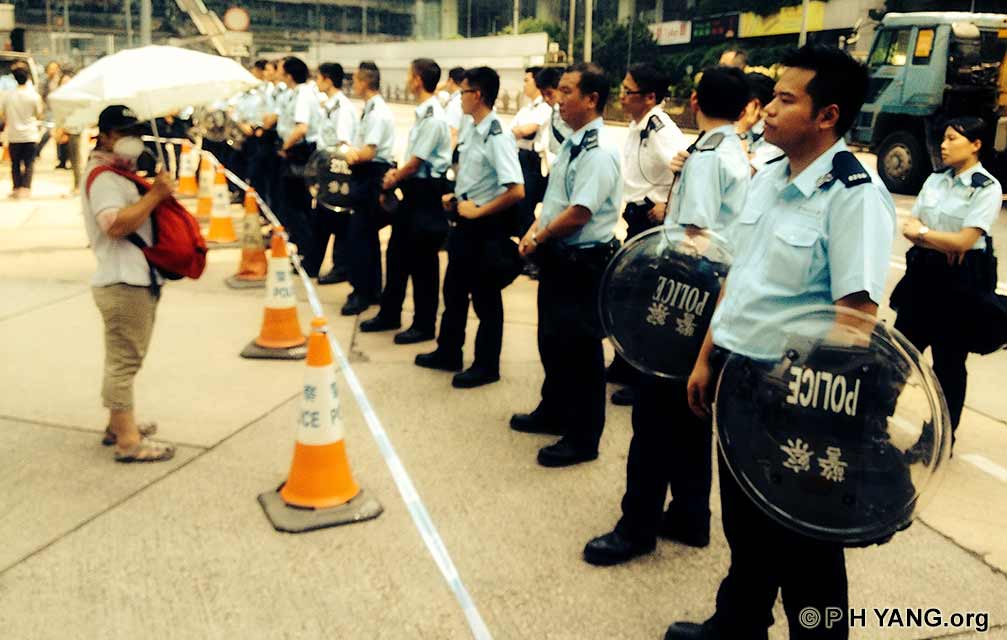 My Umbrella vs the Riot Police

Ms Chan, one of the peaceful Occupy protesters, faces off the massive police
deployed with riot gear to clear the barricades on Queensway, Admiralty,
armed only with a face mask and an umbrella against the potential
deployment of pepper spray or tear gas.

Hundreds of police with chain-saws tore down the barricades setup by protesters
on Queensway, Admiralty at 10 am within 2 hours. Earlier, police also took down
protesters' blockades in Causeway Bay at at pre-dawn strike at 5:30 am. The
peaceful protesters offered no resistence.

Admiralty · Hong Kong | 2014
14 October 2014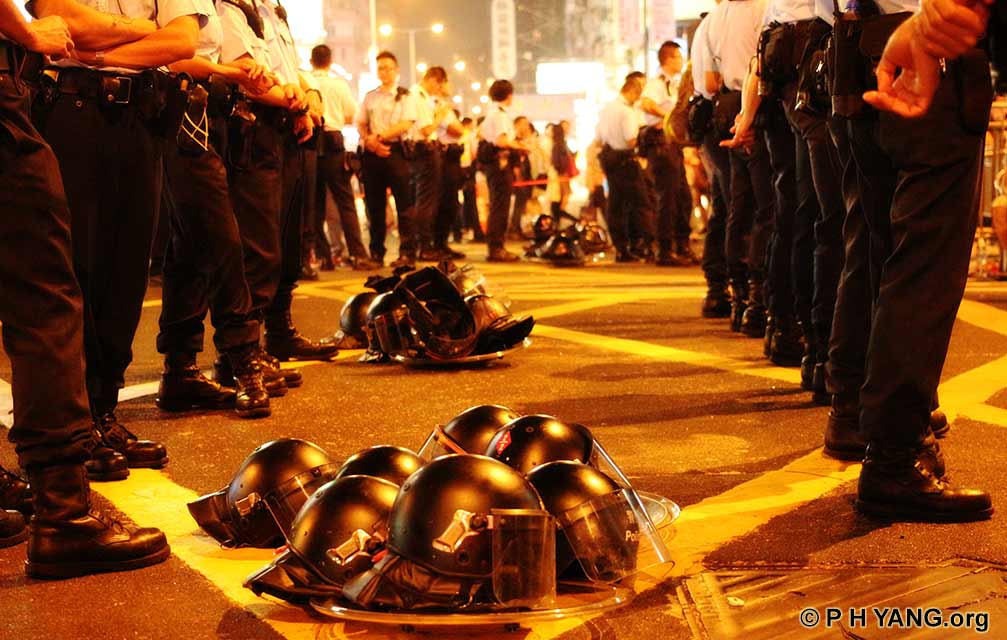 Riot Gear Ready at Mongkok Occupy

Massive police is deployed at Mongkok with riot gear ready at the intersection of
Nathan road and Argyle Street, one of the busiest thorougfare in Hong Kong,
against the thousands of Occupy protesters who are taking over the section of
Nathan Road between Argyle Street and Dandas Street plus some side streets.

Mongkok · Hong Kong | 2014
20 October 2014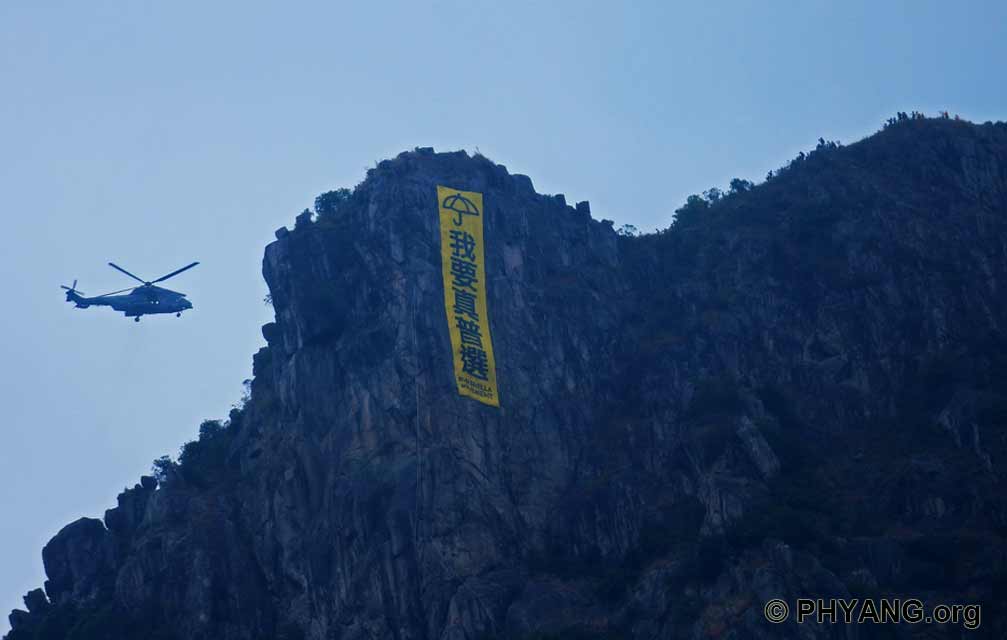 Helicopter Scrambled to Remove Giant Pro-democracy Banner

A giant pro-democracy banner reading 'I Want Real Universal Suffrage' (in Chinese)
'Umbrella Movement' measuring 6 x 28 metres was hung from the top of the famous
Lion Rock by a rock-climing group named 'The Hong Kong Spidie' after Spiderman.

24 hours later, firemen and civil aid servicemen were dispatched in helicopters
and the banner was removed to the disappointment of numerous Occupy protesters
who climbed to the top of the mountain to admire the work. The iconic image
will live forever in the heart and mind of most people in Hong Kong.

Kowloon · Hong Kong | 2014
24 October 2014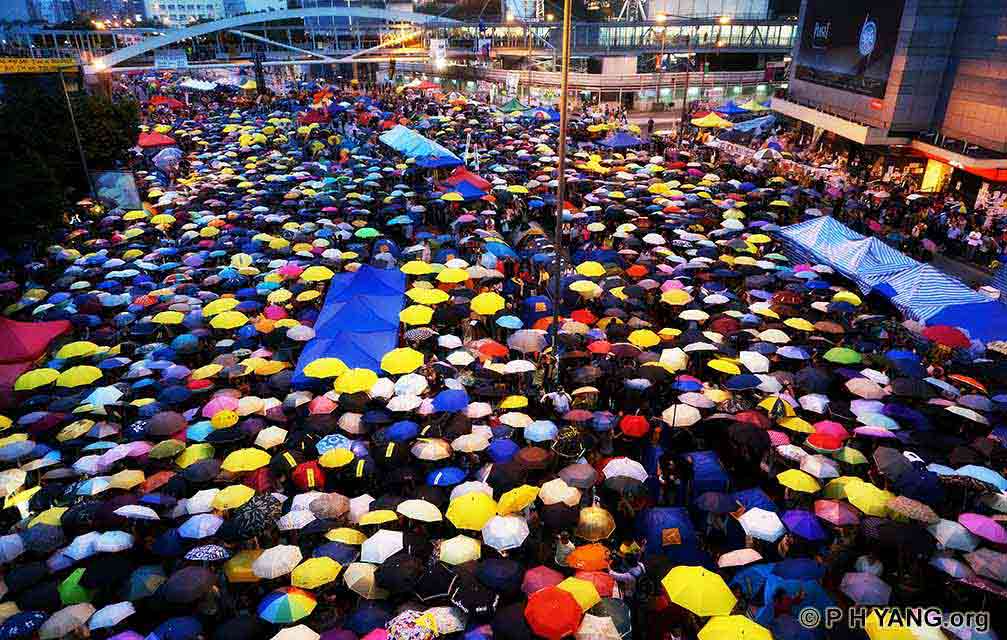 Umbrella Movement Still Going Strong One Month On

Thousands rally at Admiralty Occupy zone in Hong Kong, now dubbed 'Umbrella Square',
at 5:58 pm standing silently for 87 seconds, holding up umbrellas to commemorate
the firing of 87 tear gas canisters at protesters by police a month ago at
the exact time. Similar gathering are also held at Mongkok and Causeway
Bay Occupy zones.

Admiralty · Hong Kong | 2014
28 October 2014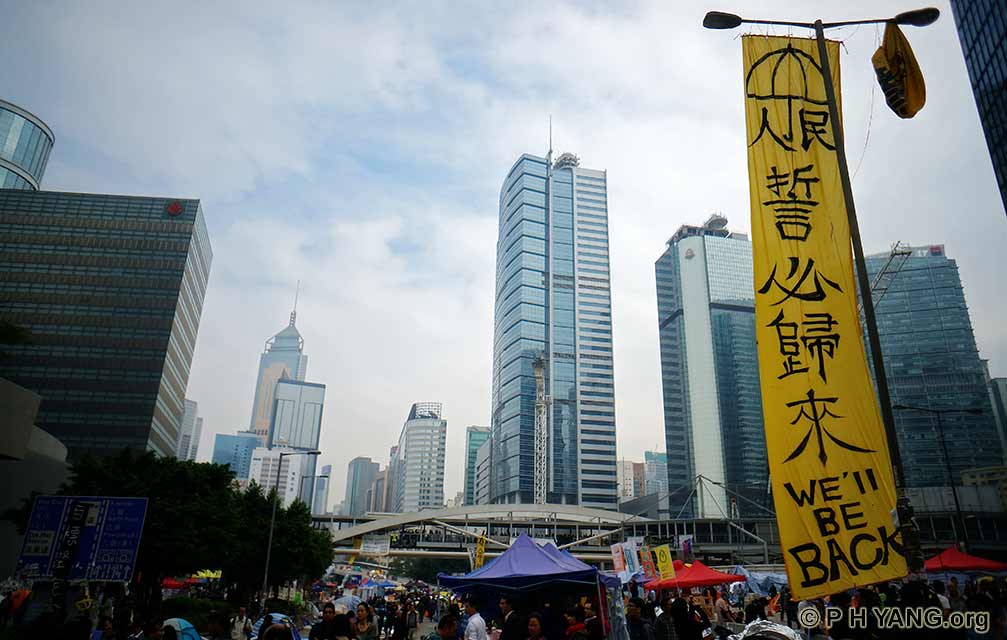 We'll Be Back

Occupy Protesters raised a giant banner reading: 'we vow to be back' as Admiralty
Occupy zone was cleared by bailiffs and police on Thursday. 7,000 police was
deployed and the clearing was done in about 12 hours. Traffic on Harcourt
Road was restored after over 2 months of Occupy.

The clearing went smoothly as both protesters and police showed restraint with
no confrontation. 15 pan-democrat legislators, Next Publications chairman
Jimmy Lai and student leader Nathan Law were among the 249 arrested including
Uncle Wong who is 90 year-old.

Admiralty · Hong Kong | 2014
11 December 2014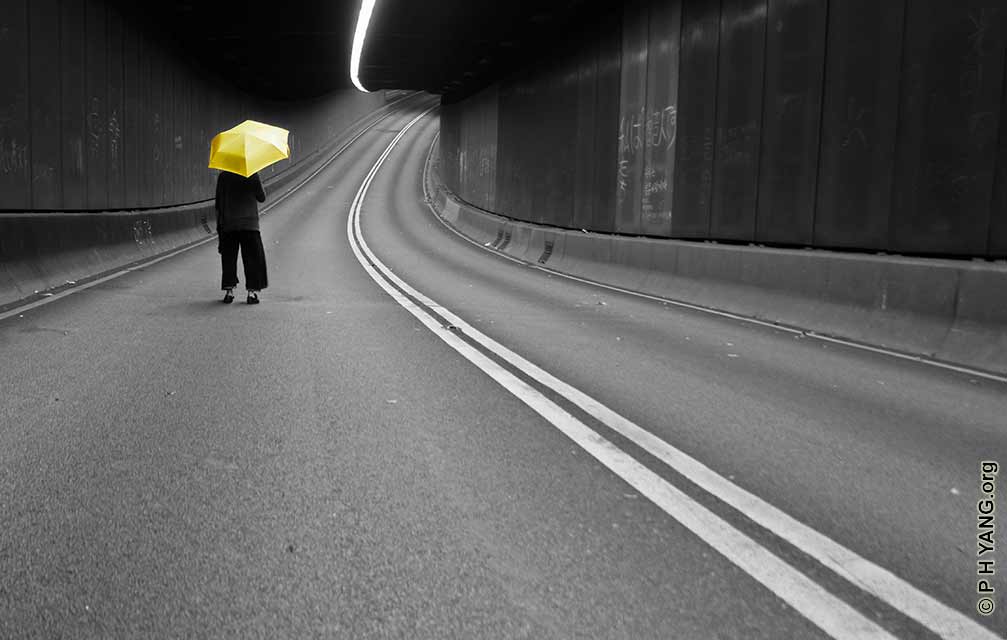 What's Next for Hong Kong

A protester with a yellow umbrella ponders where she will go next when there is
no light at the end of the tunnel, foretelling the current state of affair for
Hong Kong as the last Occupy zone in Causeway Bay was cleared on 15 December
after 79 days of Umbrella Movement.

"We'll be back" is the message to the government who had yet to make any concession
towards meeting the demands of the protesters.

Central · Hong Kong | 2014
30 November 2014


© p h yang 2015 - all rights reserved