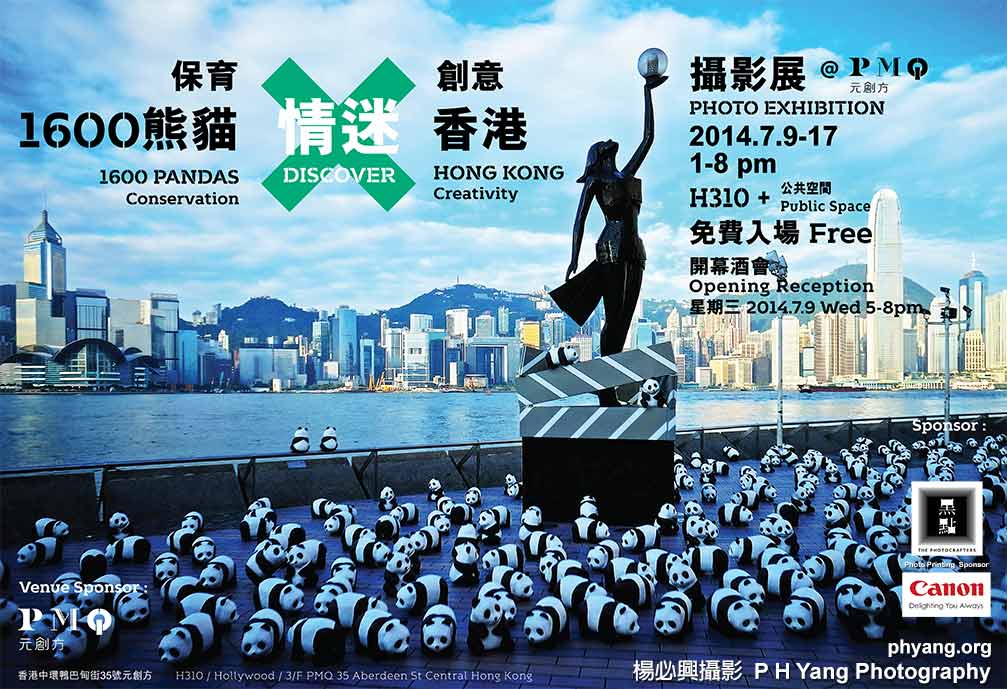 1600 Pandas Photo Exhibition at PMQ

Ever been to Mongkok (the busiest district in the world according to Guinness World Records)
at 4 am? Or the Avenue of the Stars in Tsimshatsui during the twilight hours at 5 am?
How about waiting at Statue Square for 2 hours, totally soaked under torrential Amber Rain?

Now, throw in 1600 Pandas...

Experience and re-live some of the most exciting but rarely seen private moments captured at
1600 Pandas Flash Mobs in Hong Kong from the Star Ferry to their Tram Party...

Concurrent with 1600 Pandas Exhibition at PMQ.

Don't forget conservation... There are only 1600 Pandas left in the wild.

Studio H310 / Hollywood / 3/F
PMQ / 35 Aberdeen Street / Central / Hong Kong
+ Public Spaces Throughout PMQ

9 - 17 July 2014 | 1-8 pm Daily

Opening Reception: 9 July (Wed) 5-8 pm


A selection of photos by award-winning photographer, P H Yang, whose work is licensed by
Lonely Planet in their travel guides and frequently appears on the front page of
International newswires including CNN and Demotix; in publications such as
San Francisco Chronicle; Silkroad, Dragonair's inflight magazine; Hong Kong
Economic Journal (daily news and Monthly magazine), Ming Pao, Metro Daily,
Science News of the Chinese Academy of Sciences, etc; and interviewed by
TVB, the leading TV station in Hong Kong.

One of his photos is in the top 20 finalists in the TATLERxLEICA Street Photography
Contest 2014 and will be exhibited at Liang Yi Museum in Sheung Wan on 14-20 July 2014.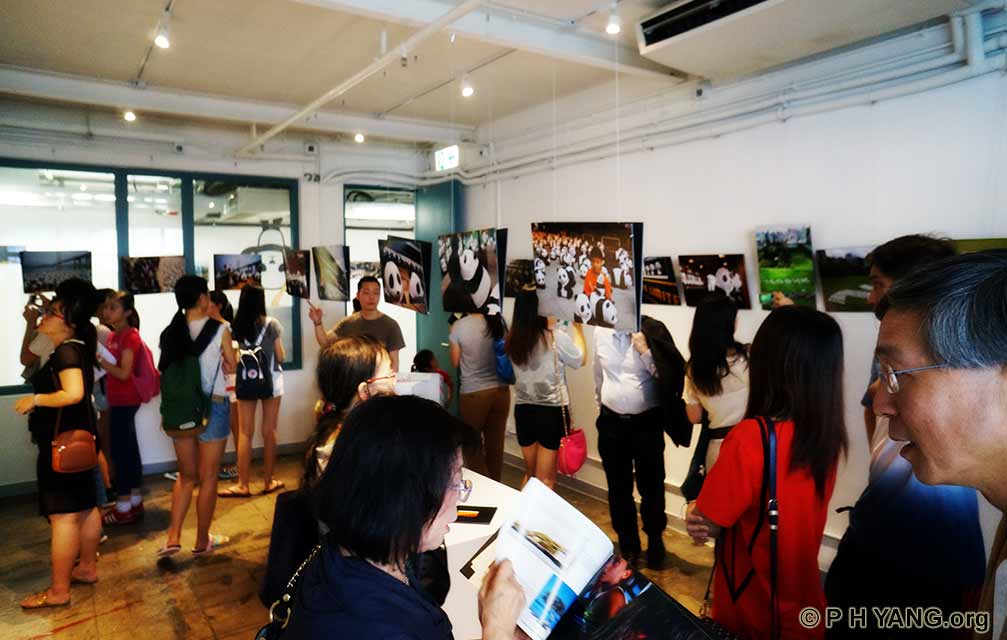 Photo Exhibition Opened to a Great Reception

Hundreds of local and overseas visitors opened the 1600 Pandas Discover Hong Kong
Photo Exhibition at PMQ to a roaring success on the first day, with great
feedback. A large contingent from Japan plus an art group was given a grand tour.

9 - 17 July 2014 | 1-8 pm Daily
Studio H310 + Public Spaces Throughout PMQ
SoHo · Hong Kong | 2014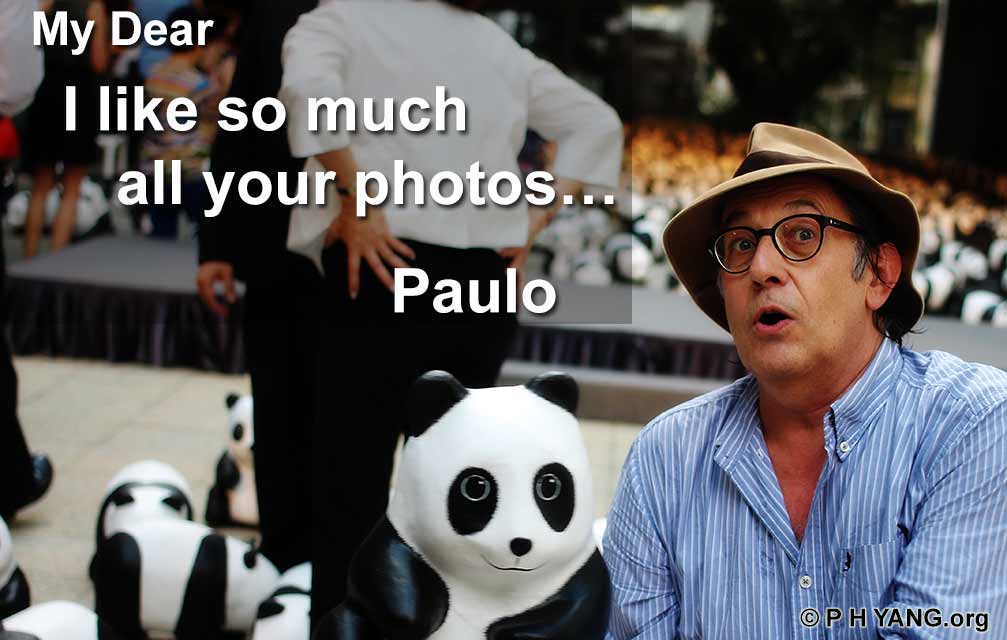 Father of 1600 Pandas Loves Photo Exhibition

Acclaimed French artist Paulo Grangeon, 'father' of 1600 papier mache pandas,
sends his best wishes to the 1600 Pandas Discover Hong Kong Photo Exhibition
at PMQ.

9 - 17 July 2014 | 1-8 pm Daily
Studio H310 + Public Spaces Throughout PMQ
Opening Reception: 9 July (Wed) 5-8 pm

SoHo · Hong Kong | 2014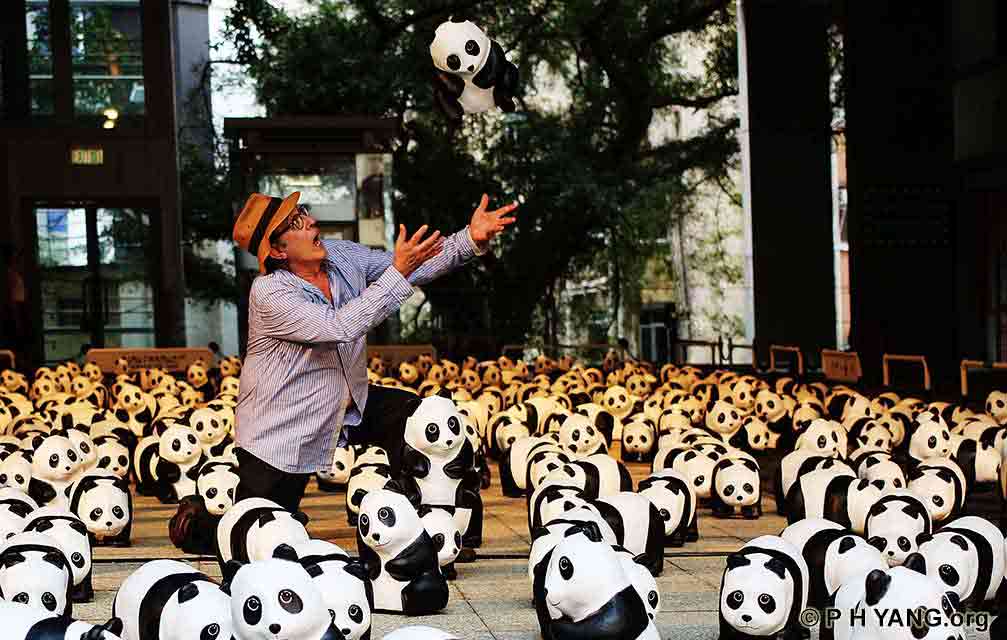 Paulo Grangeon Playful with 1600 Pandas

Acclaimed French artist Paulo Grangeon, 'father' of 1600 papier mache pandas,
was playing with his creations at the opening of the 1600 Pandas World Tour
in Hong Kong at PMQ (former Police Married Quarters), the newest creative
hub of Hong Kong, to promote conservation and sustainable development.

SoHo · Hong Kong | 24 June 2014 - 2-4 pm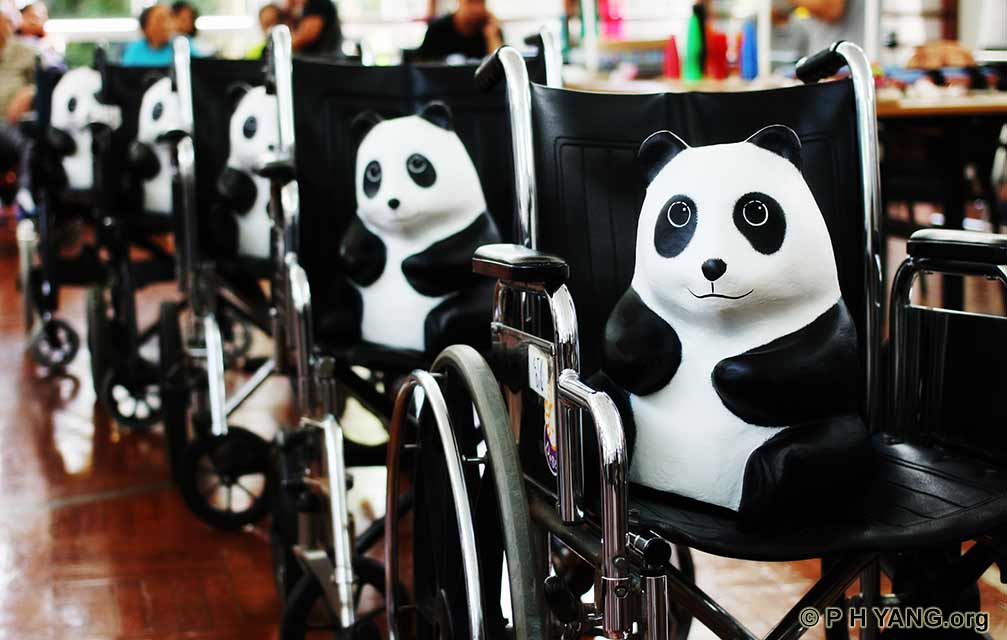 Caring 1600 Pandas Visit Society for Rehab

1600 Pandas visit the disabled at Hong Kong Society for Rehabilitation (HKSR)
which provides responsive and quality rehab services for people with
disability, chronic illness or problems of ageing since 1959. They
had provided over 1.2 million units of services in accessible
transport and travel, rehabilitation as well as long-term care.

This and other photos taken at HKSR will be included in the 1600 Pandas
Photo Exhibition at PMQ.

9 - 17 July 2014 | 1-8 pm Daily
Studio H310 + Public Spaces Throughout PMQ
Lam Tin · Hong Kong | 2014


A Glimpse Before the Opening

A refreshing breeze on the torrid day also gave us a glimpse of what's behind the curtain
just before the opening of 1600 Panda Exhibition at PMQ.

SoHo · Hong Kong | 24 June 2014 - 2-4 pm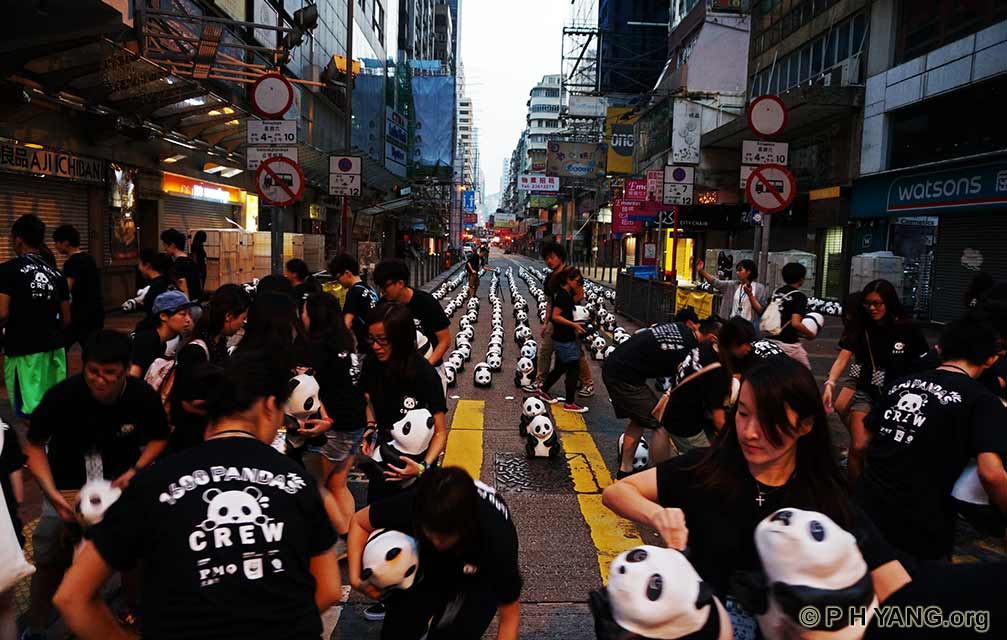 Unsung Heroes Behind 1600 Pandas

Over a thousand volunteers were recruited within 2 days, who worked tirelessly to make
the various 'flash mob' art installations possible, rain or shine. On many occasions,
volunteers had to get up at wee hours to start installing the 1600 Pandas as early
as 4 am. Many were totally drenched working under scorching sun and torrential rain.
Similarly for all the working bees including the PR and creative team.

Mongkok · Hong Kong | 13 Jun 2014 - 4-6 am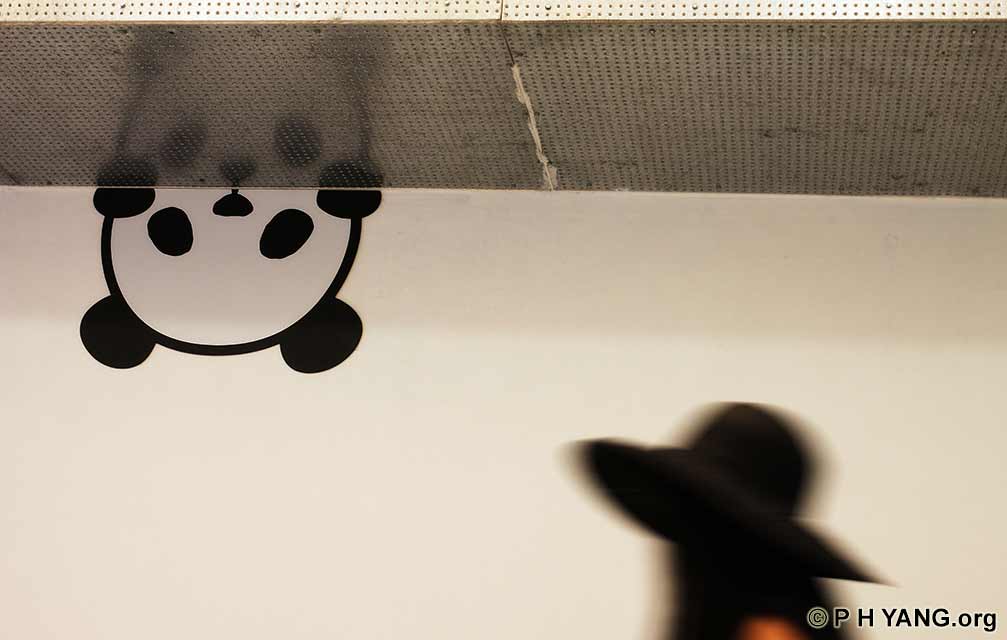 PMQ Ready for 1600 Pandas

The heritage-listed PMQ (former Police Married Quarters) is Hong Kong's new
hub for the city's blossoming creatives. This was the site of Central School,
the colony's first government secondary school which was attended by Dr Sun
Yat Sen, father of the Chinese Republic after overthowing the Qing Dynasty
in the 1911 Revolution. The school evolved into Queen's College of today.

PMQ is gearing up for the 1600 Pandas exhibition starting 25 June to 17 July
to spread the gospel of conservation, creativity and sustainable development
with the opening on 24 June. Stay tuned for more Panda Mania...

SoHo · Hong Kong | 22 June 2014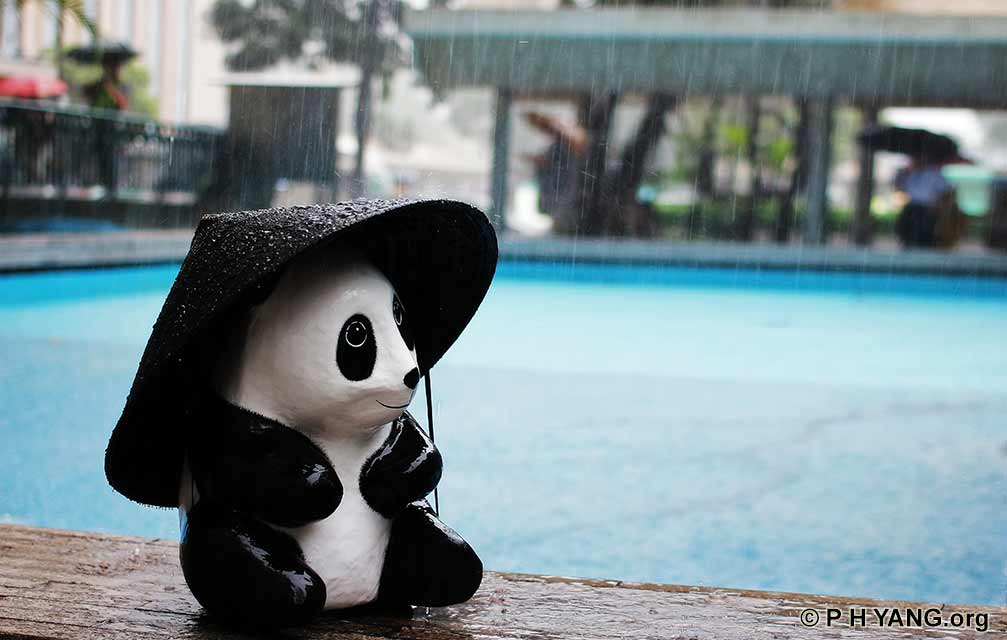 1600 Pandas Rained-Out, Almost

The rain god was not cooperating.

1600 Pandas got rained out this morning at Statue Square in Central where
thousands had gathered eagerly awaiting, despite the Amber Rainstorm Warning.

Central · Hong Kong | 21 June 2014 - 8-10 am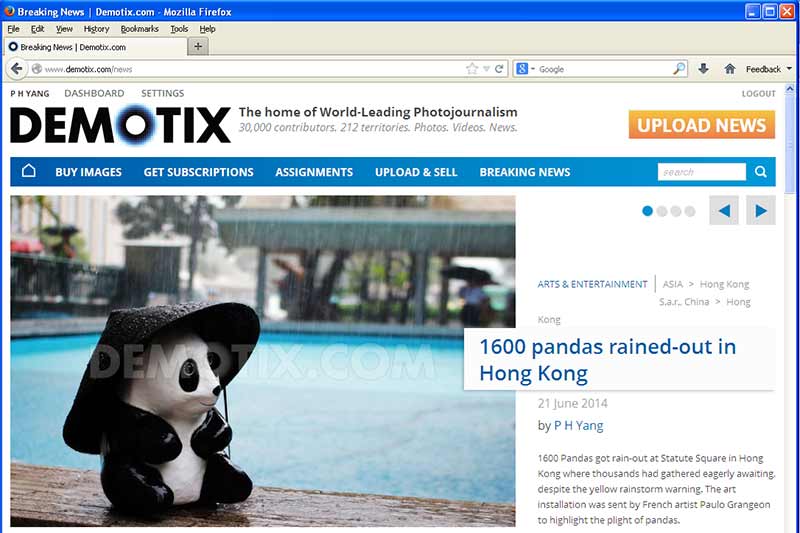 My News Report on the Front Page of Award-winning Newswire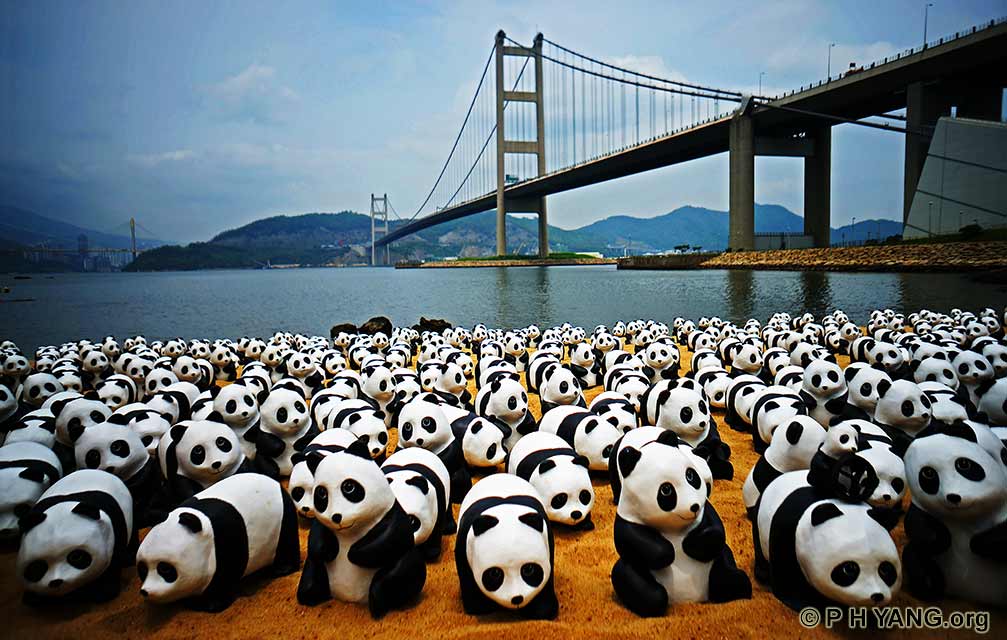 1600 Pandas at Ma Wan

1600 up-cycled papier mache pandas landed in Hong Kong after conquering France,
the Netherlands, Italy, Switzerland, Germany and Taiwan. French sculptor Paulo
Grangeon shines a spotlight on sustainable development and conservation of the
only 1600 endangered animal left living in the wild. This is part of a
fundraising project for World Wildlife Fund and are made with recycled
paper, rice and environmentally paint.

The pandas are relaxing at Tung Wan beach on Ma Wan island with the Ching Ma
Bridge in the backdrop.

Ma Wan · Hong Kong | 10 Jun 2014 - 12-3 pm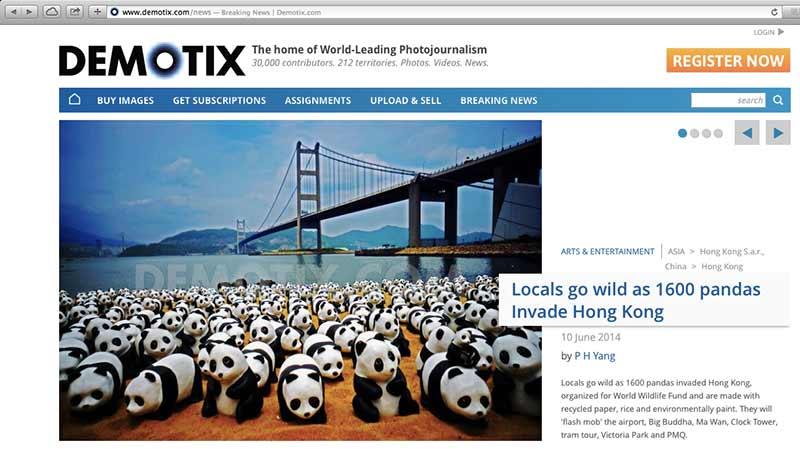 My News Report on the Front Page of Award-winning Newswire



© p h yang 2014 - all rights reserved